Season Outlook 2014 – May Update – New Zealand
May 7th, 2014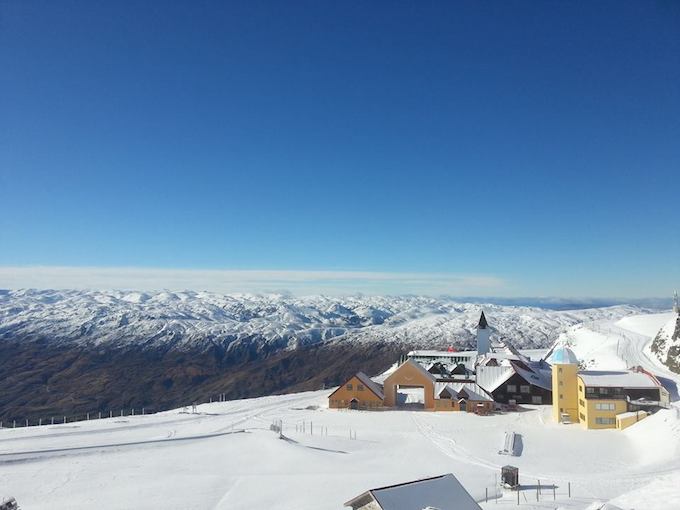 Not such a bad view for April 30th Image:: Cardrona
New Zealand Snow Outlook | The Grasshopper
Well, I have to admit I didn't see that one coming, clearly I wasn't paying attention while I was preparing my nest for winter. Early May and we've already had a very decent taste of snow. How good were those photos coming out of Coronet? And how sexy do those Mt Hutt, Cardona and Treble Cone webcams look? Even Ruapehu has a white shawl draped across her shoulders. It's all very exciting and provides the perfect backdrop for an update to our previous seasonal outlook.
First things first, I have to play the killjoy card and say that I don't think the activity we've seen so far means anything for the weather we can expect for the season ahead. I'm not aware of any research that says snow in late-April is good or bad news for snow later on.
The only way this snow will have an impact is if it can last through until opening weekend. Unfortunately, the chances of survival are going to take a serious hit this week, when warm northerlies bring heavy rain all the way up to 2000m+. And then the week after that is looking frequently fine and sunny, which will accelerate the melting of whatever's left. I imagine we'll lose most of what we've got below 1700m and the stuff higher up will also have a big bite taken out of it. So despite what those wondrous mountain crews can do with just a little bit of snow, they're going to need a fair bit more help between here and opening day.
One last note before we launch into the update: you're going to read things here that you have also read in my Australian outlook, or previous New Zealand outlooks. Apologies, but sometimes this is unavoidable I'm going to include the clearest explanations in each outlook.
Re-cap
When we left off last month's seasonal outlook we had established four things:
1) We were pretty darn sure that an El Nino was on the way.
2) The last 14 El Ninos could be split neatly into two groups. One of those groups is characterised by higher surface pressures over most of Australasia that kills rain bearing systems and really puts the kybosh on snowfall on both sides of the Tasman. This is the more classic El Nino pattern.
3) The other group of El Ninos, which we nicknamed "Wrong 'uns" (because they spin the wrong way), has on average resulted in lower pressures through the Tasman which has resulted in increased frontal activity and very decent snowfall, thank you very much.
4) We had very little idea of whether we were heading for a "Classic" El Nino or a "Wrong'un".
Head back and have another look at the maps in the last outlook if you need a reminder of the differences between those two types of El Nino.
The big thing to remember, especially when you're reading about El Nino from other media sources, is that there have been massive variations in snow depth between individual El Ninos. The graph below is a repeat of the one I published last month, showing how two strong El Nino events threw up completely different snow seasons. The key is working out what type of El Nino we're going to get.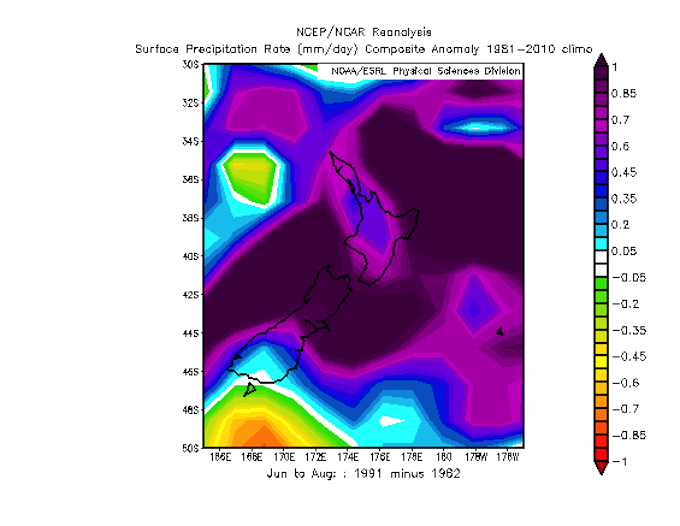 Positive values indicate where 1991 scored higher rainfall (and probably more snow too). Image:: BOM
The latest
The encouraging news is that we're now even more confident that an El Nino event is on its way. Chalk one up for the climate models which have been on to this sucker since the start of the year. It's the guys building these models who are the geniuses hitting it up the middle. Like a star fullback, I just get to swoop in when the hard work is done and steal all the glory.
The image below illustrates the growing signal for above average sea surface temperatures through the eastern equatorial Pacific, and this is set to explode over the next month or two as some warm water about 50 metres down bubbles up to the surface.
But, and this is a sumo-sized but, there's not yet any clear indication of which flavour of El Nino is more likely to turn up this winter. There are a couple of key models pushing in the right direction for a Wrong'un. I've got another angling for a Classic. A couple more are sitting on the fence.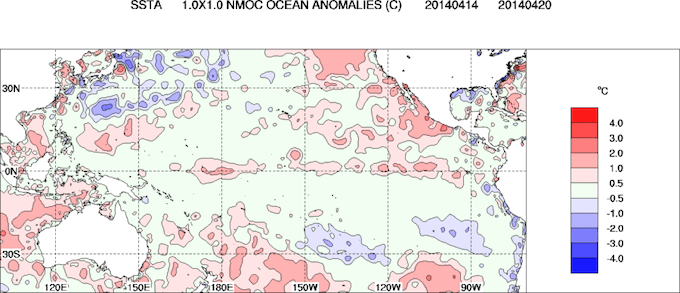 Sea surface temperatures are pushing above average along the equator. Image:: BOM
The good ship El Nino
The truth is, we still can't be sure whether this El Nino is going to smash us upon the rocks, or deliver us safely to a land of soft white powder.
In the absence of any new information that would encourage me to change my opinion, I'm sticking to my call from last month: I'm going to lean slightly towards the wrong'un flavour and call a solid year for the North Island and Canterbury fields, and an average year for the Southern Lakes. I'll need to back track on that if the more classic variety of El Nino becomes more likely, but until then let's be optimistic.
For the nth time, because it's becoming tradition, I'll repeat the warning I give every year for NZ. If you book in June and don't leave time for things to build, then you're taking a risk that a slow start to the season could upset your plans. Book in August or September and your chances for a decent base improve, but you'll deal with bigger crowds. The choice is yours.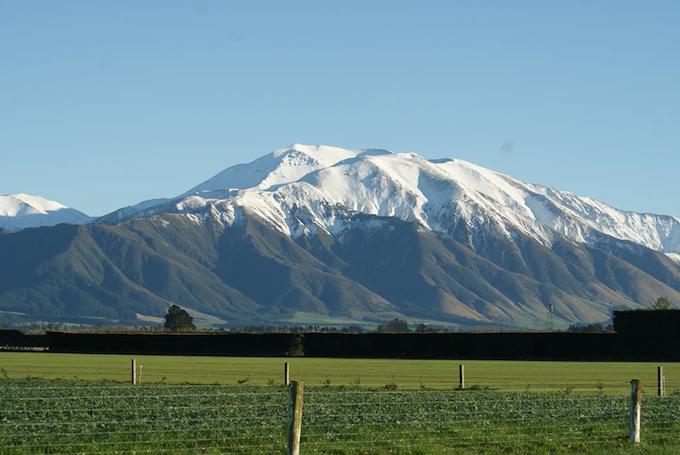 Mt Hutt looking nicely caked Image:: Mt Hutt
I would still buy a season pass.
That's all from the Grasshopper. We'll update this outlook in late-May as the excitement starts to build. If you've got a different theory on what's going to happen this winter, or just want to provide feedback, then please hit me up at grasshoppermw@gmail.com or Facebook.
The Remarkables forecasts,
snow reports and
live snow cams.
Treble Cone forecasts,
snow reports and
live snow cams.
Snow Park forecasts,
snow reports and
live snow cams.
Cardrona forecasts,
snow reports and
live snow cams.
Turoa forecasts,
snow reports and
live snow cams.
Coronet Peak forecasts,
snow reports and
live snow cams.
Whakapapa forecasts,
snow reports and
live snow cams.
Mount Hutt forecasts,
snow reports and
live snow cams.