Snow Season Outlook 2014 – May Update – Australia
May 2nd, 2014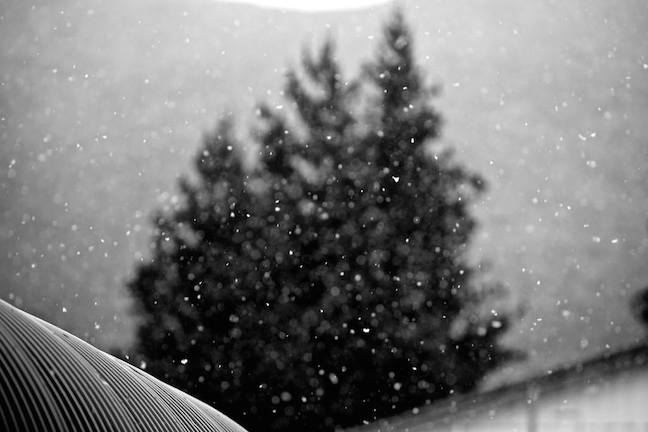 You could feel the excitement emanate from the mountains as those first flakes fell. Season 2014 is just around the corner. Image:: Falls Creek/Hocking
Australian Seasonal Snow Outlook | The Grasshopper
Brought to you by ESS Boardstores
There has never been a better time to release an updated seasonal outlook for the Australian Alps. No sooner had my fingers hit the keyboard this morning, than the first flakes started tickling our terrain and the tweets and likes started flowing in, singing praise for this early season bonus. Not only that, but we've got an even chunkier cold change coming later this week. A sign of things to come?
You know I've got to do it. The Grasshopper ain't sentimental. All week I've had people asking me if this week's weather means anything for the rest of the season, and all week I've been trying to let them down softly.
No matter how good it is to feel those first fresh fat frozen flakes falling freely into your flippers, there's virtually no correlation between the appearance of snow in April or May and the quality of the season. If you want to go to extremes then sure, a massive dump on May 31 would be a big help. But snow in early May? It may as well be March. At least, that's what my own analysis has told me. I'm happy to be proven wrong if you can spot a trend.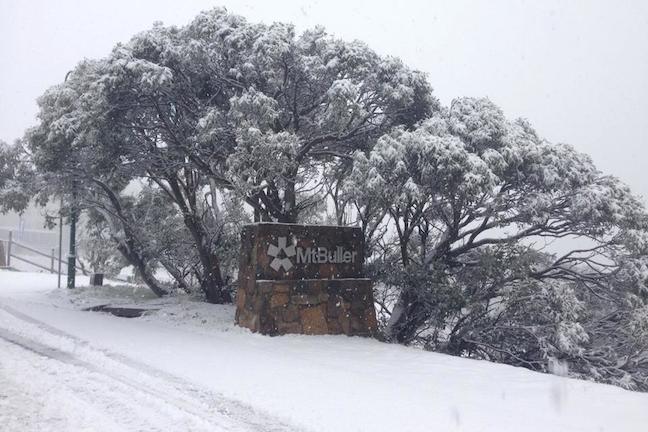 While it may not be enough to shred, any snow is appreciated at this time of year, we'll take it. Mt Buller, Wednesday 30 April Image:: Mt Buller
Back to business
When we left off last month's seasonal outlook we had established four things:
1) We were pretty darn sure that an El Nino was on the way.
2) The last 14 El Nino's could be split neatly into two groups. One of those groups is characterised by higher surface pressures over most of Australasia that kills rain bearing systems and really puts the kybosh on snowfall. This is the more classic El Nino pattern.
3) The other group of El Ninos, which we nicknamed "Wrong 'uns" (because they spin the wrong way), has on average resulted in lower pressures south of Victoria which has resulted in increased frontal activity and very decent snowfall, thank you very much.
4) We had very little idea of whether we were heading for a "Classic" El Nino or a "Wrong'un".
Head back and have another look at the maps in the last outlook if you need a reminder of the differences between those two types of El Nino. The big thing to remember, especially when you're reading about El Nino from other sources, is that there have been massive variations in snow depth between individual El Ninos. The graph below is a repeat of the one I published last month, showing how two strong El Nino events threw up completely different snow seasons. The key is working out what type of El Nino we're going to get.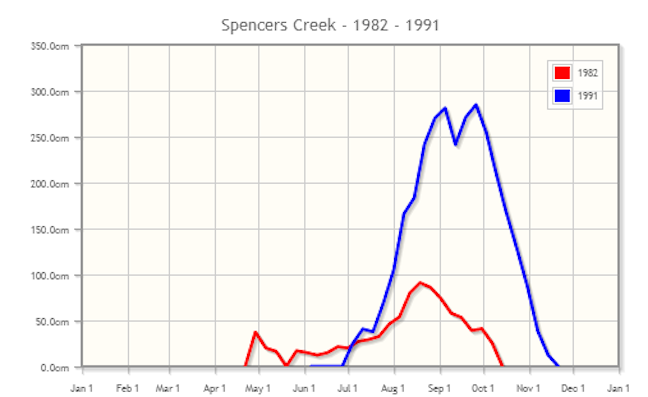 Image::Snowy Hydro
Another day older and none the wiser
The encouraging news is that we're now even more confident of the fact that an El Nino event is on its way. Chalk one up for the climate models which have been on to this sucker since the start of the year. It's the guys building these models who are the geniuses hitting it up the middle. Like a star fullback, I just get to swoop in when the hard work is done and steal all the glory.
The image below illustrates the growing signal for above average sea surface temperatures through the eastern equatorial Pacific, and this is set to explode over the next month or two as some warm water about 50 metres down bubbles up to the surface.
But – and this is a sumo-sized but – there's not yet any clear indication of which flavour of El Nino is more likely to turn up this winter. There are a couple of key models pushing in the right direction for a Wrong'un. I've got another angling for a Classic. A couple more are sitting on the fence.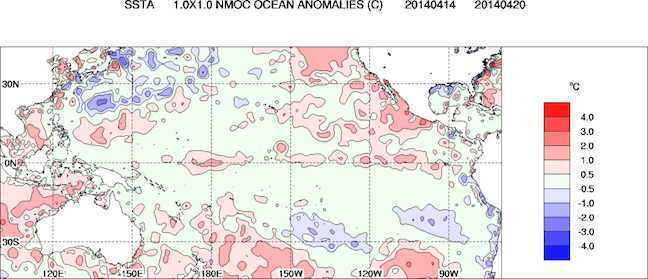 Sea surface temperatures are pushing above average along the equator. Image:: BOM
The good ship El Nino
The truth is, we still can't be sure whether this El Nino is going to smash us upon the rocks, or deliver us safely to a land of soft white powder.
In the absence of any new information that would encourage me to change my opinion, I'm sticking with my call from last month. That was for a peak snow depth of 172cm at Spencer's Creek, with the first big 50cm+ storm arriving from late June to early July, snow depths hitting the one metre mark from late July to early August.
I would still get that season pass. See you up there.
That's all from the Grasshopper. We'll update this outlook in late-May as the excitement starts to build before opening weekend. In each of the last two years our May update has held some very important information. If you've got a different theory on what's going to happen this winter, or just want to provide feedback, then please hit me up at grasshoppermw@gmail.com or Facebook.

Perisher forecasts,
snow reports and
live snow cams.
Falls Creek forecasts,
snow reports and
live snow cams.
Mount Buller forecasts,
snow reports and
live snow cams.
Charlotte Pass forecasts,
snow reports and
live snow cams.
Thredbo forecasts,
snow reports and
live snow cams.
Mount Baw Baw forecasts,
snow reports and
live snow cams.