Snow Season Outlook 2016 – New Zealand – July Update – Calling Out an SOS
July 4th, 2016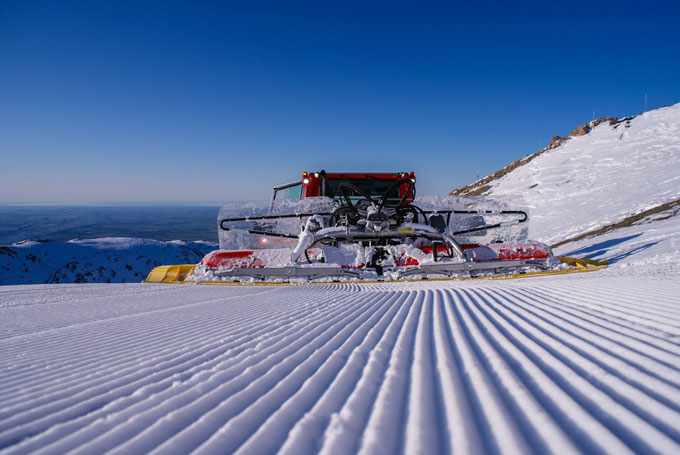 Thanks to the snowmaking and grooming teams there is still some great skiing on offer at Mt Hutt, but both islands are in need of some natural snow ASAP Image:: Mt Hutt
New Zealand Seasonal Snow Outlook | The Grasshopper
Brought to you by ESS Boardstores
Last month was a hard lesson in the difference between weather and climate. An early heavy snowfall in May had everyone jumping for joy. Everything was looking rosy for the upcoming winter – it also made me question my long range forecast. However, all of the major signs were signalling that New Zealand was on track for a worse than average season. June was very disappointing by all accounts. We got stuck in a bogus pattern of mild northerly winds and rain was mentioned a lot more than snow. Australia's East Coast Lows were the uninvited guests which hammered resorts along The Divide with heavy rain. There were a couple of rays of hope thrown into the messy mix but they got downgraded and shifted to the east which only served to intensify our craving for snow. We are now at the point that many resorts have not managed to open and wind hold has been a frequent feature in ones which have opened. The bumper snow of May is now a distant memory and a quick glance of the snowcams only reinforces the slightly depressing atmosphere. Clearly, something big needs to happen to reverse our fortunes.
This La Nina is Shy
El Nino Southern Oscillation (ENSO) is currently in a neutral state. My previous update described how it was likely that we were going to plunge into La Nina conditions this winter which would give us a higher proportion of warm northerlies than usual. Neutral conditions make warm easterlies more frequent – all of this keeping in mind that ENSO only describes roughly 25% of New Zealand's climate variability. The models have been flip-flopping a bit in their ENSO forecasts. The latest updates have done some backtracking – the consensus from international climate models is that while the neutral conditions will trend towards a La Nina state during the second half of the winter we will not quite break over the La Nina threshold. There is a slightly higher probability that the winter will remain neutral throughout and if La Nina does rear its ugly head then it'll be very weak. Either way, we are stuck between a rock and a hard place and we have certainly seen enough rocks (and wind from the north or east) in the last few weeks to last a lifetime.
Worrying Sea Surface Temperatures (SSTs)
Those pesky SSTs continue to ride at much warmer than average levels (1-2ºC above normal) in the waters around New Zealand, especially in the Tasman. This will give more juice to incoming weather systems making rain more likely than snow and raising temperatures across the country. Unfortunately, the SST anomalies are forecast to remain for the entire winter (insert sad face).
Where is SAM?
The Southern Annual Mode (SAM index) has been positive over the last few weeks. This is not great for New Zealand, it increases the likelihood of high pressure systems and keeps the lows zipping around Antarctica too far to the south. The SAM index is forecast to return to neutral (and then possibly turn negative) in the near future but it's a tricky beast to forecast beyond a couple of weeks.
The Model Forecast.
This year New Zealand seems to have a spectacular ability to dodge and weaken incoming weather systems. We have better snow prospects on the 6-8 July as a low exits South East Australia and heads for the North Island. Cold air rushing up from the south will collide with moisture from the Tasman giving the possibility of some decent snow to most of the South Island. Everything depends on the track of the low and a lot could change between now and then, it is certainly one to keep your eye on. High pressure looks like it will build in for the 11/12 with a return to the northerlies mid-month as another low approaches from the Tasman.
Regional Rundown
The Southern Lakes
The Remarkables have been clinging onto their early snow for dear life. It has been gradually melting but they managed to dodge the worst of June's rain and they still have some of the best conditions in the South Island. Coronet Peak is not faring so well and is closed for skiing at the moment. We are going to have to pin our hopes on getting some decent snow from a possible storm on the 6/7 July as we will only get dribs and drabs before then. I still predict that snow depths will be significantly below average by the end of July.
Canterbury
Canterbury has limited skiing due to lack of snow with snowmaking helping to compensate for natures shortcomings. There is not much in the way of snow forecast for the immediate future so we'll have to hope that the low on the 6/7 July follows a track to the north of the region which will push snow in from the south. Pickings are slim from the 8/9 July through to mid-month so the outlook is not good in terms of natural snow!
Wanaka
Fortunes have reversed for Wanaka this year. Last year it was enjoying the best conditions of the South Island but mild temperatures and rain ruined the start of the season this year. Treble Cone is currently on standby with a small base in place in Cardrona. Treble Cone will pick up a few centimetres this week from a couple of weak cold fronts. More significant snow is possible on the 6/7 July. The second half of the month should see the small base build significantly as we get into more frequent westerly winds but snow depths will still be running below average.
Ruapehu
We have snow on the upper slopes but the base is still looking bare. Fresh snow is possible on the 7/8 July from a system moving in from the Tasman but it'll likely be another rain/snow mix with only the upper mountain picking up anything significant. If you are planning a trip August/September is more of a sure bet than July.
Keep your emotions in check.
I think it's important to emphasise that although the season is likely to be worse than average overall and a real let down after last year's treat there will still be good weeks. Very active weather and above average precipitation is likely. It's just that not all of this extra precipitation will translate into snow and we will see a greater proportion of northerly/easterly winds than we'd like. Just remember, one big snowfall can give several weeks of OK conditions in a resort. Look at The Remarkables, they are still milking May's snow!
It's not a surprise then that I am going to stick with my forecast for a worse than average season in 2016. This year has started off badly overall. We still have a lot of ground to make up and the warm SSTs are not going to be conducive for cold nights which will limit snowmaking. Much like an old car on a cold winter morning I think that it will take much longer than average to get this season going and that things might still be a bit sketchy from time to time in July. If you do have a trip planned I'd say that August or September are a much better bet even with the crowds. I hope that I am wrong – I would love for things to change and those frowns turn into smiles.
That's all from the Grasshopper. We'll update this outlook at end of June. If you've got a different theory on what's going to happen this winter, or just want to provide feedback, then please hit me up on the discussion below. Or you can follow me on facebook.
The Remarkables forecasts,
snow reports and
live snow cams.
Treble Cone forecasts,
snow reports and
live snow cams.
Cardrona forecasts,
snow reports and
live snow cams.
Turoa forecasts,
snow reports and
live snow cams.
Coronet Peak forecasts,
snow reports and
live snow cams.
Whakapapa forecasts,
snow reports and
live snow cams.
Mount Hutt forecasts,
snow reports and
live snow cams.