The Ultimate US Road Trip – Aspen, Jackson Hole, Squaw Valley Alpine Meadows
August 13th, 2018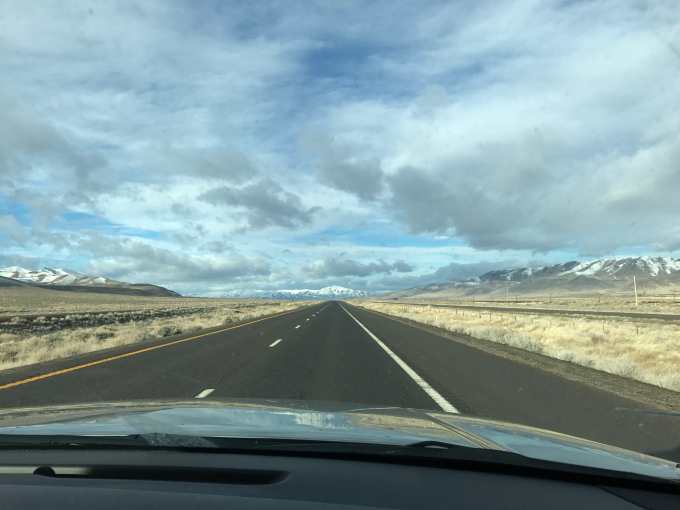 Mountainwatch | Reggae Elliss
The overseas road trip has a long history with Australian skiers and snowboarders and now the Ikon pass makes a road trip through the US very easy and economical. The Ikon Pass covers some of the best resorts in North America, and as the name suggests, some of the most iconic.
Driven by the recently formed Alterra Mountain Company, the IKON pass gives unlimited access to resorts owned by Alterra, including Mammoth Mountain, Squaw Valley/Alpine Meadows, Steamboat, and Winter Park and seven days at Deer Valley. It also offers seven days at a number of independently owned North American resorts including Jackson Hole, Aspen, Deer Valley and Alta. It is tailor made for multi-resort road trips in different regions like California (Squaw valley/Alpine Meadows – Mammoth – June Mountain), Utah (Deer Valley – Alta – Snowbird) Colorado (Steamboat – Winter Park – Aspen – Copper Mountain), perfect for a shorter trip.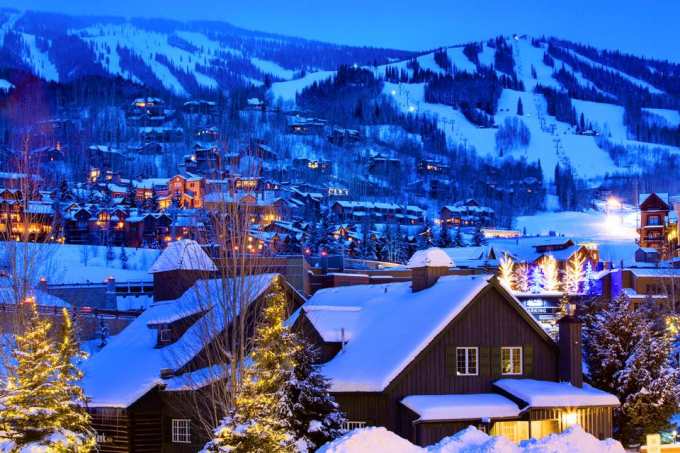 If you have the time, the Ikon Pass also gives you the opportunity to make one of the ultimate road trips, taking in three of the most iconic ski destinations in the world – Aspen, Jackson Hole and Squaw Valley. I spent four weeks doing this trip with my family in February last year, which coincided with the big 2016/2017 snow season and we scored great snow in each resort. Starting in Aspen, the trip took us through Colorado, Wyoming, Idaho, Nevada and California, taking in some amazing mountains, flat deserts and a myriad of tiny country towns.
ASPEN
We arrived in Aspen a few days after one of the biggest snow storms of the season, the town looking its best under a blanket of snow. Walking around Aspen on our first night easily made us realise why it is one of the most famous ski destinations in the world. The atmosphere is magical, the lights in the trees sparkling against the snow, the Victorian era houses and buildings lending the town a feeling of heritage and authenticity. Yes, this place is the real deal and when it's snowing everything is amplified.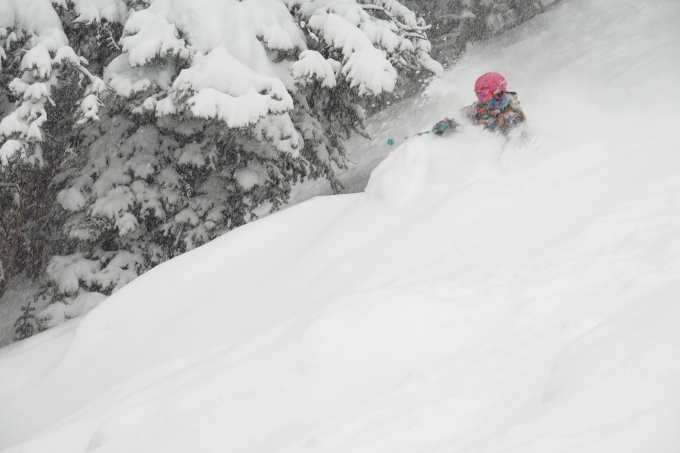 When the snow is good in Aspen, the skiing and snowboarding is incredible and with four mountains to choose from the diversity of the terrain is hard to match.  Aspen used to market itself as the "power of four", a pointer to the four distinct mountains in the Valley that make up Aspen/Snowmass – Aspen, Highlands, Snowmass and Buttermilk.  The Ikon Pass gives you seven days combined access to the four Aspen mountains, each mountain is different and together they offer a huge variety of terrain for all levels of skiers and snowboarders.
Aspen mountain is renowned for its gladed tree runs and double black steeps, while Aspen Highlands has some of the best and steepest in-bounds terrain in Colorado. Snowmass, around 25-30 minutes from Aspen, is huge. Its long, groomed runs provide excellent "highway skiing" if you are in cruise mode, while it also offers some great black diamond terrain to keep the experts happy.  Snowmass is also a resort within itself, with a large village, retail, restaurants and plenty of accommodation.
The fourth mountain, Buttermilk, is known worldwide as the location for the Winter X Games and its expert terrain park is one of the best in North America. Our visit coincided with the first couple of days of the X Games and watching the slopestyle eliminations and big air practice, you felt that Buttermilk is truly the epicentre of freestyle skiing and snowboarding. However, Buttermilk is also one of the best beginner/intermediate mountains you'll find anywhere. Its long and gentle terrain allowing novice skiers and snowboarders to gain confidence and progress quickly.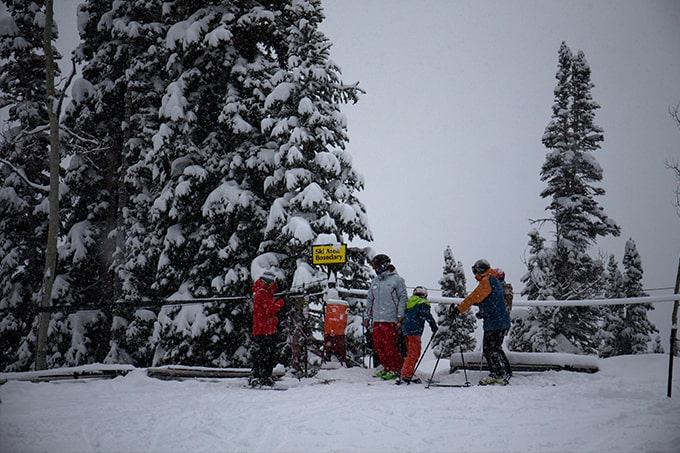 We had consistent snowfalls during our time in Aspen and a few days were a legitimate "as good as it gets". It was Aspen at its best and we were lucky as the storm cycle Colorado was enjoying only happens every five or six years.
We skied all four mountains a couple of times during our week in Aspen and the beauty is they all have a bit of everything, so you can mix it up each day. One of the great things about Aspen is you do not need a car. Accessing each mountain is easy as they are all serviced by free buses and shuttles from downtown Aspen and there are also bus links between each mountain.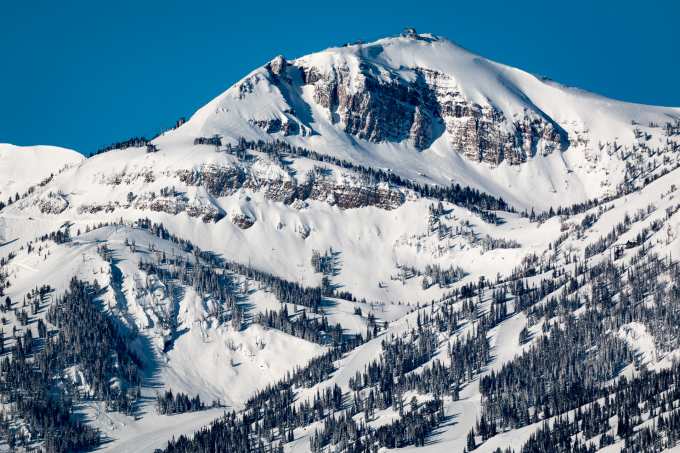 JACKSON HOLE
We left Aspen for Jackson under clear skies and bitterly cold temps. When we stopped for petrol at a town called Rifle I'm sure it was the coldest I've ever been in my life. The drive from Aspen to Jackson takes around 10 hours with a few put-stops and it was like being in an old Western, with the geography a mix of mesas and snow-covered flatlands and small towns with names like Rio Blanco, Baggs and Rock Springs.
Located in Wyoming near the Grand Teton and Yellowstone National Parks, Jackson Hole is a spectacular part of the world. It has a reputation for serious terrain, dry snow, core local skiers and boarders, amazing views and a fun, cowboy atmosphere. Jackson more than lived up to that reputation, but with a few surprises as well.  I learnt that Jackson Hole not only delivers a true big mountain skiing experience, both in resort and the gate-accessed back country, but the variety of terrain means it also has something for everyone, from kids and first timers, to intermediates who like long, mellow groomers.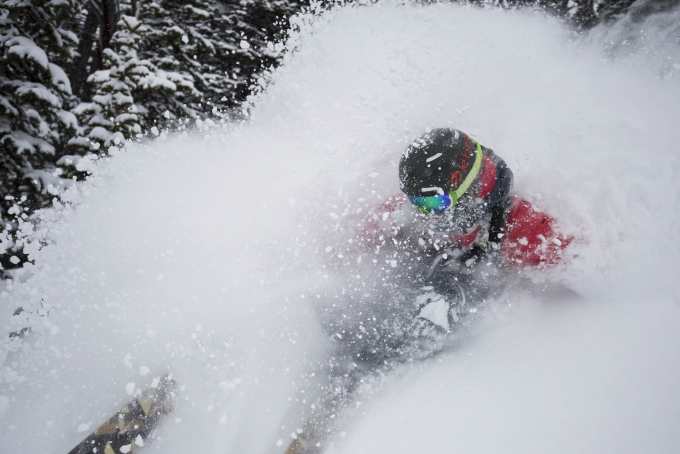 We had a couple of days of clear weather when we arrived which gave us an opportunity to explore the mountain and get a feeling for the terrain. After two days of fine weather another storm moved in, dropping 30cms overnight, the snow so light you could blow it off the car.  We were also lucky to have a Hotham skier Coen Bennie-Faull as our guide and Coen will be guiding the Mountain Tours to Jackson next winter. He has spent the past five winters skiing and filming in Jackson and knows the place well.
We managed to get on the early tram (one of the perks of being a snow journo) we dropped into some amazing snow in the trees, knee deep and light with a series of roll overs and fun drops. It was one of those mornings that you know is going to stay with you for a long time, but the best thing was the day was only just starting. I knew we were in for something special. When Jackson is on, it is really on, and it doesn't take long to see why it is regarded by many as the best resort in North America.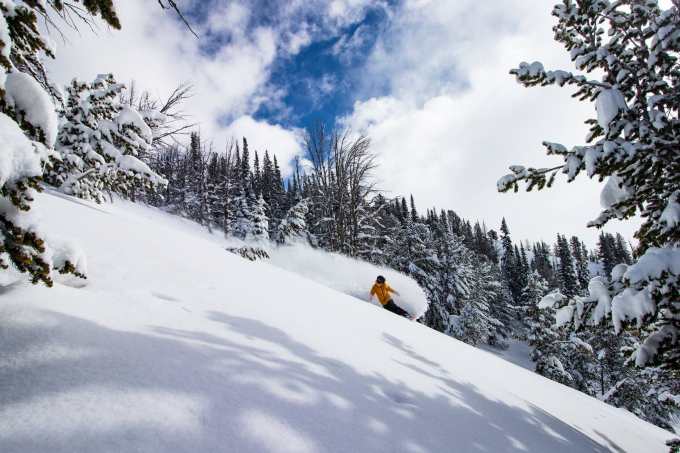 While Jackson Hole's inbounds terrain is incredible, the lure of its backcountry has been calling skiers and boarders for decades. Getting into the backcountry is something any advanced skier/boarder needs to do when visiting Jackson, but only with an experienced guide who knows the place well.  It turned out this day was the first of five powder days we'd enjoy in Jackson and after that I'd have to agree Jackson is rightfully regarded as one of the world's leading resorts. It truly is awesome. I may have ticked Jackson Hole off my bucket list, but I know we'll be back.
If you wanted to find out more about Jackson Hole be sure to check out our Mountainwatch Guide To Jackson Hole.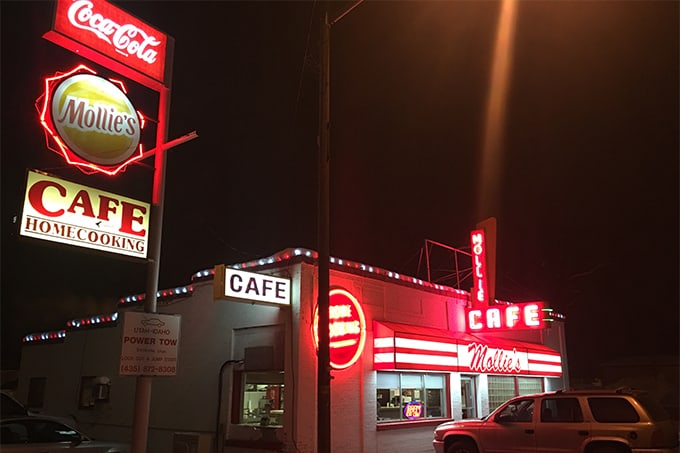 SQUAW VALLEY
Driving from Jackson to North Tahoe was always going to be adventure, which started when we hit the Teton Pass. The walls of snow on either side were incredible and it's no wonder the pass is often closed for avalanches or avalanche control each winter. After leaving the grandeur of the Tetons behind, the mountains quickly gave way to the flat expanses of rural Idaho. As my renditions of the B52s My Own Private Idaho drove the kids mad, we entered a no man's land of flat snow-covered fields, isolated farm houses and highway diners straight out of Happy Days.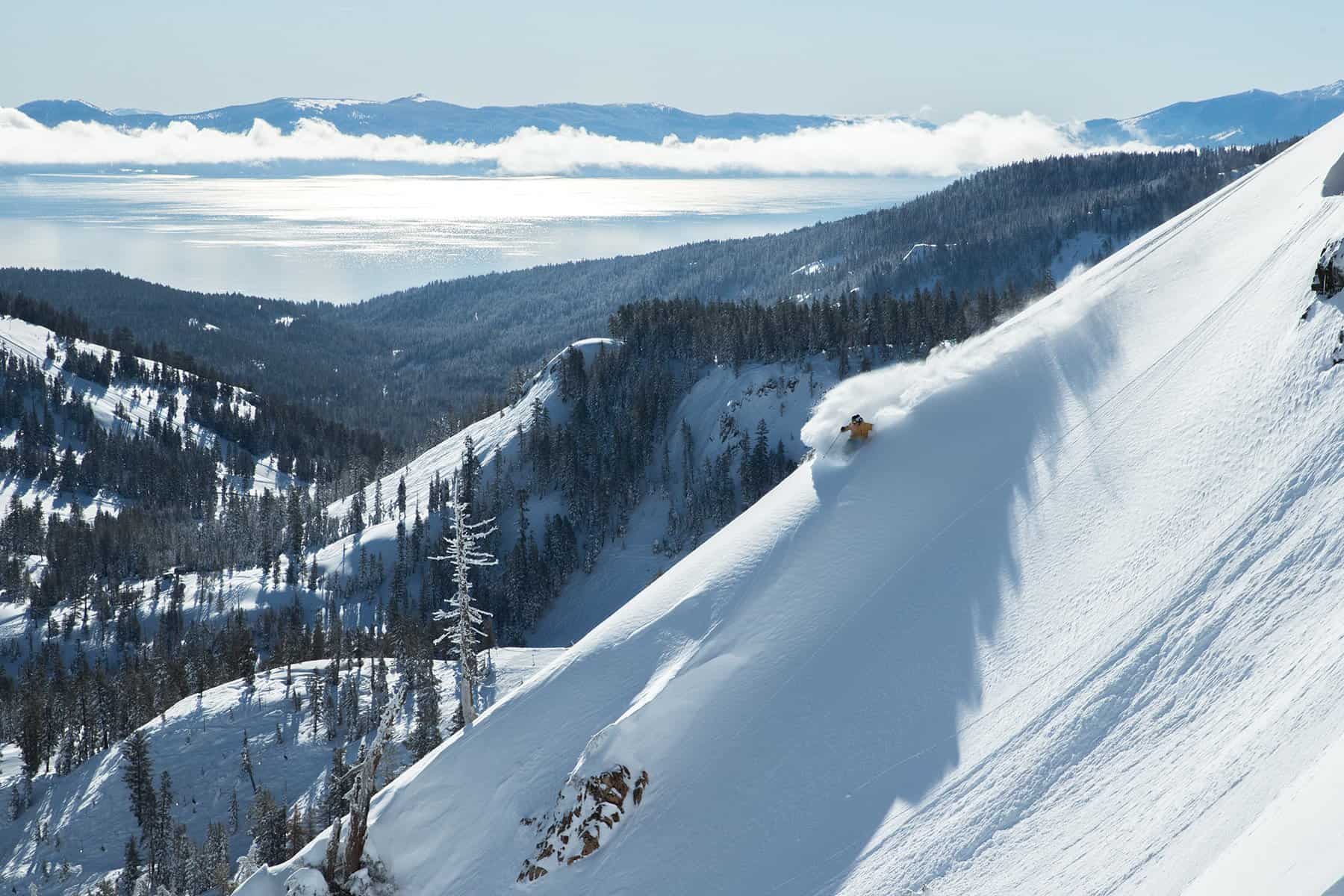 The drive did take us through a number of towns just like Radiator Springs but the closest we saw to Lightning McQueen was an old 58 Chevy sitting on the roof of a roadside diner. Eventually, we hooked into interstate Highway 80 and then it was a straight drive to Tahoe. We knew we were Nevada when we passed a casino about half a kilometre inside state lines. No missed opportunities here. Our overnight stop was at Elko, a town of 19,000 people surrounded by dust and spinifex with views of the nearby Ruby Ranges. Typically for Nevada towns, casinos seem to be on every street corner and we ended up checking into the Red Lion Hotel and Casino.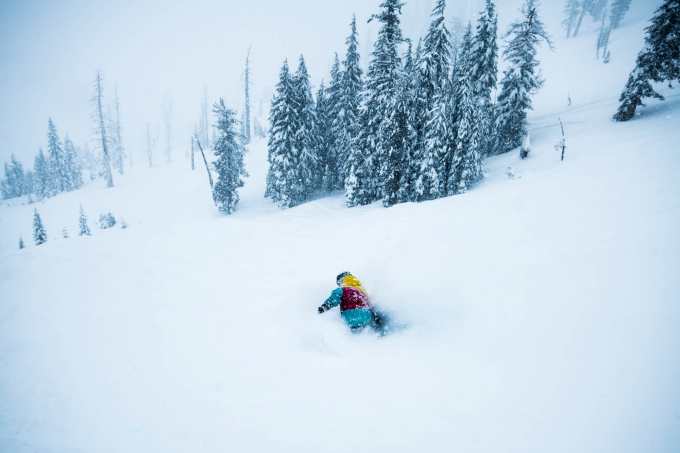 Squaw Valley is owned by the Alterra Mountain Company  and the Ikon Pass gives you unlimited access at Squaw and nearby Alpine Meadows.  Squaw and the other Tahoe resorts are in direct line with the moisture-laden storms that move in from the North Pacific, dropping a lot of snow on the Californian Sierra mountains with snowfalls often measuring in feet, not inches. Squaw gets an average of just over 11 metres a season and when it has deep snowpack and 100% of terrain open, Squaw Valley offers some of the best in-bounds skiing in the world and has long been home to some of the world's best skiers. People like the late great Shane McKonkey, JT Holmes, Johnny Mosely and Scott Schmidt made their names skiing the cliffs and exposed lines in Squaw, the photos and films earning the resort the nickname Squallywood. The tradition of hot local skiers continues today with Cody Townshend and Michelle Parker leading the way.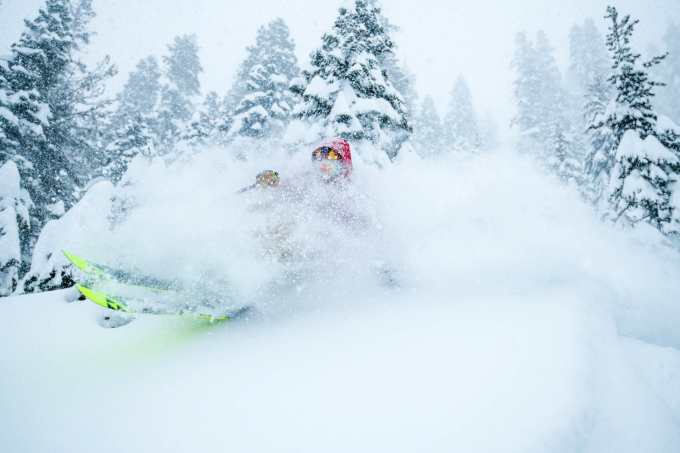 While Squaw is known internationally for its big steep bowls, chutes and cliff drops, there's also plenty of mellower terrain including a massive beginner's area, cruisy, long groomed intermediate runs and a five terrain parks. The beauty of Squaw is regardless of your ability, you can stay in your comfort zone or climb out of it and progress. For the experts, drop into anything off the top of the KT 22 chair and you're in heaven – 2000 vertical feet of challenging steeps, a mix of chutes, bowls, gullies and cliffs.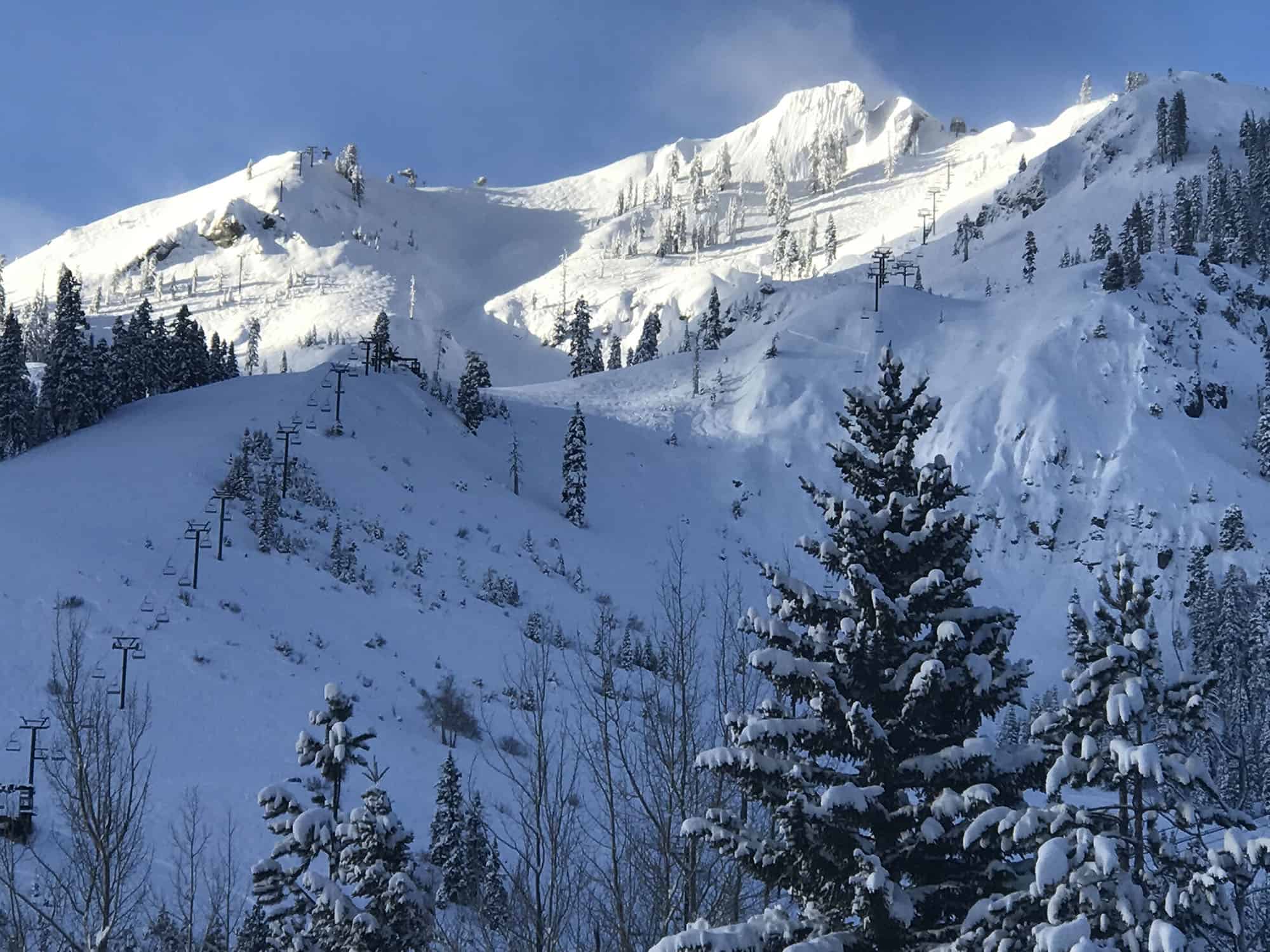 If you're after something mellower, check the groomers and playful off-piste around the Shirley Lake and Solitude chairs, an area of tree glades, fun roll overs and early morning corduroy. Then there's the seemingly limitless off-piste terrain off the Granite Chair, always worth a few hours when the snow is good.
Our last day in Squaw was the last day of the trip and it turned out to be one of the best. Sunshine, no wind, a cover of beautiful cold winter snow and amazing views across Lake Tahoe. It is never easy to head home after a ski trip and none of us were stoked on the thought of school, work and normal daily lives, but it was a nice way to end an epic trip.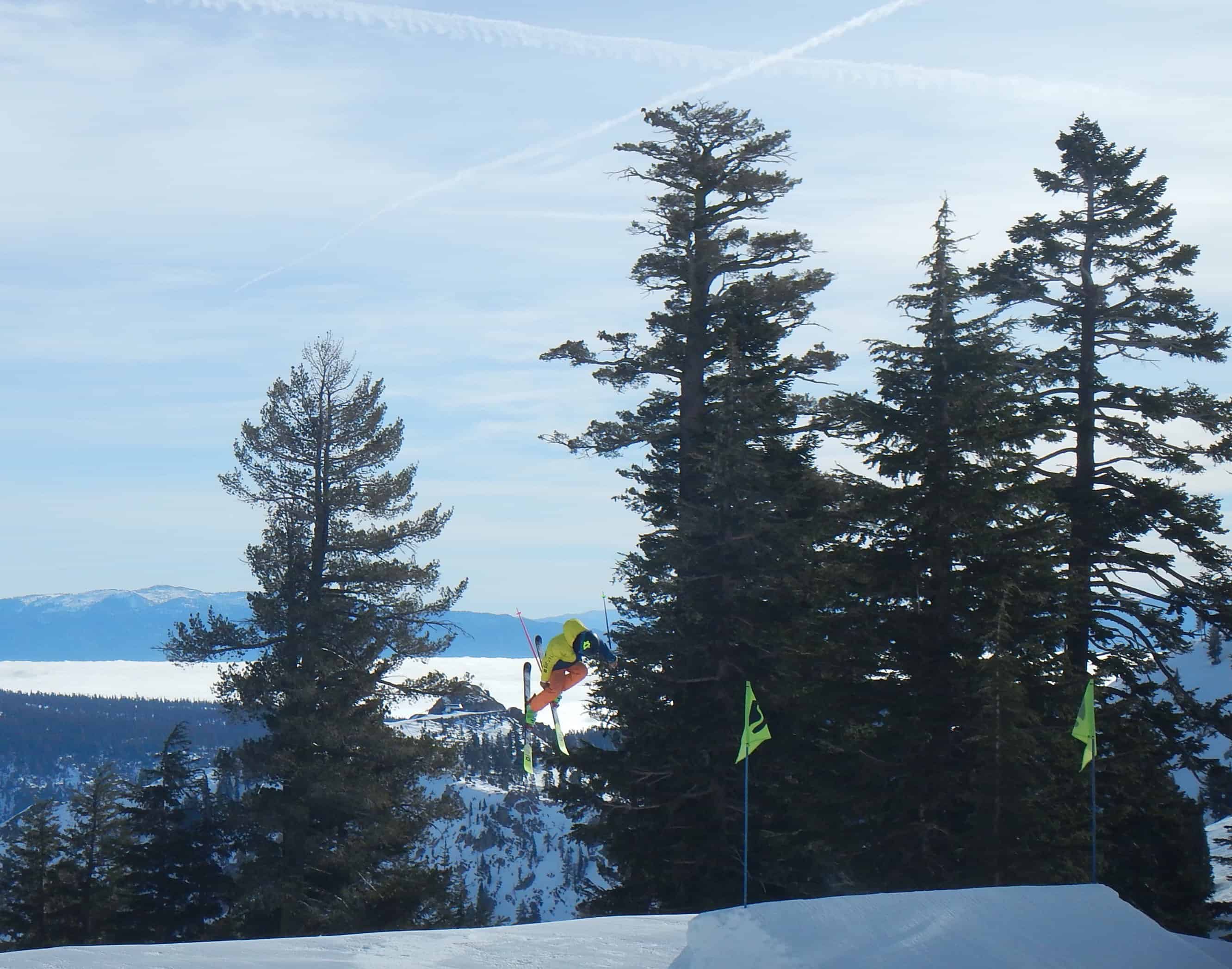 For any skier or snowboarder, a trip like this is the ultimate holiday. Three amazing resorts, incredible snow and a drive through parts of America far away from the well-worn tourist trail. It's a trip our you will remember for the rest of your life and with the Ikon Pass, easily attainable.