Two Skiers Missing After Avalanche in Hakuba Valley Backcountry
January 30th, 2023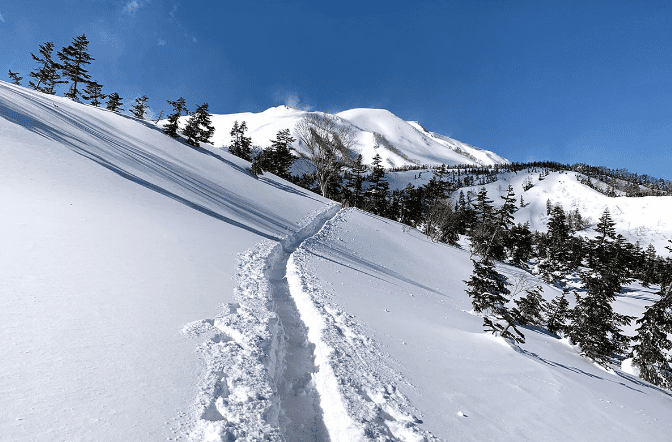 Mountainwatch | Reggae Elliss
Two men are missing, feared dead, after an avalanche near Tsugaike Resort in Hakuba Valley yesterday afternoon. According to news reports three other skiers hit by the avalanche were among 11 foreign nationals who had already made the descent.
One skier suffered a broken arm but information on whether there were any injuries to the other skiers has not been released. The avalanche happened around 2.30pm on the eastern slope of Mt Hakuba Norikua, a popular backcountry area outside of Tsugaike. The avalanche was witnessed by a foreign national who alerted police.
Police said a total of 13 people in three groups were skiing the area at the time of the avalanche. The nationality of those involved has not been released.
Inclement weather and continuing snowfalls yesterday afternoon hampered a search for the missing skiers. Police were set to begin the search again at 7am this morning.
There has been heavy snowfall across the Honshu resorts over the past two weeks, including 70cms in the past five days. The warning for avalanche danger in the Hakuba backcountry was high for all elevations yesterday and has been for the past five days.
On Saturday Northern Heights Guiding, one of the most experienced backcountry operations in Hakuba Valley, advised in an instagram post that the avalanche hazard was high and "with 50+cms over the past 48 hrs, wind loading and buried rain crust – take care on your terrain choices out there. Valley exits and avalanche slide path exits are notoriously risky areas."
There was also an avalanche in the backcountry at Nozawa Onsen on Saturday that caught two snowboarders, one of whom is still missing. According to the police, the missing person is a 38-year-old man from Uonuma City, Niigata Prefecture. Reports say that the two were part of a group riding Nozawa's back bowl which is notorious for its avalanche potential. After 70cms of snow fell in the previous 24 hours the avalanche hazard was very high.
The two incidents are an unfortunate reminder that while 60cms of untracked fresh light powder is hard to resist, underestimating, ignoring or not being aware of the backcountry conditions is always dangerous.
More details to follow.