2014 WINTER OLYMPIANS – Amy Sheehan
October 28th, 2013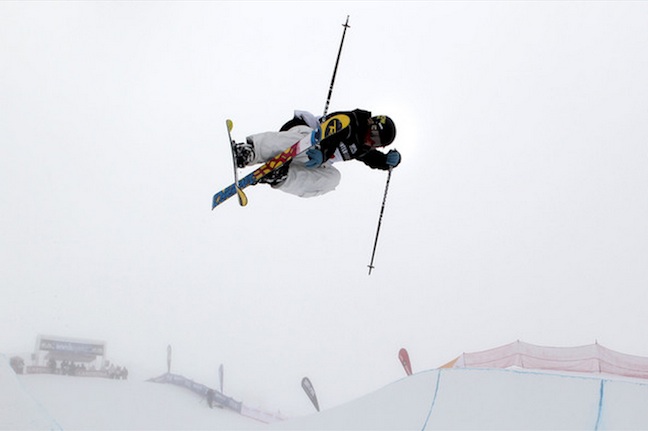 Amy throwing down in the Winter Games halfpipe over in her now native New Zealand Image:: Winter Games NZ
Mountainwatch | Nat Segal
If you were to ask the average Australian to list some of the sports that Australia competes in at the Olympics, I doubt that skiing would be amongst the first. As a country where swimming is the norm and skiing is less accessible, our winter athletes have risen above and beyond, to not only participate in, but to dominate ski disciplines that will be part of the 2014 Sochi Winter Olympics. Skiing is by no means the highest funded sport in the Australian Olympic Committee's portfolio, nor is it the biggest; but gosh do we have talent.
With several new disciplines added to the next Winter Olympics, including Slopestyle and Halfpipe skiing, it's bound to be an interesting one. In the last decade Australia has accumulated an assortment of snow sliding, medal-wielding machines who are in line to qualify for Sochi. With successful northern winters behind them and less than a year until the Games it's only natural to be a little bit curious about them.
Over the coming weeks we will be bringing you profiles on all our Winter Olympic hopefuls, check back for the rest of the team…
EVENT: Pipe
Name: Amy Sheehan
Age: 26
Hometown: Wanaka, NZ
Discipline: Halfpipe
Years competing: 7 years
Home Mountain: Snow Park, NZ
Are you studying: Not at the moment
Best results: 2nd NZ Open Pipe, Snow Park, 2011
Favourite trick in the pipe: Right Cork 7
Breakfast of champions: Tomato, Avocado and Vegemite on Toast
Sponsors: Bolle, Rossignol, Obermeyer, Flagship United, Snow Park NZ, Pow, SkierAmy.com
What is the main challenge you face in the lead-up to the 2014 Olympics?
To get a good result at the Olympics is obviously my goal, so I will be working on new tricks, the balance is to do that while staying in one piece so I will actually make it to Russia. It's a balancing act, one half of me wants to go as hard and as big as I can, but I also know I have to pace myself.
You were born in Australia but moved to NZ as an ankle-biter, has growing up there given you any advantages as a halfpipe skier?
As little ones in Australia we spent all our time at the beach with my dad, who is a crazy surfer. Moving to the Southern Alps when I was 9 was a whole new experience, thankfully we fell in love with skiing. We are also very blessed to live in the freeride mecca of the Southern Hemisphere and with Snow Park in our backyard it couldn't get much better.
What lead you to become a halfpipe skier, have you always been a competitive skier?
My brother and I were part of the local race team as kids, but got bored of it as teenagers. I was almost about to trade in my skis for a snowboard and then the twin tip hit the slopes! Learning that our skis could go everywhere a snowboard could opened up a whole new world of opportunity. I loved skiing in the pipe and jumping so as a competitive person I got the itch to take my new skills to competition.
This will be halfpipe skiing's inaugural year at the Olympics, how does it feel to be part of the revolution? Have there been many changes in the sport since it's inclusion?
I have never been so excited. Participating in the Olympics has always been a dream and to be apart of this revolution makes me so proud. In saying that I am also very grateful for all the amazing years of freeskiing prior to the Olympics. The spirit of the sport has changed a lot since the announcement of the inclusion of freeskiing to the Games.
If powder skiing was an Olympic sport would you jump ship?
Good question. As much as I love a good pow day, I think I'd prefer those days to stay untouched, free-spirited and rule free.