Monday 15 July – Dustings & dumps as three storms hit by Thursday
Synoptic Outlook
The Southern Annular Mode (SAM) took a dive into a negative phase early in the month, bringing that belt of stormy westerly winds up over New Zealand. The relentless barrage of storm systems may wane a little towards the end of the month as the SAM trends towards neutral values.
With temps already nice and chilly over New Zealand, a tidy looking low will get stuck-in during the latter half of today, giving the Southern Lakes a dusting and dropping an honest 5-15cm on Canterbury fields; those closest to the Divide will be at the top end of that range, while those further east, namely Mt Hutt, will be a the lower. The system will go on to ravage Ruapehu early Tuesday, where a whopping 30-40cm of snow should fall, although it might be a little slushy at base levels.
Another system crosses the country on Wednesday, giving the South Island another dusting, while Ruapehu will pick up another 15-30cm for the day. But wait there's more! A third system moves up the South Island during Thursday, giving the place another dust up. Again, those closest to the Divide will receive the most.
Image of The Day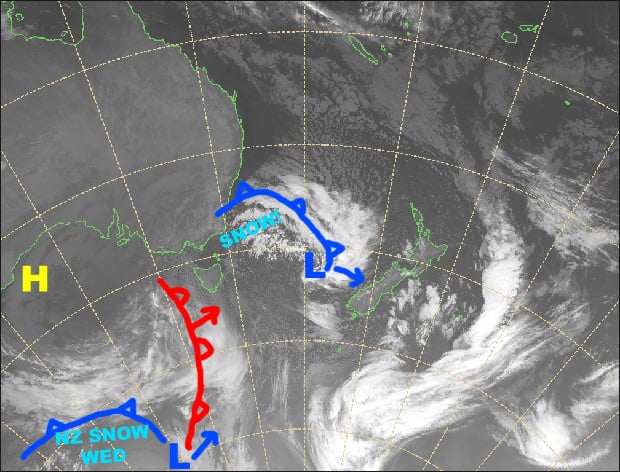 The low sitting in the middle of the Tasman Sea will get stuck into the country later today. Source:: NZ Metservice (vandalised by the Grasshopper)
Monday 15 July
Cloud will build over the South Island later this morning, then scattered snowfalls from afternoon with heavier falls possible in Canterbury after dark. Freezing westerly winds will turn N-NW and strengthen in Canterbury.
Snow showers on Ruapheu will ease back to just a flake or two this morning, with strong westerly winds turning NW.
Tuesday 16 July
Snow showers and flurries over the South Island will gradually clear. Light winds over the Southern Lakes, but Canterbury will have a brisk northwesterly.
Ruapehu will be out of control at first with heavy snow, falling as slushy stuff on lower slopes, and severe gale northerly winds. A lighter and chillier westerly change during the morning will see snowfall easing to snow showers.
Wednesday 17 July
Scattered snowfalls over the South Island during the morning, then becoming fine as W-SW winds kick in
Snow showers on Ruapehu, some could be fairly vigorous, with gale W-NW winds giving us blizzard conditions at times.
Thursday 18 July
Light scattered snowfalls spreading up the South Island while NW winds strengthen.
Mostly cloudy up Ruapehu with a few flakes fluttering down while brisk westerlies turn NW.
Extended Outlook
The third system will continue up the country on Friday and will drop another hefty load of snow onto Ruapehu, although it'll be wet and slushy on lower slopes. A chilly southerly chasing up its rear will also give the South Island nice looking snowfalls, especially in Canterbury.
A low may spin up just east of the North Island this weekend, sending snow showers and strong southerlies over Ruapehu, some of which may clip Canterbury fields, while the Southern Lakes should be clear and calm.
That's all from the Grasshopper. Wanna keep your finger on the pulse of all things snow? Join my weekly email list by filling in the box below. If you have a question or feedback for me, hit me up on facebook.