2017 Japanese Snow Season Outlook – The Grasshopper
November 17th, 2016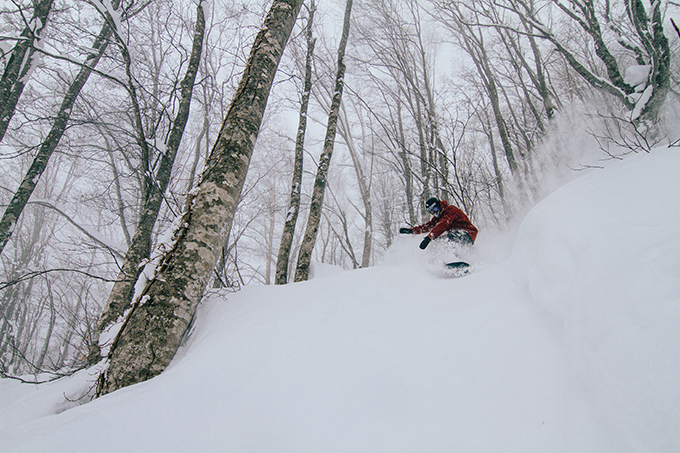 Are you planning on having a stint in Japan this winter? The Grasshopper has spoken and there's a good chance you'll be scoring some of this. Rider:: Troy Sturrock, Image:: Finnegan Laver
Mountainwatch | The Grasshopper
Yukiguni, or Snow Country as it is more commonly known, is legendary. Drive a couple of hours drive west from Tokyo and you will find yourself standing at the doors of a powder hound's promised land. Rumor has it that we often travel and buy things to compensate for a lack in another area of our lives. We love our Aussie season, with its highs and lows, but there is no denying it… Japan's epic snowfall is a strong pull. If we could take out an annual insurance policy against a bad snow year in AUS then this would be it. And it's not just the copious amounts of snow that will make your mates jealous back home – you get to explore a land steeped in tradition and culture that will have itching to come back year after year.
I began my meteorology career in the foothills of the Japanese Alps. A wise master took me under his wing and sent me Down Under to put my skills to test in a strange gum tree filled land where every snowfall counts. During the lull periods in the Aussie season staring out towards the horizon on the Kosciuszko Express I often reminisce about my early days as a young grub hopping around in fluffy Japanese powder. I still return year after year to top up my knowledge and float down the mountain in waist deep snow. I invite you to join me this year on what will be an epic journey of discovery. To better understand Japan we first have to understand…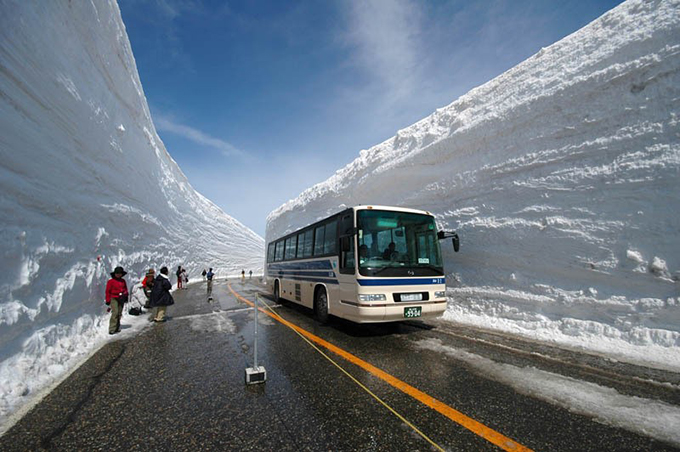 Yuki-no-Otani snow canyon at 2450m asl offers a unique sightseeing experience for snow fans every spring.
Why is Japan so deliciously Snowy?
You may have heard of the 'Lake Effect Snow' that affects the Great Lakes Basin in North America. Buffalo in New York State got a well publicized 1.5 to 2.1m of snow from a lake effect snow storm in November 2014. What happens in Japan is similar but known as 'Sea Effect snow'. In order for the 'sea effect snow' machine to switch to overdrive we need cold Siberian winds to blow across the Japan Sea from the north-west/west. This occurs frequently during the Northern Hemisphere winter. Normal conditions see a strong Siberian high lie to the west of Japan and a low spin in the North Pacific. The air flowing over the relatively warm Japan Sea needs to be cold and deep with a temperature difference of at least 13c to the sea surface. This temperature difference is boosted by the warm 'Tsushima Current' – it originates in the Japan Island and flows north through the Japan Sea eventually reaching the North Pacific south of Hokkaido. As the Arctic air slides over the Japan Sea a ton of moisture evaporates and clouds start to form. The cherry on the cake in Japan's case are the Japanese Alps. When all that cold moisture laden air starts to run into land over Japan friction slows it down causing it to pile up. Extra orographic lift given from the Japanese Alps results in truly mind-boggling snowfall. The mountains that run down the centre of Honshu and Hokkaido act like a super absorbent sponge squeezing out all the moisture piling in from the north-west. Curiously, it is often sunny in Tokyo to the east while the west side of the country experiences whiteout conditions. Any Kiwi's out there know this phenomenon well, it is often snowing/raining heavily on the west side of South Island Divide while Christchurch basks in sunshine.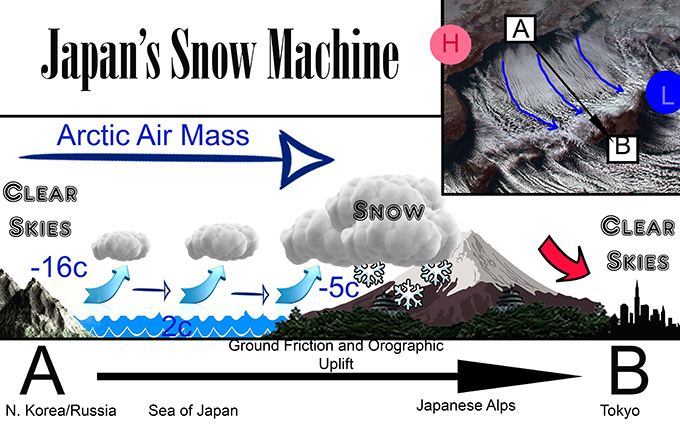 As cold Siberian air flows from N.Korea/Russia over the Sea of Japan towards Japan it picks up moisture. Friction and Orographic lift cause snow clouds to build on the western side of Japan while Tokyo basks in bright sunshine. The 'Sea Effect Snow' phenomenon is visible in the satellite image in the top right corner with A and B representing points in the cross section shown in the illustration. Source:: Grasshopper
Where and when do I go?
Have you ever heard of Japan's Heavy Snowfall Zones? For a snow nerd like me the first time I heard about them I almost wet myself. Yes, they really do call them that. Heavy snow can be such a hassle in Japan that areas affected by excess snowfall get subsidies from the government to help them cope. I vote thay they start shipping it Down Under and storing it for when a wrong'un El Nino year hits. As you might expect, If you want to maximize your chances of seeing some heavy snow head for NW Honshu or Western Hokkaido, resorts such as Niseko are a sure bet and they also have better facilities for English speaking guests.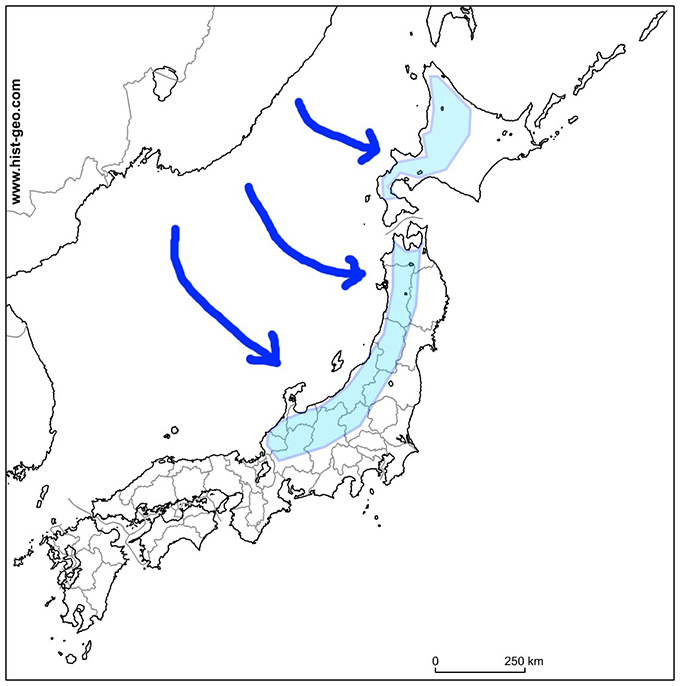 The areas shaded in light blue see the heaviest snow in Japan. They are perfectly placed to scoop up moisture flowing in from the north-west. Source:: Grasshopper
Japan has a very diverse climate for the size of the country and the length of the snow season varies depending on latitude and altitude. Generally speaking, the season gets going in mid-December and ends from mid-March to the end of April. There are huge variations in opening dates between different ski resorts with some opening at the end of October and others closing mid-winter before re-opening in spring due to excess snow… yup that is right! If you are risk adverse you want to increase the odds of tapping into some epic powder skiing then January and February are sure bets but be warned as the slopes can get crowded.
Is Japan the Snowiest Place on Earth?
There is a lot of online debate regarding the snowiest place in the World so let's try to set the record straight. Right off the bat I'll admit that it is very likely that the snowiest place on Earth is uninhabited or lacking a reliable weather station. So, we still don't know for sure. There are plenty of places which could claim this title, parts of coastal British Columbia/Alaska, the high altitude areas of the Southern Alps in New Zealand exposed to the west, Patagonia etc…
Turning our bug eyes to places with reliable weather records we find that there is a punch up between the mountains of western Washington in the good ol' US of A and Japan. Focusing on ski resorts first, Mt Baker takes the crown. It has the highest average annual snowfall of any resort in the World with 16.3m. Japan comes in a respectable 2nd place with 15.11m at Niseko.
Widening our criteria to non-ski-resort areas I have scouted out places with even more snow. In the red corner, we have Paradise Ranier Ranger Station which registers an average annual snowfall of 17m. In the blue corner we have Sukayu Onsen in Aomori, Japan, it is one of the snowiest places on Earth with an average annual snowfall of 17.6m (it is worth the trip just for the baths and the roads are kept open year round). Those are the annual averages. Extreme snow years are even snowier. A whopping 29 meters was recorded at Mt. Baker in the 1998/99 season.
If we look at peak snow depth Japan also wins this title with 11.8m recorded at Mt Ibuki in 1927, slightly more than the 11.5 m snow cover recorded at Tamarack in the Sierra Nevada Mountains in California in 1911 or the 9.3 m recorded at Paradise Ranger Station in the Washington Cascades in 1956. Regardless, Japow has more than enough of the white stuff to keep you happy, especially if we start to take stock of the last 10 year's slightly disappointing peak snow depths recorded at Spencer's Creek. But as we all know, it is not quantity that matters, it is quality. In North America, for example the dry snow of Colorado or Utah is often much better to ski than the sloppy wet snow of the west coast.
Curious Apres Ski
Don't be fooled, snow tourism in Japan is big business and you'd be a fool to miss out on some of the unique experiences on offer. After a hard day on the slopes then why not relax in an Onsen? There are plenty of hot springs to choose from scattered all across the Snow Country. If you happen to be in Japan during spring you could walk the famous snow canyons (Yuki-no-Otani) along the Tateyama Kurobe Alpine Route in the Tomaya Prefecture. Yamagata Zao Onsen Ski resort gives you the chance to ski or board among the famous snow monsters on Mount Zao. The snow monsters are lit up during the evening – this is definitely one for my bucket list. Most Aussies head for Hokkaido. Why not combine Niseko with a trip to the Sapporo Snow Festival to see the awesome ice sculptures? Alternatively, you could watch the snow cranes dance in Kushiro Shitsugen National Park, they have an elaborate mating ritual (don't we all) which is best seen during February.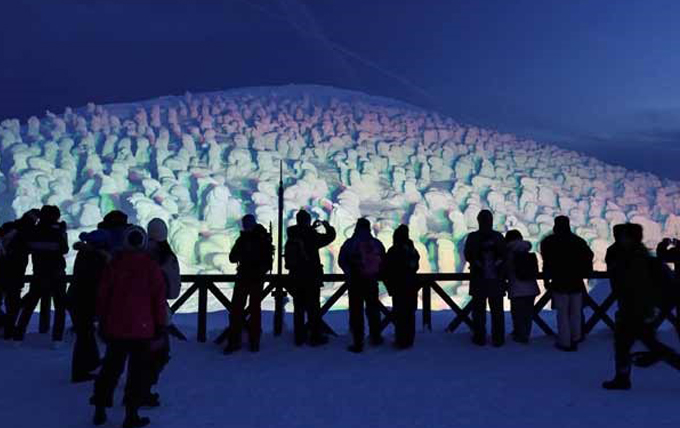 The snow monsters are formed by on Mount Zao are illuminated certain nights during winter.
2016/17 Seasonal Forecast?
The 2015/16 season was slow to start and recorded below average snowfall. This can be attributed to the strong El Nino event. It is good to know that It is not just Australia that bears the brunt of a wrong'un. The El Nino Southern Oscillation State (ENSO) influences storm tracks in Japan. El Nino years make incursions of warm air more likely while La Nina years give a slightly better probability of cold north-westerly winds and bumper snow. However, it is important to keep in mind that El Nino only accounts for a small variability in year to year snow depths in Japan – roughly 5-10%. We have a neutral ENSO state in play at the moment but recent observations have seen us start to approach the La Nina threshold. The international model consensus is that neutral conditions will prevail during the Northern Hemisphere winter. However, it is worth mentioning that there are a couple of outliers. The Japanese Meteorological Agency (JMA) and the National Oceanic and Atmospheric Administration (NOAA) favour weak La Nina Conditions developing during the winter. For that reason, I'm going to go for an average to slightly snowier than average season this year. This correlates with the Japan Meteorological Agency (JMA) forecast which also goes for an average season in terms of snow depth.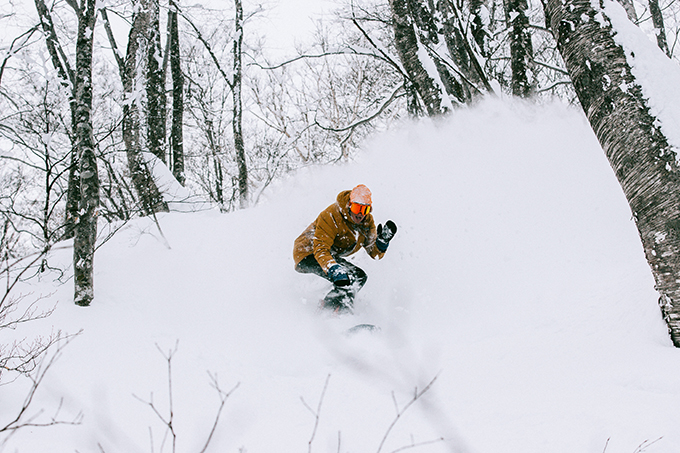 Richie Carroll's looking forward to days like these becoming more common this approaching Winter. Image:: Finnegan Laver
Say Sayonara to our Sweaty Summer.
So, what are you waiting for…? Now is the time to visit the snowiest place on Earth. This year has a much better chance of us seeing those classic Japanese powder days. We have finally shaken off last year's El Nino and neutral to weak La Nina conditions are on the cards. If Japanese snow doesn't get your adrenaline pumping, then I don't know what will! I hope to see you in the onsen after a day killing it on the slopes. We can share stories of epic powder days, snow monsters, drink sake and then butcher the language with our drunken attempts at Japanese.