2020 Australian Snow Season Outlook – September Update
September 10th, 2020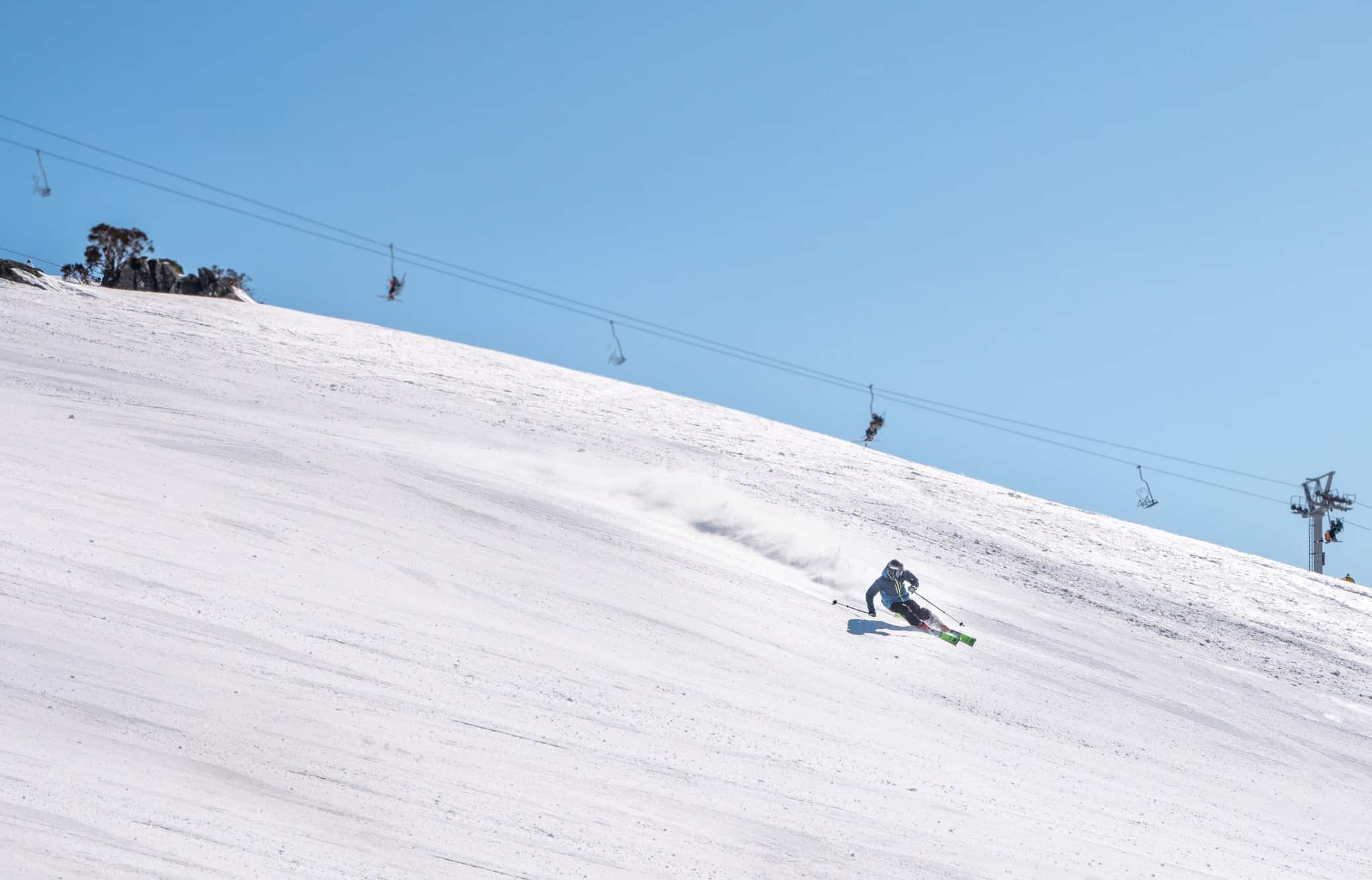 Mountainwatch | The Grasshopper
Stranger Than Fiction
After what could be described as a… well, strange season so far in the Australian Alps, we find ourselves glued to the weather forecast desperately searching for anything resembling a snowflake. It was hoped the snow was simply waiting for spring before the heavens miraculously opened up, giving us countless powder days as we skied into summer. But alas, we appear to have hoped in vain as it is looking less and less likely that we'll see a substantial snowstorm anytime soon.
The Southern Annular Mode has sat in a negative phase this past month, which would typically bring increased snowfall to the Aussie Alps. For the most part, however, we remained on the eastern edge of a monstrous blob of low pressure, bringing only mild, wet weather.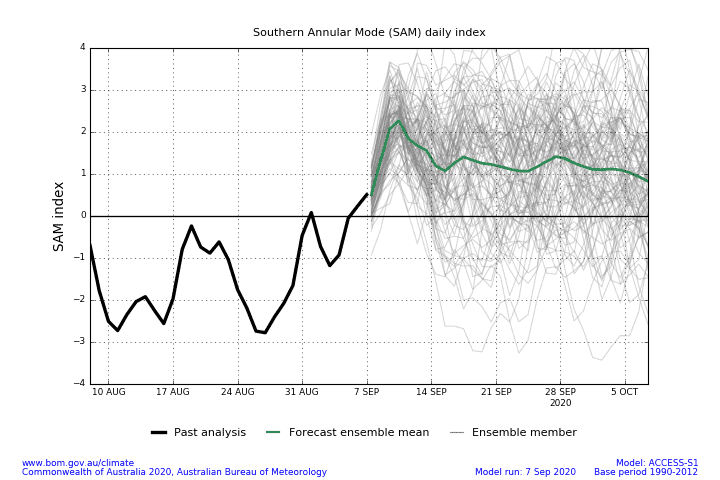 It wasn't until this blob migrated eastwards, putting us on the cold western edge, that we finally had our first proper snowstorm of the season from the 19th to the 24th of August. Up to nearly a metre of high quality powder fell, and any woes or hang-ups were cast aside for a few magic days, which Reggae describes in detail here.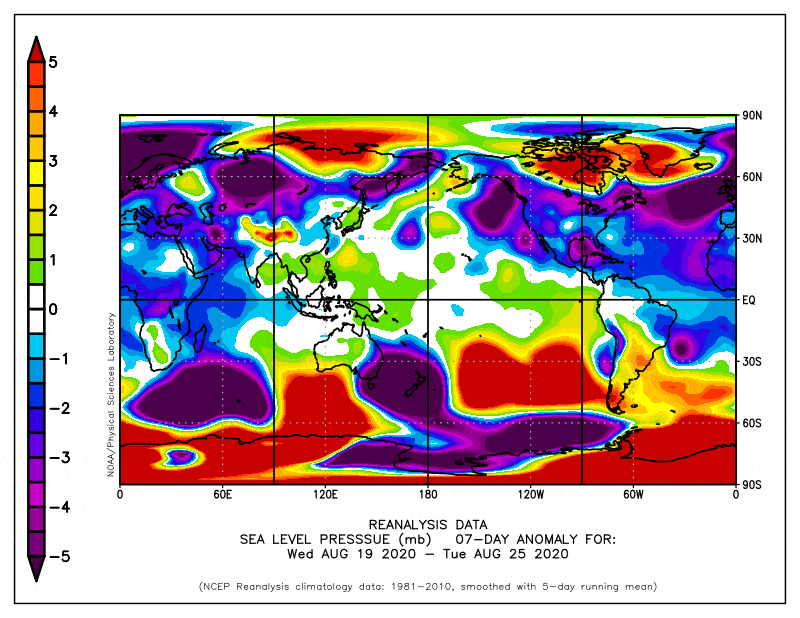 Since that storm, high pressure has dominated and we have seen the Great Aussie Hairdryer reaching turbo mode. This has gnawed away at our snowpack and Spencer's Creek has since taken a dive after reaching a season high of 167.8cm.
A couple of light snowfalls possible later this September
At this critical junction, when we might still hope for a miracle, the Southern Annular Mode has turned on us and is expected to remain neutral or positive for the rest of September, further reducing our chances of snowfall.
High pressure is set to dominate yet again, forcing fronts to slide underneath the Aussie Alps and bringing little other than wet, windy weather. Models do, however, show the potential for one or two light snowfalls between the 19thand 23rdof September.
A mild and wet October
Early October will see resorts close their doors, sending us deeper into the backcountry. Looking this far ahead we can really only look at the month as a whole to determine the general vibe, rather than search for individual snowstorms. And the vibe we're getting isn't particularly conducive for maintaining what snow we do have, let alone providing fresh snow.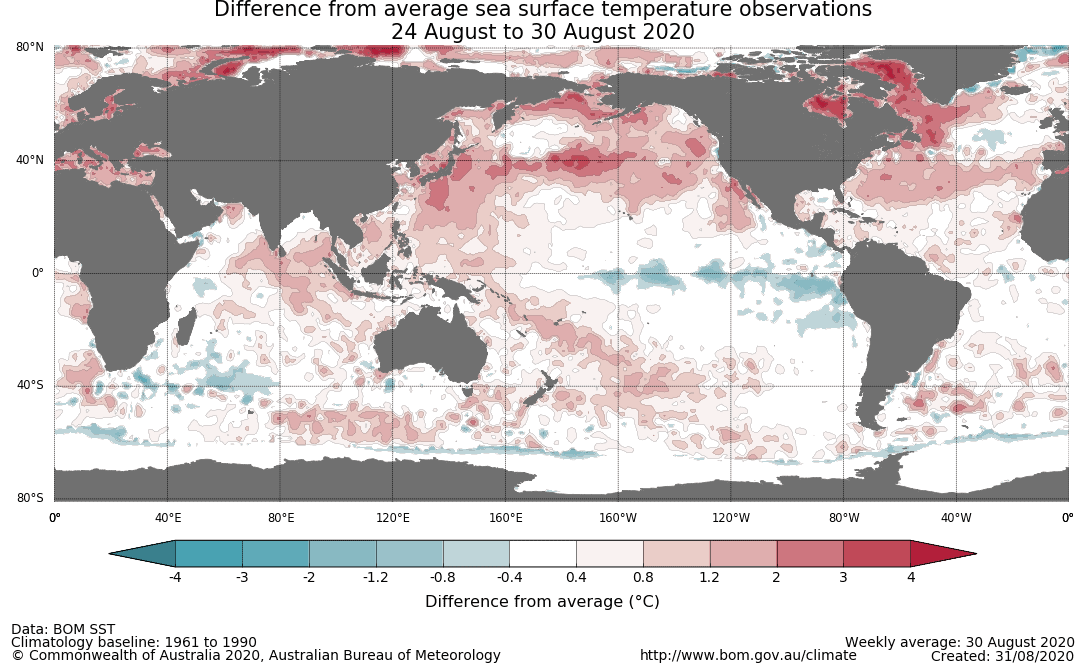 Our major climate drivers in the tropics are teetering on the brink of La Nina and a negative Indian Ocean Dipole (IOD). This has opened the floodgates to an atmospheric river of moisture, which is likely to bring mild, wet weather to the Aussie Alps this spring.
The combination of La Nina and a negative IOD typically leads to above average snowfall during the colder months, but at this time of year temperatures are too warm, likely leading to increased rainfall instead.
Furthermore, models expect an anomalous E-NE wind flow due to enhanced troughing (low pressure) over much of Australia and higher pressures to the south, reinforcing the idea of mild, wet weather.
Stray snowstorm? Anything's possible
It's likely we've already passed peak snow depths for the season, and the outlook doesn't beg to differ. A stray snowstorm could put paid to that however; who doesn't remember that snowstorm in early December last year, or the one at the end of May this year?
Additionally, climate drivers can only account for maybe a quarter of variation in our weather; the rest is really only foreseeable a week or two ahead. So anything's possible, and after all, it has been a rather strange season.
That's it from me folks. If you've got a different theory on what's going to happen this spring, or just want to provide feedback, then please hit me up on Facebook. Oh, and hit the like button while you're there.