Australian Weekend Forecast, Friday September 24 – Cold Weekend at Times 
September 24th, 2021
Mountainwatch | The Grasshopper
We are getting nearer to the end of winter with the Spring Equinox yesterday but the major resorts are operating through to October 3 or 4, although Thredbo is closing lifts this Sunday.
It has been quite an eventful week around the Alps from winds and snow to earthquakes and now some cold weather is on the way thanks to a front due to arrive today. Cold air behind this front should see some wintery conditions over the weekend especially in Tasmania where strong winds and decent snow totals are possible down to very low levels. However, most of the snow won't quite make it up to the northeast of Victoria or the main Range of NSW but there will be some cold temperatures at times moving through the weekend.
If you are able to head up to the mountains this weekend, the good news is it is set to be a sunny Sunday, perfect for some spring turns while conditions will be very good for closing celebrations in Thredbo. Of course, as I said earlier, this up and down season is not over yet with the other resorts taking advantage of the good base with lifts spinning for another week.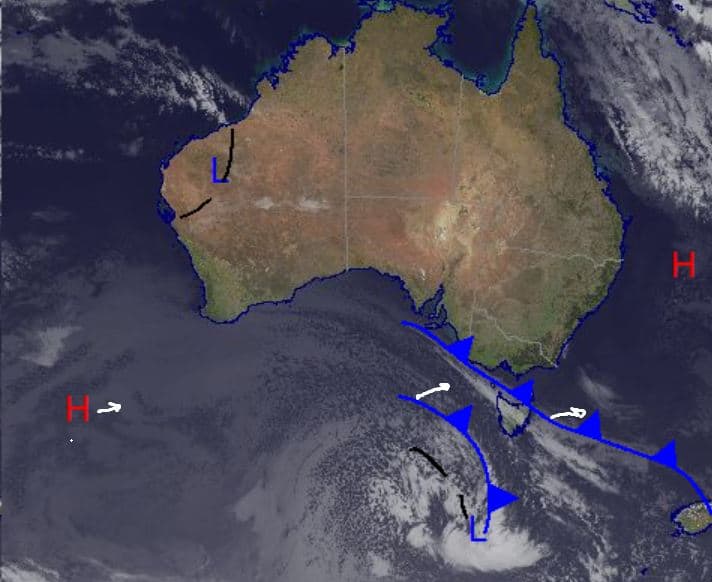 Friday September 24
In Victoria expect a partly cloudy day with some small snow showers possible around the mountains and with the front moving overhead there is chance of a thunderstorm in the afternoon. Strong westerly winds easing slightly in the evening. It is a similar story in the NSW resorts but with snow less likely than in Victoria, but with stronger northwesterly winds in the morning, easing through the afternoon. Totals 1-5cm
Saturday September 25  
Medium chance of snow in Victoria with cold temperatures and strong southwest winds early, easing to moderate levels through the morning and afternoon. In NSW it's not quite as cold as Victoria (or Tasmania) but still below zero with a small chance of some precipitation. Quite strong westerly winds early, but easing quickly then remaining moderate through the day before turning southerly.
Sunday September 26
A mainly fine day in NSW with cold temperatures before dawn, warming through the day. Slightly more cloud expected around in Victoria than NSW. Winds light to moderate north/northwesterly.
Extended Forecast
Some late season winter temperatures expected in the Alps this weekend thanks to cold air coming up out of the Bight, pictured behind the cold front in today's synoptic image. Unfortunately, it is not expected to amount to much in terms of snow. With some locations warming during the day and cooling significantly at night we will probably see a melt-freeze crust around early but that should soften up during the day.
Only 10 days to go in the season for most resorts and it's the last weekend for lift-assisted turns in Thredbo, so enjoy it if you can head to the resorts. Sunday is looking like the pick this weekend as the sun returns and looks to stay out for the beginning of next week before another front brings some precipitation mid-week. Check back on Monday to see how things are panning out for the final week of the season.