Brand Watch – 3CS – 15 Years of Outerwear
August 14th, 2017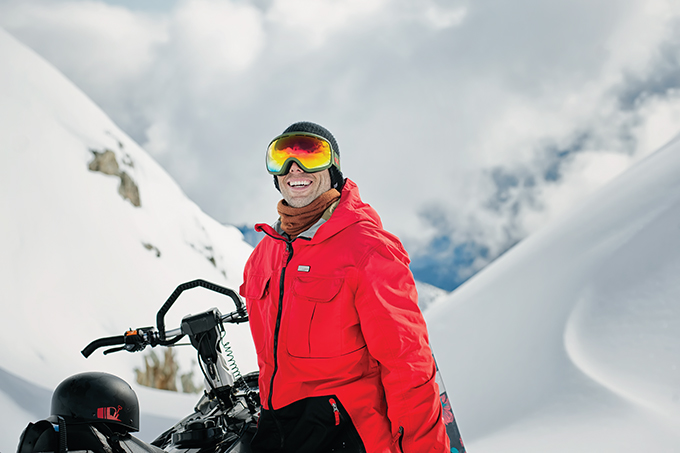 Smiles for miles … Geoff Brown's isn't the only happy customer when it comes to 3CS, just take a look at who's wearing it at the local hill. Photo:: Todd Eaterbrook
Transfer | Louis Macindoe
It's not every day that a Snowboarding company celebrates its 15th birthday, but for one of Australia's longest running, and most celebrated brands 3CS Outerwear is continuing to go from strength to strength, year after year. After 15 years of 'Built Tough' Outerwear, a new team, look and feel – it's safe to say the hype is real around this home-grown company.
Many of us remember the days of their day-glow stripped jackets, baggy cuts and ties with names like Gus St Leon , but for the past 15 years, 3CS has built a cult-like following, with snowboarders from all pockets of the globe coming back for more, season after season. It's this loyal following, that might be 3CS' biggest asset, and the bigger brands can only marvel this attribute. This could very well be one of the reasons as to why there is a mutual respect for the brand that hails from the lucky but unlikely country capable of producing such a product dominated by the North American Industry.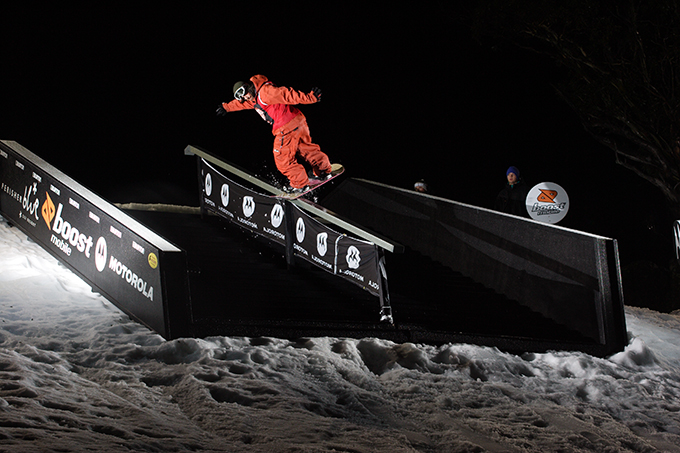 In the beginning before there was Neon-Leon, there was Burnt Orange Gus. Gus St Leon, Circa 2004. Image:: 3CS Archives
15 Years of Built Tough
3CS' founders, Brad Scott and Jaye Botfield don't allude to the fact that 3CS comes from a place better known for its point breaks than its mountains, but despite the company being from Australia – it's been adopted and distributed world-wide, from Canada to Korea. The ethos that's always underpinned the operation is the brand's ability to test the product in the Australian mountains, home to some of the most unforgiving and god-forsaken conditions from gale-force winds, blizzard conditions to rain, and being whipped in the face by sago snow. Bastards. We're a determined bunch down here, and we'll ride no matter how harsh the conditions and a brand like 3CS, in part, is instilled in each one of us. It's 'Built Tough' because it bloody has to be, to endure the Australian Alpine environment.
While still a relatively small and independent entity within the snowboard industry, 3CS like a lot of other smaller companies face the challenges of manufacturing and are constantly in pursuit of producing a product well beyond the industry standard – something that's no easy feat. Being an underdog is hard work, but the brand has remained hungry all this time and they've been quick to gobble up some of the best talent on a snowboard. Heikki Sorsa, who consolidated himself in the snowboard history books as the 2002 Salt Lake Olympics, wearing a purple mohawk and pink Oakley's while tearing through the pipe at a completely unprecedented pace – which was/is one of the rawest displays of snowboarding ever. Despite Heikki now being a family man, his ties to the company are still strong and he joins Geoff Brown , the unofficial mayor of Whistler as part of their global team. But it's 3CS' most recent moves on Australian soil that get's us excited. Not only have we been seeing a ton of their stuff around, the talent now donning the 'star' logo is well-and-truly worthy of a mention.

The Fast and The Furious, Andy James has built a reputation for destroying spots and in the process his gear, so you can be sure that by the time a 3CS jacket is served up for the masses its gone through the ringer. Image:: Niki Rutanen
3CS has recently picked up the indomitable force known as Andy James, who's probably better known in the Northern Hemisphere than he is here. But Andy is without doubt one the best emerging rail riders in the world right now, and his video part in the upcoming Arbor movie will consolidate that notion. Joining Andy is our appointed 'Show Up & Blow Up' winner from Cattleman's Rail Jam – Josh Anderson , who has added 3CS to the bill alongside Endeavor, Fix Bindings, Modest Eyewear. Both Josh and Andy are advocates of good style upon a snowboard and to jump ship to 3CS is a sign that the company isn't just keeping up with the times, but leading the charge.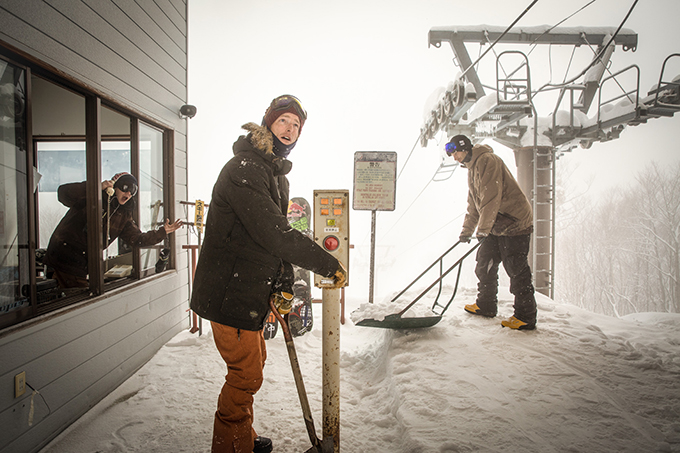 Team work makes the dream work. Image:: Marcus Skin
Without further ado, we've sifted through some of the most interesting pieces in their current line. From the downright weird to the outright stylish, 3CS is a brand that isn't afraid to challenge current trends.
The Hitlist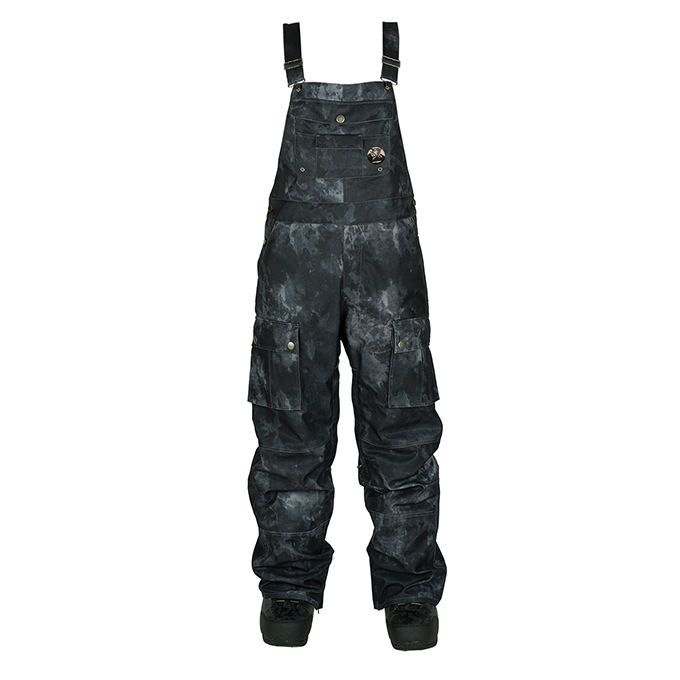 Beddford Pant – Coal Blamo
These might be the most robust snowboard pants we've ever seen, felt and worn – The Beddford's remind you of your grandad's old diesel cruiser that's got over 500k clicks and still fires up on those frosted mornings and trucks all day. There's a good chance you'll still have these pants when 3CS turns 30.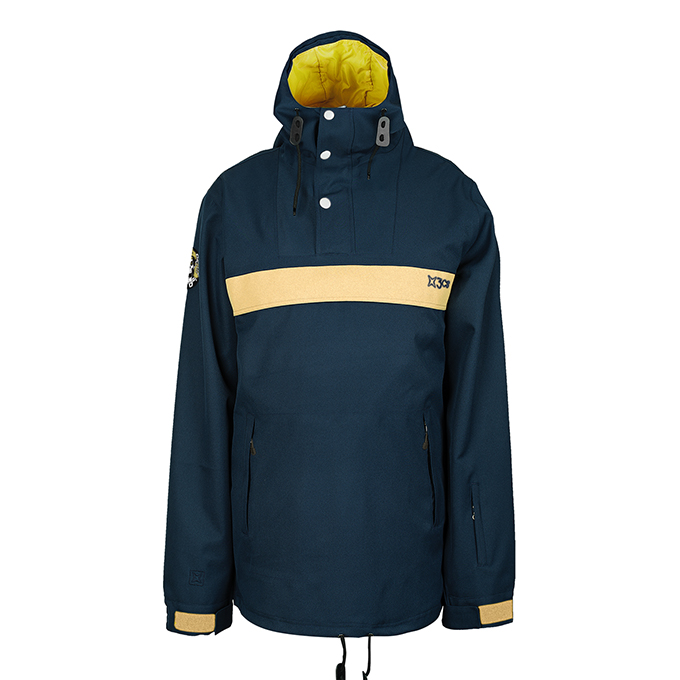 Thunder Jacket – Mad Hueys collab
Quite possibly the strangest collaboration since 686's joint venture with the boat made famous by The World's Deadliest Catch – The Elliot Ness, is the Australian rendition by the boisterous Mad Hueys, who have made a killing drinking beer from a shoe. This isn't going to be everyone's cup of piss (beer that is) but you credit where credit is due, 3CS has gone out on a plank here.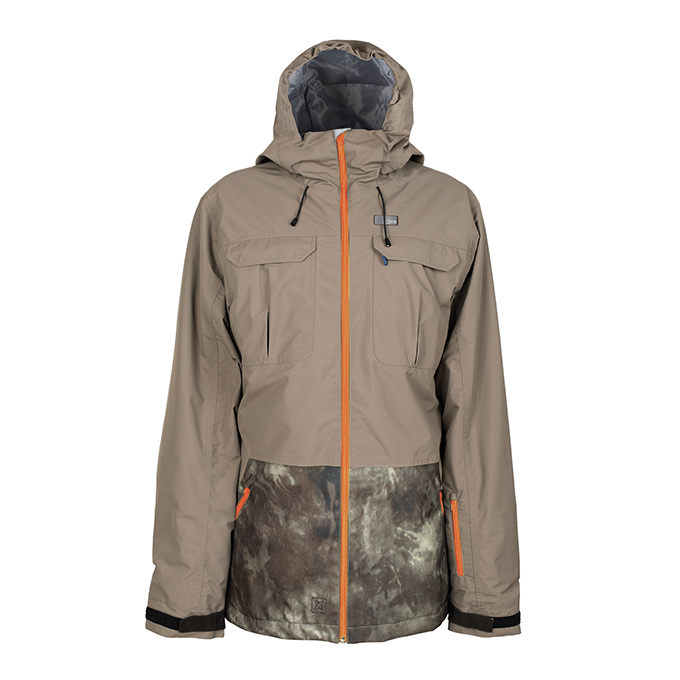 Plunder Jacket – Putty
There's no denying that technical-wears are in right now, and even the guys hiking rails are wearing Patagonia, North Face and Arcteryx. 3CS' has been offering their lesser-known Goods Crew line for years now and despite these products embodying the moniker 'Function Over Form' – they look bloody good. The camo, the orange aqua-zips and that scrim lining make this thing look like it came straight out of the glory-day of Analog when jacket's cost the price of a small car.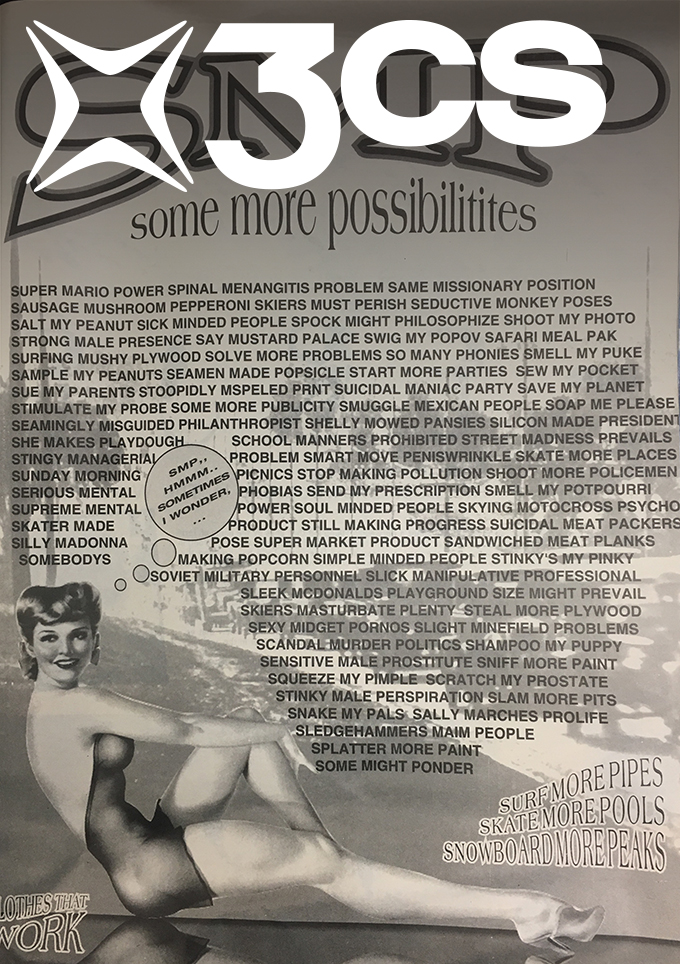 3CS' acronym has long eluded the snowboarding community, and now is your time to pin the tail on the brand and win big.
One Question Remains … What Does 3CS Stand For?
We all remember SMP , and we've all had a crack at deciphering the acronym that stood for 'Sex, Money, Power' or the watered down 'Some More Possibilities' but what the hell does 3CS actually stand for? Neither Jaye or Brad let up, so we're letting you decide. Either comment below or over on our Facebook and the craziest/sexiest/funniest or most accurate/suitable answer will win your choice of a jacket + hoodie + tshirt & beanie . We'll draw the answer next Monday and there's a good chance, you'll be toting these new wears around.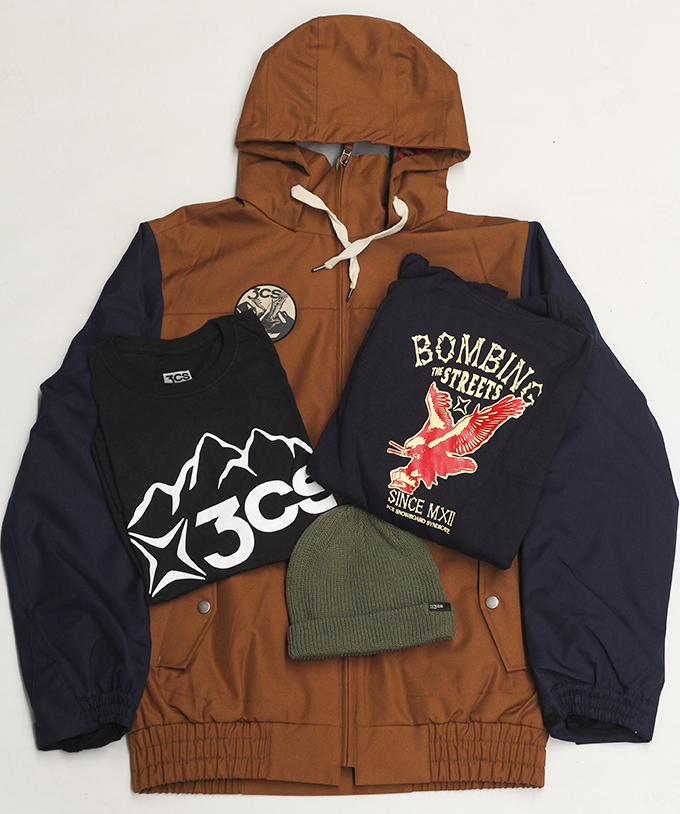 All this can be yours, just have a stab in the dark – what does 3CS stand for, comment below or on our Facebook page and win.