Chillfactor – The Ten Most Underrated Moves in Skiing
September 10th, 2014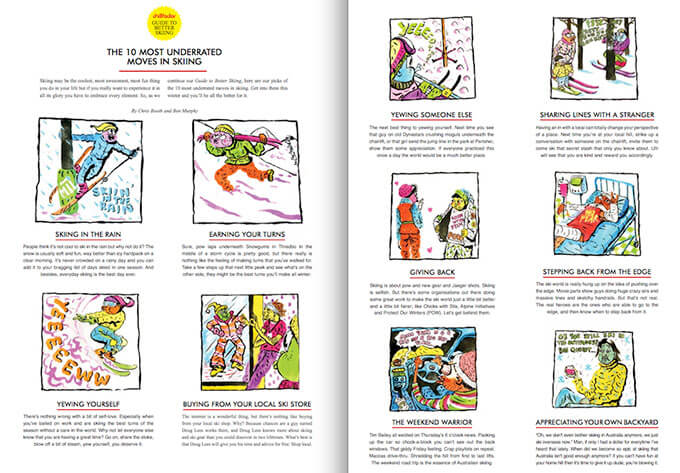 Chillfactor | Chris Booth & Skinner Murphy
This story originally appeared in Chillfactor's 2014 issue, find the mag in all good newsagents now…
1. Skiing in the rain.
Because everyday skiing is the best day ever.
2. Earning your turns.
Sure, pow laps underneath Snowgums in Thredbo in the middle of a storm cycle is pretty good, but there really is nothing like the feeling of making turns that you've walked for. Next time you're out on the hill, take a few steps up that next little peak and see what's on the other side, they might be the best turn you'll make all winter.
3. Yewing yourself.
There's nothing wrong with a bit of self-love. Especially when you've bailed on work and are skiing the best turns of the season. So go on, blow off a bit of steam, yew yourself, you deserve it.
4. Yewing someone else.
The next best thing to yewing yourself. Next time you see that guy on old Dynastars crushing moguls underneath the chairlift, or that girl send the jump line in the park at Perisher, show them some appreciation. If everyone did, this the world would be a much better place.
5. Buying from your local ski shop.
The internet is a wonderful thing. But there's nothing like buying from your local ski shop. Why? Because chances are a guy named Brad works there, and Brad knows more about skiing and ski gear than you could discover in two lifetimes. And while the internet is a good research tool, there's no replacement for the advice of someone who really knows their stuff. What's best is that Brad will give you his time and advice for nothing. Also, Australian prices are now at parity with overseas and Australia now receives its products ahead of the northern hemisphere season, so for the Aussie season the only other people on the hill in the same gear as you are the sponsored dudes. Combine that with the fact that you can just rock in and have your warranty taken care of by someone at the store should any of your gear break, and we just can't see why you wouldn't want to shop local. It's not just the right thing to do, it makes sense as a consumer.
6. Sharing your lines with a complete stranger.
Getting in with a local can totally change your perspective of a place. Next time you're at your local hill, strike up a conversation with someone on the chairlift, invite them to come ski that secret stash that only you know about. ULLR will know that you are kind, and will reward you accordingly.
7. Giving back.
Skiing is about excess. Skiing is selfish. It's about getting as much pow for yourself and leaving the least amount for others. It's about throwing money at new gear each winter. It's about whisky shots. What it's not about is supporting others, or supporting the sport that supports us. There's some organisations out there doing some great work to make the ski world just a little bit better and a little bit fairer; like Chicks with Stix, Alpine Initiatives and Protect Our Winters (POW). Let's get behind them.
8. Stepping back from the edge.
The ski world is really hung up on the idea of pushing over the edge. Movie parts show guys doing huge exposed lines, and sketchy handrails. Even this magazine supports skiing that is kind of dangerous. But that's not real. The real heroes are the ones who are able to go to the edge, and then know when to step back from it. If you have a bad feeling about dropping into that powder bowl, don't do it. If you feel uncomfortable about trying that jump in the park, maybe leave it to another day. You will feel humbled, but so much bigger for it. Plus you'll get to ski another day.
9. The Weekend Warrior.
Watching Tim Bailey get excited down by the Thredbo River on the 6 O'clock news. Packing up the Holden on Thursday night so chocka-block you can't see out the back windows. That giddy Friday feeling knowing you're about to get out of the city and embark on your adventure to the mountains. Crap playlists on repeat. Maccas drive thru. Shredding the mountain from first to last lifts, because each run is precious, and each run is epic. Coming home in the car in your damp thermals and smelly socks and not even caring, because you just lived a little. The weekend road trip is the essence of Australian skiing.
10. Appreciating what's in your own backyard.
"Oh we don't even bother skiing in Australia anymore, we just do all our skiing here now." Man, if I had a dollar for every time an Australian said that to me in the last 5 years I wouldn't have to work a nine to fiver. What happened? When did we become so picky? And when did we become so epic at skiing that Australia isn't good enough anymore? That's like going on your surf trip to indo and then coming back to your home break and writing it off because its not big enough, when the reality of it is that's what taught you how to make turns in the first place. We seriously have the blinders on about what's in our own backyard. Truth is, Australian skiing rules. We have huge resorts with great lift access, playful terrain and great tree skiing in a landscape that is unique to anywhere in the world. And believe it or not, we actually do have some seriously big alpine. Just ask Glenn Plake.