Colorado – The Ultimate Ski Destination With The IKON Pass
November 30th, 2021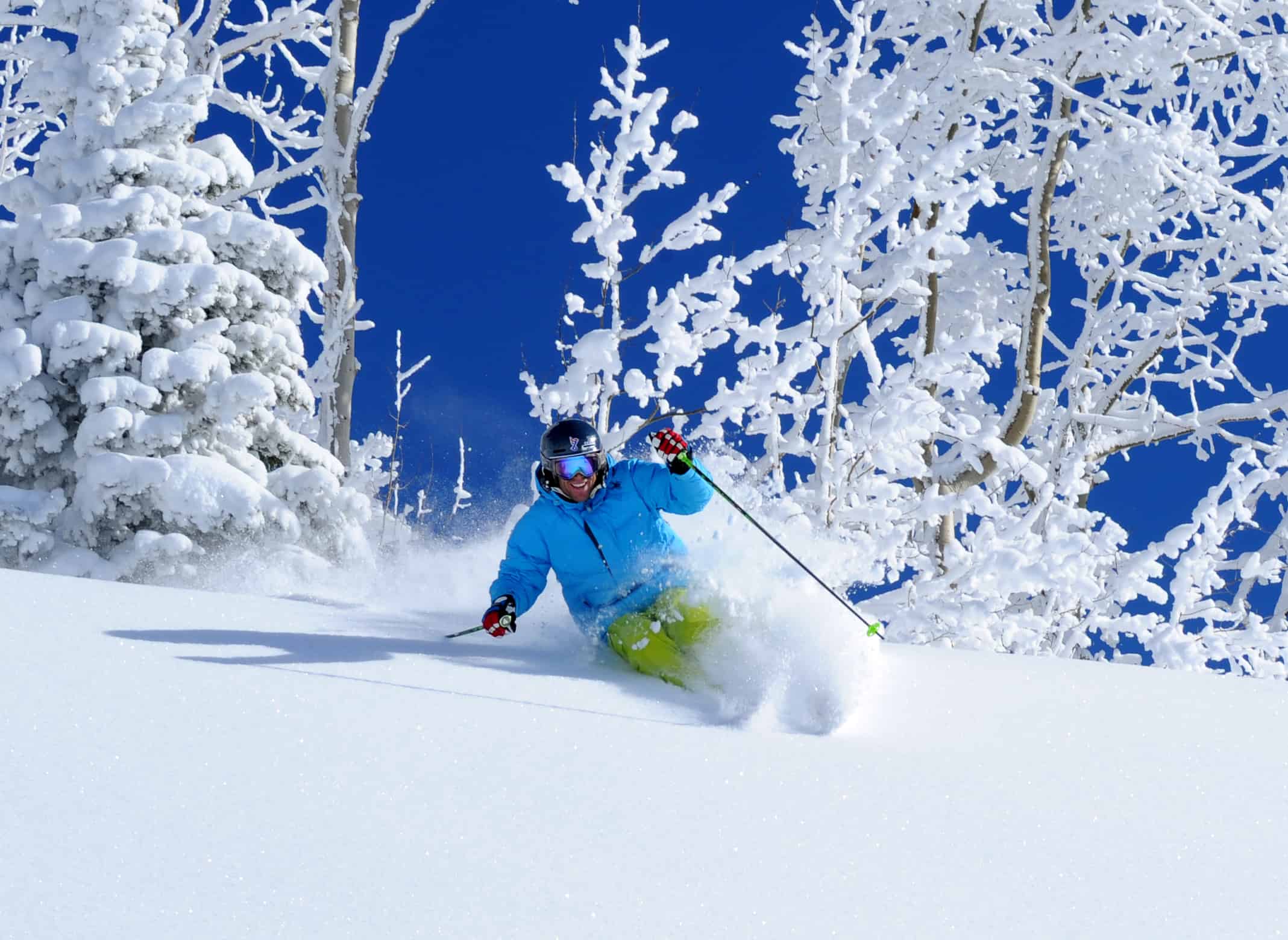 Mountainwatch | Reggae Elliss
With 28 resorts spanning the Rocky Mountain state of Colorado, this should be a top choice location for your first international ski trip following border openings. To find the best option for you, we've combed through the best resorts for international skiers and boarders, with a rundown of each.
 A number of Colorado's ski resorts fall under the Epic or IKON pass, meaning you can choose to ski a few within one trip or utilise the pass at other resorts globally.
 The Ikon Pass prides itself on accessing some of best ski resorts in North America, resorts where the terrain, snow and experience is second to none. That includes these three iconic Colorado resorts:
ASPEN
Located 220 m southwest of Denver in the Elk Mountains, Aspen is possibly one of the best-known regional towns in the world. Founded in 1879, Aspen has different layers you don't find in a purpose-built ski resort. It has a year-round population who live and work in the area and there is a palpable sense of community. Aspen has a well-deserved reputation as a happening, vibrant place and it offers plenty of entertainment with live music, cool bars and diverse food options.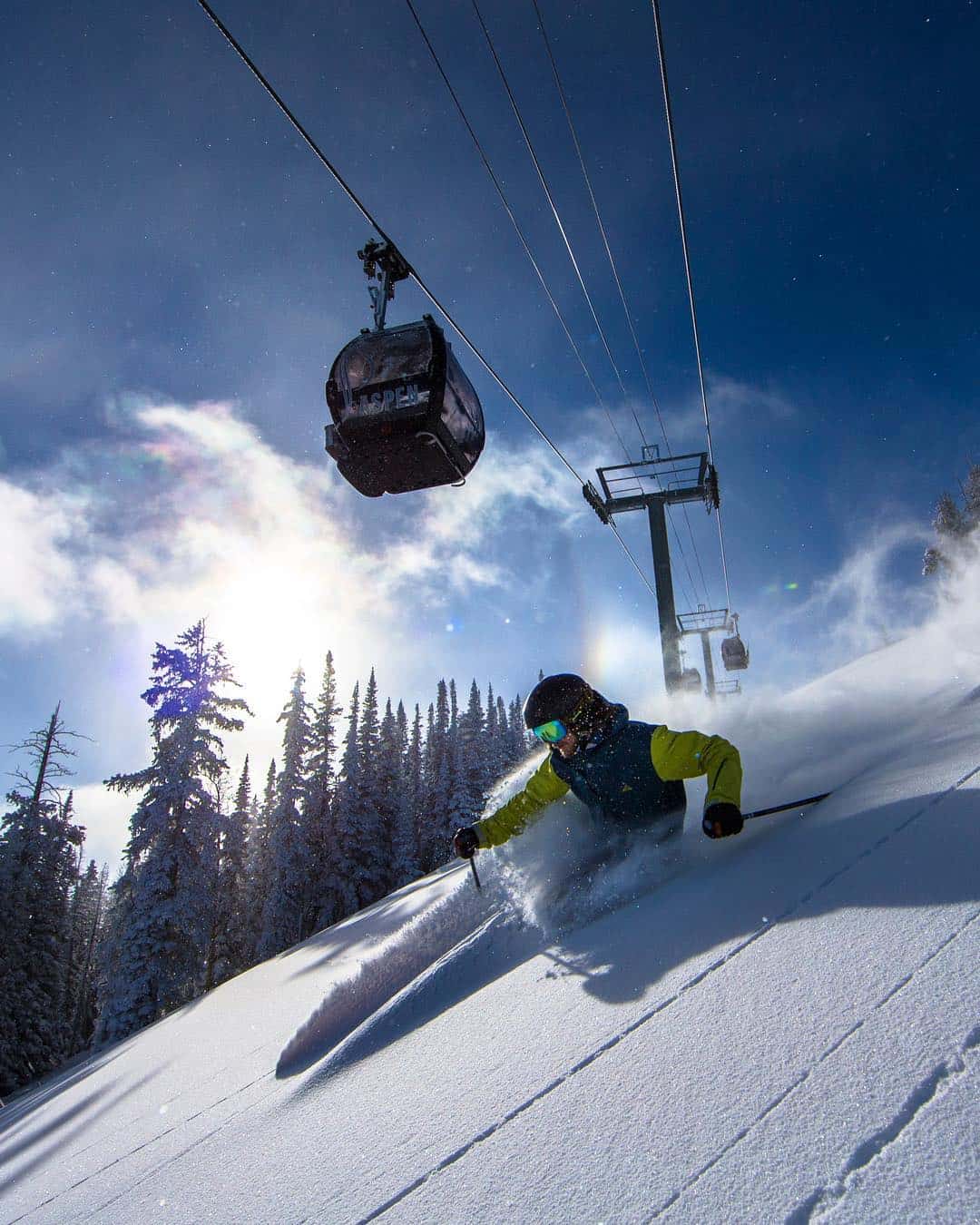 It's a beautiful town and walking around Aspen after a snowfall is something special, lights in trees sparkling against the snow, the Victorian era houses and buildings giving the place a feeling of heritage and authenticity.
While the town is special, so is the skiing and the four distinct mountains in the Valley that make up Aspen/Snowmass – Aspen, Highlands, Snowmass and Buttermilk – offer a huge variety of terrain for all levels of skiers and snowboarders.
Four mountains with more bowls, chutes, cliffs, gullies, glades and wide-open groomers than you can possibly handle. And that's just the in-bounds. All up you can enjoy 332 trails and runs up to 8 km long. Like most Colorado resorts, Aspen with a base of 2242m and highest lifted point of 3418m, enjoys high altitude snow and has a seasonal average of 7.62m.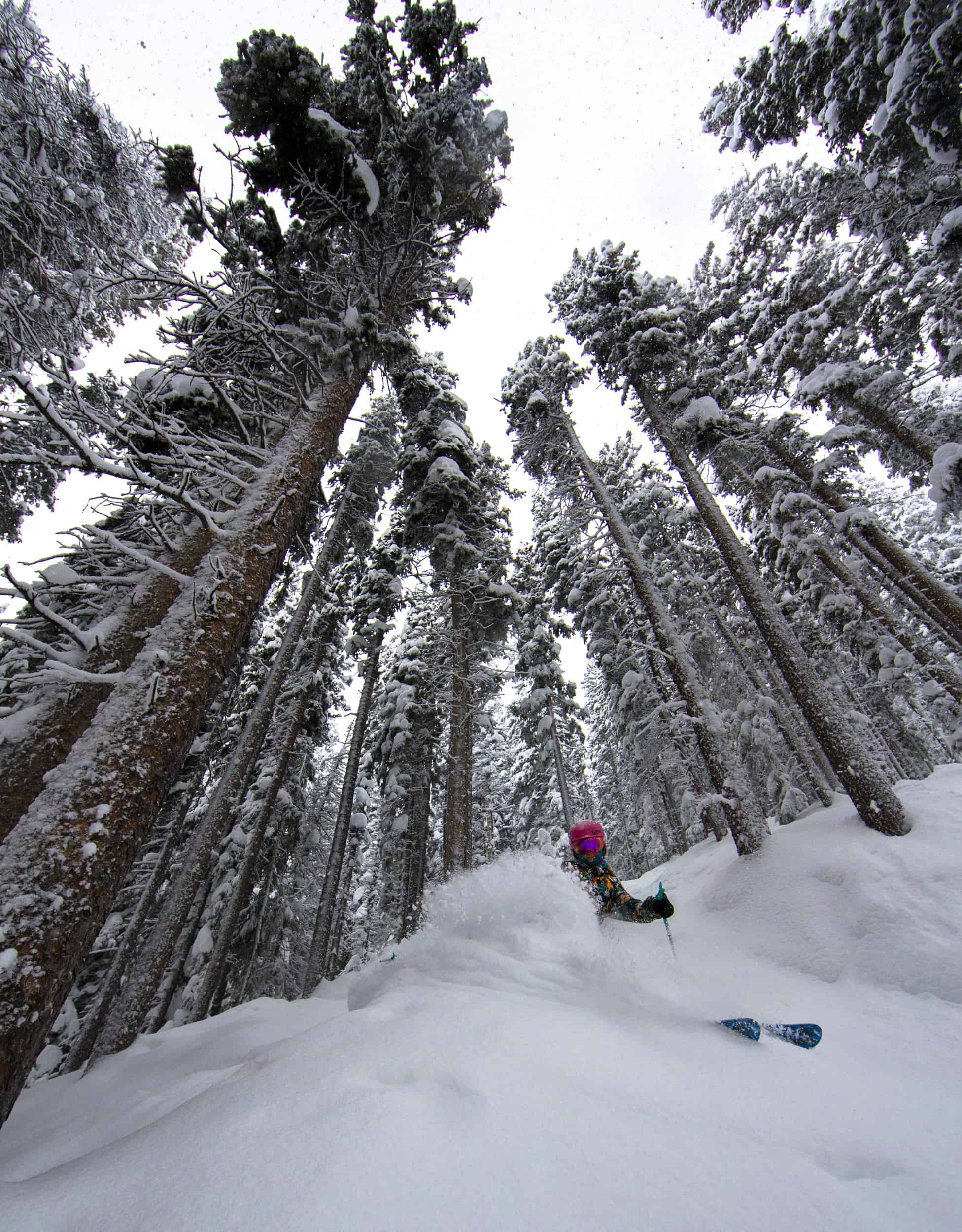 Aspen mountain is renowned for its gladed tree runs and double black steeps, while Aspen Highlands has some of the best and steepest in-bounds terrain in Colorado, including the famous Highlands Bowl. Snowmass, around 25-30 minutes from Aspen, is huge. Its long, groomed runs provide excellent "highway skiing" if you are in cruise mode, while it also offers some great black diamond terrain to keep the experts happy.  Snowmass is a resort within itself, with a large village, retail, restaurants and plenty of accommodation.
The fourth mountain, Buttermilk, is known worldwide as the location for the Winter X Games and its expert terrain park is one of the best in North America. However, Buttermilk is also one of the best beginner/intermediate mountains you'll find anywhere. Its long and gentle terrain allowing novice skiers and snowboarders to gain confidence and progress quickly.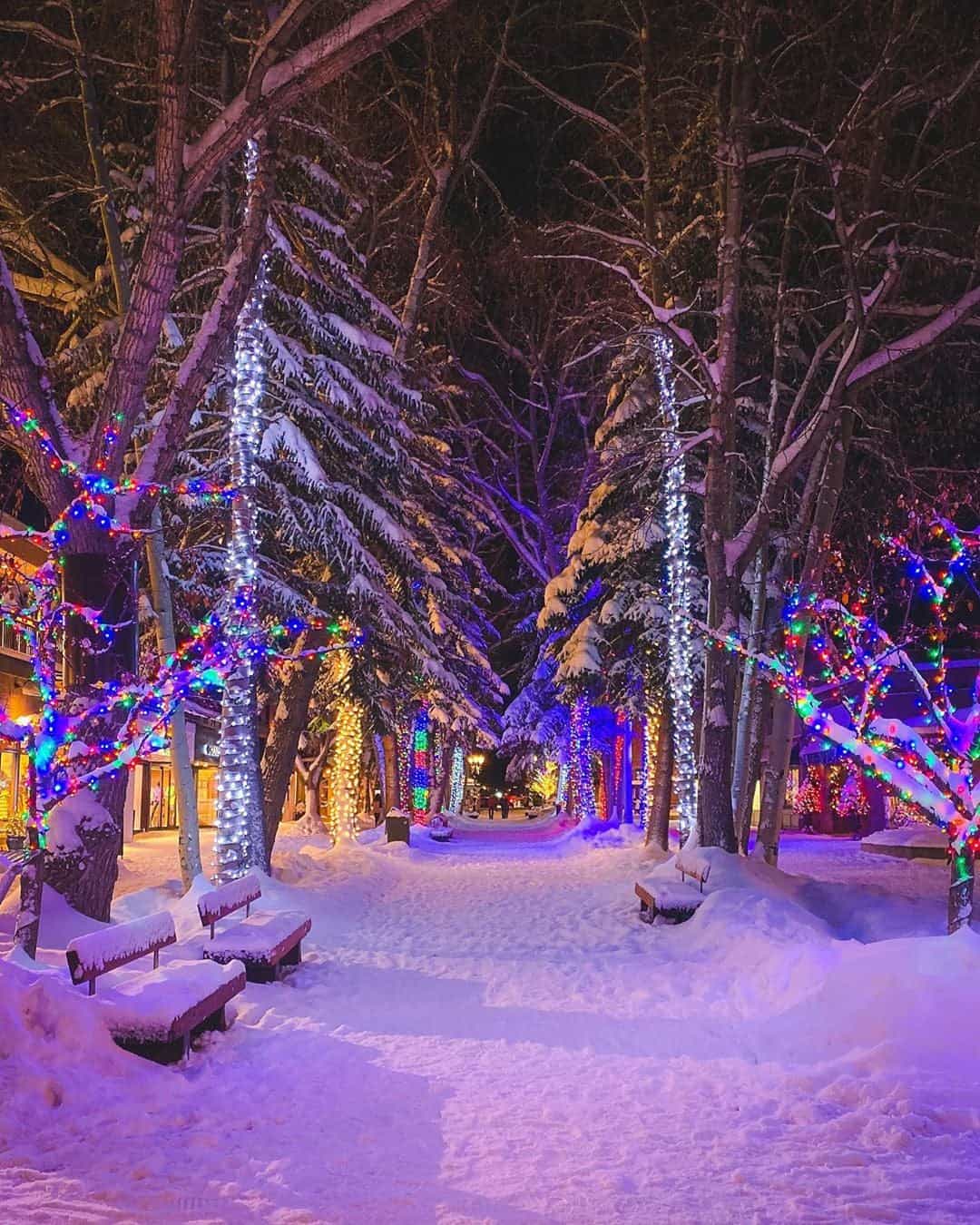 The beauty is they all have a bit of everything and in a week-long visit you can ski all of them, mixing it up each day. One of the great things about Aspen is you do not need a car. Accessing each mountain is easy as they are all serviced by free buses and shuttles from downtown Aspen and there are also bus links between each mountain.
Aspen is renowned as a happening, vibrant town and it offers plenty of entertainment with live music, cool bars and diverse food options. It's not all five-star either with cheaper bar menus available and quite a few mid-range restaurants with White House Tavern and the J Bar at the Jerome Hotel serving well-priced pub-style food. Venga Venga in Snowmass is also a great place for Mexican and they know how to make a margarita.
For those who love a bit of retail therapy after a good day on the hill, Aspen has something for everyone including luxury brand flagship stores as well as affordable clothing, core ski and snowboard shops. There are also plenty of options for the kids including tubing, sleigh rides, dog sledding and the open-air ice skating in town is always a hit.
This diversity is also found in the accommodation available, either in Aspen or Snowmass Village and between two there is something to suit all budgets.
Aspen has a reputation for attracting celebrities and the rich and famous – there to be seen as much as ski – and no doubt it does. However, that is a superficial perspective on the place and Aspen is much, much more. It has everything, whether you are a core skier or snowboarder looking for great terrain and snow or a family on a long-awaited holiday.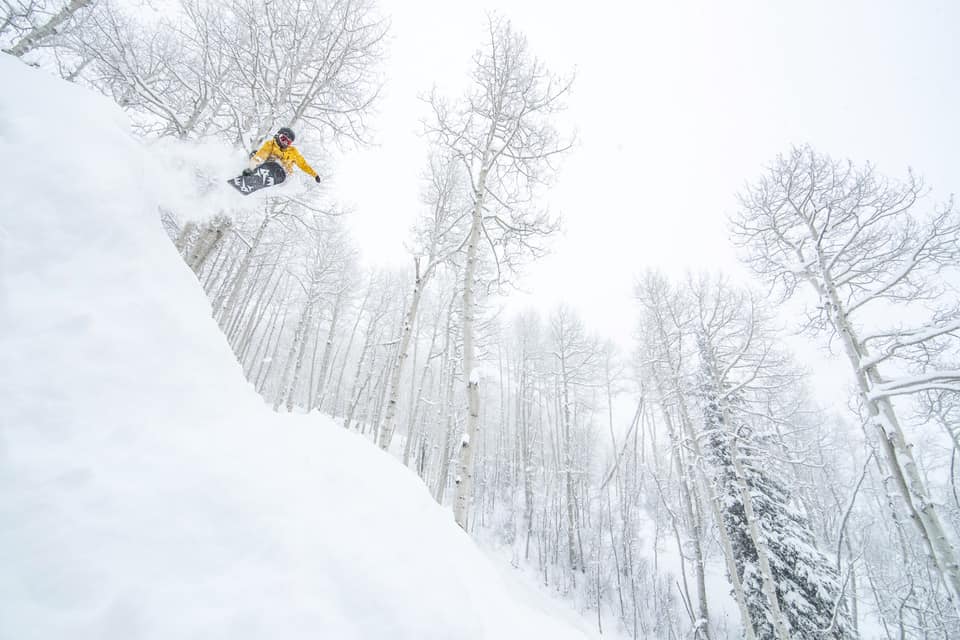 Aspen Mountain stats
– Elevation Top 3418m
– Elevation Bottom 2422m
– Vertical Drop 996 metres
– Skiable Terrain 273ha
– Longest Run 8.3 km
– Intermediate 48%
– Advanced 52%
– Total Number of Trails 76
Steamboat
Steamboat is another resort that grew from an established town, Steamboat Springs, a town that is still very connected to its ranching roots and western tradition. It feels like a cowboy town, but the resort is very much about skiing and Steamboat is famous for its high quality "Champagne" powder.
Located northwest of Denver, Steamboat is further north than the other Colorado resorts and often receives snow when the others miss out and has an average snowfall of 797cms.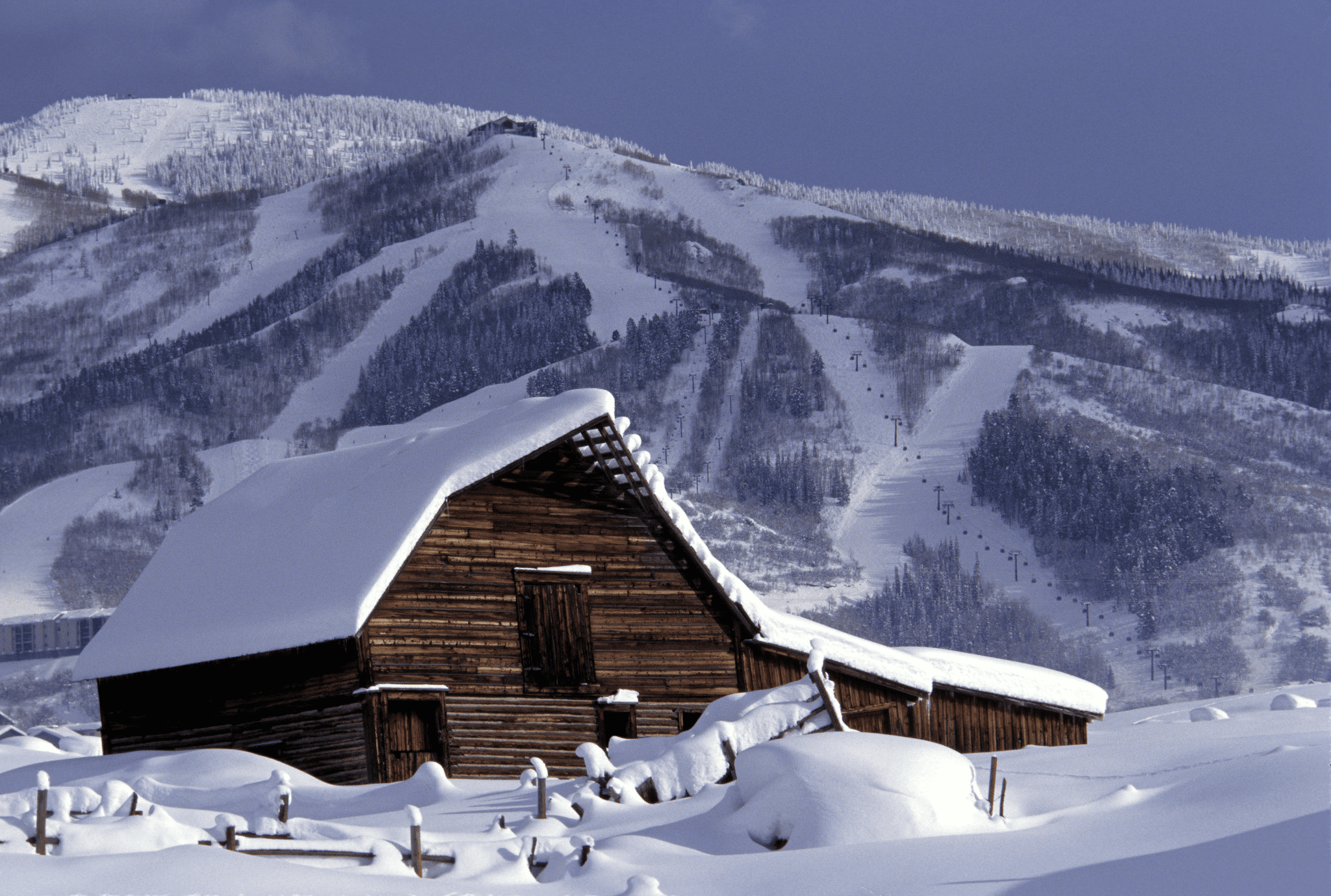 It is a large resort covering 2965 acres spread across six peaks and has 169 named runs and given Steamboat's distance from Denver it doesn't suffer from the big weekend crowds seen elsewhere. The terrain is 14% beginner, 42% intermediate and 44% advanced with 165 named trails, serviced by 31 lifts. The highest lifted point is 3224 metres and the base us 2103m, giving a big vertical drop of 1118metres while the longest run is just under 5ms.
Known as "Ski Town USA", Steamboat has produced more Olympians than any other town in North America, 98 at last count, including 15 who competed at the PyongChang Olympics in 2018.  The athletes are a mix of racers, Nordic and freestylers which reflects the variety of terrain and facilities at the resort, but don't worry, you do not need to be an Olympian to enjoy the best of Steamboat. There is a good variety of groomed runs for intermediates and advanced skiers including a few steep black runs that are a lot of fun for a few fast early laps on the corduroy.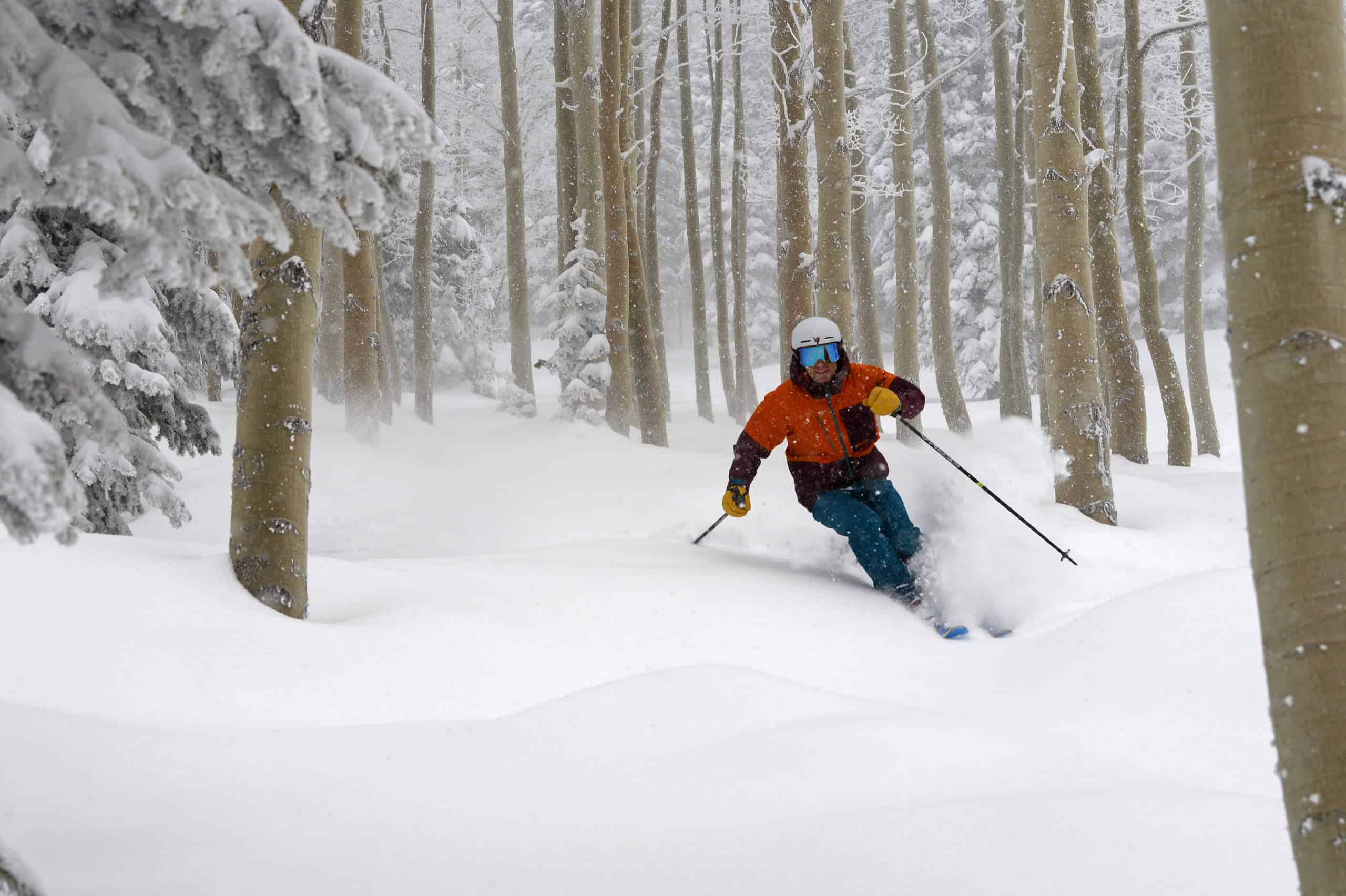 On a powder day the call from the locals is to head for the trees and the rule of thumb after a fresh snow falls is that 15cms at the base means at least three times that much on the upper mountain.  Areas like Shadows, Closets, Christmas Tree Bowl and the chutes around Mt Werner are among the locals favourites and you'll hear plenty of hooting from unseen skiers and snowboarders when it is dumping.
Steamboat is also known for its moguls and has long been home to some of the USA's best bump skiers and its freestyle traditions continue into slopestyle, with four terrain parks for different standards.
Accommodation, food and retail options are plentiful either in the mountain village at the base of the resort or in downtown Steamboat Springs. There are a few fun bars and restaurants at the base for a quick beer and a bite after a day on the hill, with the T-Bar and Slopeside recommended. Downtown has a bigger variety of restaurants and bars with the Old Town Pub and Sunpies Bistro on the Yampa River among the picks.
As far as accommodation goes, Steamboat has it all! Whatever you're after, you'll find it here, from four-star hotels to downtown condos and town homes, to affordable motels.
Steamboat has more than just skiing and riding. Immerse yourself in western heritage with horseback rides, snowmobiling, hot springs, sleigh ride dinners, winter photography tours, and more. It offers a complete winter holiday.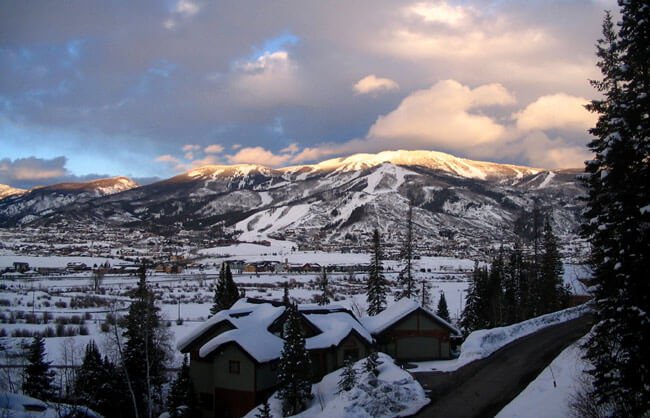 Mountain Stats
– Elevation Top 3224m
– Elevation Bottom 2103m
– Vertical Drop 1,118 metres
– Skiable Terrain 1200ha
– Longest Run 8km
– Beginner 14%
– Intermediate 42%
– Advanced 44%
– Total Number of Trails 169 named trails
Winter Park
Winter Park is just 107kms from Denver and is the closest major ski resort to the city and with over 3000 acres of skiable terrain it has something for everyone. It is one of the longest running resorts in the US having opened in 1940 and, as the name suggests, it was intended as a Winter Park for Denver's citizens. Since then it has grown well beyond its local clientele and is now a sophisticated international resort with all the associated amenities and activities.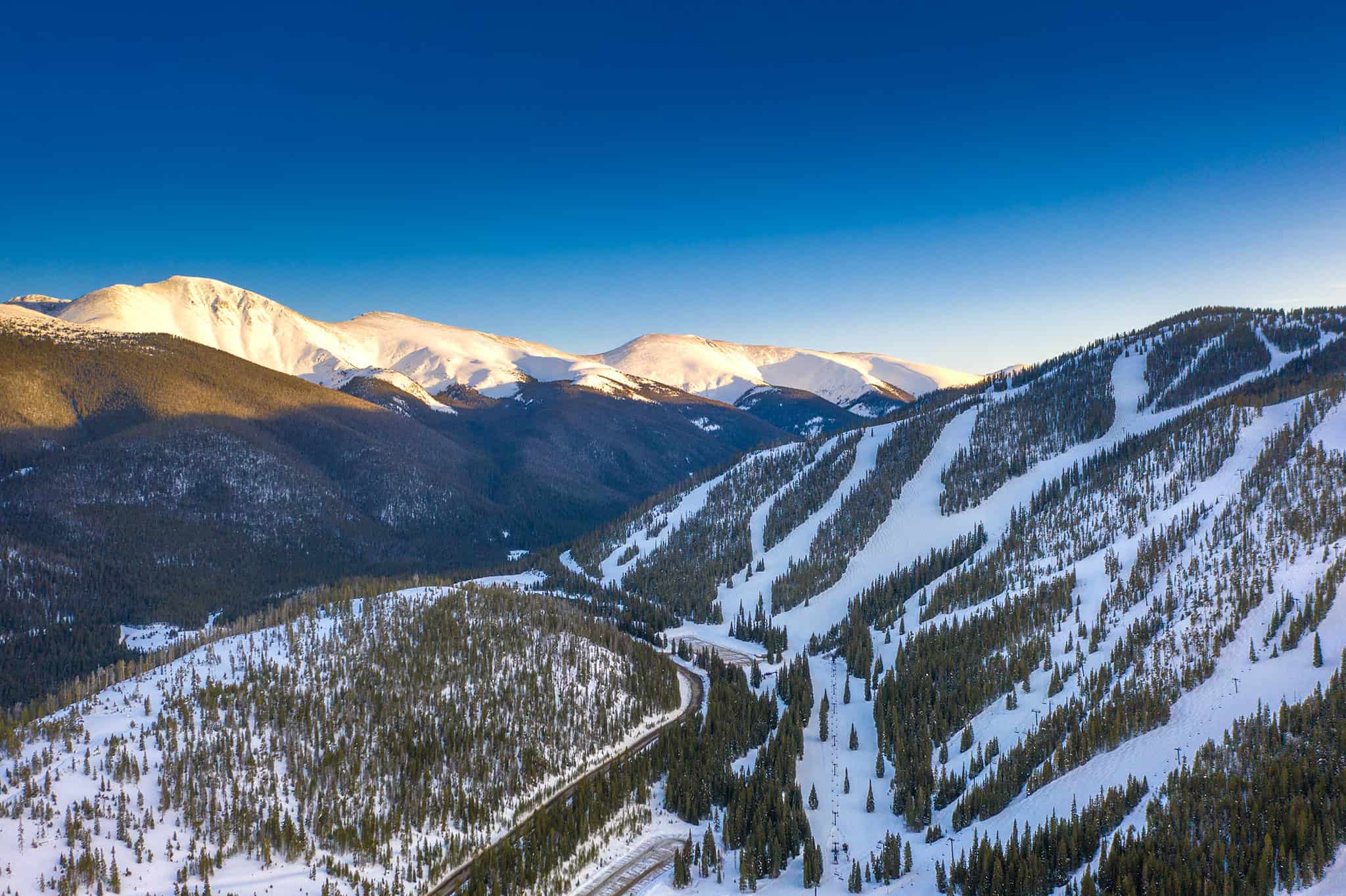 Winter Park has two base areas and interconnected mountains – Winter Park and Mary Jane – and the modern lift infrastructure of 23 lifts includes three high speed six packs, one gondola and six high-speed quads.  The resort has a healthy vertical of 934m, the base sitting at 2743m and the summit us 3676m. All that terrain is covered by an annual average snowfall of 830cms and the resort has the breakdown at 8% beginner; 18% intermediate; 19% advanced; 52% most difficult; 3% expert only.
Winter Park is made up of seven "territories" each with its own characteristics and offering for different skiers. Winter Park territory is a family-oriented area with wide, cruisey groomers and the location for the ski school. If you're looking for wide open bowls and some mellow tree skiing head for Parsenn Bowl, while Vasquez Ridge is the place to go to find untacked snow on a pow day.
Eagle Wind is another tree skiing zone, with some beautiful glades, steeps and chutes, a side-country experience for expert skiers. Then there is the legendary Mary Jane – a mecca for those who love bumps and Winter Park is where the US mogul team go for pre-Olympic training. Finally, there is the Cirque territory, an off piste area where expert skiers and riders can experience backcountry skiing in a patrolled area.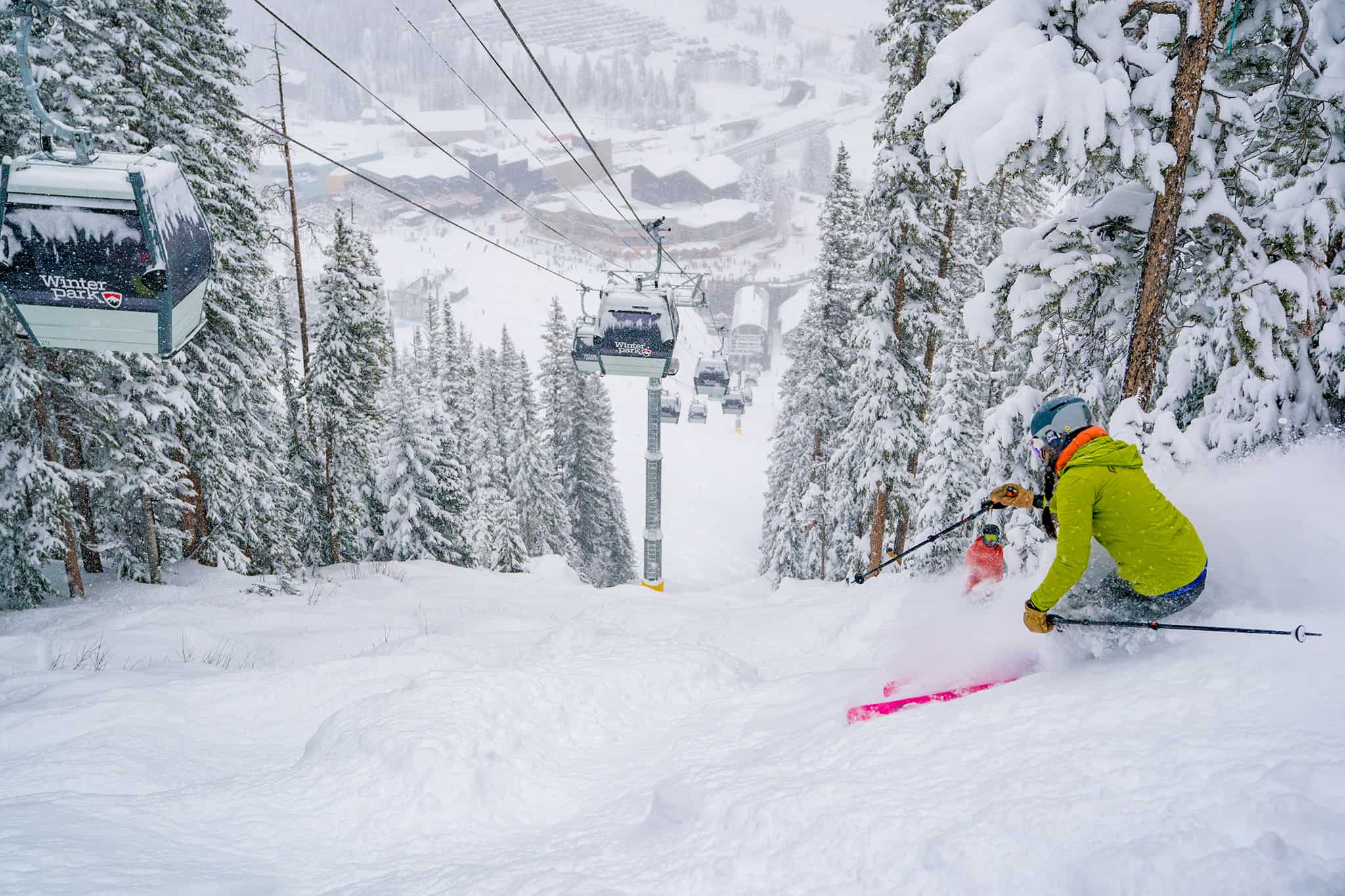 Winter Park also offers a good range of non-skiing activities including scenic snowcat tours, snowshoe tours, a tube park and ice skating.
Accommodation options are mostly located either in the village at the base of the resort or in the town of Winter Park a few kms away. The village has hotels and self-contained condos and also a good number of bars/restaurants and shops. Après favourites include Doc's Roadhouse and the Derailer Bar while the Trailblazer Bar has a good selection of Colorado's finest craft beers. The town of Winter Park has a larger variety of accommodation, with more shops, bars and restaurants, as well as a free bus service makes regular trips to the resort.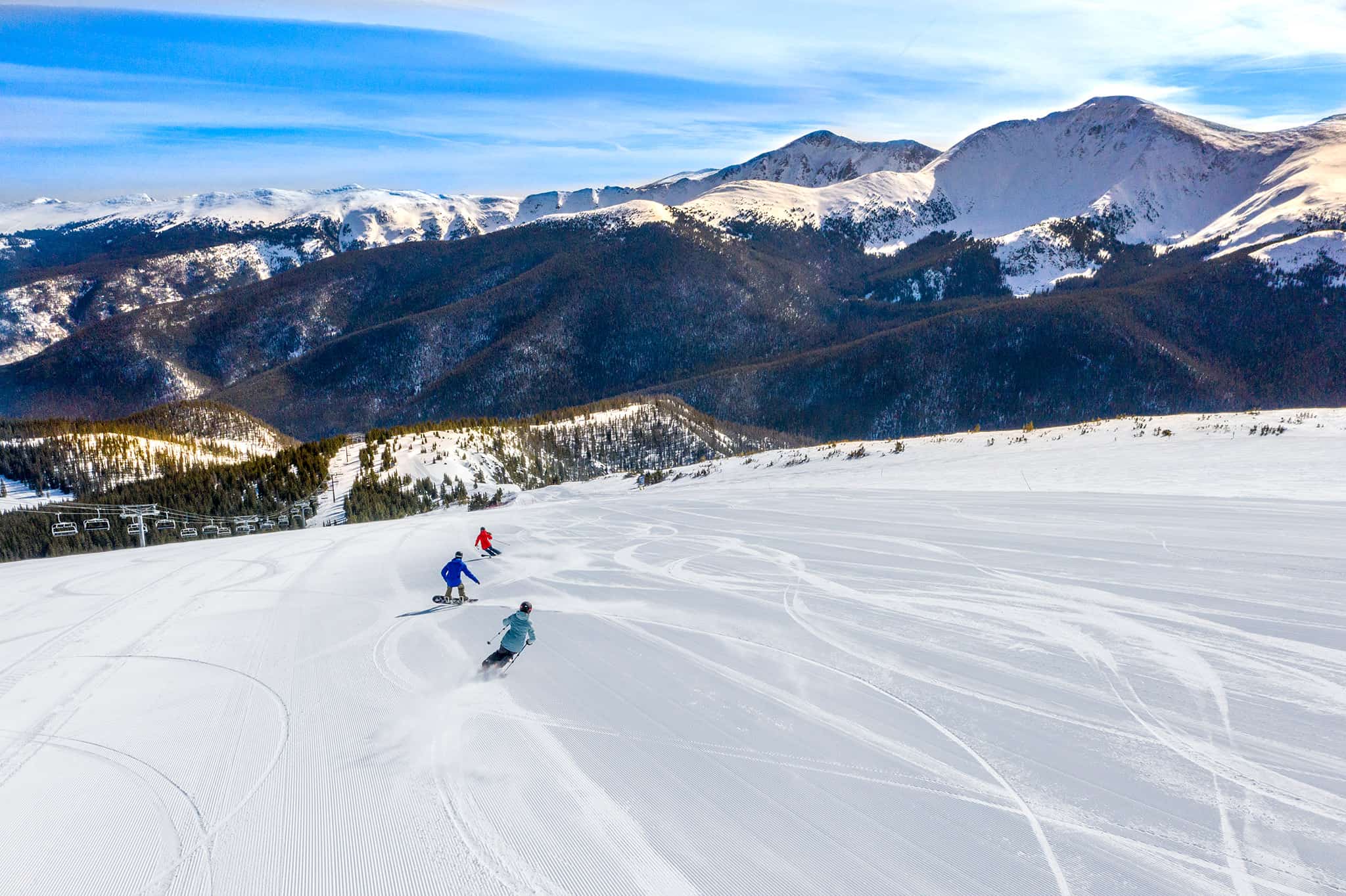 Mountain Stats
– Elevation Top 3675m
– Elevation Bottom 2103m
– Vertical Drop 1,118 metres
– Skiable Terrain 3000ha
– Longest Run 8km
– Beginner8%
– Intermediate42%
– Advanced44%
– Total Number of Trails 169 named trails
To find out more about skiing and snowboarding in Colorado head to www.colorado.com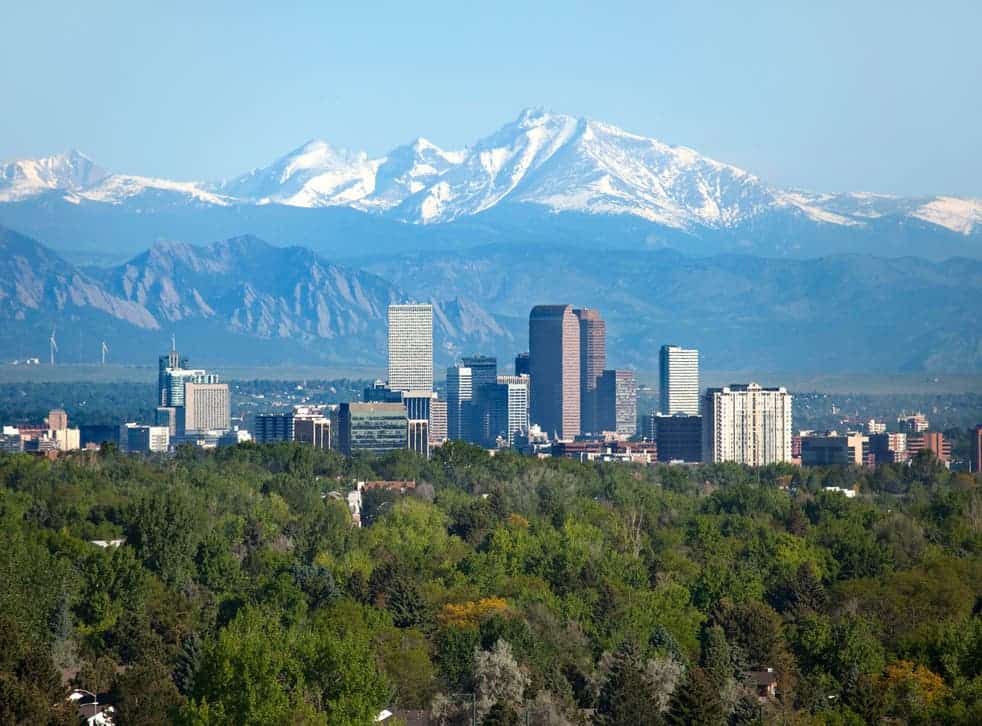 Denver – A Vibrant City You Want to Experience
Most Australians heading to Colorado for a snow holiday fly into Denver and spend a night in a hotel after the long flight from home before grabbing a shuttle or renting a car and heading up to the mountains the next day. However, including a few days in Denver on your itinerary is a great way to round out your trip and add something different to your overseas snow holiday.
Denver sits at 1673 metres above sea level and spending a few days there on arrival is a good way to acclimatise yourself before heading to the mountains.
It's a vibrant, modern city with plenty to do, a cultural hub with fine art galleries, museums and performance centres, incredible restaurants serving a variety of cuisine from all over the world while Denver's parks, gardens and location at the foot of the Rocky Mountains are all part of the city's ambience.
Here are just a few suggestions on why you should put Denver on your itinerary:
Art: Denver Art Museum: While it best known for its architecture and collection of native and western American art, the DAM holds many exhibitions during the year and is currently showing Whistler to Cassatt: American Painters in France, until 13 March 2022.
Museum of Contemporary Art: The MCA Denver has a collection of contemporary pieces and displays that seek to create 'understanding and dialog about the art of our time'.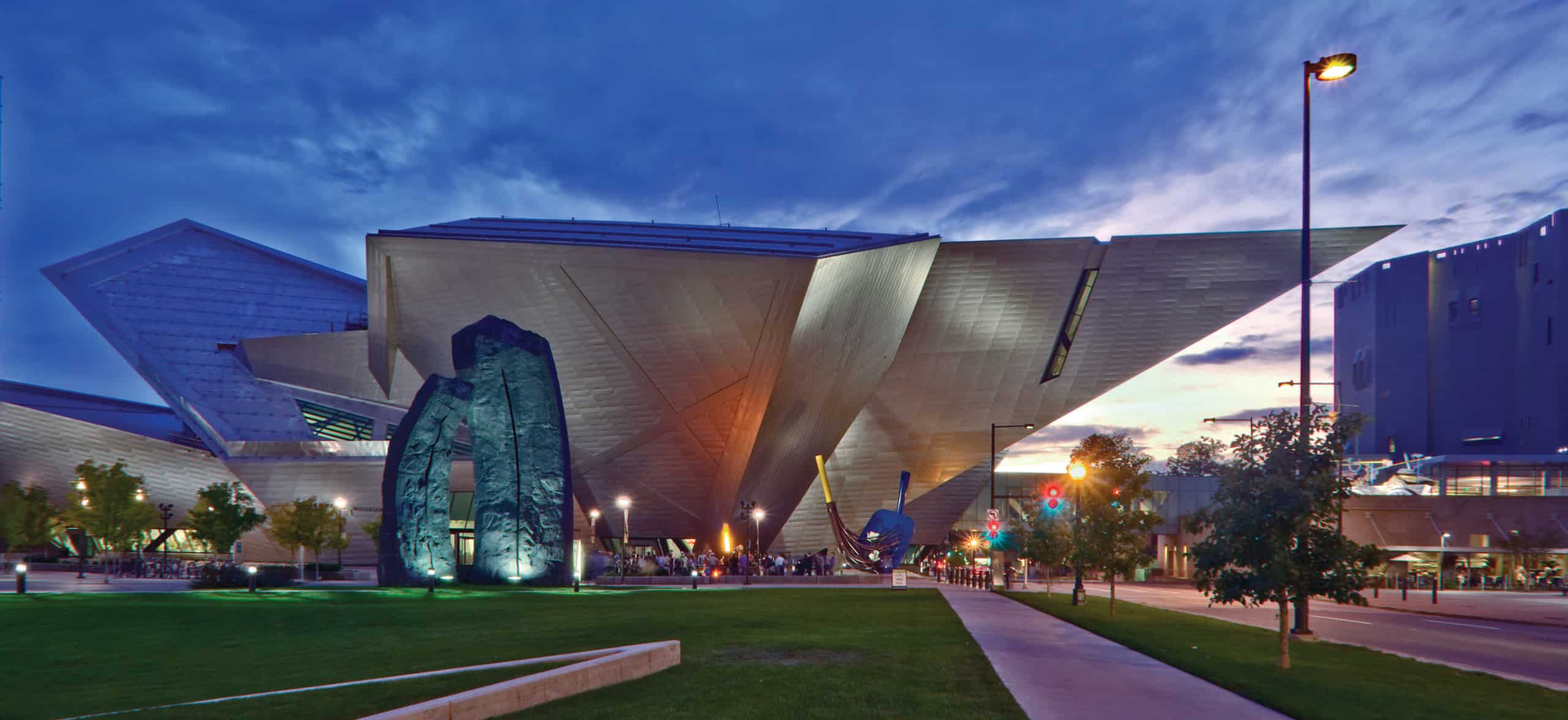 Dining: Some notable eateries: Safta at The Source Hotel,  RiNo; The Denver Central Market; Rioja in Larimer Square; Mercantile Dining & Provision (owned by renowned farm-to-table chef Alex Seidel) as well as Snooze (for a satisfying brunch) in Union Station; Linger – an eatuary (in a space which used to be a mortuary), Citizen Rail (for steak), and hearty French restaurant Bistro Vendome.
Craft Breweries– Denver is quite the place for après ski. There're over 100 breweries, brew pubs and tap rooms in the metro area alone. Check out the Denver beer trail: https://www.denver.org/restaurants/denver-bars-clubs/denver-beer-trail/
Outdoor parks: The Mile-High City also boasts more than 4,000 acres of traditional parks and parkways, which include 2,500 urban natural acres. In the winter, they take on a wondrous glow, offering opportunities for cross-country skiing, sledding and snowshoeing. The Denver Botanical Gardens has dozens of horticulturally distinct collections across 20-plus acres set indoors and out.
Shopping: Check out Western boutique shops, popular American brands and get kitted out ready for the slopes with Denver's wide selection of shops. The key shopping locations include Cherry Creek, 16th St. Mall, Larimer Square and Antique Row. Denver boasts more winter sports stores per capita (and has the highest number of skiers per capita) of any city in America, and big-city competition makes the prices much cheaper than the mountains.
Hotels:
The Crawford Hotel, Union Station: Located within Denver's historic Union Station, wake up in this beautifully converted hotel and step straight onto the platform for trains to Winter Park (select days of the week January – March) and directly to/from Denver International Airport in 37 minutes – the perfect location to enjoy the city while being close to transport for those planning a ski holiday without hiring a car.
New this year, The Rally Hotel: this new independent lifestyle hotel opened in spring 2021 as the keystone piece to the Mile High City's hottest new development, McGregor Square. The Rally Hotelpays homage to baseball roots – taking its name from an age-old baseball superstition – and is located steps away from Coors Field, home of the Colorado Rockies. A rooftop-bridgeway pool looks out onto views of the Rocky Mountains.
Kimpton Hotel Born, LoDo Neighbourhood: Within Denver's revitalised LoDo neighbourbood and close to Union Station, this hotel takes on an alpine luxury look and feel so you're ready for the mountains, while being in close proximity to Denver's bars, restaurants and shops to soak in the urban energy before heading to the mountains.
The Maven Hotel, LoDo Neighbourhood: Located centrally, The Maven is a boutique hotel at the historic Dairy Block which places you on the doorstep of a multitude of bars, restaurants and a bustling food market, Milk Market. A great stop off for foodies.
The Art Hotel: for those wanting to soak up Denver's art and culture scene, the Art Hotel is next door to Denver Art Museum and even has a gallery of its own. It's also close to the outdoor urban space at Cheesman Park.