Go Home Winter, You're Drunk – Chamonix Season Wrap
April 3rd, 2018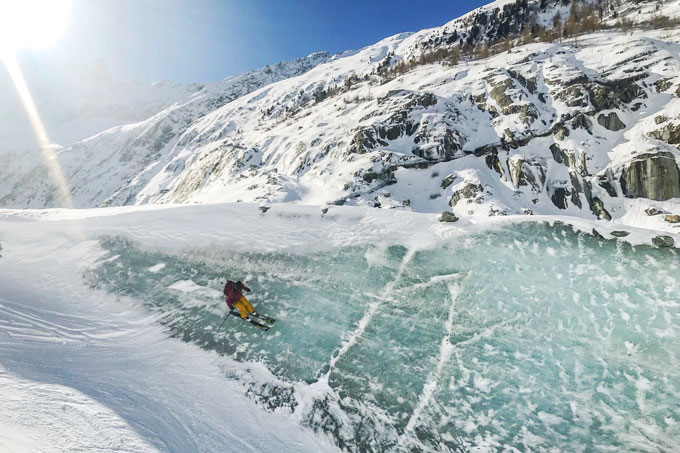 Nat having fun on a natural, but icy, quarter-pipe
Mountainwatch | Natalie Segal
It looks like we are in for a long winter here in Chamonix. I shouldn't be complaining, I love winter, I love powder days, I love cold snow that blows up in my face at every turn. While this season has been great for powder hounds and even better for local glaciers that are in dire need of refills, I am, however, beginning to miss the classic Chamonix spring days full of ski touring, incredible views and delicious corn snow. Is it rude to say I am over winter and ready for spring?
The season started with a mixed bag of events. From huge snowfalls, to radical warming that led to evacuations along the valley, avalanches and flooding through town. Not to mention, a rather large mudslide, which closed the access road between Martigny and Chamonix and has only recently been cleared and reopened.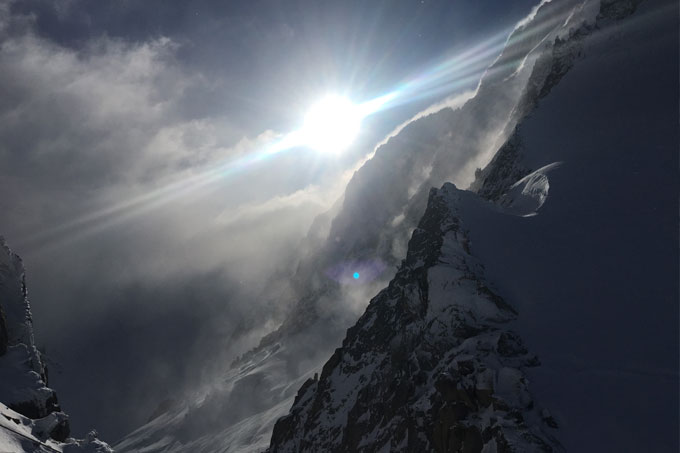 Chamonix is seen by many as the Mecca of big mountain skiing. It is easy to see why.
Unlike other seasons, when the valley can be plagued by foehn winds (a dry, warm, down-slope wind that occurs on the downward side of the range and generally ruins the snow), the conditions have been cold with consistent storm cycles. In a place of extremes, consistency is always appreciated. However, the large mass of snow that now cakes the mountain tops will make the spring melt interesting to say the least. Everyone loves an extra scoop of ice cream in their waffle cone. That is until it melts and makes a mess all over the place on its way down.
The silver lining – the freezing level. The Chamonix valley bottoms out at an average of 1100 metres and tops out at the highest lift (the Aiguille du Midi) at 3842m. Generally speaking, by the end of February as the temperatures rise, the lower elevations below the mid-stations (approximately 1900-2200 metres) begin to melt out and usually make it difficult to ski off-piste from top to bottom.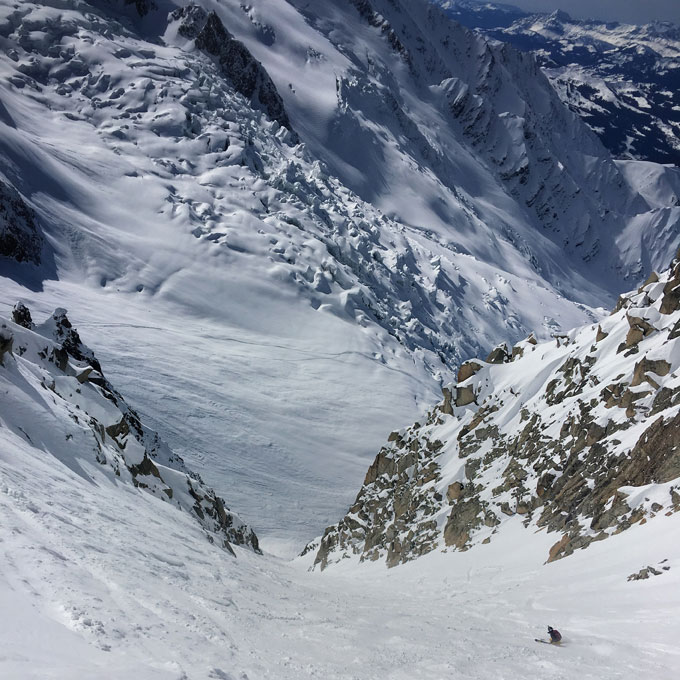 Dropping down to the Bosson Glacier from Glacier Rond. On a good snow year, you can ski the whole way down to town from the bottom of the glacier – which is exactly what we did. Photo: Johanna Stalnacke
Not this season. Cold temperatures throughout the winter have led to some incredibly cold snowfalls that have solidly coated the lower elevations in a thick blanket of snow, leaving some amazing powder skiing possible down to the valley through to the middle of March.
Up high the glaciers and scree fields have been excellently filled in, leading to awesome skiing in all directions. The best coverage the Mont Blanc Massif has seen in several years. When the sun has come out to play, it has led to some beautiful spring skiing on the south faces, while the north faces are holding the snow and pow turns can be found several days after the snow fall (if you are willing to hike for them).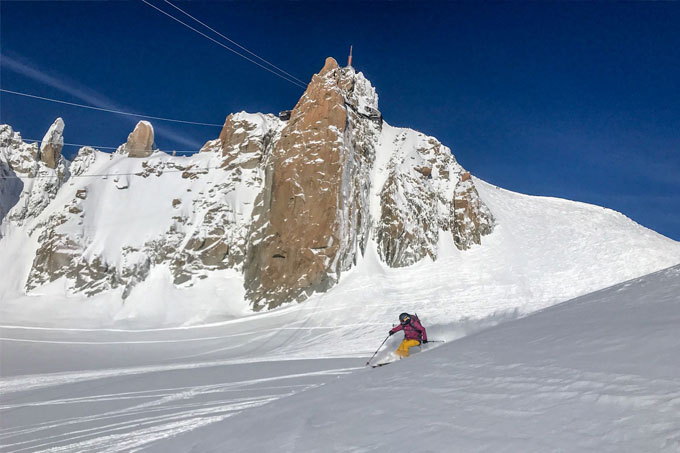 While Chamonix has a reputation for steep big mountain terrain, there's also some mellower terrain where you can relax. Nat Segal, cruising.
The dry, cold snow of this season, however, is not conducive to steep skiing, which relies on warmer storms to cake the steep icy faces in a thick layer of snow before it is possible to ski them. It looks like you'll need to wait until April or May to ski some of the steeper lines.
Most recently, a wind event and a warm spell has created wind effect on several aspects and crust on the south facing slopes. Not ideal, especially when the sun is hiding behind clouds leaving the crust hard as ever and the wind drifts difficult spot.
It is this type of in between season that can be quite frustrating on the slopes around Chamonix, it's not stormy enough for powder snow or warm enough for spring skiing. In this case creativity is necessary.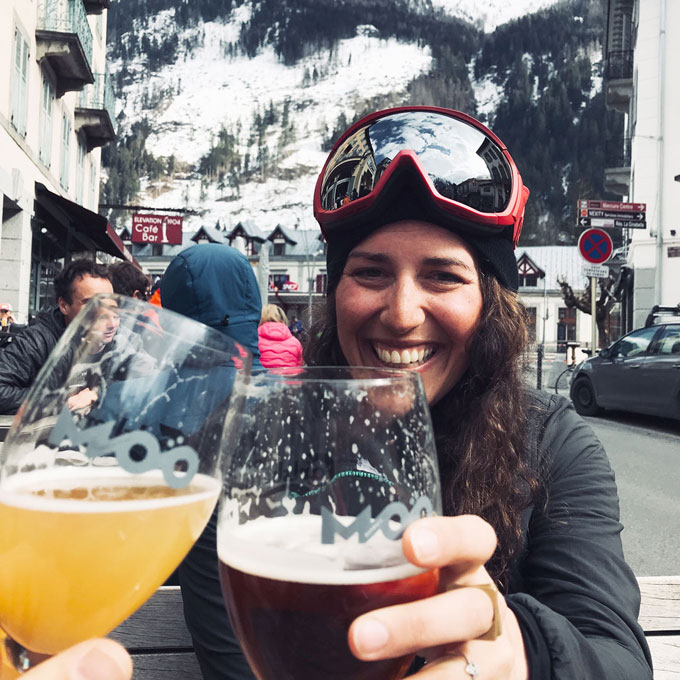 Natalie, enjoying a hard-earned beer after a top to bottom run on the Bosson Glacier
It is here that I find my issue with winter. Like a friend who refuses to leave the bar after four solid hours of après, but can no longer hold a legible conversation, the snow just keeps on coming but it is no longer colder enough to create that incredible white room effect. Although we are starting to see a shift in the temperatures and a quick thaw down low, winter still wants to have all glory (and the karaoke microphone).
Over the weekend, Chamonix will be hit with another cold spell and a dump of snow in the valley. With a few doses of foehn wind early next week, it looks like we will be moving back into the old isothermal spring dance. Icy mornings, warm days, corn snow and a refreeze followed by a short storm cycle to give the mountains a quick coat of paint and ski touring until your legs can't take anymore.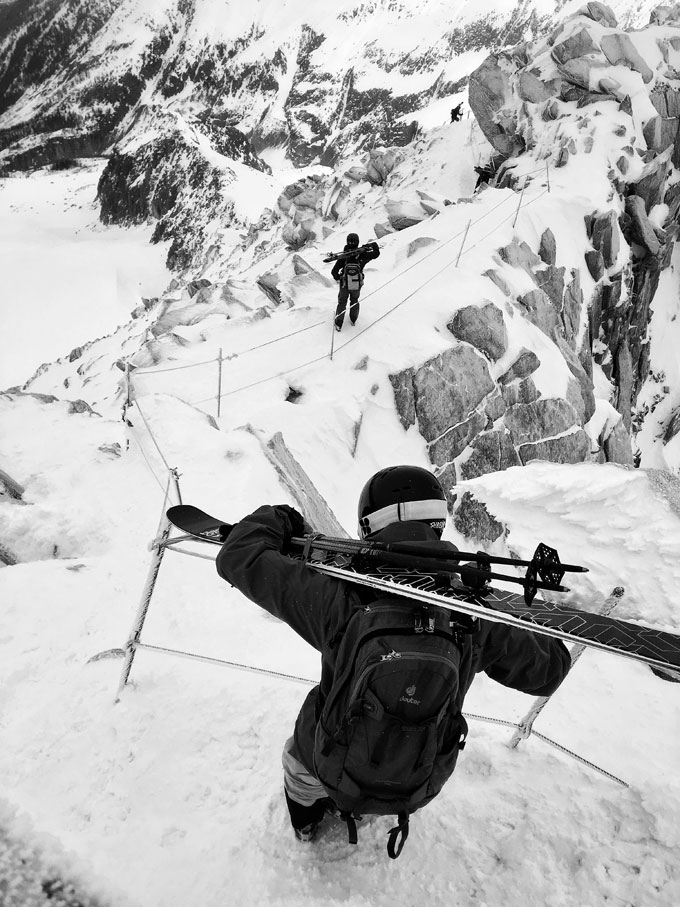 Searching for definition on a flat-light kind of day at the top of Grands Montets, Photo: Nat Segal