Harro's Art Now Has a Gallery Home – Renowned Photographer Tony Harrington Opens Galleries in Buller and the Gold Coast
September 22nd, 2020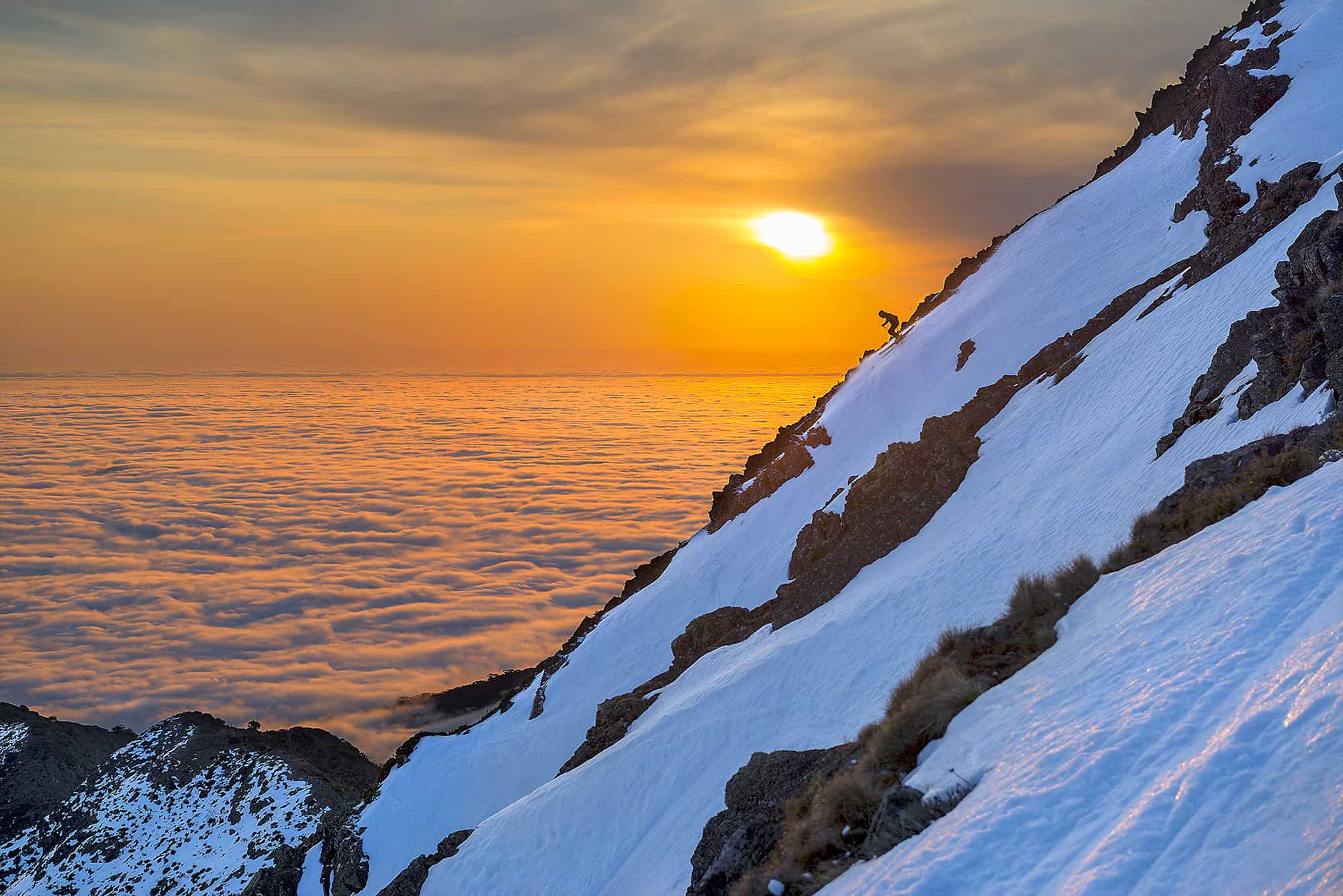 Mountainwatch | News
Many of us are familiar with the photographic talents of Tony "Harro" Harrington from surf and snow magazine covers and his regular contributions to  Mountainwatch.  He's been chasing swells and snow storms for 35 years and still does so with the energy and froth levels of a grom.
Harro is a self-confessed adrenaline junky and he's all about the journey and the adventure so when COVID-19 reared its ugly head at the start of this year he got himself home to Australia from Alaska (where he was hunting lines and shooting for Chillfactor) and as soon as he was out of quarantine he set about chasing down his life-long dream of building a gallery.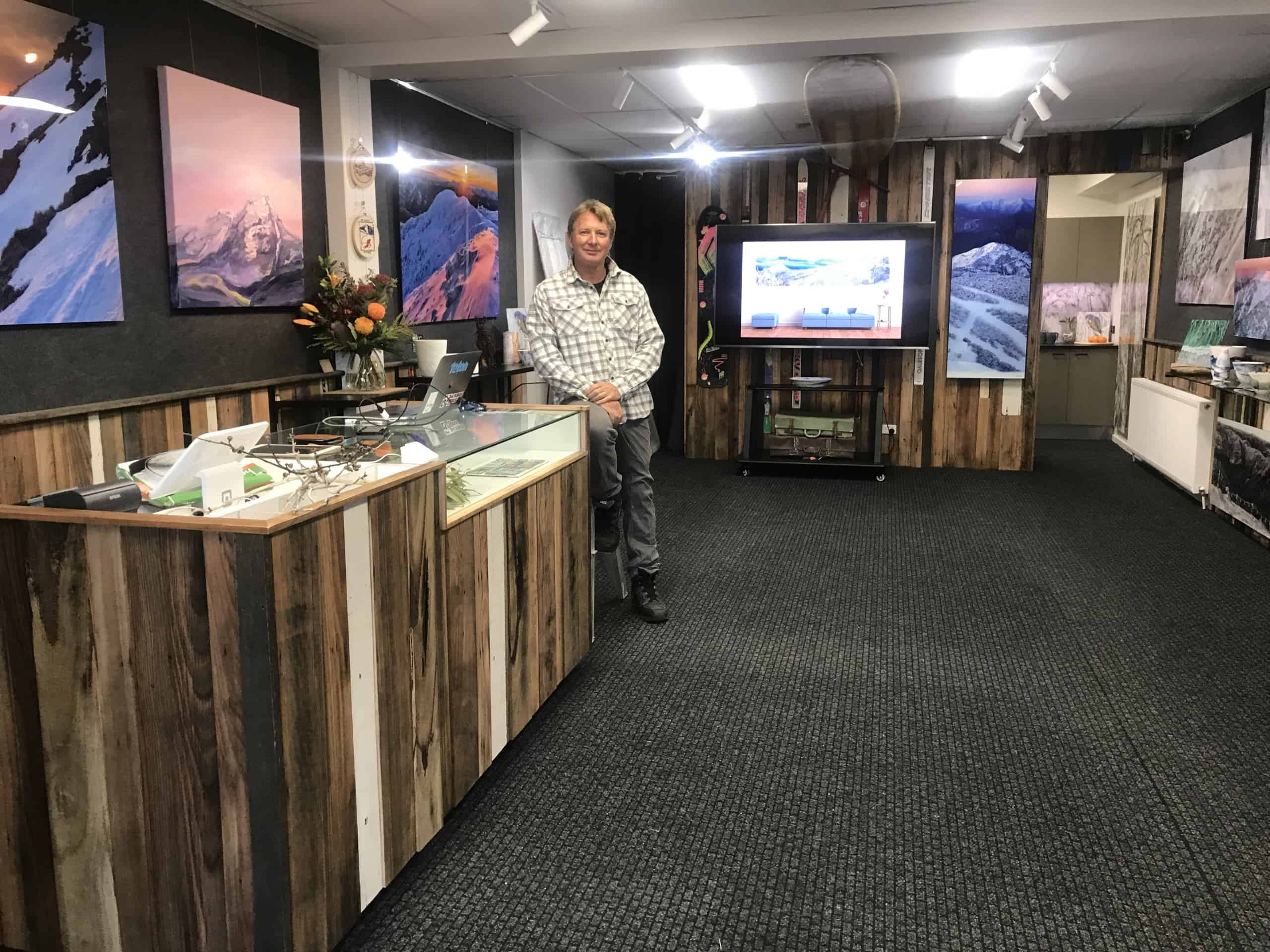 In June the HarroArt Gallery on Mt Buller was born.  The space sits in the Village Square in heart of Mt Buller ski resort in Victoria. The sweeping large-scale pieces reflect unique moments Harro has captured in the mountains, with a special focus on the local hill. The Buller crew has embraced the new endeavor and the opportunity to see their home mountain so brilliantly interpreted.
There is plenty of Harro personality in the space, with reclaimed lodge timbers lining the walls, old cameras from his film days, a huge single fin board suspended from the roof and an eclectic collection of vintage Aloha shirts he's sourced from his regular stints in Hawaii adding to the vibe. Grateful Dead is usually playing and visitors tend to hang out, swap stories, have a tea and plot heli or surf trips while working out which piece they want for their office or lodge.

A signature panoramic photographic work dominates the space at a staggering 5 metres long, most days there are people standing in front of it for minutes at a time mind-skiing the chutes, picking out their favourite landmarks and soaking in the light.
"It's always been a dream to have a space like this and get my photos out of hard drives and onto walls where I can share them with people.  The Gallery is already changing up the cultural vibe here in the village and adding something different into the mix," said Harro
"This year we were restricted in how much we could do due to COVID, but the plan is to host small events, films, speakers and stir up more creative energy on the mountain.  People are drawn in by the art, but the connection lives in the stories and experiences. It's great talking to people about a piece and hearing how they skied that location with their Dad or proposed to their wife on that chairlift. When they invest in a piece of my work it's part of their family story and connection to the mountain."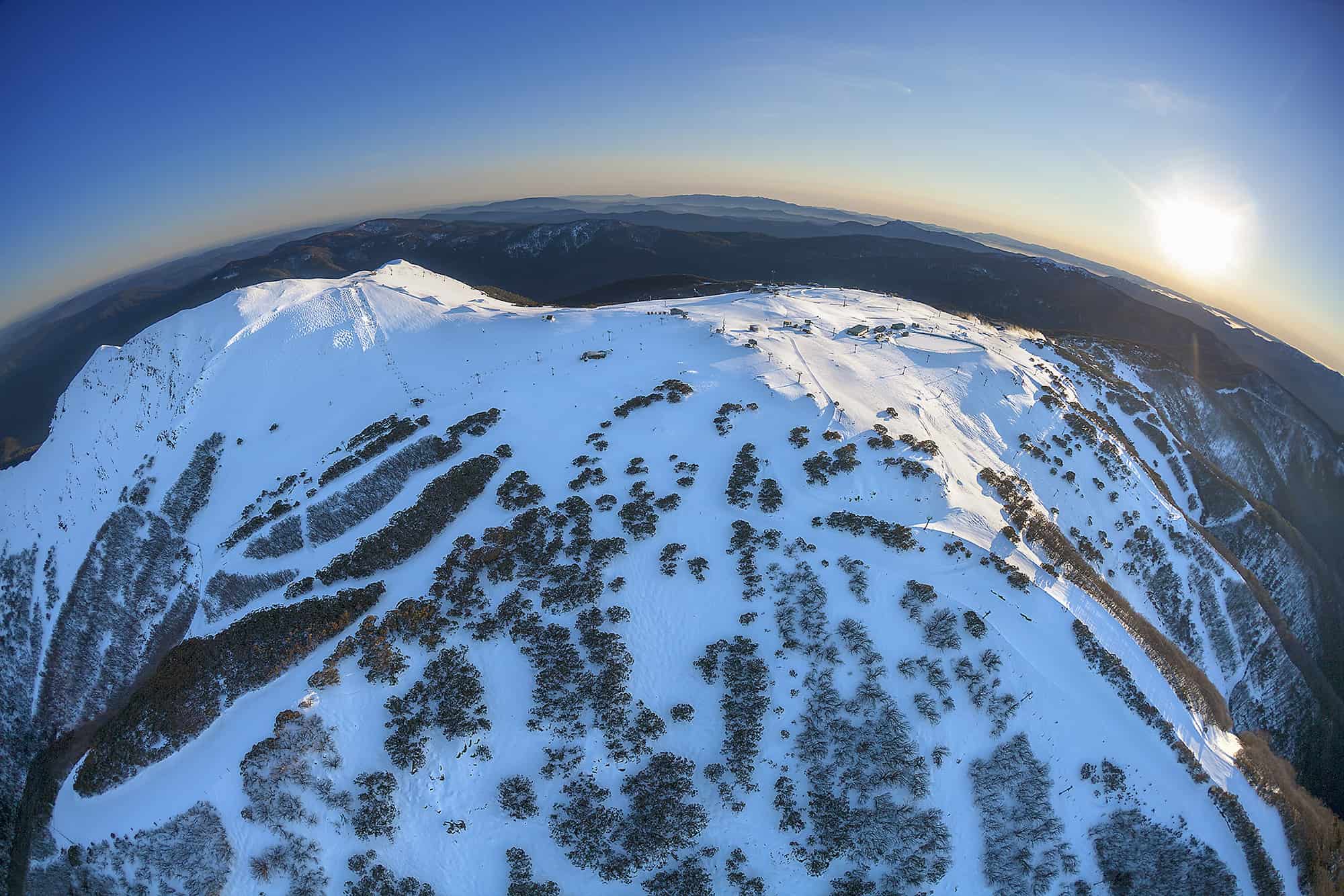 "It's been really fun working on installations of my work in people's homes too. When we fitted out the Gallery I customised a long splashback of snowgums in the kitchen and it's been one of the highlights. Everyone wants to hang in the kitchen! So, we are now working with people on customizing pieces for their homes."
Mt Buller squeezed in just 44 days of lifted skiing before the Victorian restrictions forced the mountain to close in early August. As restrictions around the country intensified Harro made the hasty call to leave the mountain and just squeaked back into his Queensland (which has been his base for around 20 years) before the border closure. He braced for another 14 days of quarantine and checked into the hotel with box loads of slides.  "It was a really productive time. Every surface of the room was covered as I sorted through decades of slides and got busy making a plan for summer.  It was bizarre to realise there would be no international travel this year. For the first time in 30 years a full summer at home on the Gold Coast was on the cards."
Last week the HarroArt Gallery on Currumbin Beach of the Gold Coast opened.
"I literally got out of quarantine and made a beeline to Currumbin for a dawn coffee and to get into the ocean.  Sometimes things are meant to be.  I saw this tiny little vacant retail space and within two days and a few conversations it all fell into place," explained Harro.
The intimate gallery is just a few short steps from the beach and Harro uses the small space to good effect to showcase his ocean-inspired works.
The collection here reflects Harro's salt-infused passion for the ocean with an assortment of images from iconic Gold Coast locations as well as pieces capturing mesmerizing waves from legendary surf spots including Mavericks, Jaws and Pipeline.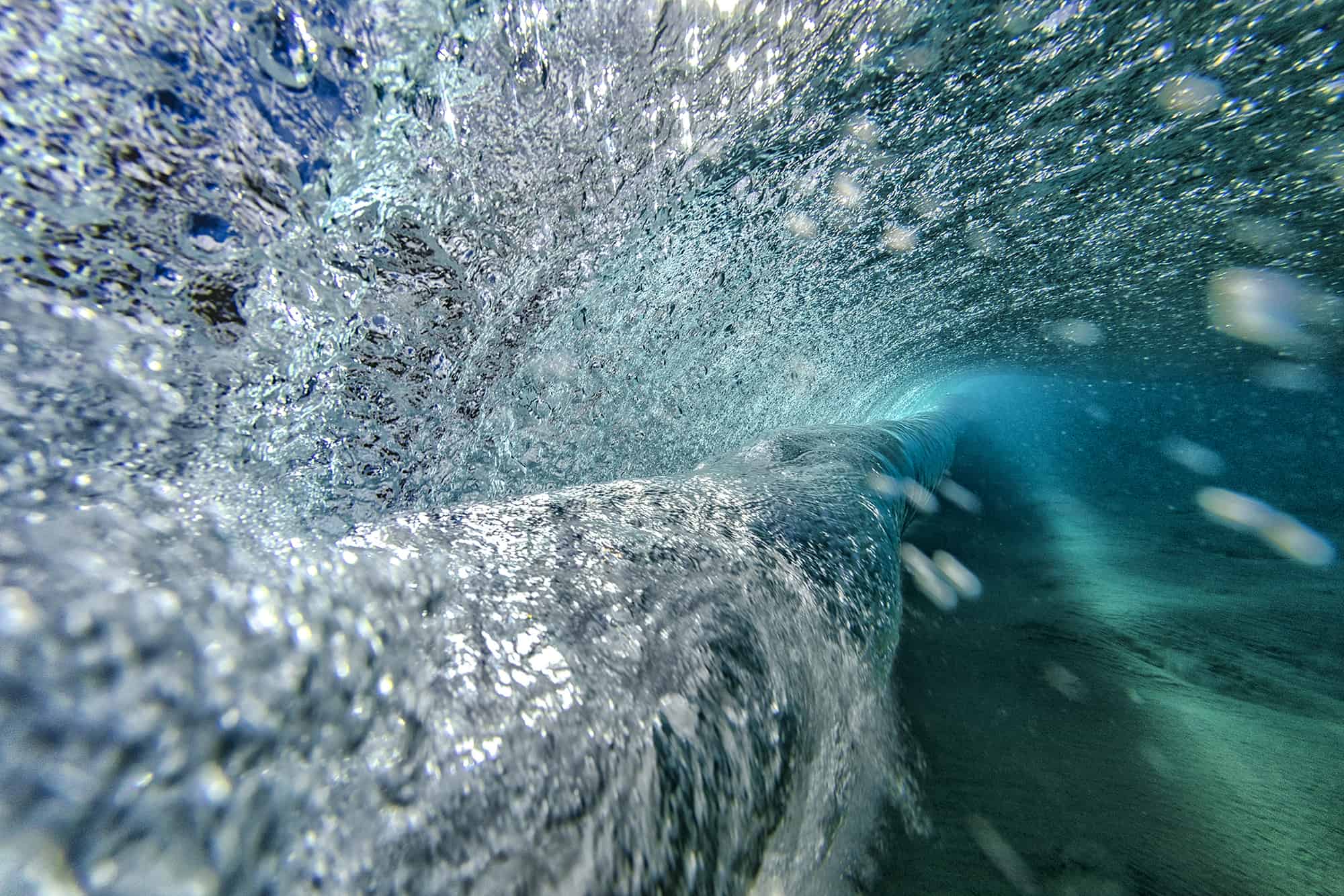 "I split my year between time in the mountains and the coast, and this is beyond what I could have dreamed to now have a gallery for each part of my life. I was gutted to leave Buller in a rush but am so thankful to be home on the Gold Coast and free to channel energy into something positive during what is otherwise a weird time."
Harro is embracing his seachange and shooting on the beach before dawn most days and getting creative with his craft.  The work is changing as he experiments and the pieces are evocative of the feeling of being in and around the ocean in a departure from his early documentary work.
"I've chased storms all my adult life and am obsessed with weather, wind, water and understanding that flow of energy that creates the waves and the snow that I love.  Luckily it gives me a deep connection to the ocean and helps me read the signs and plan, so I can be in the right place at the right time to create these special pieces."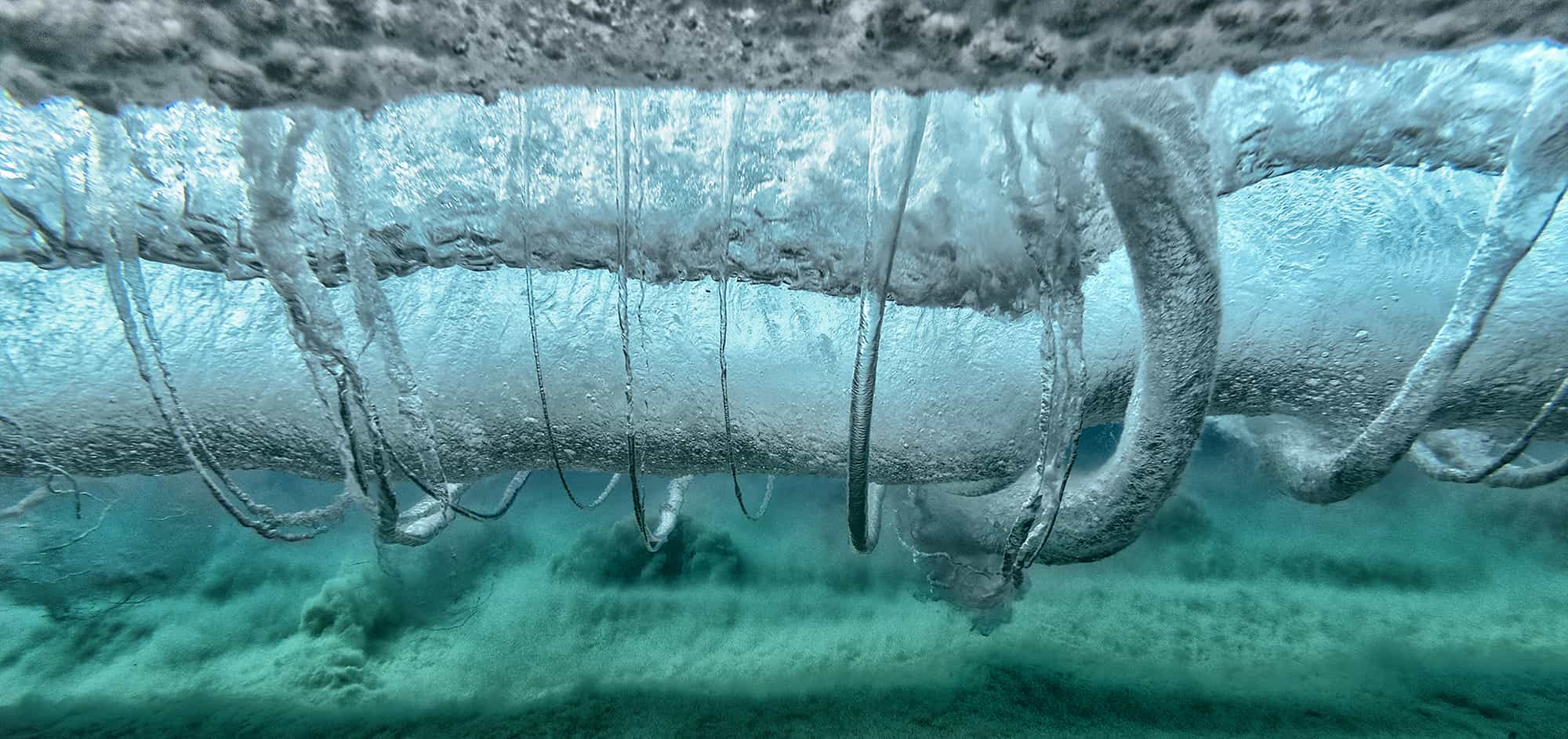 "It's all about capturing the feeling of those special moments in the water or on the sand, the quiet of dawn and the splendor of dusk. At the heart of it I am just a surfer kid from the coast that gets up before dawn and races to the beach to see what the waves are doing."
"It's humbling to create works that others connect to, that have a sense of place or time for people and become part of their homes or work spaces."
HarroArt Gallery at Mt Buller is open on request and his partner remains in resort which just reopened to regional Victorians this week.  "Rhylla will open up the gallery occasionally on weekends now that a few people are allowed back to the mountain."
Check out Tony's work online at www.harroart.com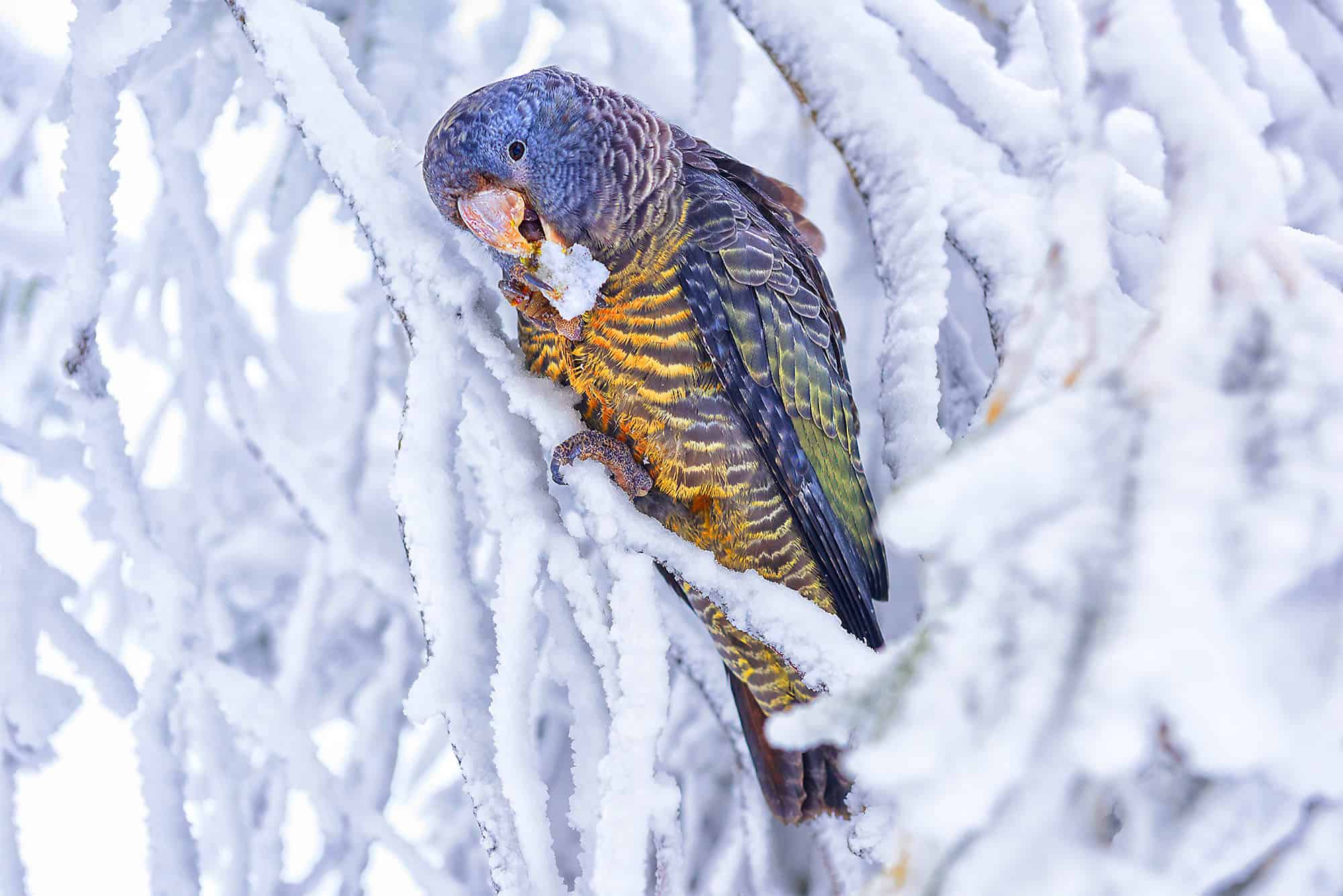 HarroArt Gallery
Murraba Street & Pacific Parade Currumbin QLD
Village Square, Mt Buller VIC
instagram : @harroart
For more information call Tony on 61 427 427 761
Email: harro@harroart.com
Web: www.harroart.com