Mt Buller Makes A Splash With Its "National" Pond Skim Championships
September 23rd, 2019
Mountainwatch | Press Release
Photos Michelle Siegist/Mt Buller Photo Shop. Video: Jordan Mountain
23 September 2019: On a crisp spring Sunday the best pond skimmers in the land gathered on the Bourke Street ski run at Mt Buller for the event they wait all year for – the National Pond Skimming Championships.
A long pond is carved into the snow, the contestants prepare for weeks to create costumes that will inspire and impress (and survive a trip through an icy pond) and practice their skimming skills and tricks.
After heavy rain and gale force winds on Saturday the skies cleared for the competition day. A lively crowd packed the Yak Brewing beer garden and snacked on kranskies while taking in the preliminary youth skim event.  Edward Hill took out the Junior event for his second year in a row in a line up that included a taco and a nun.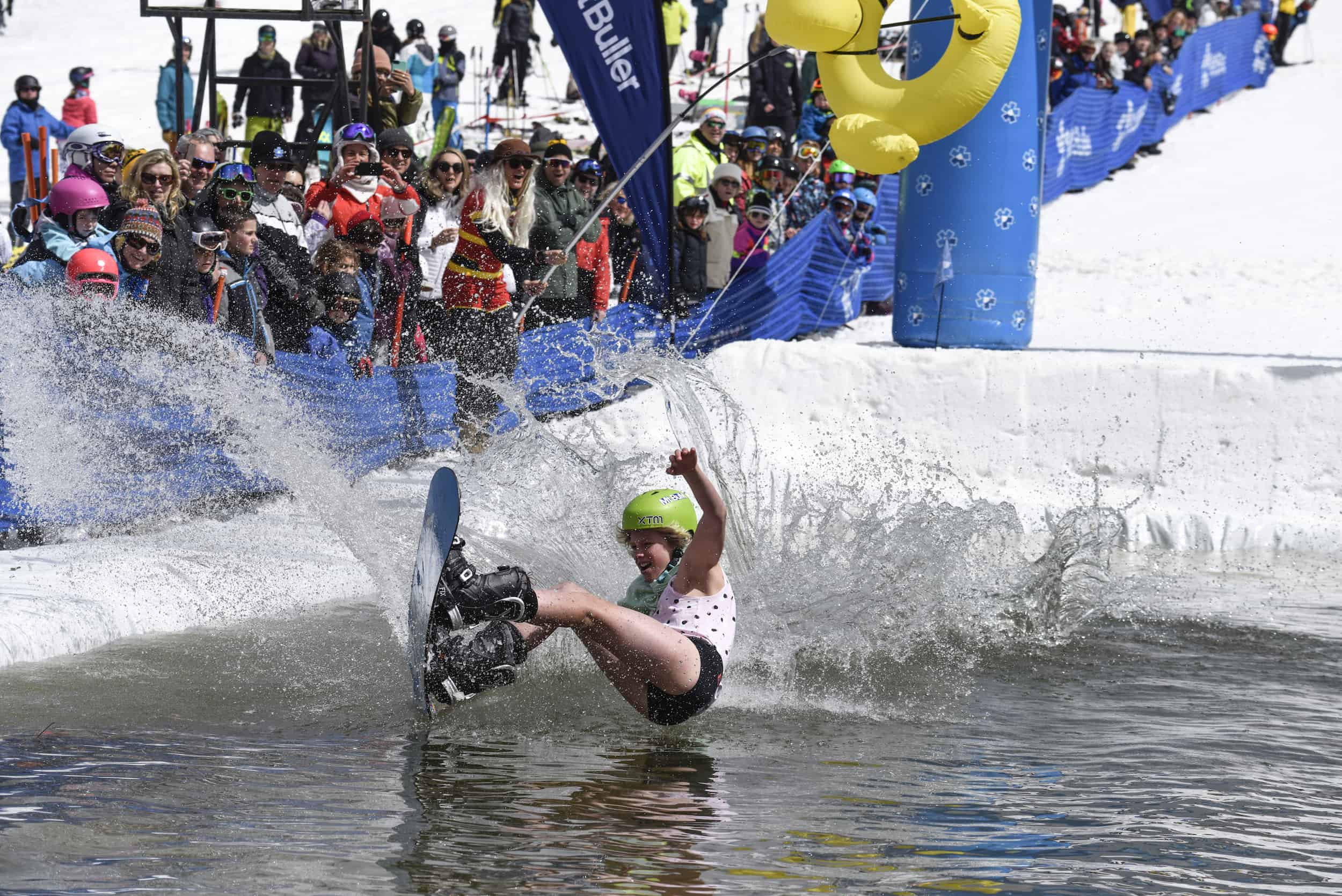 The competition was colourful and exciting with skimmers scoring additional points for choregraphy, costume design and skimming distance.  Entrants this year included Bachelorettes, surfers, boats, dinosaur, hula girls and more.
The Pond Skim is a highlight of the Mt Buller spring snow calendar and draws an elite group of skimmers with Olympian aerial skier Jacqui Cooper among the qualified judges for the fun event.
Mt Buller woke this morning to a surprise spring dump of 13cms of fresh snow reviving the cover in resort.  Skiing and snowboarding continues at Mt Buller through to 6 October with great packages available for school holidays and Kids Week fun all week this week.