New Zealand Forecast –  A Few Dustings Of Powder Amongst A Couple Of Bouts Of Heavy Rain And Strong Winds
September 11th, 2023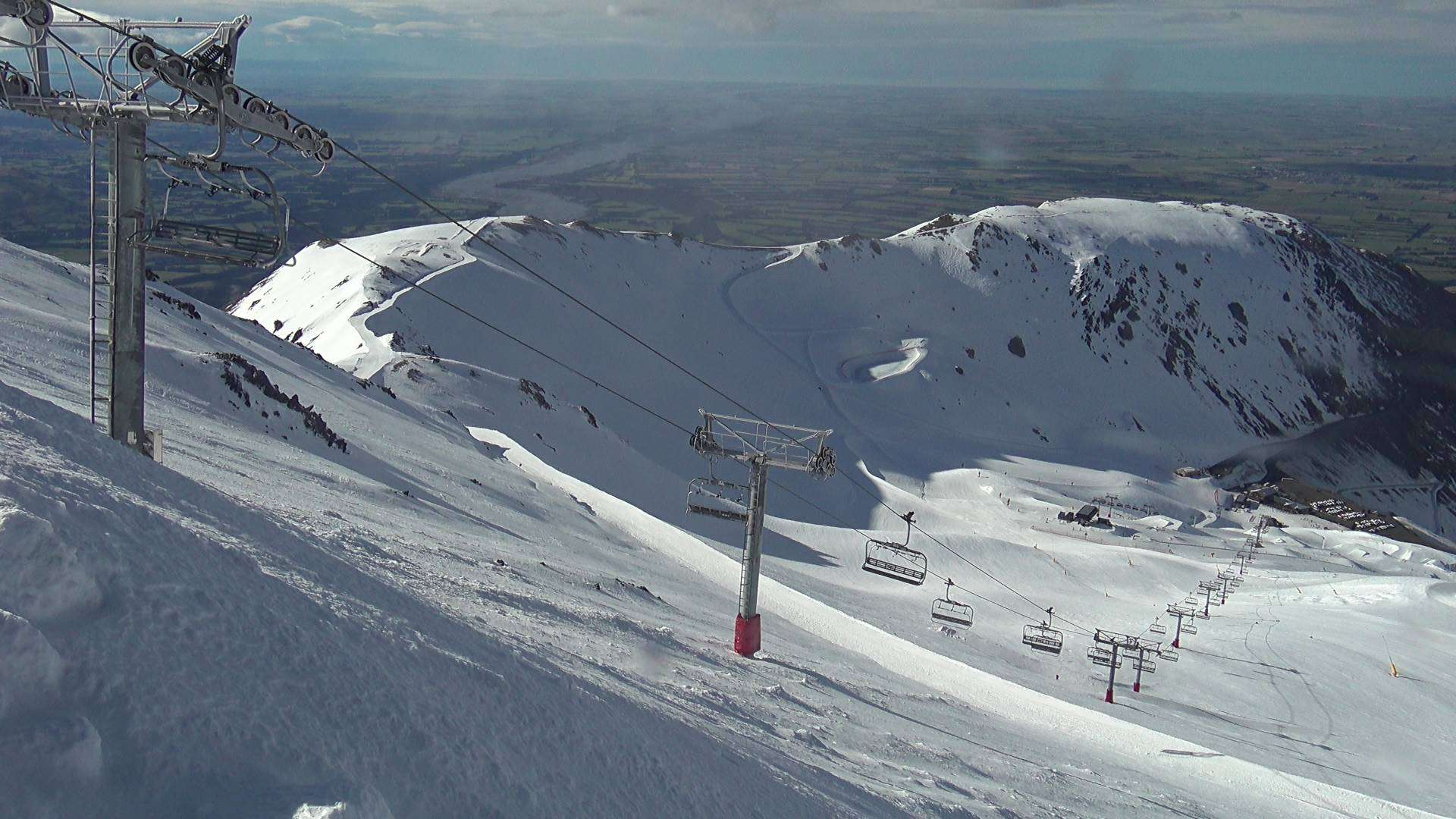 Mountainwatch | The Grasshopper
Written early Monday 11th September, valid to Thursday 14th September
Weather-wise, it's going to be a busy week here in NZ. First, the frontal band that affected the Southern Lakes last night is now sitting over Canterbury, with heavy rain and severe gales there easing this morning as the front continues northwards to wreak havoc on Ruapehu.
Behind the front, strong icy westerlies will bring a dusting of snow to the Southern Lakes this afternoon and again tomorrow, as well as snow showers to Ruapehu tomorrow and Wednesday.
Then on Thursday, another cold front will move up the South Island, preceded by another bout of heavy rain and snow, while NW winds is be absolutely hoofing it. More cold air behind the front will see the Southern Lakes receive yet another dusting of snow later on Thursday.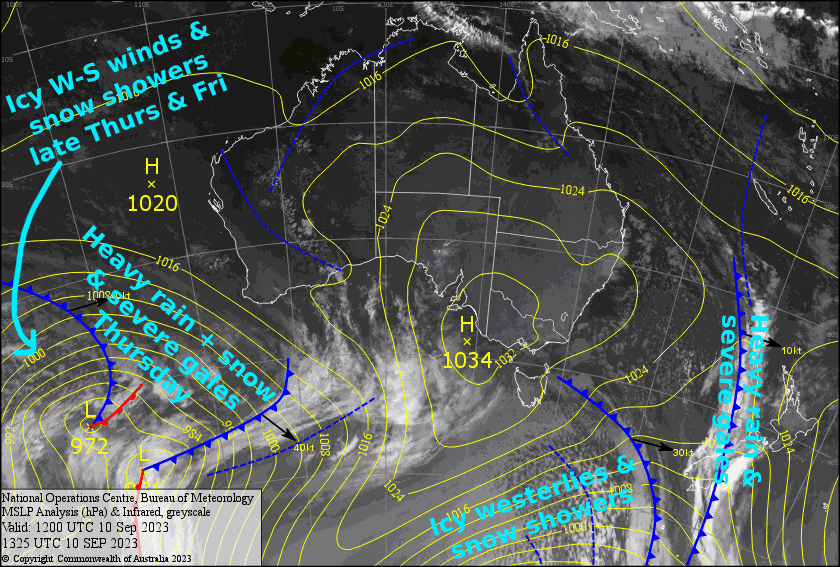 Monday 11th
Partly cloudy skies over the Southern Lakes this morning with northwesterly winds. Then, a period of snowfall from late morning through the afternoon as colder westerlies arrive.
A horrible start the day for the Canterbury resorts, with gale NW winds and heavy rain, which will fall as snow up high. However, it'll quickly improve shortly after breakkie, with the rain/snow clearing, leaving just high cloud, while NW winds will gradually ease throughout the day. Around evening, a southerly change will arrive, dropping about 2-5cm of snow over Mt Hutt and Porters Pass this evening.
Rather grotty for Ruapehu too, where showers will build into outright rain this afternoon, with snow falling above 1800m. Strong to gale northerly winds.
Tuesday 12th
Snow showers for the Southern Lakes with strong, icy westerly winds, likely blowing a gale up top. The snow will eventually peter out later this afternoon, leaving about 1-5cm in total.
A mostly fine day for Canterbury, but W-NW winds will strengthen this morning, rising to gale or even severe gale in exposed areas. Cloud and a snow shower or two will also reach the inland club fields this afternoon.
Snow showers and brisk, chilly westerly winds for Ruapehu.
Wednesday 13th
A mostly fine day for South Island resorts, with icy W-NW winds and just a bit of cloud about the Southern Lakes, as well as the Canterbury Club fields later in the afternoon.
Snow showers continue on Ruapehu as cold W-SW winds persist.
Thursday 14th
A wild, wild day for the South Island as heavy rain spreads over the Southern Lakes early morning, then Canterbury a little later, with snow falling about the upper and possibly mid slopes. NW winds will be absolutely hoofing it, with severe gales likely hampering operations. Colder westerlies will arrive in the Southern Lakes later in the afternoon, allowing the precip to back off to snow showers.
Snow showers kick up again on Ruapehu during the morning, becoming persistent during the afternoon but likely turning wet on the lower slopes. Westerly winds will be strong in exposed areas.
Extended Forecast
Friday, the second front mentioned in the intro will cross Ruapehu early, with heavy rain+snow and strong winds likely. A brief cold southerly behind the front should see all kiwi resorts receiving another wee dusting of the good stuff.
Saturday will be mostly fine across the country as a ridge of high pressure passes over. However NW winds will likely pick up over the South Island, before going nato again on Sunday as another front passes over, this time only bringing a brief period of rain and snow.
That's all from me today, folks. I'll see you again Friday.