New Zealand Forecast, September 1st –  The Tables Turn During The First Days Of Spring
September 1st, 2023
Mountainwatch | The Grasshopper
Written early Friday 1st September, valid to Sunday 3rd September
Spring is finally here folks. It's the pinnacle, the apex of the snow season (at least, in my opinion). With longer, sunnier and warmer days, we can now capitalise on a deep snowpack that has been built up during the long, hard winter months.
And there should be plenty of capitalising on Ruapehu today, where a ridge of high pressure over the North Island will see the first day of spring being an absolute cracker there. Down south there'll be a bit more cloud cover due to a strong northwester and front parked up over the very bottom.
The tables will turn this weekend, with mostly fine weather for the Southern Lakes after the front to the south disappears, while a Tasman low spreads a band of rain and strong, warm E-NE winds down the North Island, eventually arriving on Ruapehu Sunday afternoon. Sitting between the two, Canterbury will likewise see a blend of not-to-bad conditions, consisting of both sunshine and cloud, as well as a spot of drizzle.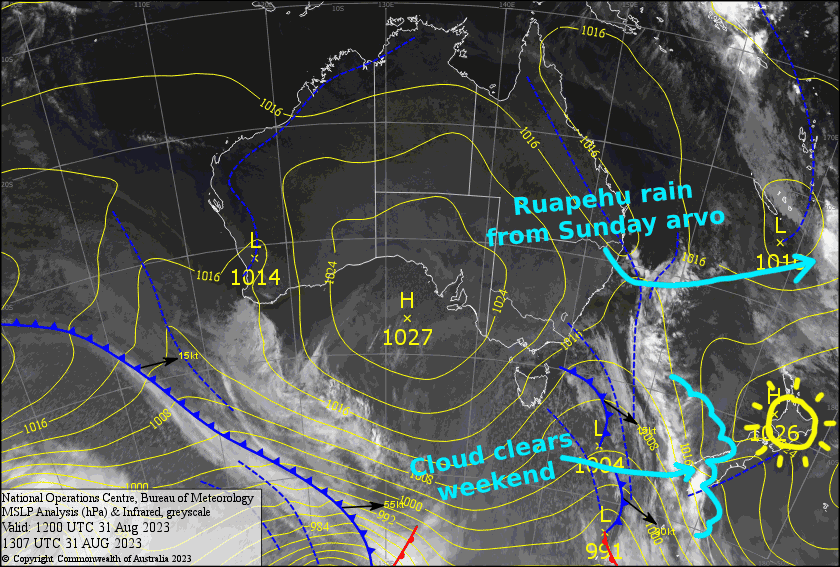 Friday Sept 1st
Mostly grey, cloudy skies for the South Island, except for Mt Hutt where there'll wisps of high cloud against a blue back drop. There'll also be snow showers about Treble Cone, and one or two possibly elsewhere in the Southern Lakes, falling a little wet and sleety on the lower slopes. NW winds, strong in exposed areas, gradually abating.
An absolute cracker for Ruapehu too, not a cloud in the sky and just a NW breeze, which will gradually back off throughout the day.
 Saturday Sept 2nd
Any cloud affecting resorts in the Southern Lakes will clear early for a cracker of a day. Winds will be light as too.
A clear and calm morning for Canterbury. However, light breezes from the east will push in a lot of cloud during the afternoon, with a spot of drizzle showing up on Mt Hutt and Porters Pass.
High cloud and easterly breezes over Ruapehu, but lower level cloud will build later in the afternoon.
Sunday Sept 3rd
A mostly sunny day for the Southern Lakes, with a bit of afternoon cloud. Light southerly breezes turning E-SE.
Morning sunny spells in Canterbury, but an overcast afternoon. E-SE breezes.
Extensive mid-high cloud over Ruapehu during the morning, but lower level cloud and rain will arrive during the afternoon as NE winds become strong.
Extended Forecast
The Tasman low will continue to send rain and strong NE winds over Ruapehu during Monday and Tuesday, while the Southern Lakes remains nice and sheltered with mostly blue skies. Canterbury will again see plenty of cloud, as well as some snow flurries.
The flow turns to a strong, showery N-NW during Wednesday as a new low enters the Tasman Sea, swallowing up the one sitting just off the North Island. This new low should cross the country sometime during Thursday, with a mix of snow & rain likely, followed by a brief period of bluer skies and lighter westerly winds.
That's all from me today, folks. Enjoy the first days of spring and I'll see you again Monday.
Grasshopper