Pullin Unbeatable in Continental Cup at Hotham
August 9th, 2010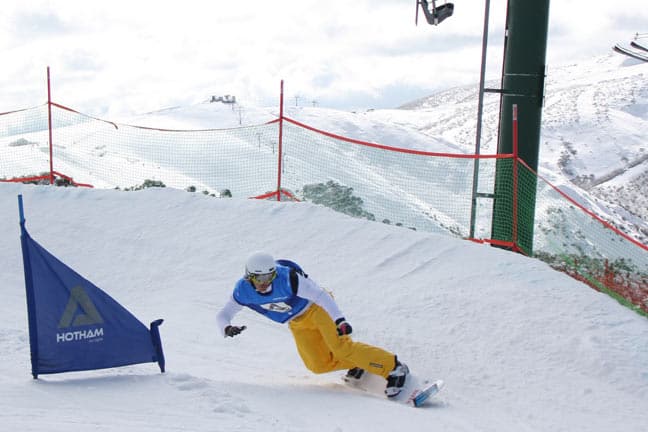 Alex 'Chumpy' Pullin. Image:: Jyothi Jaffray
The Australian FIS New Zealand Continental Cup (FIS ANC)
The Australian New Zealand Snowboard Continental Cup took place in Hotham with two Boardercross (SBX) events over the weekend 7 – 8 August. Both local and international competitors took to the Hotham Rider Cross course with the ferocity and focus expected from such high level competition.
Vancouver 2010 Olympian and World Number two SBX champion Alex 'Chumpy' Pullin demonstrated his speed and took first place on the podium on day one of competition. Pullin said, "It was an unreal day here at Hotham – we had fantastic weather, a great course to compete on and a lot of competitors down which made it very fun and tight racing the whole day. I'm very happy to come through with a win".
Chris Mahoney from the US placed second in his first contest since injuring himself at the Colorado X Games. Youth talent Andy Fisher showed that he is a force to be reckoned with by placing third in the Open Men's category and also winning the Junior 1's section.
Canadian Women ruled the podium in the Open Woman's category with Jade Critchlaw coming first, Tess Critchlaw in second and Shayne Goodwin placing third.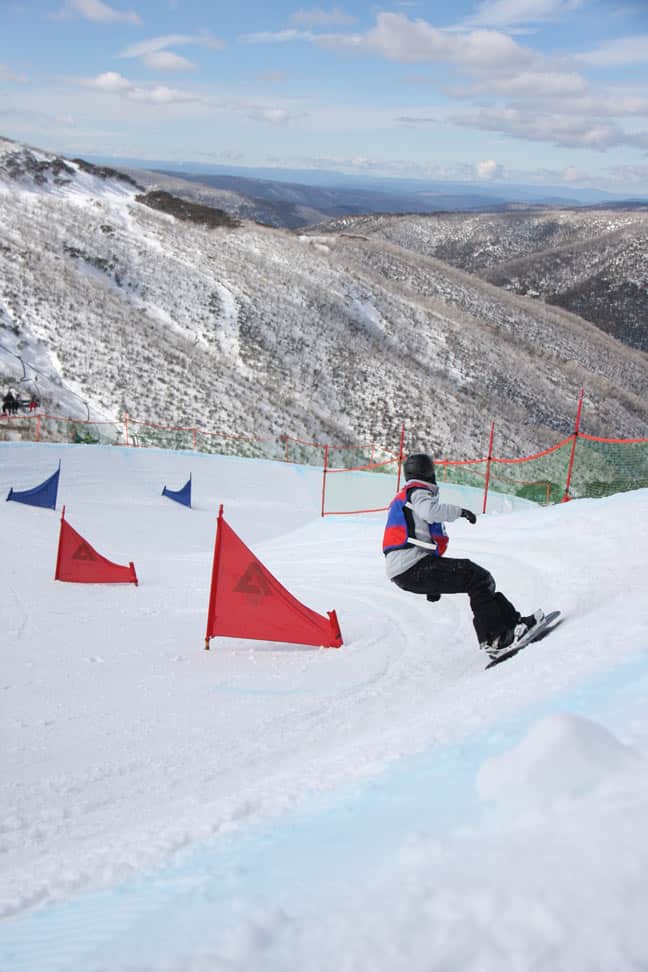 The Event was blessed with perfect weather. Image:: Jyothi Jaffray
After competing in the Australian Junior Series, some Aussie juniors returned to step it up to the big league of FIS racing. Melanie Lappas won the Junior 1 Female race and Kieren Alkermade won the Junior 2 Men's race.
On day two Pullin proved he was unbeatable on the course, taking first place again. Pullin said he is "hoping to build a team that is bigger and stronger for international boardercross competition and is looking forward to encouraging junior competitors throughout this season".
Mahoney held his place on the podium placing second on day two and Aljosa Stefaovic stepped up to take third.
The Canadian Critchlaw family remained on top in the Woman's Open category with Jade and Tess taking out first and second places respectively. It was great to see Australian Melanie Lappas placing third in this race.
With beautiful blue skies and a pristine course made possible by the great snow last week it can be said that the FIS ANC SBX Races, presented by Suzuki were a complete success.
Hotham forecasts,
snow reports and
live snow cams.