Season Outlook 2014 – June Update – Australia
May 31st, 2014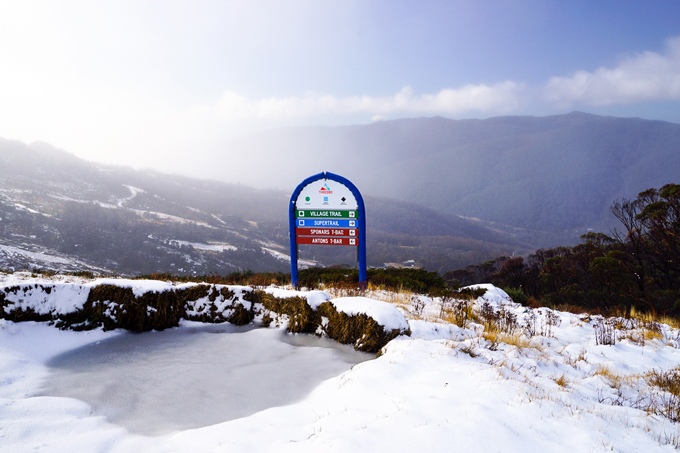 Monday's front left a few cms up high in Thredbo, though the warm air that followed meant it didn't hang around very long Image:: Thredbo
Australian Seasonal Snow Outlook | The Grasshopper
Brought to you by ESS Boardstores
Welcome to winter folks. We're getting close now and we've just hit that unique period of the year when anxiety about the season ahead seems to peak. When is it going to snow? Is that early season trip going to be a blow out? With social media these days the anxiety can feed on itself and turn into paranoia. You get so worked up you find yourself listening to anyone with an internet connection.
We're going to do four things today. First, we'll set the scene with a quick review of the last two seasonal outlooks, issued in early April and early May. Then, we're going to discuss what has changed in the long term outlook in the last few weeks. Third, we'll take a closer look at June. Fourth and final, I'll update my estimate of the peak snow depth at Spencers Creek this season.
Where were we? A little review to jog your memory
In April we established four things that still held true in May:
1) We were pretty darn sure that an El Nino was on the way.
2) The last 14 El Nino's could be split neatly into two groups. One of those groups is characterised by higher surface pressures over most of Australasia that kills rain-bearing systems and really puts the kybosh on snowfall. This is the more classic El Nino pattern.
3) The other group of El Ninos, which we nicknamed "Wrong 'uns" (because they spin the wrong way), has on average resulted in lower pressures south of Victoria which has resulted in increased frontal activity and very decent snowfall, thank you very much.
4) We had very little idea of whether we were heading for a "Classic" El Nino or a "Wrong'un".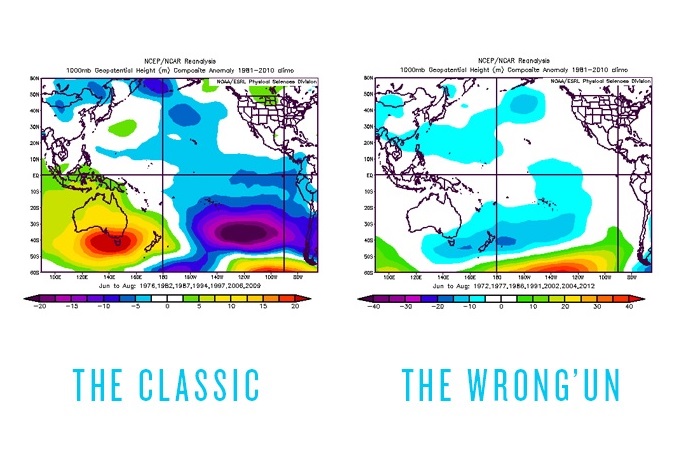 The classic vs. the wrong'un El Nino patterns Image:: BoM
The big thing to remember, especially when you're reading about El Nino from other media sources, is that there have been massive variations in snow depth between individual El Ninos. The graph below is a repeat of the one I published last month, showing how two strong El Nino events threw up completely different snow seasons. The key is working out what type of El Nino we're going to get during those winter months (it really doesn't matter what sort it is after that).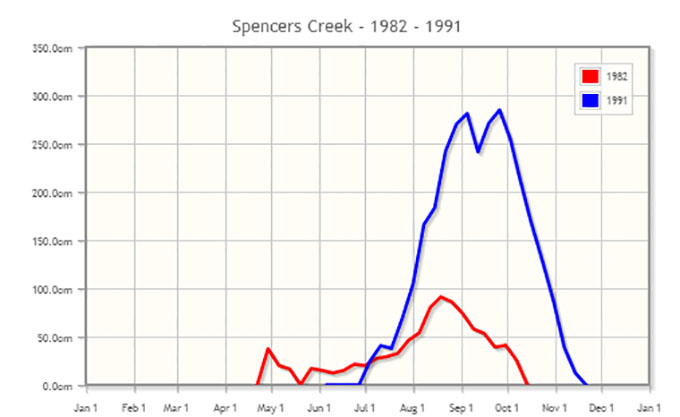 El Nino has two sides to it. Image::Snowy Hydro
Doing my head in.
We're two months on from my initial seasonal outlook, and try as I might I still can't find anything definitive to say about what sort of El Nino is on the way. The event is almost certainly coming. No surprises there. Everything you're reading in the media is saying "warm and dry". And I still say: "Yeah, maybe". Because while almost every climate model is strongly in favour of El Nino continuing to develop through winter, I can't find a single one that's promising a "classic" El Nino weather pattern for Australia.
For this reason, I'm cautious about being too pessimistic about the peak snow depth. Sure, I could just throw out a low ball estimate, and then assume you'll forgive me if things turn out ok. But Homey don't play that. Because on the other side of the coin, there's one particular model that's keen on a wrong'un El Nino and two that are sitting on the fence.
As far as the entire winter is concerned, the game is still wide open. It could be glorious, or it could crash and burn in utter misery. Right now, we have reduce our forecasting ambitions and see if we can say anything useful about June instead.
1st of June is too soon.
Here's some perspective for you. The graph below shows the last four years of snow depths at Spencers Creek. The thing that sticks out for me here is that apart from 2012 we've had bugger all snow during early June. And the year that had the best July (which was 2011) had the worst August. Last year, 2013, which everyone is trying to forget, had a decent peak snow depth, but spent the shortest period of time above 150 centimetres.


Remember that three of the last four years have had bare slopes at the start of June. Image:: Snowy Hydro
Bearing all that in mind, what's on the cards for June? Well, for the next two weeks, not a whole lot I'm sorry. Higher pressures are likely to remain dominant across the region for the next fortnight, and although it looks like we might get a little snow on opening weekend I wouldn't be hopeful of anything major until after 18 June. Even then, there is nothing jumping out at me, but that is the period that I'll be watching closest.
The good ship El Nino
Is it time to panic and press the eject button? Nah, I don't think so. But it does appear that June will be a bit grim until right at the end. So I'm sticking with my call from last month, for a peak snow depth of 172cm at Spencers Creek, with the first big 50cm+ storm arriving from late June to early July, snow depths hitting the one metre mark in early August.
One big caveat though. If we get to my next outlook in a month's time and we haven't seen any decent snow action then I'll be forced to start selling the season short. Expectations would then grind down to around the 130 to 150cm mark, depending on the immediate outlook.
That's all from the Grasshopper. We'll update this outlook in early July. If you've got a different theory on what's going to happen this winter, or just want to provide feedback, then please hit me up at grasshoppermw@gmail.com or facebook.
Don't forget to subscribe to my weekly Weekend Forecast email:

Perisher forecasts,
snow reports and
live snow cams.
Falls Creek forecasts,
snow reports and
live snow cams.
Mount Buller forecasts,
snow reports and
live snow cams.
Charlotte Pass forecasts,
snow reports and
live snow cams.
Thredbo forecasts,
snow reports and
live snow cams.
Mount Baw Baw forecasts,
snow reports and
live snow cams.