Season Outlook 2014 – June Update – New Zealand
June 4th, 2014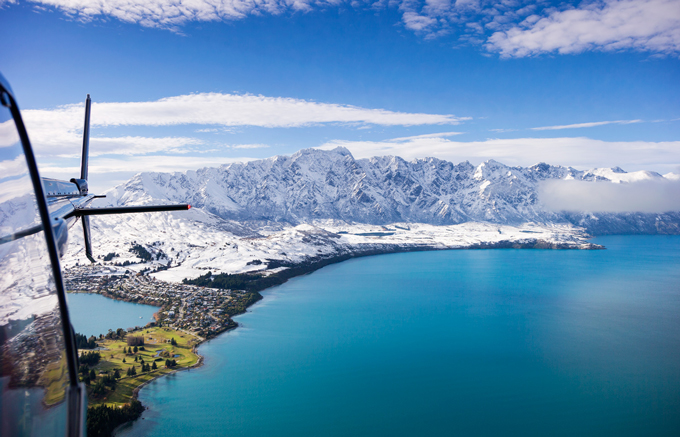 Last week's snowfall brought the snow level right down to the lake in Queenstown. It has also meant Coronet Peak will open on schedule this weekend. Image:: Vaughan Brookfield
New Zealand Snow Outlook | The Grasshopper
A month is a long time in forecasting. Snow that we had on the ground across South Island fields in early May didn't last long, but an almighty cold change in the second half of the month had those in the Southern Lakes very excited. That was over a week ago now and bases have packed down a little since then, to sit in a fairly average position for this time of year. Let's see what comes next.
We're going to do three things today. First, we'll set the scene with a quick review of the last two seasonal outlooks, issued in early April and early May. Then, we're going to discuss what has changed in the long term outlook in the last few weeks. Third, we'll take a closer look at June.
Where were we? A little review to jog your memory
In April we established four things that still held true in May:
1) We were pretty darn sure that an El Nino was on the way.
2) The last 14 El Nino's could be split neatly into two groups. One of those groups is characterised by higher surface pressures over most of Australasia that kills rain-bearing systems and really puts the kybosh on snowfall on both sides of the Tasman. This is the more classic El Nino pattern.
3) The other group of El Ninos, which we nicknamed "Wrong 'uns" (because they spin the wrong way), has on average resulted in lower pressures through the Tasman Sea which has resulted in increased frontal activity and very decent snowfall, thank you very much.
4) We had very little idea of whether we were heading for a "Classic" El Nino or a "Wrong'un".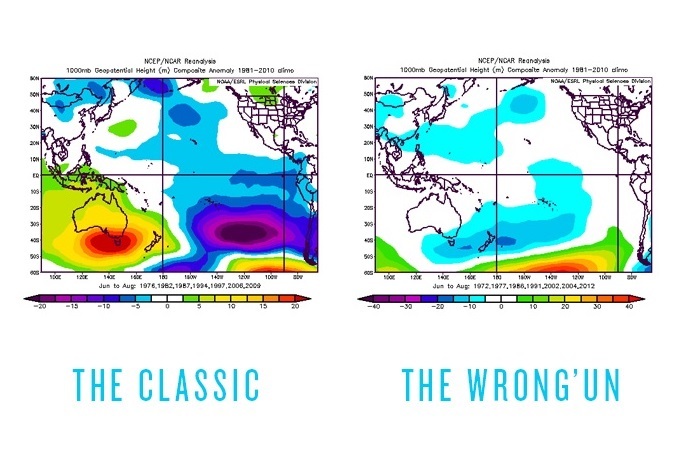 The Classic El Nino pattern vs the Wrong'un Image:: BoM
The big thing to remember, especially when you're reading about El Nino from other media sources, is that there have been massive variations in snow depth between individual El Ninos. The graph below is a repeat of the one I published last month, showing how two strong El Nino events threw up completely different snow seasons. The key is working out what type of El Nino we're going to get.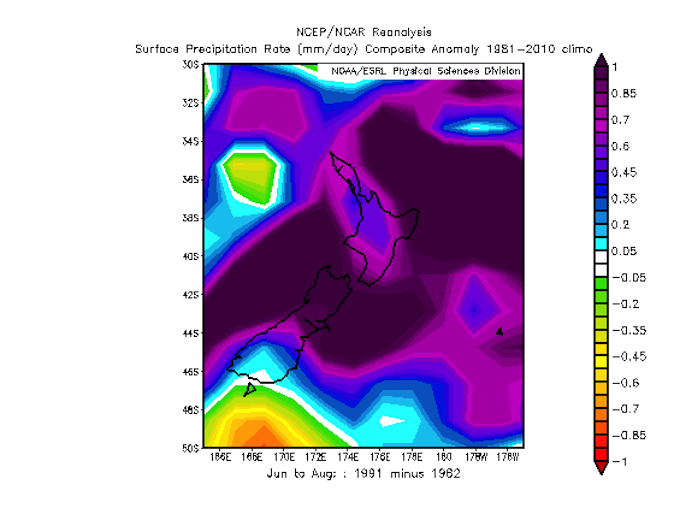 Positive values indicate where 1991 scored higher rainfall (and probably more snow too). Image:: BoM
Keeping its secrets
Unfortunately, we're still none the wiser as to what type of El Nino is going to turn up this season. While almost every climate model is strongly in favour of El Nino continuing to develop through winter, I can't find a single one that's promising a classic El Nino weather pattern for Australasia. There's one particular model that's keen on a wrong'un El Nino and two that are sitting on the fence.
As far as the entire winter is concerned, the game is still wide open. It could be glorious, or it could crash and burn. Right now, we have reduce our ambitions and see if we can say anything useful about June instead.
1st of June is too soon.
As I mentioned above, South Island fields are sitting on roughly average snow bases for this time of year. It's not uncommon for things to still look a bit bare. Ruapehu is doing her usual, which is to build snow way up high, but still show off all of her rocks on the middle and lower slopes. None of this is too unusual and we need to just give things a bit more time before we become confident or concerned.
Bearing all that in mind, what's on the cards for June? Well, in the short term to medium term, we're looking at some rain later this week, first for South Island fields, then for the North Island. A smidgen of snow is possible late in the week, but probably nothing significant.
Next week, things look very unsettled in the central and northern Tasman Sea. There's a good chance this will lead to a little rain for most areas from Canterbury north, which is an interesting prospect, because if we can also get a low pressure system from the Tasman to cross the Southern Alps we could wind up with a moist north-west flow aloft raining into a cold south-east flow below. That would spell snow and Canterbury often does quite well out of these, but it's far too early to get our hopes up. Just keep your eye on the end of next week. You never know your luck.
In the second half of June I expect things will start looking up, and we'll see a few more cold westerly fronts try to have their way with the South Island. This should contribute to a slow, steady accumulation of snow base for ski fields from north to south.
So grin and bear the next couple of weeks. There's a good chance that better conditions are just around the corner.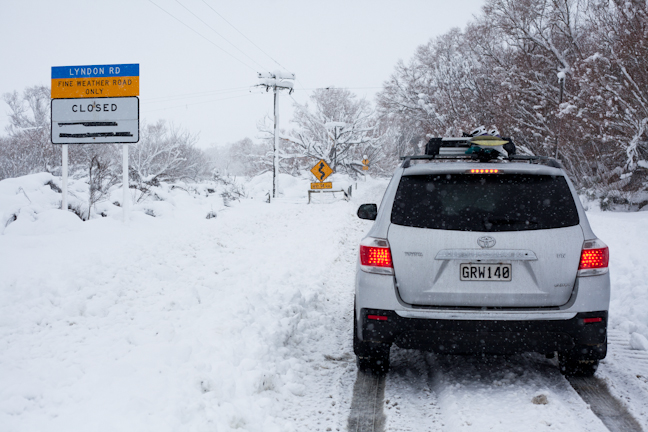 Remember June 2013? Three metres of snow blanketed Canterbury. Image:: Nick Johnson
On that note
I'm sticking to my call from last month: I'm going to lean slightly towards the wrong'un flavour and call a solid year for the North Island and Canterbury fields, and an average year for the Southern Lakes. I'll need to back track on that if the more classic variety of El Nino becomes more likely, but until then let's be optimistic.
That's all from the Grasshopper. We'll update this outlook in early July when things will hopefully be well underway. If you've got a different theory on what's going to happen this winter, or just want to provide feedback, then please hit me up at grasshoppermw@gmail.com or facebook.
The Remarkables forecasts,
snow reports and
live snow cams.
Treble Cone forecasts,
snow reports and
live snow cams.
Snow Park forecasts,
snow reports and
live snow cams.
Cardrona forecasts,
snow reports and
live snow cams.
Turoa forecasts,
snow reports and
live snow cams.
Coronet Peak forecasts,
snow reports and
live snow cams.
Whakapapa forecasts,
snow reports and
live snow cams.
Mount Hutt forecasts,
snow reports and
live snow cams.