Skiing Volcanoes in Tohoku, Japan – Travel
July 24th, 2021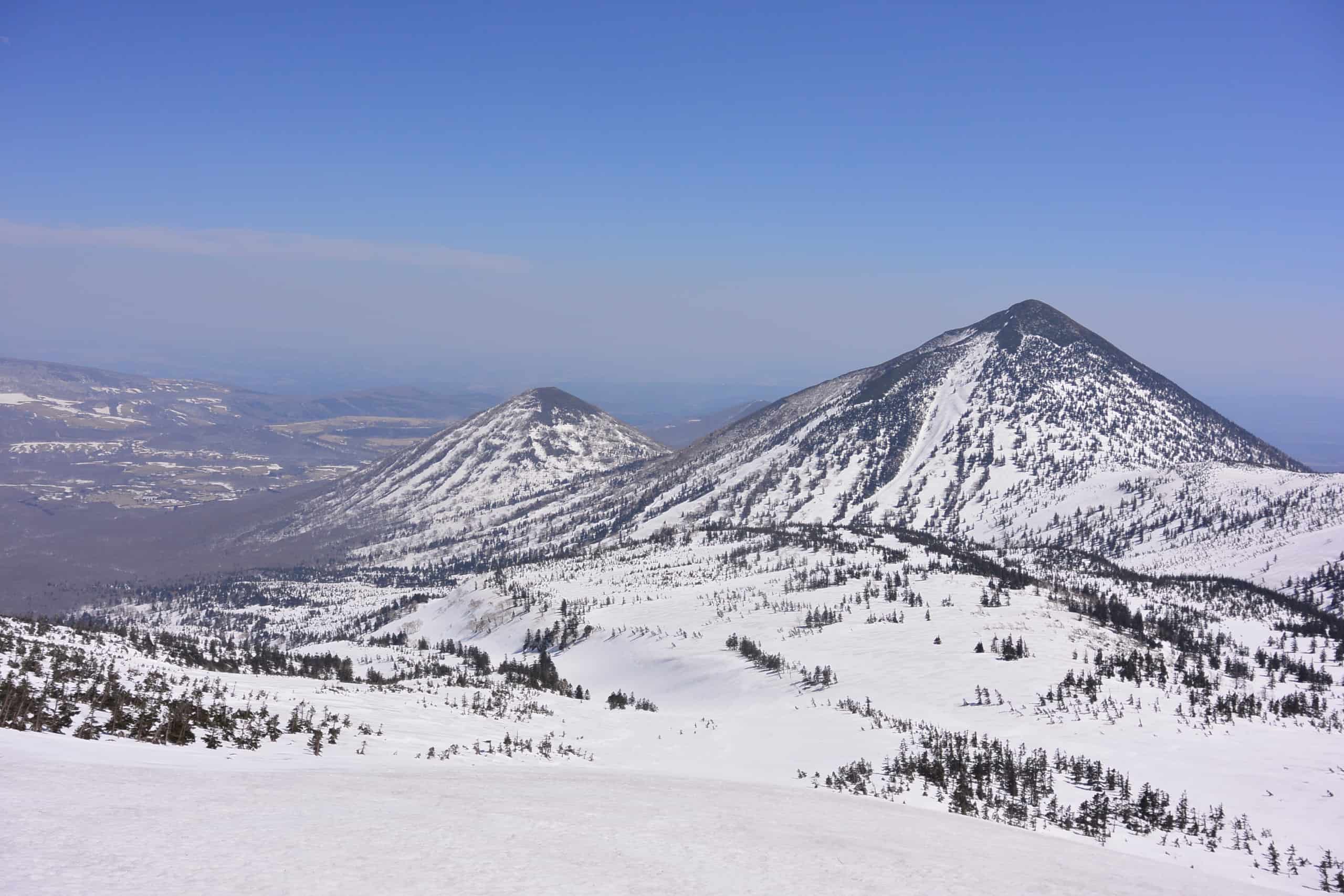 Mountainwatch | Nadine Robb
"We don't often ski this terrain during the winter because there is too much snow", says Chuhei Ishidate, 51, of Mount Hakkoda Guide Club, and my backcountry guide for the day. Recalling the four-metre high snow walls that flanked the Hakkoda ring road on our drive in, firmly holding their ground on a sunny April day, no further evidence was necessary.
Pausing for a water break as we skin up Mt Idodake – one of ten active volcanoes in a complex that comprise The Northern Group of The Hakkoda Mountains in the Tohoku region of Japan – Mr Ishidate explains that most of the vast terrain that lies before us is not skied during the winter months. The reason, he tells me, is that the impossibly deep snow makes breaking trail onerous, and that frequent and severe snow storms drastically compromise visibility, making route finding difficult, and quite often – dangerous. Instead, routes in and around the Hakkoda Ropeway are favoured for winter backcountry excursions, making today's tour an experience unique to the spring season.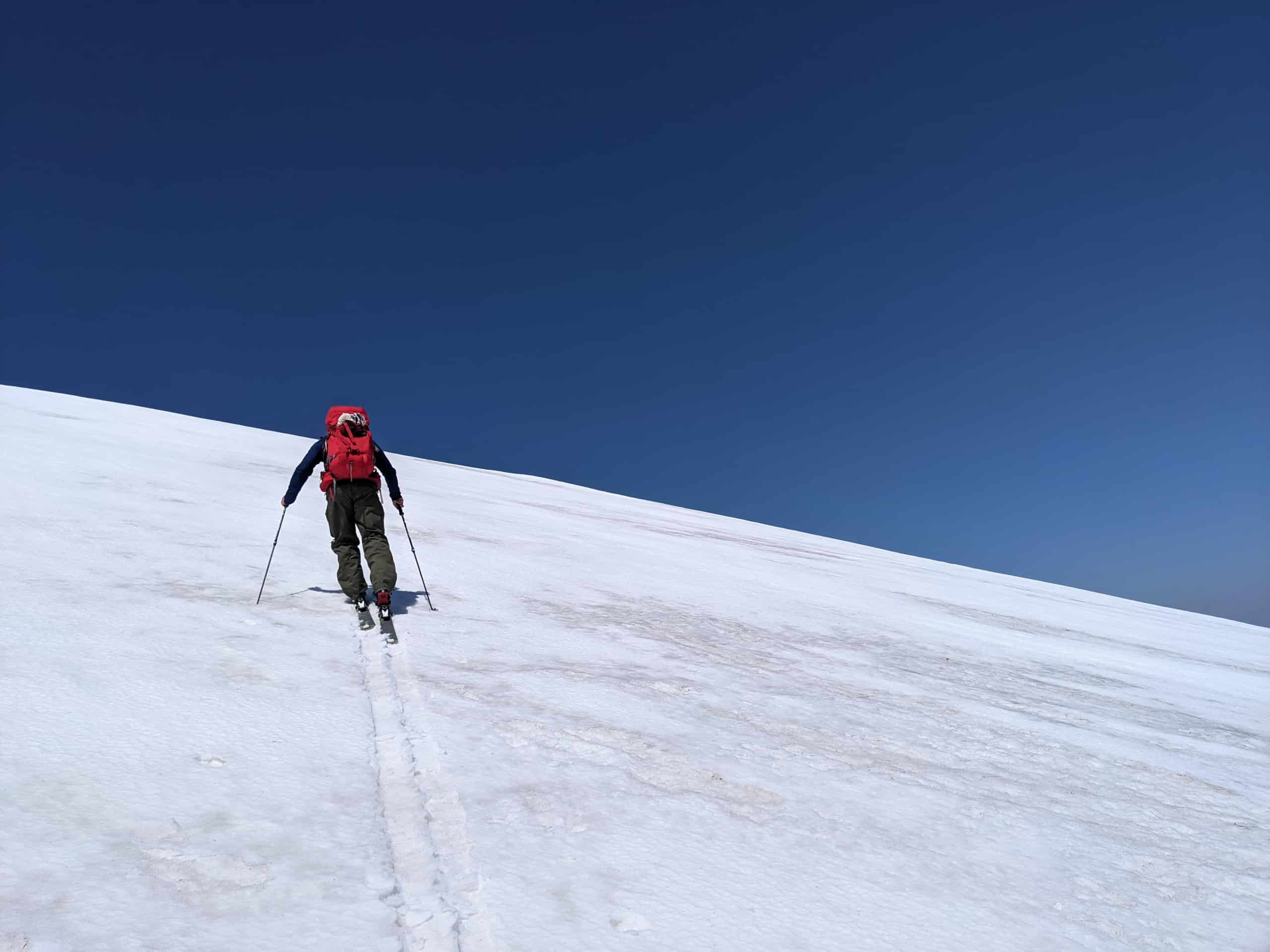 As we continue our ascent I realise that it is not a technically or physically challenging one, undemanding of the need to navigate any exposed or compromising features, and the conical shape of these stratovolcanoes see that the gradient is consistent. This approachable style of ski touring allows for great distances to be covered in a short time – multiple peaks in one day, for example – and so for the athletically inclined the potential ground that could be covered, combined with the feeling of travelling through expansive, open terrain, would be hugely appealing. It would also suit entry level backcountry riders – adults and youths – as the non-threatening terrain makes it easy to finish a tour early, exit the backcountry or find lower angled lines.
The wind picks up as we continue higher, and as with many stratovolcanoes, Hakkoda stands alone in an otherwise flat landscape. The wind levels are further amplified by the proximity to Mutsu Bay to the north, and the Pacific Ocean to the east. Fortunately, the wind does not dampen the experience, as the April air is plenty warm, and the views are only enhanced as we gain elevation and glimpse more of the impressive bodies of water below us.
Standing at over 1550 metres on top of Mt Idodake, we swiftly switch modes as I contemplate the terrain that I see before me. Given the elevation, the sprawl of skiable terrain laid out is a mixture of tree line and below tree line, most of which would be considered as "simple terrain" on the Avalanche Terrain Exposure Scale: though I do notice a few sections of "challenging terrain" on certain aspects on two of the other mountains. I feel liberated and unburdened to stand atop something so vast, wide and open, as swooping slopes of smooth spring snow surround me. Free from the intensity that can often accompany more adventurous backcountry excursions, I ski.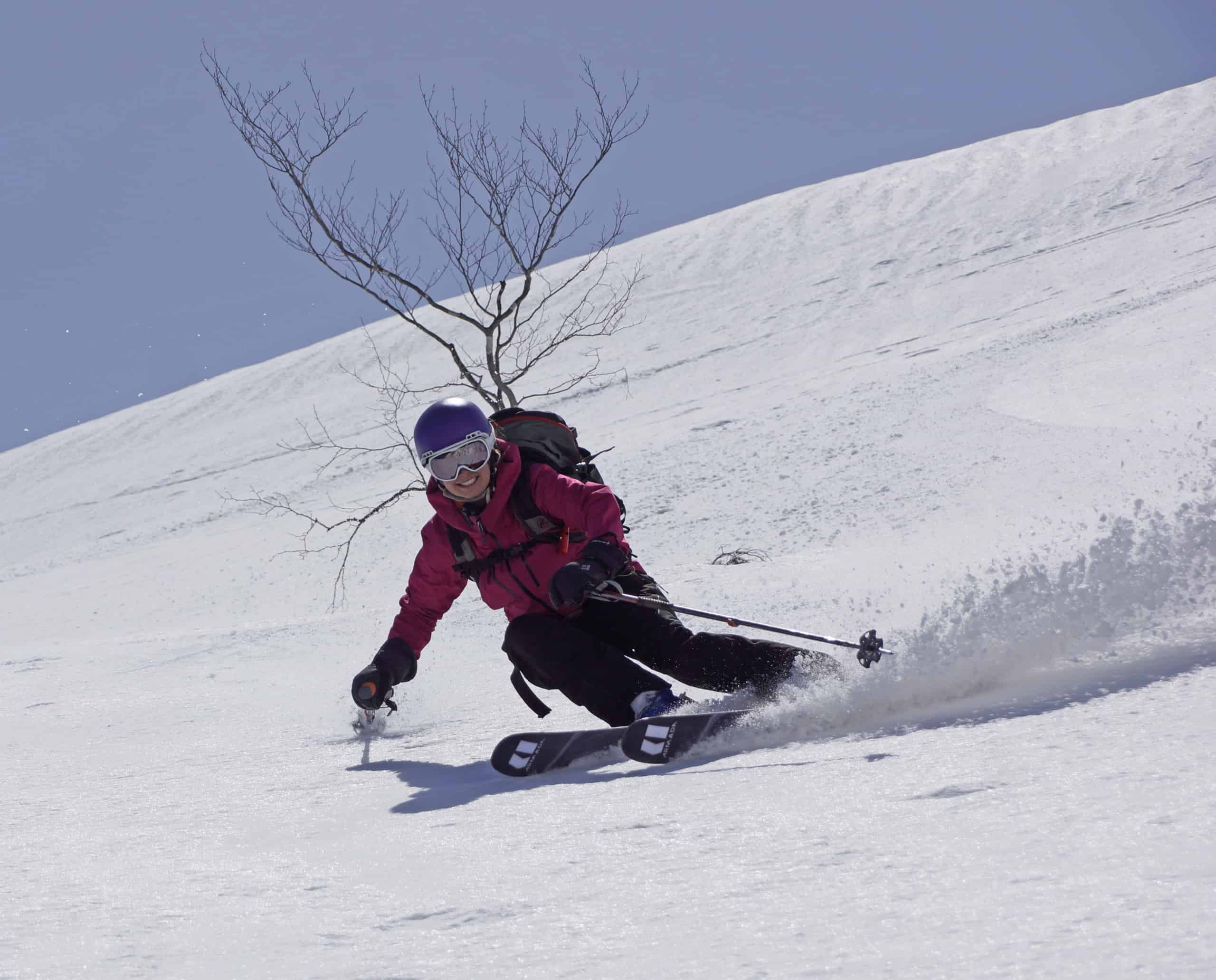 Every bit as satisfying as I had suspected, I am able to let the skis go, open up the turns and feel my edges slice through the buttery spring snow. So often, slopes are not uniform, and variations in gradient, natural features and snowpack command a more restrained style of skiing in the backcountry; it was freeing to carve my way down the wide-open flank of an active volcano.
It was with some reluctance that I conceded to a ten-minute lunch break, sat atop our upturned backpacks in the sunshine, refuelling on a convenience store sandwich that I had purchased that morning. Looking back at the line we had just descended, I asked Mr Ishidate why, after working for 26 years with Mount Hakkoda Guide Club as a ski guide, had he stayed in Hakkoda for so long, especially as there are so many other backcountry destinations in Japan. Wearing a seemingly permanent grin – spread wide across his tanned face – his initial response is a gesture to our surroundings. Obediently looking in the direction of the gesture, wondering what it is specifically that I should be paying attention to, he explains what I hadn't yet understood.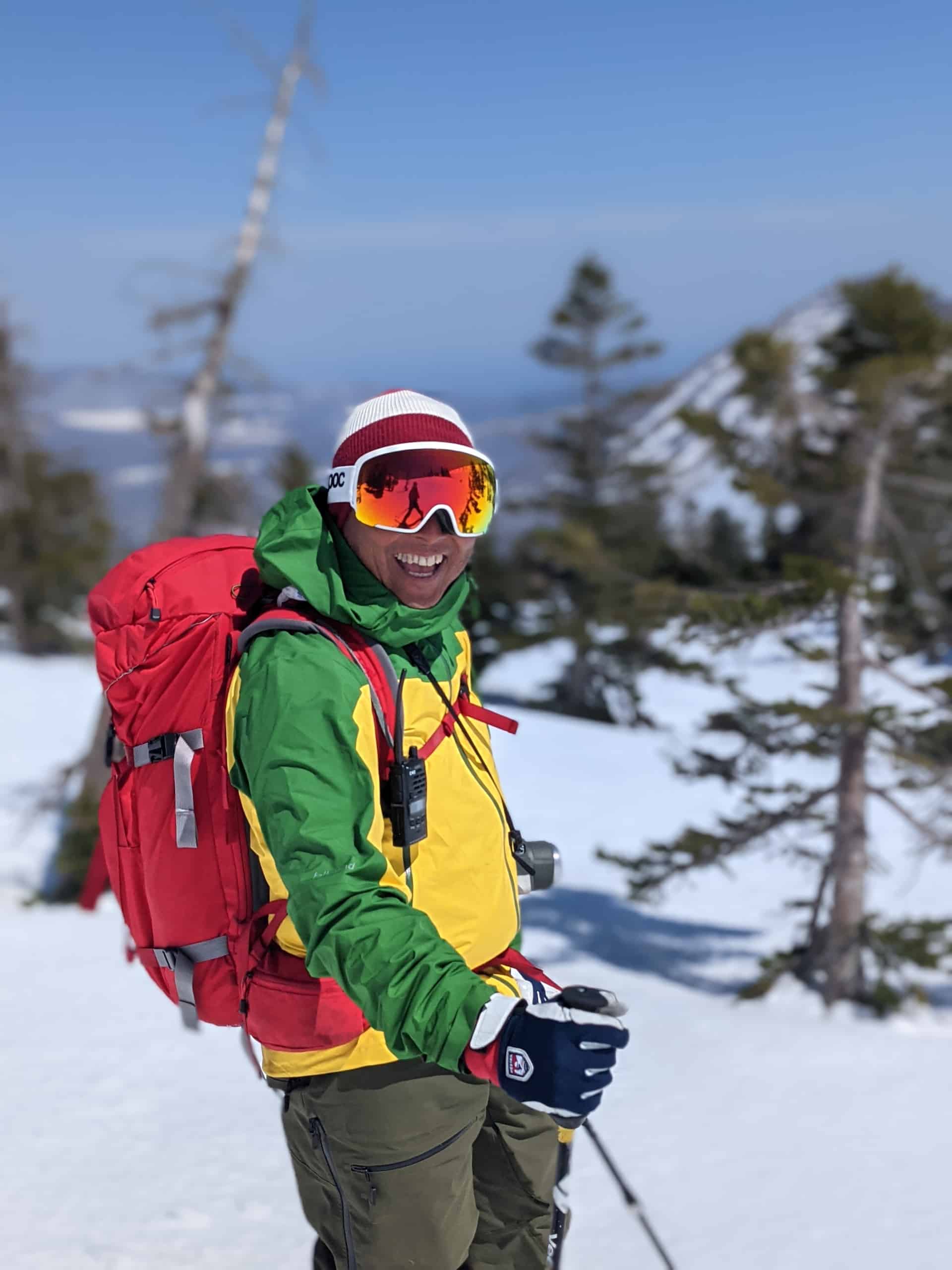 The ring road loops the Hakkoda complex, allowing you to ascend and descend in almost every direction – across all eight of the prominent peaks – offering hundreds of different lines. As backcountry is dependent on conditions, and conditions are greatly impacted by slope aspect, the fact that there are many slopes, descending all different aspects – is significant. The right line will be found in the right conditions, on the right day, for the right person. "There is so much here; guests can come for multiple days and not ski the same area twice. Because we are not using the ropeway to access this terrain, it is not weather dependent (chairlifts, gondolas and ropeways will quickly close when wind picks up) so we can always find something to ski."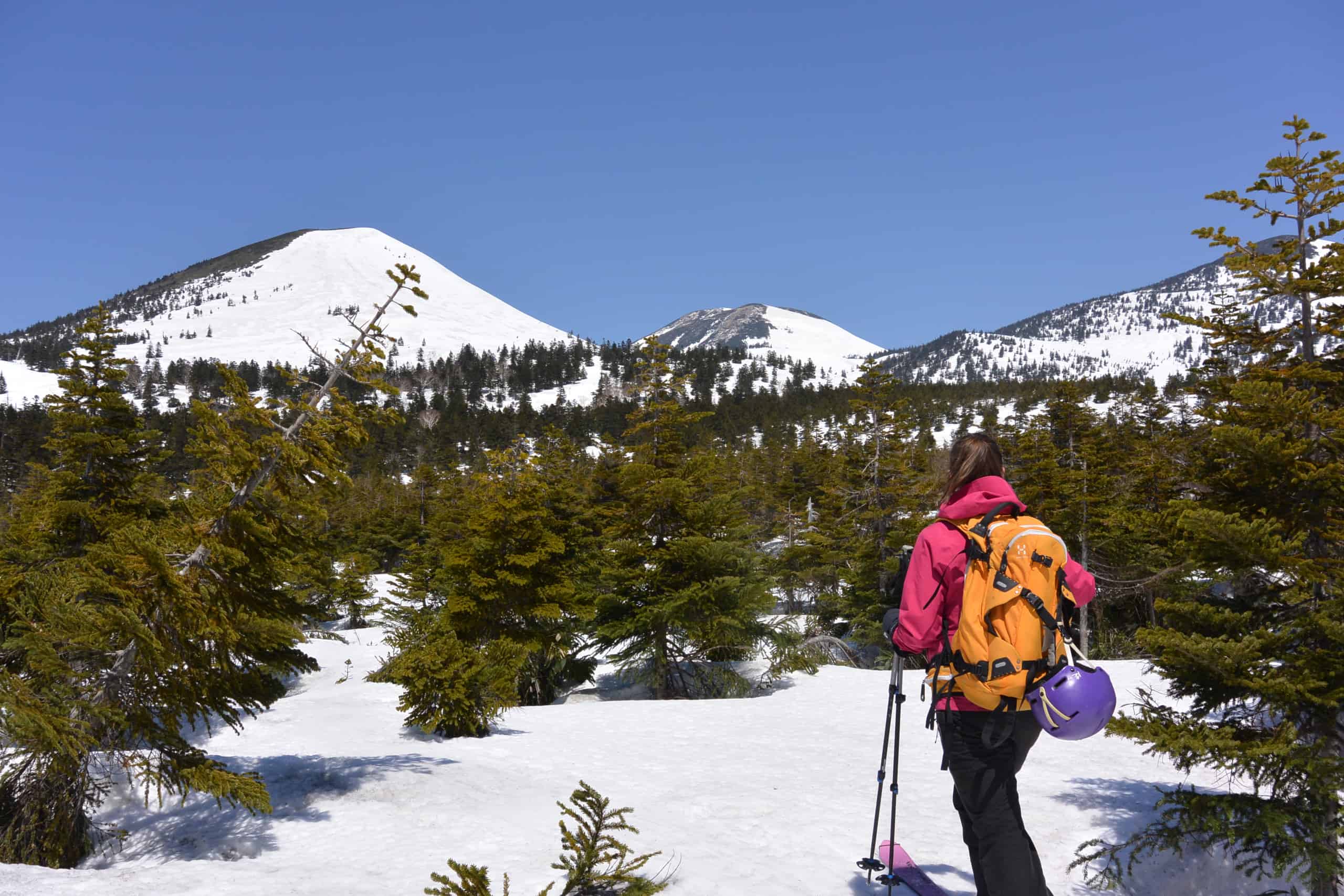 Energised and enthusiastic, we switch modes once more, regain some elevation on a different volcano, and make another descent. After the slope loses most of its angle, we ski out through a dense forest before meeting the ring road, where a van meets us and drives us back to the guiding operation base. It has been a great day, and I thank Ishidate profusely for his professionalism, guiding expertise, excellent guest service and for answering my landslide of questions in English all day.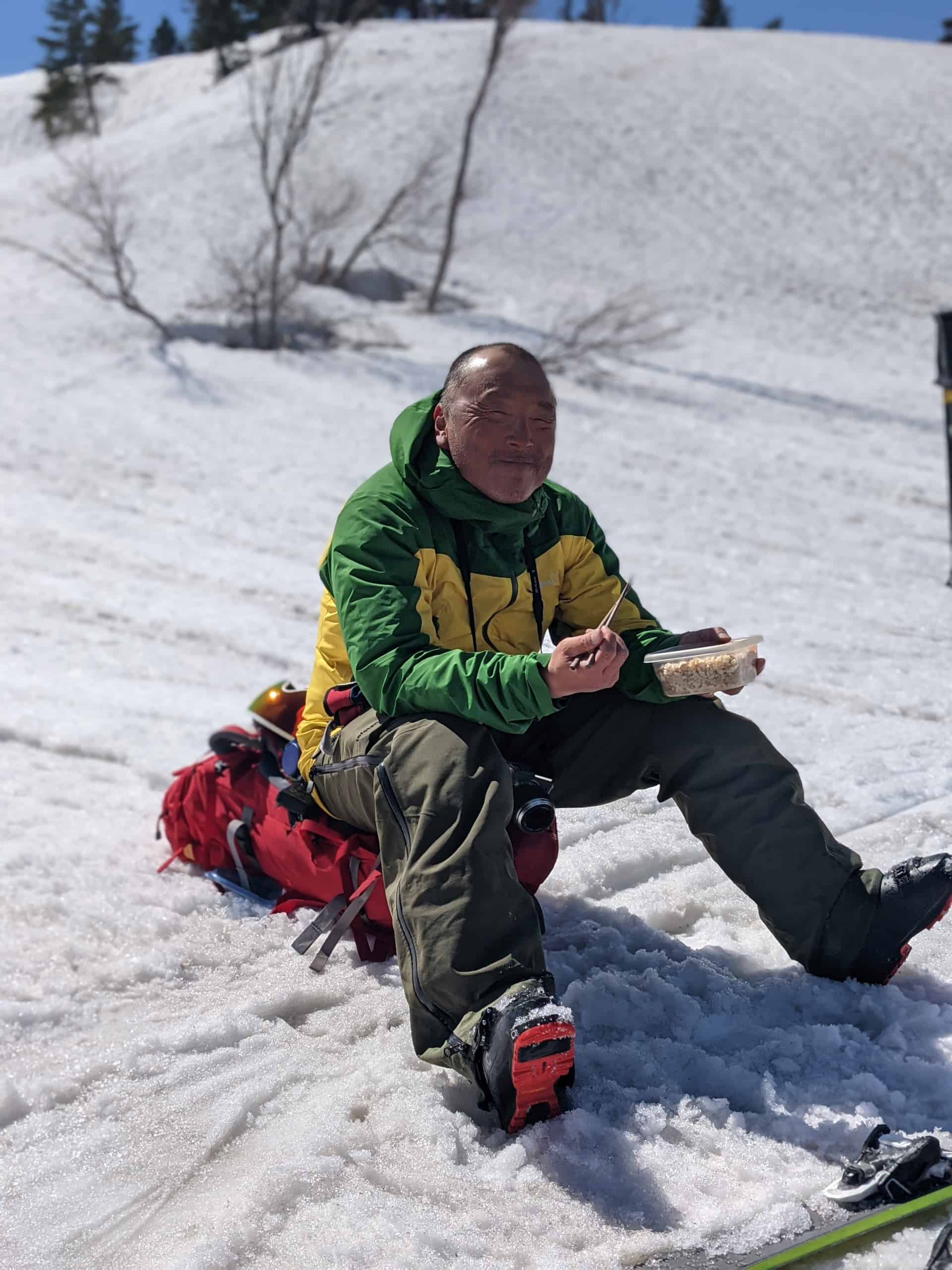 Hakkoda does not have an abundance of steep and technical terrain – though indeed there are more demanding sections – but what it does offer is a full immersion into iconic Japanese volcanic topography, an enormous spread of skiable backcountry terrain and an experience free of the international tourism hustle that better-known resorts can succumb to during the winter months. Incidentally, the northern Tohoku region is spectacular during the springtime (think cherry blossoms, castles and festivals), allowing you to enjoy the best of classic Japan, with a side of ocean view volcano skiing. Now, that's something to think about.
Learn more about Japan, one of the world's great travel distinctions at (www.japan.travel/en/au)