Snow Alert Update – Monster Snow Storms For California
January 4th, 2017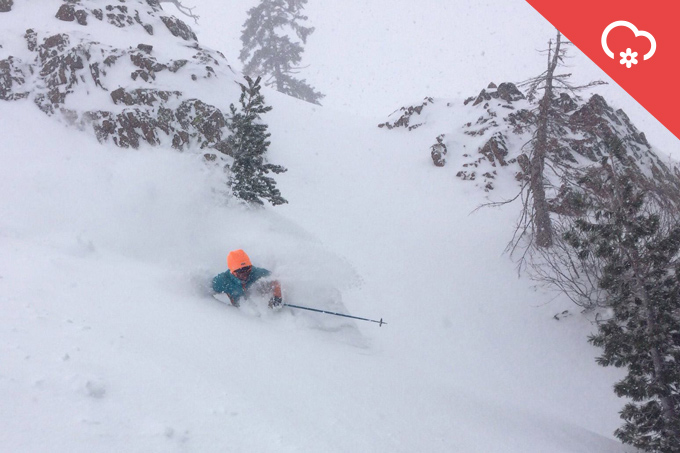 Photo taken January 2, 2017 at Alpine Meadows by SnowBrains
Snow Likelihood rating: 100% confidence
Mountainwatch | Reggae Elliss
As we reported yesterday, the resorts in California's Sierra Mountains are entering an awesome cycle of snow-bearing storms and the expected snow levels have jumped significantly in the past 24 hours. The Mountainwatch models are now forecasting 265cm for Mammoth Mountain in the southern Sierra and 202cm for Heavenly in the northern Sierra over the next seven days. The totals for the resorts north of Lake Tahoe could be even higher, with a possible four metres over the next week.
The first storm hit yesterday with good snowfalls in the Tahoe resorts, particularly on the north side of the lake, with Squaw/Alpine reporting 76cm this morning, Homewood 45cm while Kirkwood had 30cm. The snow is still falling and is set to intensify and continue over the next 48 hours with a possible 60-90-cm at lake level (1897m) and 1.2 to 2.1 metres on the mountains.
There could be some clear sky on Friday, but with strong winds as another storm approaches for the weekend. Saturday morning will see good snowfalls at all elevations but there is warmer air with this storm and snow levels will rise to 2590m overnight Saturday. (Squaw Valley's base is at 1890m; the top is 2760m).
The good news is temps will drop throughout Sunday, with 30-60cm expected down to Lake level on Monday morning and another 1.2 to-2.13m in the above 2438 metres, so the resorts will be looking good.
That is a whopping two to four metres, or six to 13 feet, of snow in a week.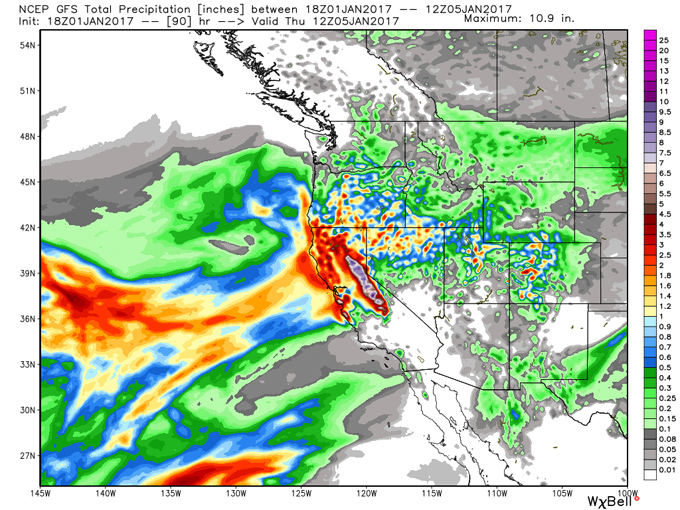 After light snowfalls at Mammoth today, consistent snow is expected to move in tonight with 1.2 to 1.5 metres expected on the mountain over a 36-hour period and 60cm in town. Once again, a break between storms will see cold temps and snow showers on Thursday and Friday and if there's no wind-hold there will be some epic skiing and riding to be had on the hill. The second storm is due on Saturday with 1.3 metres forecast across the weekend. The temp at the base (2402 metres) should be around zero degrees, so there could be some big totals on the mountain.
The good news is the fetch of this storm will reach further inland into the Rockies with 30-45cm of snow possible for some resorts in Utah and Colorado.
Of course, with all of this snow and fluctuating freezing levels, there is significant avalanche danger, both in-resort and in the backcountry. The Sierra Avalanche Centre issues advice today that there is:
WARNING:
"CONSIDERABLE avalanche danger at all elevations exists today, increasing to HIGH danger this evening. Human triggered avalanches are likely and natural avalanches are possible. A complex mix of wind slab, storm slab, and deep slab avalanche problems exist …. An Avalanche Warning has been issued starting 4pm today lasting through 7am Thursday."
Beyond this weekend, the long range forecast is for more storms through to Jan 15 and it'll be interesting to see what the totals are for the first half of January. Either way, if you are planning on sampling some of that killer Californian terrain this year, you could be in for an amazing trip.
Mammoth forecasts,
snow reports and
live snow cams.