Snow Season Outlook 2016 – August Update – New Zealand – Back in Business
August 2nd, 2016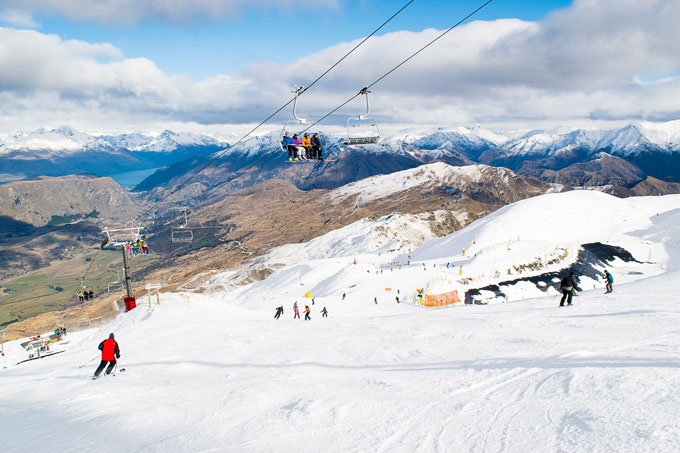 Recent snow has improved conditions remarkably at Coronet Peak, but is there more on the way? Image:: Chris Hoopmann/NZSki
New Zealand Seasonal Snow Outlook | The Grasshopper
Brought to you by ESS Boardstores
After a pessimistic start to the season, things are now looking much better in New Zealand. The SOS we cried out last month seems to have taken effect. Temperatures slowly dropped as we worked our way into the mid-winter period. A conveyer belt of fronts streaming in from the west has seen the snow steadily build during the latter part of July reversing the fortunes of most resorts in Otago and in the North Island. However, it could be better in Eastern Canterbury which was blocked off from some of the bumper snowfalls enjoyed in other parts of the South Island.
A Quick Round Up
West really is best in New Zealand at the moment. With such a persistent westerly flow the rain shadow has limited snowfall to the east of the Southern Alps. Just take a look at the current snow depths across the country. Mt. Hutt is still suffering from deficiencies at 40/70cm. The Southern Lakes are in average territory with good conditions overall 95/130cm is recorded at The Remarkables and 65/135cm at Coronet Peak. Treble Cone tops the league table again this year in the South Island with 142/167cm. Mt Ruapehu, the most exposed to the onslaught of fronts coming in from the west, has 204cm on the upper slopes in Whakapapa with more to come! Altitude is key in the North Island. We have seen plenty of mixing with temporary snow falling on the lower slopes only to be washed away by rain the next day.
El Nino Southern Oscillation (ENSO) and SSTs
Not much has changed regarding ENSO. We are still trundling along in a neutral daze. It is worth noting that there is a slight chance of weak La Nina conditions developing during August and September. However, the international model consensus is that neutral conditions will continue for the whole winter. La Nina years make warm northerlies more likely while neutral years give a slightly higher chance of easterlies. Of course, we have seen a predominance of westerlies during the last couple of weeks which just goes to show that ENSO is a somewhat limited tool for long range forecasting in New Zealand. It only explains up to 25% of the variance.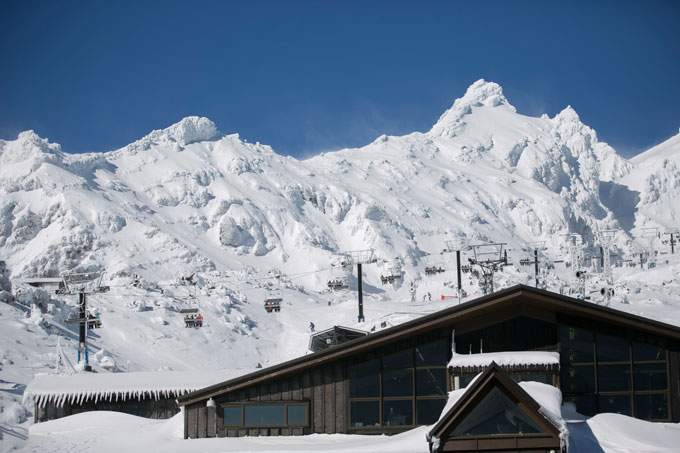 Whakapapa was looking PRIME when the day broke this morning! Image:: Ruapehu
The Tasman Powerhouse.
Sea Surface Temperatures (SSTs) remain well above average for the time of year in the Tasman. Higher than average SSTs are thought to raise the air temperature slightly (and the snow level) as well as provide more juice to systems approaching from the west.
A strongly negative Indian Dipole (IOD) event is helping to give Australia a season to remember (hopefully there are not too many Aussies here pining for gum trees). It is sending moisture down to Western Australia which gives extra fuel to drive storm systems spinning into the Tasman. The Southern Annular Mode (SAM Index), an index which describes the north-south movement of a westerly storm belt encircling Antarctica, turned negative during the second half of July. This would have contributed towards the barrage of lows passing to the south of the country. The good news is that the IOD is forecast to remain the same through to the end of winter. The SAM index, which is notoriously difficult to forecast, looks like it could stay negative in the first half of August which is also good news.
Crystal Ball who will be the Snowiest of them all?
So, what are the models saying about the next few weeks? Firstly, it looks as though the westerlies we have been experiencing for the last couple of weeks are not going to continue (I'm crying tiny little grasshopper tears). The models are hinting at a low forecast for the Tasman with high pressure building to the east of the South Island. This will give us periods of northerly or east/south-easterly winds depending on your location. In the South Island, a low tracking east could combine with colder air moving up from the south-east to bring much needed snow to Eastern Canterbury from the 3-5th with lesser amounts elsewhere. Colder weather is then likely for a time under a high. This should give us a good chance to get the snowmakers fired up. Rain driven in on mild northerly winds is likely in the North Island on the 3/4th. It will be followed by a colder interlude with light snow/flurries possible under a high.
We should finally shift the high around the 12th of the month. Westerly winds will become increasingly likely. This will give us a much better chance of colder air and snow going into mid-month.
The Final Verdict.
In summary, I don´t think that August will be as good as the last couple of weeks of July, at least in western areas. As I said earlier, things should improve from mid-month onwards. Most ski fields are doing ok so we should hold up fine with some additional snow this week followed by cold but settled conditions. Ruapehu will see some of its base eroded away this week but should be back on track during the second half of the month. Canterbury could score some welcome snow this week followed by cold but settled conditions. Otago will see further snow this week followed by settled conditions with a strong chance of decent conditions at the end of the month. This season is likely to end up average at best to slightly below average at worst but it looks like we have avoided the tragedy of a much worse than average year.
That's all from the Grasshopper. We'll update this outlook in early July. If you've got a different theory on what's going to happen this winter, or just want to provide feedback, then please hit me up on the discussion below. Or you can follow me on facebook.
The Remarkables forecasts,
snow reports and
live snow cams.
Treble Cone forecasts,
snow reports and
live snow cams.
Snow Park forecasts,
snow reports and
live snow cams.
Cardrona forecasts,
snow reports and
live snow cams.
Turoa forecasts,
snow reports and
live snow cams.
Coronet Peak forecasts,
snow reports and
live snow cams.
Whakapapa forecasts,
snow reports and
live snow cams.
Mount Hutt forecasts,
snow reports and
live snow cams.