Snow Season Outlook 2016 – June Update – Australia – Crunch Time
May 30th, 2016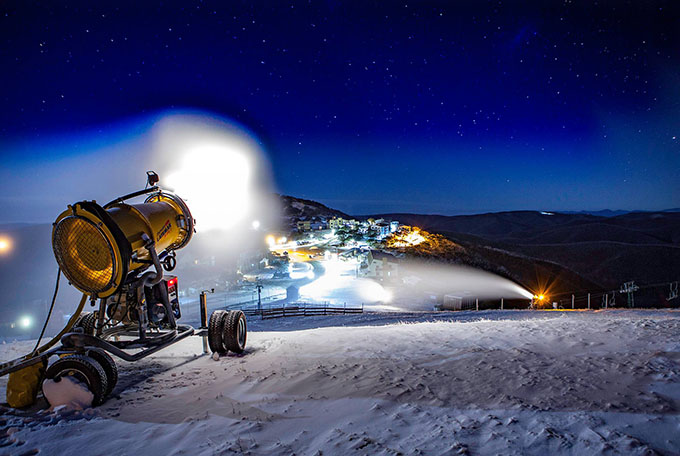 It was the Victorian alps that fared best out the snow that did arrive last week. Since then all resorts have been turning on snowmaking systems at every opportunity Image:: Hotham
Australian Seasonal Snow Outlook | The Grasshopper
Brought to you by ESS Boardstores
With stores in, Erina, Jindabyne and Parramatta
Aside from some man-made snow and a light dusting, the Aussie Alps are still mostly snowless and with less than two weeks to go before opening day, tensions are riding high. My two previous forecasts emphasised that this year was forecast to be neutral in terms of the El Nino Southern Oscillation (ENSO) with abnormally high sea surface temperatures (SSTs) in the Tasman. This held me back from issuing an optimistic forecast. A few things are now coming to light as we slide towards the start the season – there have been some important ch-ch-changes. You may feel a bit downtrodden and hopeless after last week's fizzer, but now is no time to get cold feet – let's all link hands, put on a courageous front and turn to face winter 2016.
The Super Computers wake up
Hidden far away in top secret government bunkers super computers slave away calculating future movements of the highs and lows that shape our daily weather. Some of these computers are specifically dedicated to predicting the future state of El Nino Southern Oscillation (ENSO). If you still don't know what El Nino and La Nina are by now, then you really need to catch up with the rest of the class.
Last year in June, we suffered "Classic" dry El Nino conditions for the first half of the winter. On the plus side, it gave us plenty of clear cold nights which are perfect for snowmaking. Earlier this year the computer models were forecasting that the El Nino would decay into a neutral state over the winter. That was good news as neutral years statistically register more snow than El Nino/La Nina years. The latest international climate models (Not the Elle Macpherson type of model) now agree that the SSTs in the Eastern Pacific will cool down much quicker than previously thought. Fairly neutral conditions in June will give way to a weak La Nina by August. La Nina, the opposite to El Nino, is characterised by an extension of colder than usual water in the equatorial Pacific. Much cooler than average water is already pooling in the depths of the Eastern Pacific waiting to rise to the surface like a bad acne outbreak.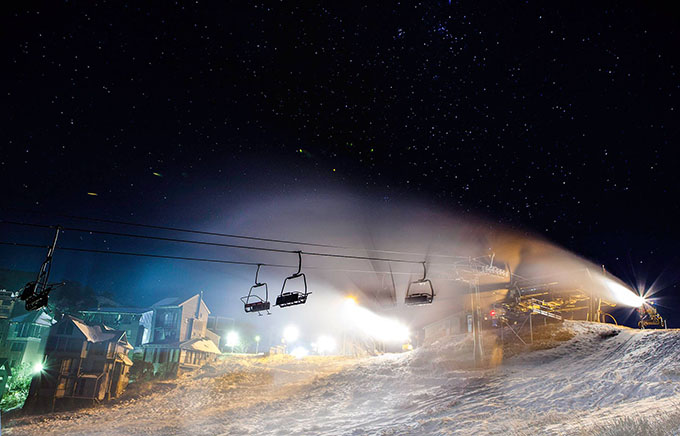 A few more nights like that and Hotham will be shredding really soon Image:: Hotham
What does that mean for our snowfall?
La Nina years tend to register higher levels of rainfall across Australia. You might be thinking that La Nina is good news for Aussie snow but sorry to break the news to you mate: you'd be wrong. I mentioned in my first long range forecast of the season that neutral years see roughly 20cm more snow compared to either El Nino or La Nina years. On average, La Nina years have only recorded a bit more snow than El Nino years (about a Mars Bar sized chunk to be precise). La Nina years are wetter overall but they also tend to be warmer with a greater frequency of rainfall and mixed precipitation events in the Aussie Alps which wreak havoc on the snowpack.
It is important to note that this winter is forecast to start off neutral before moving into a weak La Nina state. It will not be a full blown strong La Nina event, it'll be more of a hybrid. I have done some digging through past years to find analogues to compare with this year. The best couple of analogues I can find are 1997 and 2007 which only saw 138 cm and 164 cm of snow respectively (Some Classic El Nino years have been worse; Reggae Ellis can confirm).
The Terrible Two – The Indian Dipole and the SAM Index
Not only have there been changes to the ENSO forecast, our old friend the Indian Dipole (an index representing the difference in sea surface temperatures between the Arabian Sea and the sea to the south of Indonesia.) is also forecast to turn more negative than previously thought over winter. A negative index is favourable for higher precipitation totals in South Australia. The negative IOD combined with a weak La Nina gives a strong indication that higher than average precipitation totals are likely. The SAM index has also been weakly negative over the last few weeks. It is forecast to remain close to neutral in the near future. A negative SAM index brings snow bearing clouds closer to our shores. The SAM index has a strong influence on annual snowfall compared with other indices we use for long range forecasting. Unfortunately, it is a difficult beast to forecast so we will have to pray to Ullr that it swings in our favour.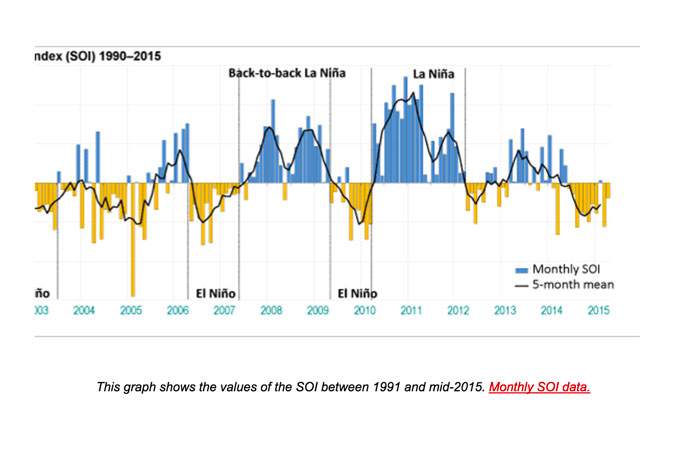 If you compare those stats with your memories of each season you'll notice the correlations Image:: BoM
Australian Sea Surface Temperatures
In the first forecast of the season., I emphasised the damaging effect of much higher than average sea surface temperatures in the Tasman. These have been cooling in the last fortnight which is good news. But they are still much higher than we want them to be with some parts continuing to experience temperatures 2ºC above average. Climate models are still forecasting SSTs to remain above average for the entire winter period. This will have a negative effect on the snowpack due to above average temperatures and increased precipitation mixing in incoming systems.
Weather up until Opening Day
Hands up, I'll admit it – last week's snow did not materialise. A couple of days after the snow alert was issued the models downgraded the second low which was going to bring most of the snow to the Aussie Alps – in any case don't fret as it would have melted before opening day anyways! The Aussie Alps are currently mostly snowless and set to remain that way for the coming week.
We can expect a couple of token flurries or a bit of light drizzle this week as the high, which currently has its fat a*** parked over Tasmania, slowly moves towards New Zealand. Later this week a cut-off low brewing over the centre of the country dive bombs south to give a dose of heavy rain next weekend. This will likely lick the mountains dry of any semblance of winter and send the temperatures shooting well above freezing.
A weak cold front accompanied by light rain showers pushes through around June 6. High pressure will then build in again for a couple of days. We have a much better chance of snow on opening weekend itself. The models are indicating that a period of rain will be followed by a decent dose of cold air and snow. Unfortunately, conditions leading up to Opening Day will be unfavourable for snowmaking throughout which will complicate preparations.
CUTTING TO THE CHASE
First of all, I am going to repeat what I said in my Opening Weekend Outlook. Do not despair that the mountains are still snowless come Opening Day. Early season snow is a poor indicator of how the season will be overall – even if you have to swap your skis for mountain bikes on opening day itself.
To summarise: developing La Nina conditions will combine with a developing negative IOD event to give us a high probability of a wetter than average winter. This does not necessarily correlate with higher snowfall totals. We also have a greater probability of snow-eating rain events, mixing and less numerous opportunities for snowmaking. Add to this the persistently higher than average SSTs in the Tasman and the higher than average night time temperatures expected in a decaying El Nino and we have a recipe for an active but wetter than average season.
Taking all of this into account I am going to shave 10 cm off the forecast issued for the last couple of months and go for a peak snow depth of 160cm this season. If you are thinking of getting a season pass for this year I would still go for it. There are sure to be some big storms this year and bumper snow days thrown into the mix. *Be sure to start following my daily forecasts on June 1 to get a heads up on any big dumps heading our way. I will also update the long range at the end of June by which point you should have already had a chance to head up to put in those first few turns of the season.
That's all from the Grasshopper. We'll update this outlook in early July. If you've got a different theory on what's going to happen this winter, or just want to provide feedback, then please hit me up on the discussion below. Or you can follow me on facebook.

Perisher forecasts,
snow reports and
live snow cams.
Falls Creek forecasts,
snow reports and
live snow cams.
Mount Buller forecasts,
snow reports and
live snow cams.
Charlotte Pass forecasts,
snow reports and
live snow cams.
Hotham forecasts,
snow reports and
live snow cams.
Thredbo forecasts,
snow reports and
live snow cams.
Mount Baw Baw forecasts,
snow reports and
live snow cams.