The Countdown – The outlook for Opening Weekend
May 19th, 2014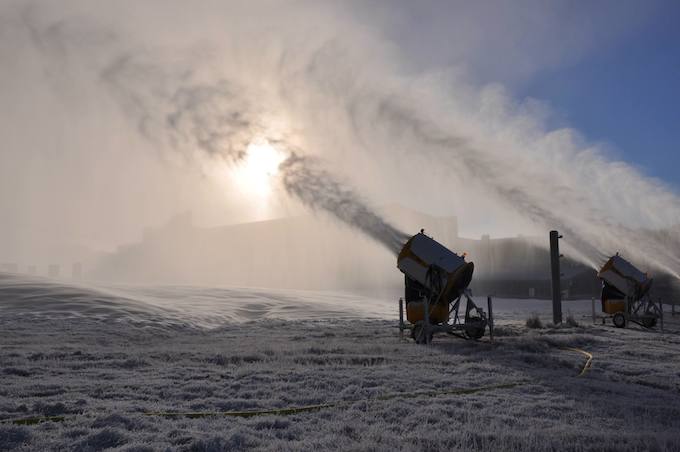 Cold temps and dry air will be opening weekend's saving grace, but as you'll read below, the outlook isn't favourable Image:: Perisher
Mountainwatch | The Grasshopper
Brought to you by ESS Boardstores
Hey Folks. Regular forecasts are going to start in another week's time, but I just couldn't resist laying down an early look at what we can expect from now, until opening day. Unfortunately, what I have to say below is going to be so unpopular, you're going to wonder whether the Grasshopper is actually Joe Hockey.
Monday 19 May through Friday 23 May:
Messy weather, as a ridge of high pressure remains relatively dominant across the continent and occasional fronts bring northerlies and trigger a few showers or rain. What little snow remains from late April will be a little bit less by Friday.
Saturday 24 May through Wednesday 28 May:
A huge trough is going to move through the Bight and bring a pretty decent burst of rainfall to the Alps – probably on Sunday or Monday. Following this rain, which should take the snow base back to exactly zero, the trough will move east of the Alps and we might pick up a little southerly and some snow. Right now we're talking only a meagre amount – 5 to 15cm if it even gets cold enough. My advice is to follow this one through the week. You never know your luck.
Thursday 29 May through Monday 2 June:
Signs of another very dominant high forming over the continent and lasting through the period.
Monday 2 June to Friday 6 June:
That high should eventually drift into the Tasman, which means another period of northerlies and probably some rain. Timing is sketchy. If we were super lucky we might see a cool change come in behind that rain and give us a little snow, but I wouldn't hold my breath. Could be a slow start.
That's all from the Grasshopper. Regular forecasts start Monday 27 May. Got a question or feedback for me? Hit me up at grasshoppermw@gmail.com, on my facebook page, twitter, or join in the Facebook discussion below.