The Mountainwatch Guide to Big White Ski Resort – Canada's Favourite Family Resort
September 8th, 2022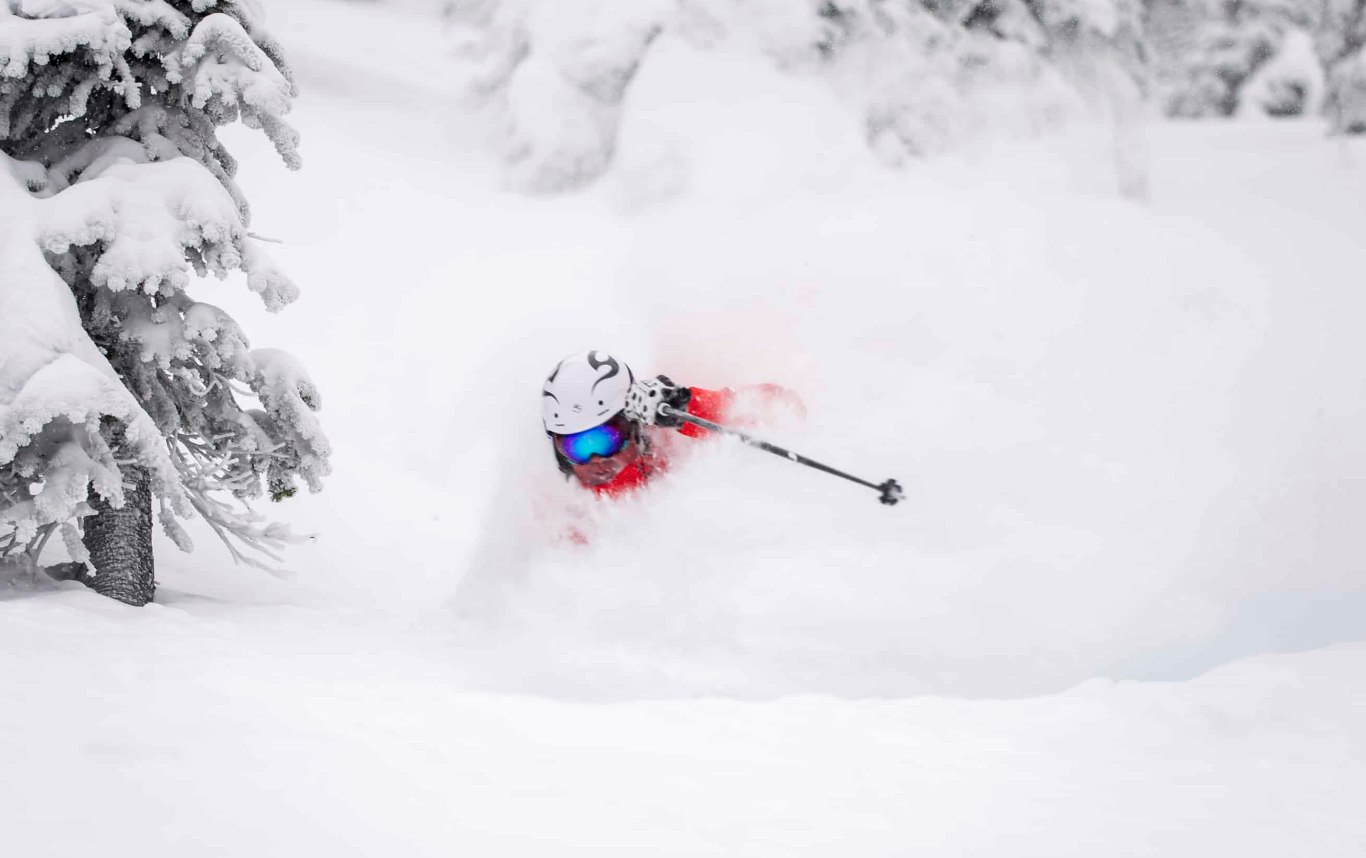 Mountainwatch |Travel
With epic snow conditions – think metres of dry, fluffy powder – 119 runs of varying difficulty, a world-class Ski and Board School, nearly 20 on-mountain restaurants, cafes and pubs, an Adventure Park with tubing, skating, snowmobiling, dog-sledding, and more, there's no wonder Big White Ski Resort was voted Canada's Favourite Family Resort!
Located in the heart of super, natural British Columbia, Big White is Canada's Largest Totally Ski-In, Ski-Out Village – and Canada's most walkable Village. Once you arrive at the Kelowna International Airport, just a 45-minute flight from Vancouver, rent a car and enjoy a 55-minute scenic drive up the mountain. Once you arrive, park the car in one of the many parking lots, and don't start it up again until you head home! Or, skip the car completely and grab a ride on the airport transfer shuttle. Ski right to your accommodation, one of the many restaurants, outdoor activities and events!
It is one of Canada's most popular snow travel destinations and for good reason.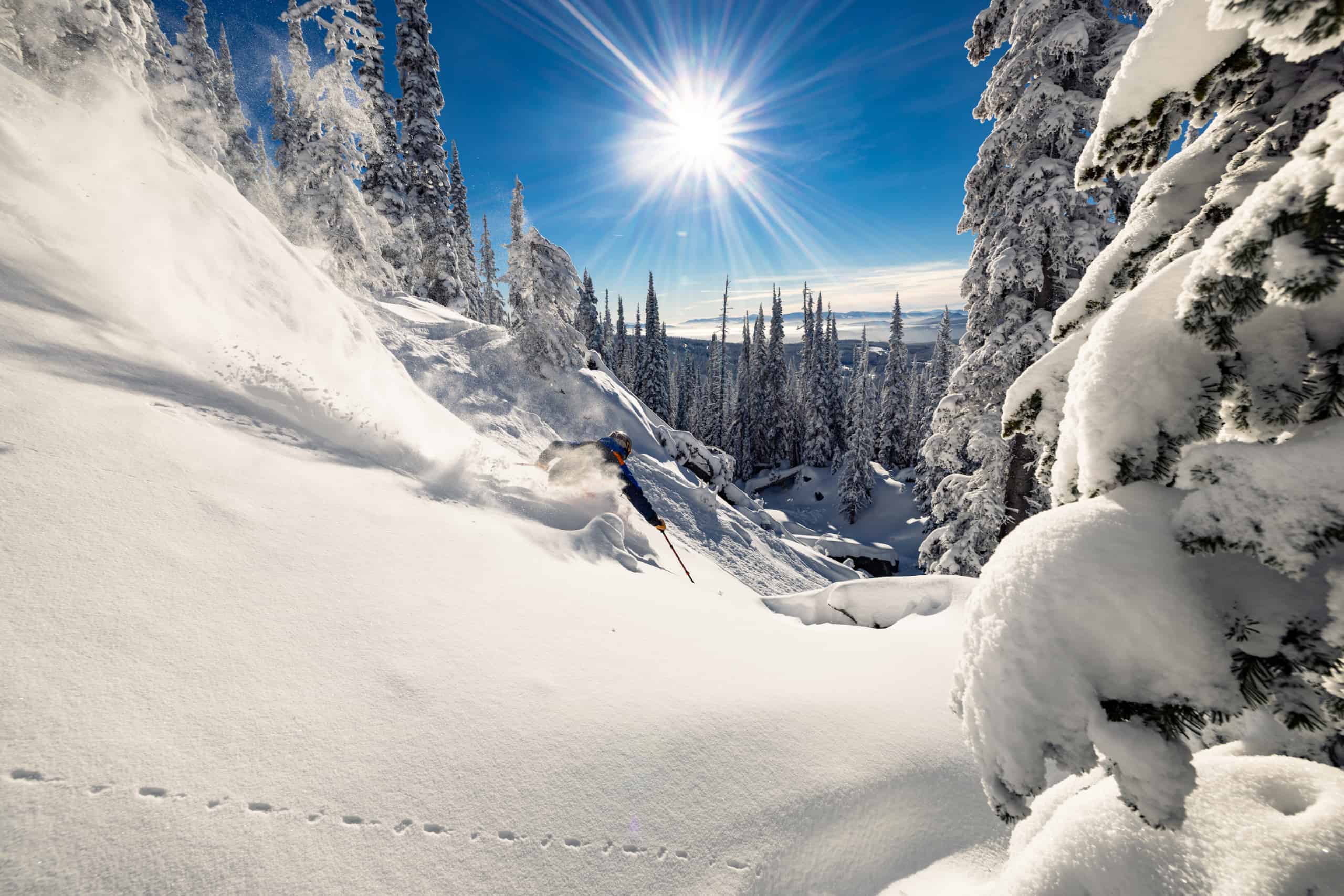 Upon arrival, you'll soon discover what gives Big White its name – the dry, fluffy snow that covers the mountain all winter long! Home to legendary "Okanagan Champagne Powder," the climate at the resort is ideal for powder hounds. But, if you're a lover of corduroy, you'll be happy to know a fleet of groomers are up and down all of the blue and green runs, as well as a few of the blacks, every night throughout the winter.
Big White is a big mountain, with a lot to know. We compiled a list of fast facts to get you started in planning your winter escape.
 Weather
As mentioned earlier, with an average daytime temperature of -5C, an annual snowfall of 750cm and an alpine base exceeding 300cm, Big White's climate provides the perfect storm for epic powder conditions. You can stay up to date with snow and grooming conditions, by signing up for Big White's Daily Snow Report.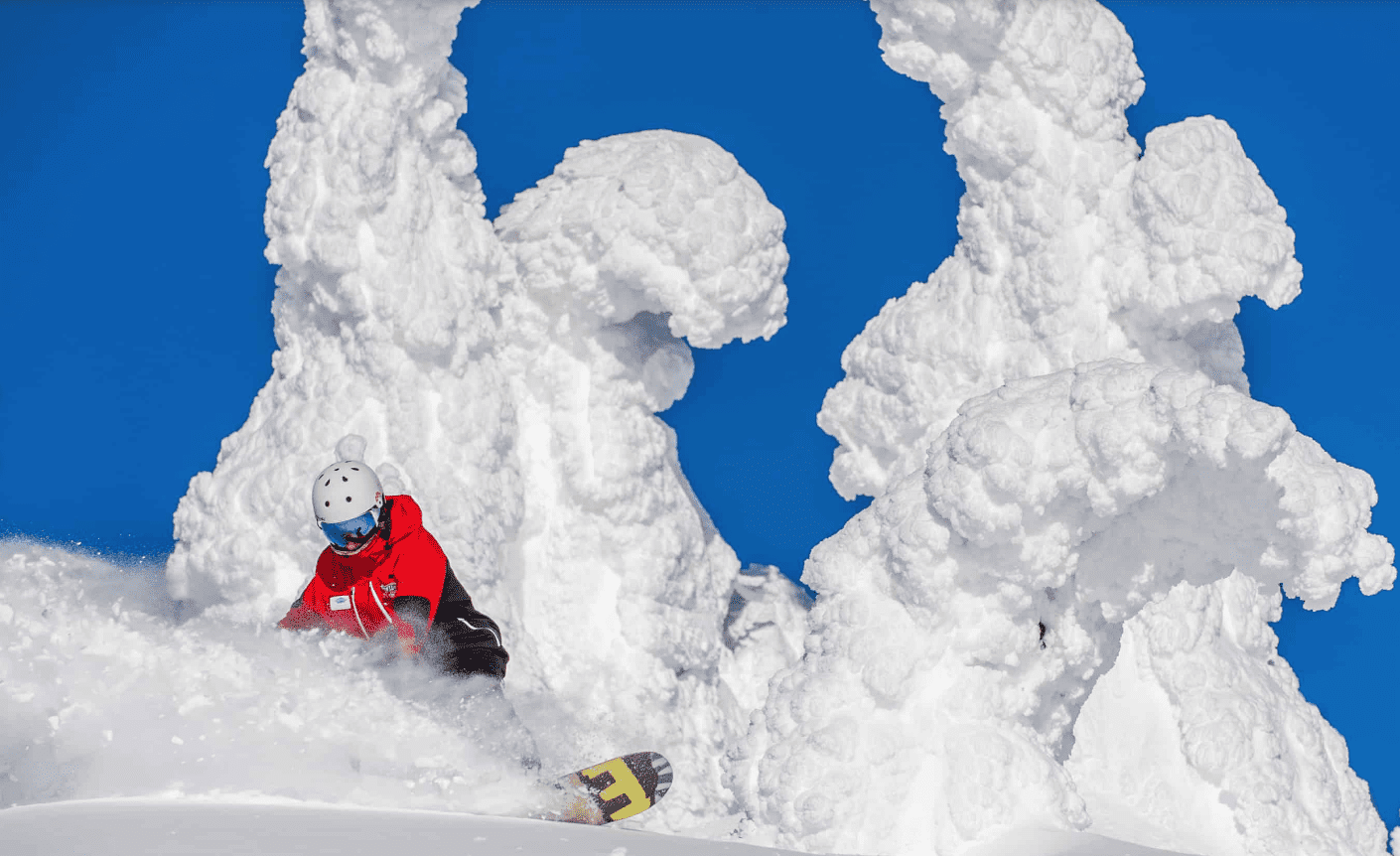 Outdoor Operations
Big White's winter season generally lasts five months, from mid-November to mid-April, with night skiing available at various times throughout the season, normally beginning mid-December, Tuesday through Saturday. With 16 lifts in operation, including a Gondola, Tube Park carpet and three beginner-area carpets, Big White's total uphill capacity of 28,700 skiers and snowboarders per hour. That makes it British Columbia's 2nd largest lift system, meaning you can spend more time skiing and less time standing in lift lines.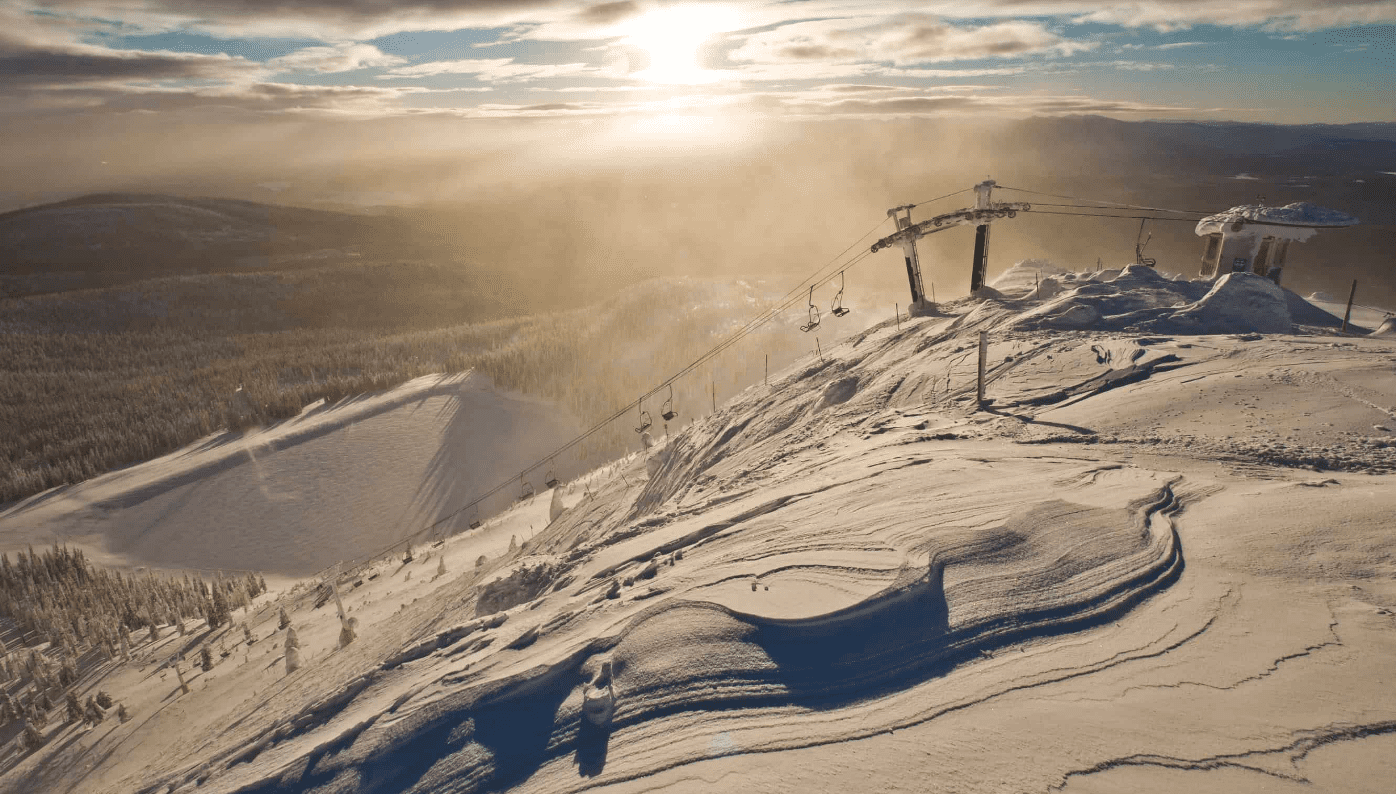 The total resort area exceeds 7,300 acres, with over 2,700 acres patrolled, 900 acres groomed and over 1,500 acres of alpine and glades. Big White boasts 119 runs of varying difficulty – 35 green, 44 blue, and 40 black and double black, not to mention countless bowls and glades. Big White is also home to a world-class terrain park, TELUS Park, with double lift, progressive features (S, M, L, XL) and a SnowCross course.
Give your ski legs a break at one of the four day lodges or the Village Centre Mall – home to the rental shop, repair shop, multiple retail stores and Clocktower Coffee Co where you can get your caffeine fix!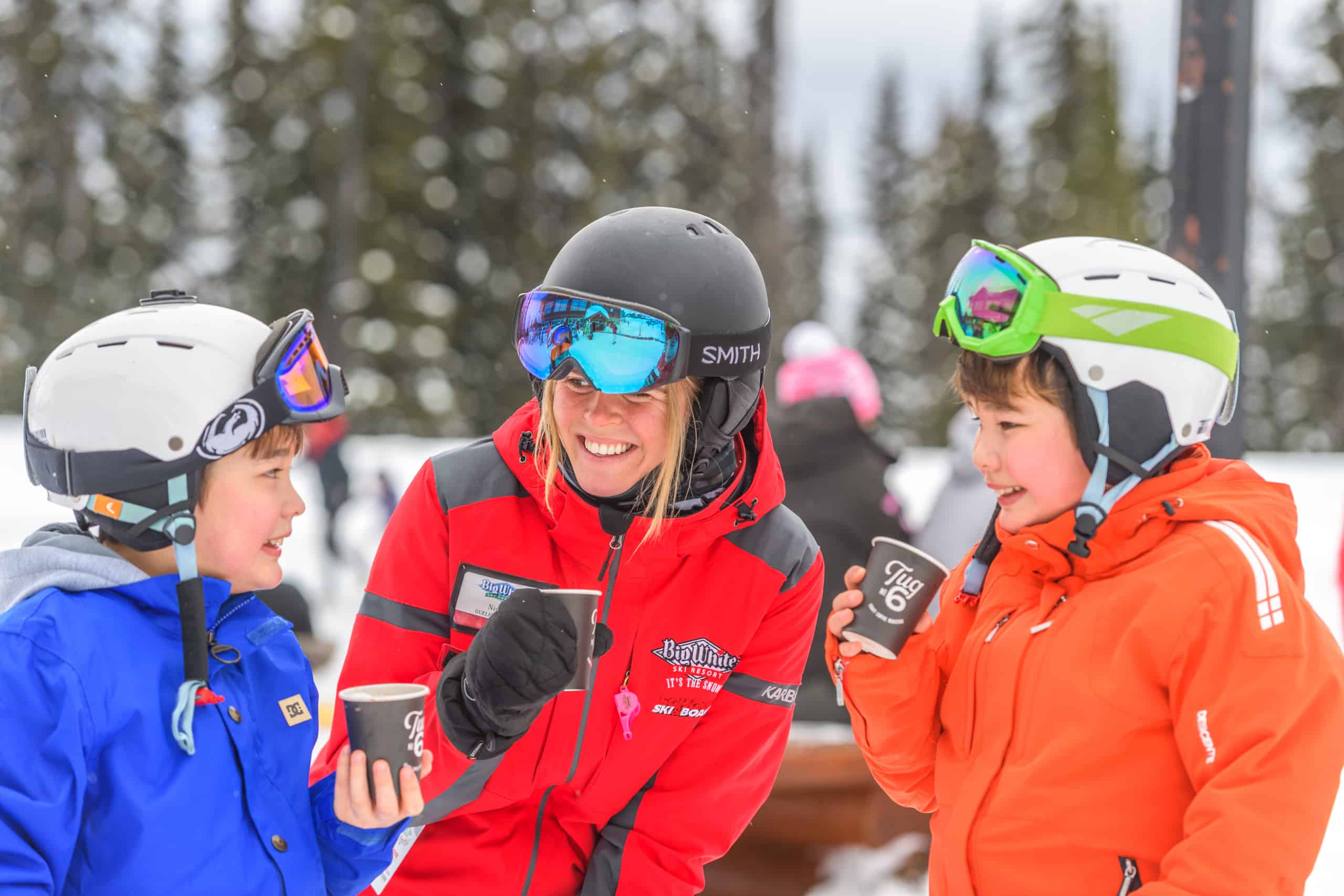 World-Class Ski & Board School
Big White's Ski & Board School offers beginner lessonsfor those new to the sport, or for those who need a little refresher. Coming with kids? Big White has full-day group lessons for children aged 5-12, and half-day for three and four-year olds. Be part of the process with the Teach Your Tot program, plus, have peace of mind knowing your child won't get lost on the mountain with the FLAIK real-time trackingdevices supplied to each child during their lessons.
For the teens and adults, Big White has private and group lessons available, as well as a First Tracks programs that will have you on the mountain 45 minutes before the rest of the resort to access untouched powder and groomers!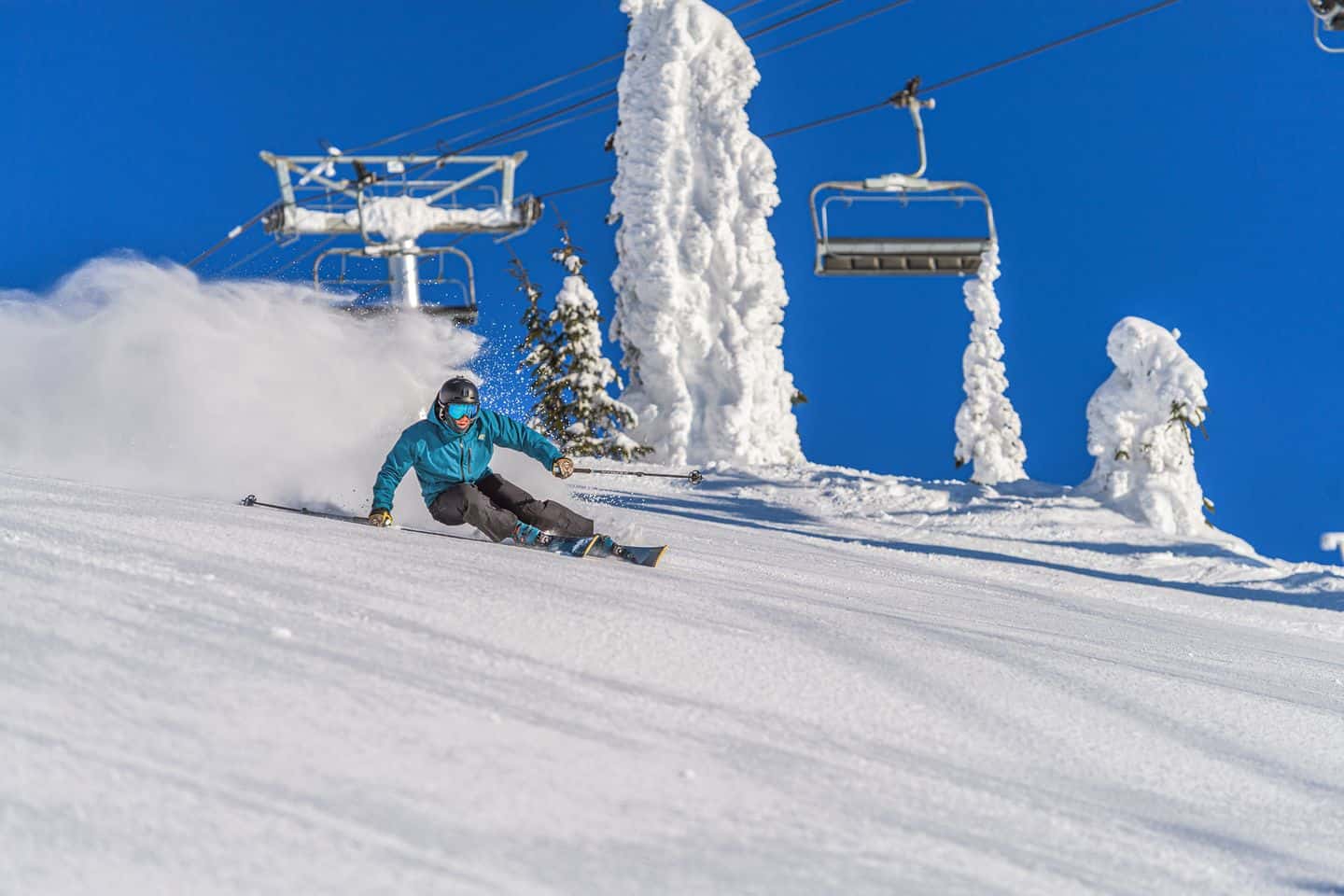 Non-Skier Activities
Looking for something to do after the lifts shut down or need to give the ski legs a break? Happy Valley, just a free, short ride from the Village on Lara's Gondola, is home to an array of non-skiing activities. Check out the over 25 kilometres of Nordic or Cross-Country Ski Trails, or rent a pair of snowshoes and traverse through the backcountry snowshoe trails, with Interpretive and Family tours available.
In the Adventure Park, you'll also find the 5-lane Tube Park,Dog Sledding adventure tours, Snowmobile excursions, as well as miniature snowmobiles for children, Horse-Drawn Sleigh Rides, with the option of dining tours, and more.
Rent a pair of skates from the Happy Valley Day Lodge and take a spin on Canada's Highest Elevation Skating Rink, which is completely free to the public.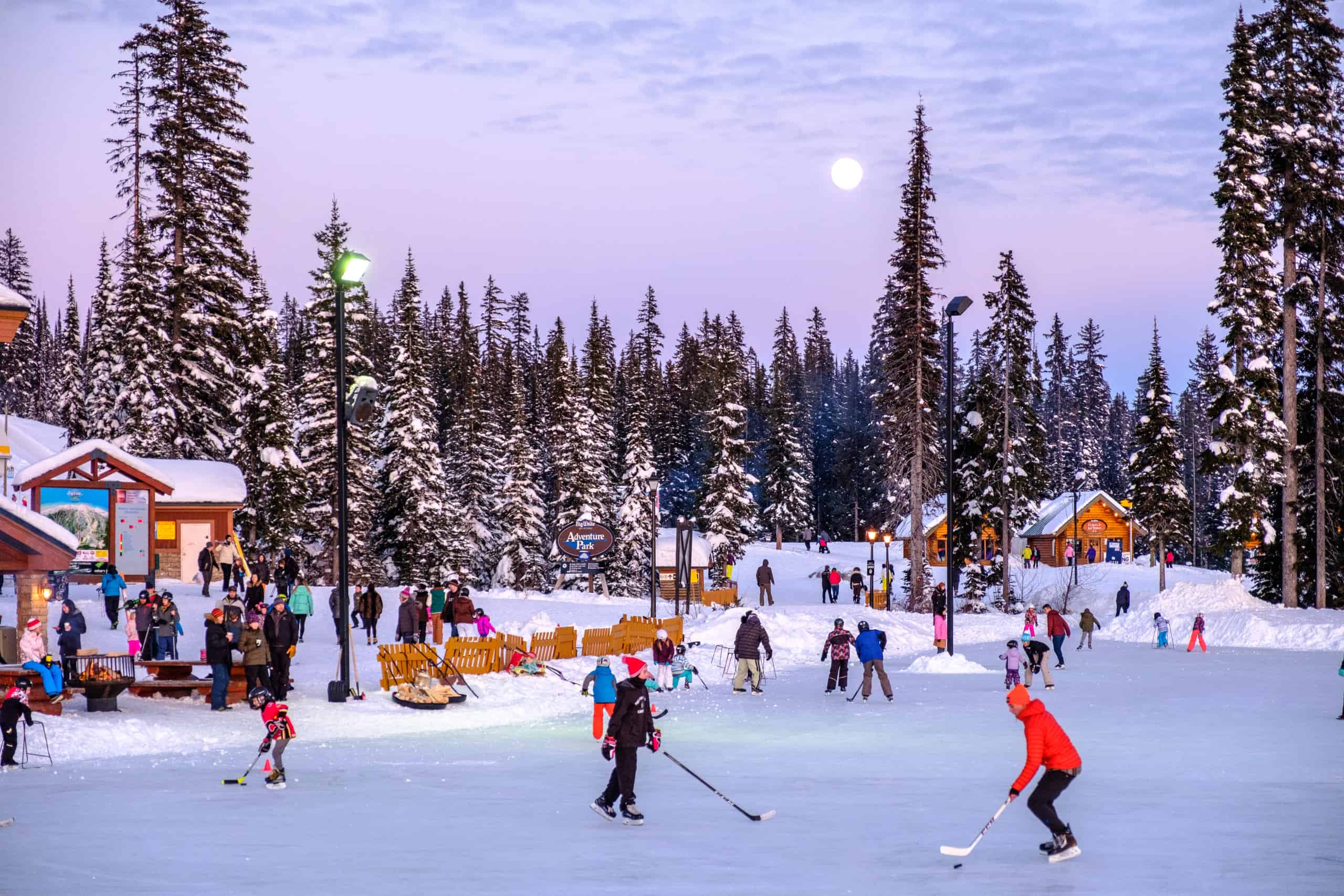 Food & Dining
Whatever your palate or budget, there are plenty of places to fuel up around the mountain. Big White is home to nearly 20 on-mountain bars, restaurants and cafes,including The Woods and its vibrant outdoor patio with bonfires, The Bullwheel Gastro Family Pub which is home to not one, not two, but three Happy Hours. There are plenty of gluten-free and vegan options at Globe Cafe and Tea Bar Cafe. Craving sushi at 2,300 metres above sea level? Find Sasquatch Sushi in the Stonebridge Lodge. Have a hankering for Mexican? Cantina del Centro serves up delicious tacos and margaritas at the Inn at Big White, not to mention its unrivaled mountain views from the patio. Pizza? Underground Pizza is your go-to!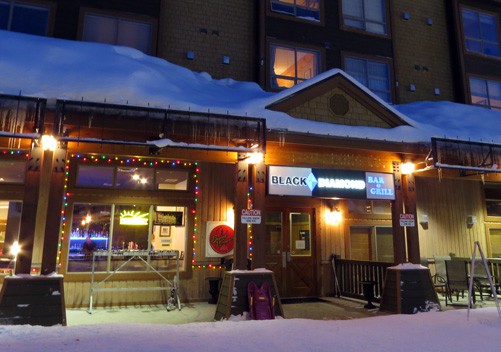 Fine dining, plus the famous Gunbarrel Coffee can be found at Gunbarrel Grill, and Black Diamond Bar & Grill will grill up your steak to perfection. Snowshoe Sam's is renowned for its busy nightlight, live music and DJs, not to mention its delicious pub food.
Enjoy a true Canadian culinary experience at the BeaverTails trailer at Gem Lake, or fish and chips at the Broken Anchor food truck near the Ridge Day Lodge.
If you're planning on cooking for yourself, The Market is a fully equipped grocery store, deli and liquor store. Or, you can have your fridge and cupboards stocked before you arrive with Vacation Food Services!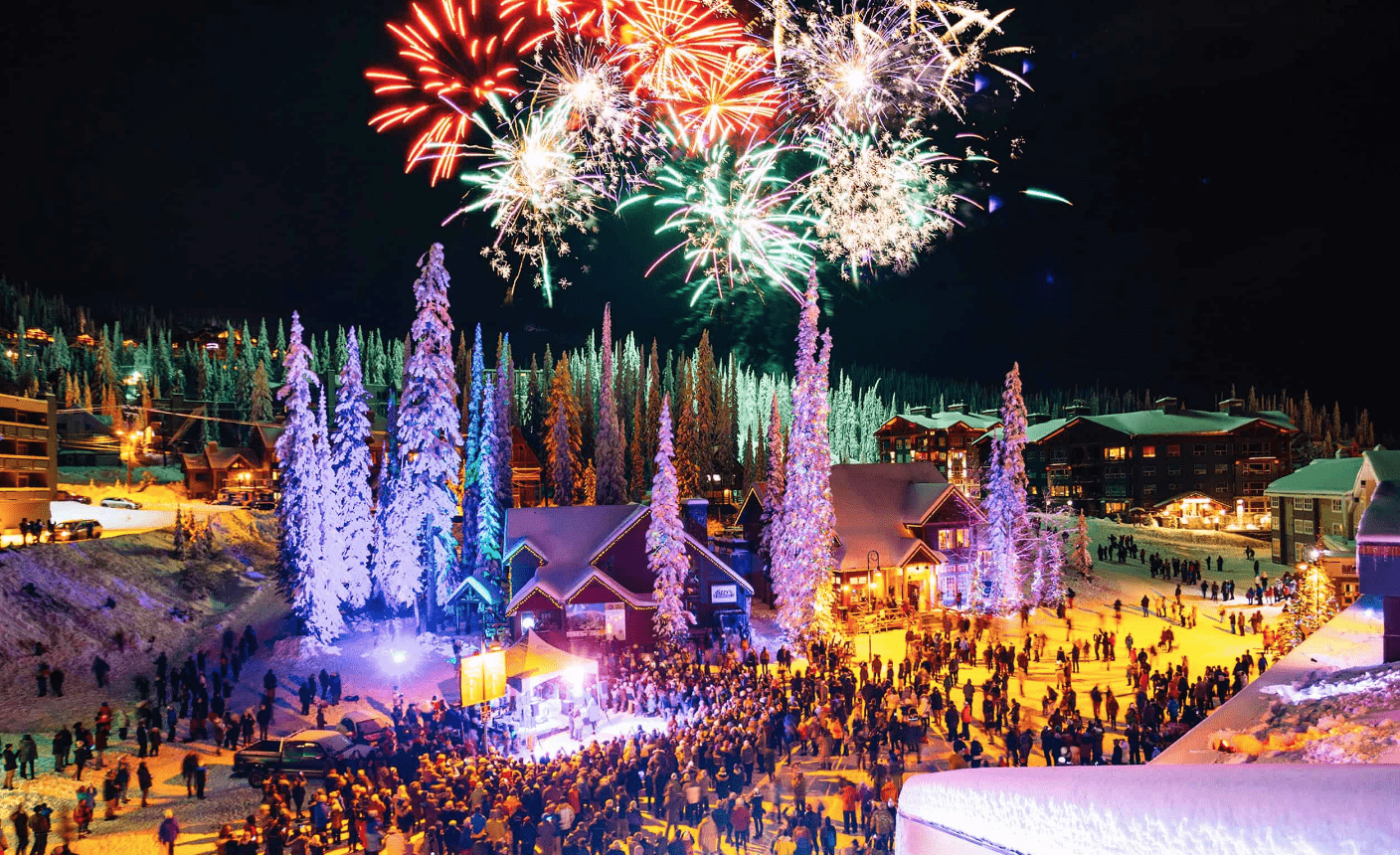 Events
Big White's event team has something for everyone throughout the winter season! Because fireworks aren't just for special occasions, enjoy weekly Saturday Night Fireworksin Happy Valley! The Moose Cruz, a regularly scheduled family friendly scavenger hunt that'll have you scouring the green and blue runs around the mountain for clues – and you can win prizes!
Joining over Christmas? Big White give the true winter wonderland experience with its lit-up Village, and holiday-themed events, including a Christmas Eve Festival and Christmas Workshop.
If you're 50+, don't miss out on the Masters' Week  programs. Big White offers three scheduled sessions specifically designed for 50+ skiers, with lessons, refreshments, and plenty of good times. You can find the full Events Calendar here.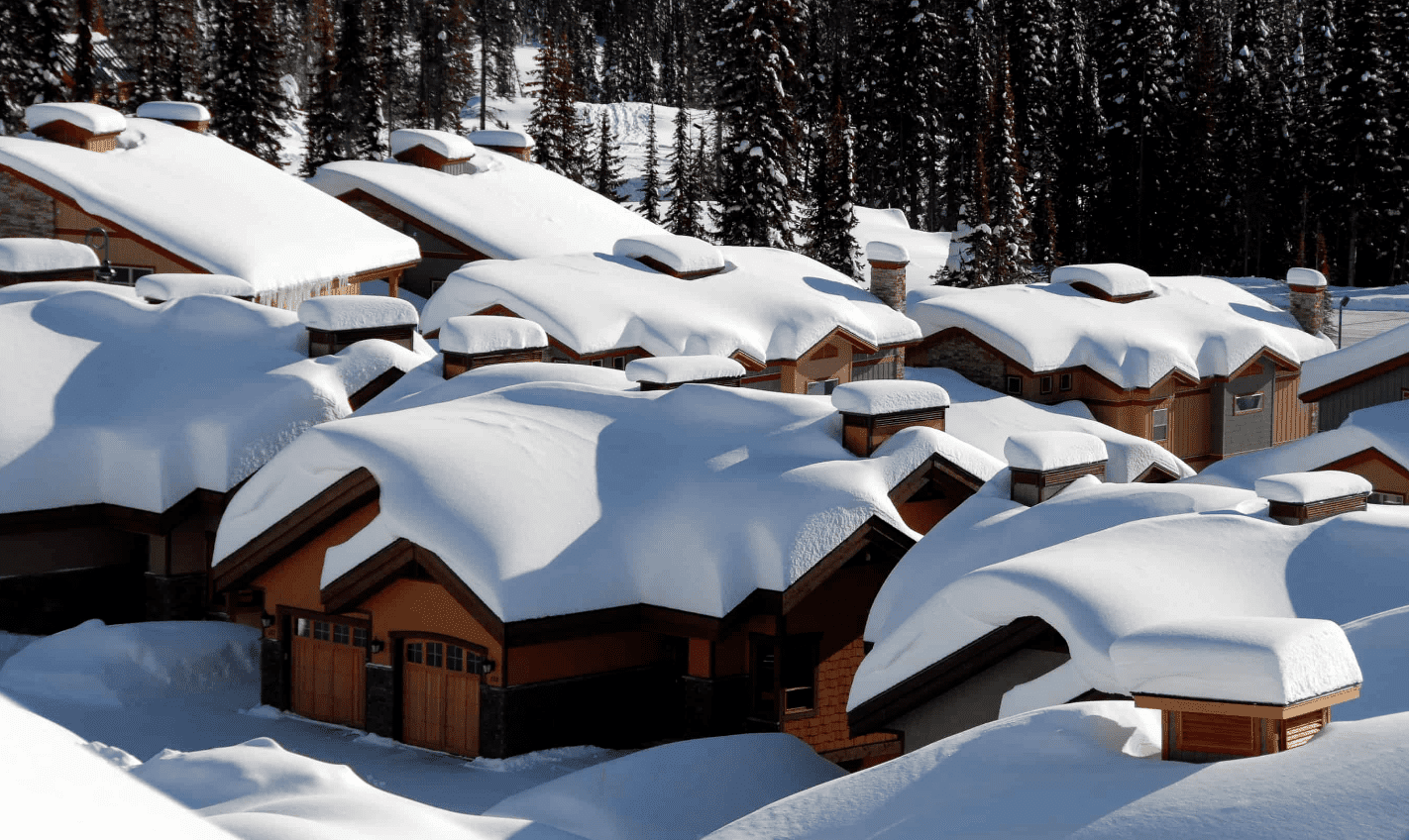 Accommodation & Transportation
There are over 250 options for accommodation, including hotels, condos, vacation homes, budget-friendly and luxury options available throughout the resort. Book directly with Big White Central Reservations and save! Central Reservations is a non-stop shop that can find you the perfect accommodation, secure lift tickets and help coordinate other activities during your stay. They'll also book your Airport Shuttle service to and from the Kelowna International Airport.
If you plan on renting a car, there is plenty of free parking throughout the resort, available when you book through Central Reservations.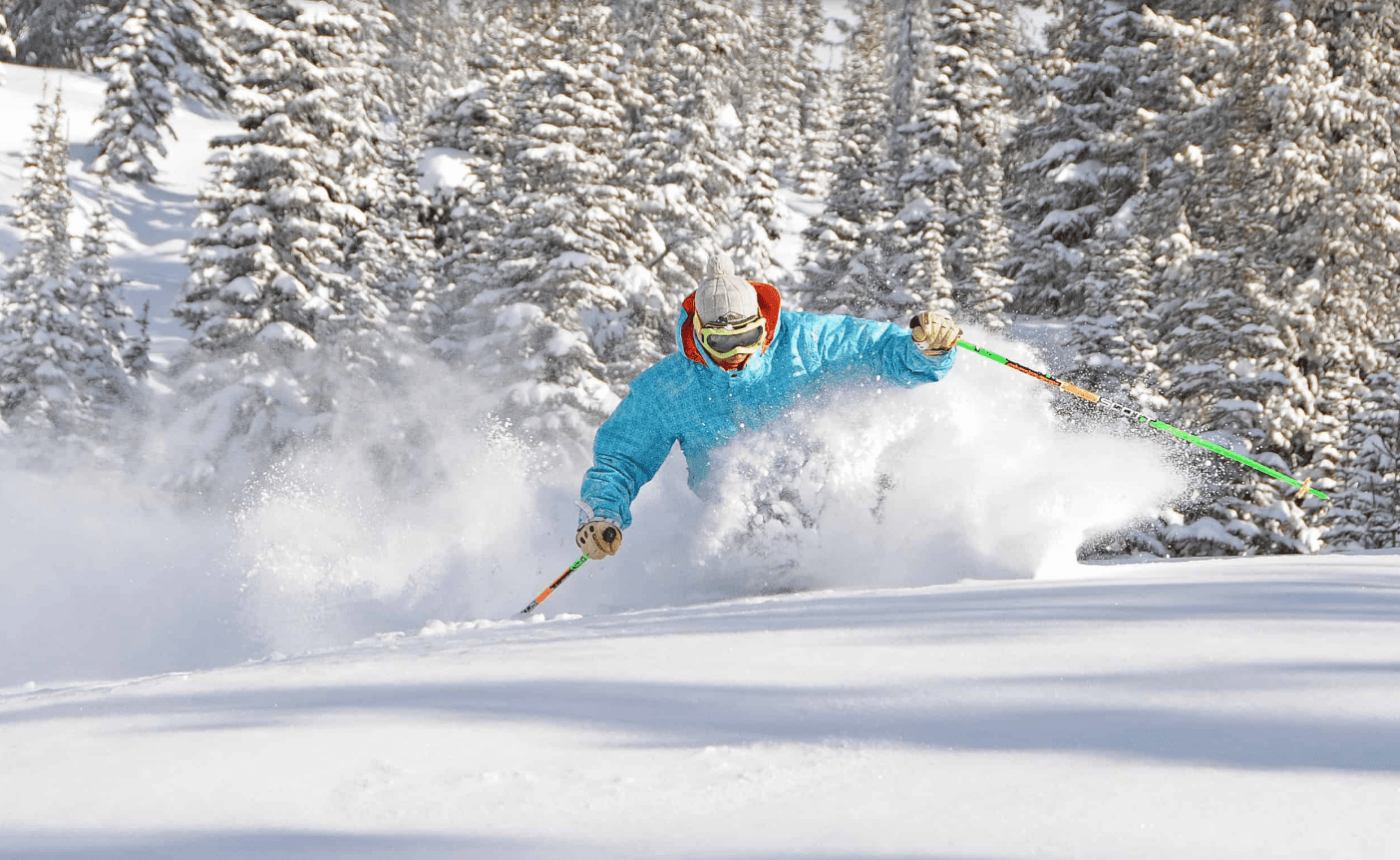 Other Amenities
Be sure to bring home a reminder of your stay with the famous Big White snowball toque! Dozens of colours are available at Altitude, in the Village Centre Mall, and kids' sizes can be found at Mountainside. Have the experts at Dizzy's find you the perfect fit of boots, and be sure to check out The Rider, in the basement of the VCM, for the coolest and latest gear and fits.
Need a tune-up? Bring your gear to the Repair Shop and have the experts ensure you're ready for that big powder day that's sure to hit while you're visiting. And, if you plan on renting, Big White's Rental Shop has it all, including a fleet of high-performance skis and snowboards!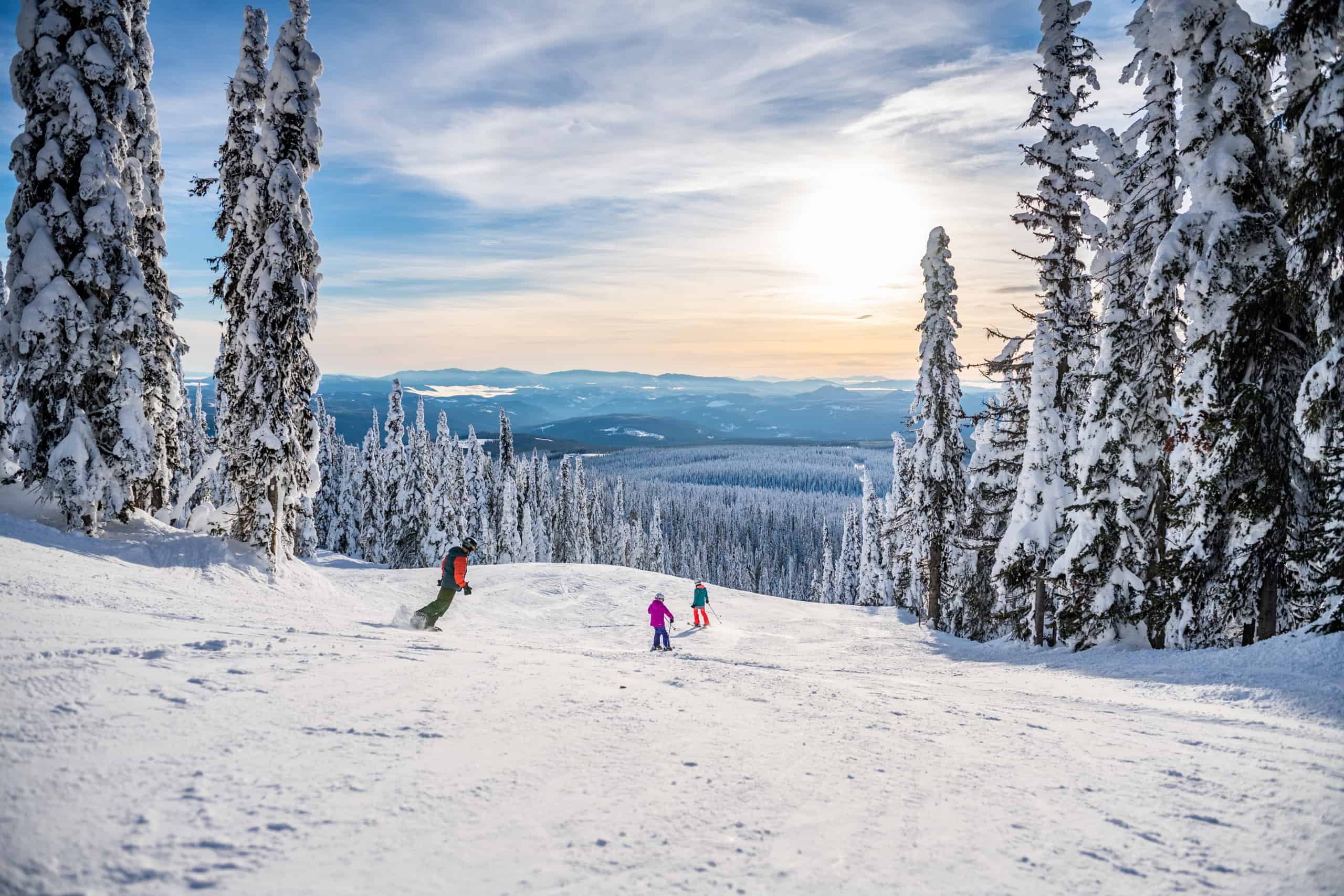 There you have it! Everything you need to know about Big White Ski Resort, Canada's Favourite Family Resort, is listed above. And, of course, if you have any questions, their team is always on hand to help. Simply fill out the form on this page, or email bigwhite@bigwhite.com. Be sure to follow Big White Ski Resort on all of its social media platforms for the latest and greatest at the resort: Instagram,Facebook,Twitter,Youtube, LinkedIn, and TikTok.
For more info on Big White and available packages for the 2022/23 winter head to Mountainwatch Travel