TRAVEL CALIFORNIA – A Mammoth Spring
November 29th, 2010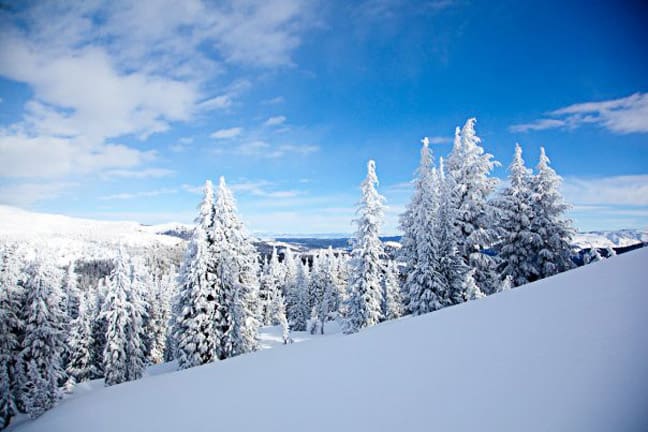 Mammoth in spring. Image:: Mammoth
Words | Ben Alexis
On the first drive up to Mammoth Mountain the most exciting thing I remember is seeing the enormous main park. From the road you can see the 18 and 22-foot half pipes plus the jumps and rails and excitement builds inside.

Mammoth Mountain is very appropriately named, as it really is massive. I've been lucky enough to ride at Mammoth twice during spring time, both times with Fast Ride Snowboard Camps, which are training camps for Australian snowboarders of all ages run through the Mammoth season. Mammoth, which is located in Eastern California by the East side of the Sierra Nevada mountain range in the Inyo national forest, is well known for its exceptionally well kept terrain parks and half pipes, which makes it the perfect place for a late season park and pipe training holiday.

A rundown of the Mammoth Parks by 32
Things to do:
The town of Mammoth Lakes has an extensive list of activities to get involved in, ranging from roaming through the city's boutiques, dinning at fine restaurants and enjoying Mammoth's hot springs. There are plenty of snow related stores to browse through town, the best of which are Wave Rave and P3 – where you can pick up the latest gear and walk away with far more change than you would if you shopped back in Oz! Mammoth also has the Volcom Brothers Skate Park, which is an enormous skate park hand-made by Volcom in memory of their team rider Jeff Anderson. The skate park is always good to check out whether it is full of snow or not, it's quite a spectacle. The first year I visited Mammoth the skate park was free of snow and we were able to skate it regularly. Then on my second visit it was filled with snow and we did a snowboarding photo shoot in it!

The Riding:
Mammoth Mountain has 3,500 acres of skiable terrain, with 28 lifts and 150 named runs. Mammoth has seven unbound terrain parks and three half pipes to cater for all freestyle abilities and has been rated in the top 10 parks in America consistently over the past 10 years. The conditions for progressing in skiing and snowboarding are prime during the springtime as the snow is often soft and slushy which makes for forgiving landings. Don't get me wrong, I have experienced serious dumps of snow in springtime as well, which gives a good change from riding the parks. It also means the park builders have the perfect top up of snow to keep the parks in perfect condition. When you are riding in the parks you consistently see big time professionals like Eddie Wall, Tyler Flanagan and American Olympian Greg Bretz who spend large amounts of time at Mammoth.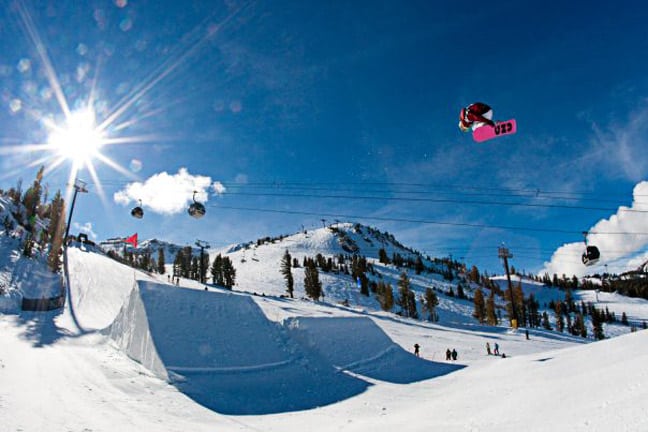 The Mammoth park in Spring. Image:: Mammoth
June Mountain:
A day trip can be taken to the close by June Mountain, which is a 30-minute drive from Mammoth. June Mountain is a much smaller mountain than Mammoth but it still has an incredible line up of jumps, rails and a half pipe. You can ride both June and Mammoth under the same ticket, which means there is no added cost of riding at June.

I've done two day trips to June Mountain, and the standout memory is the amazing views. we stopped by the lake because the scenery is just so spectacular. The lake was frozen and with the mountain backdrop it made for the perfect photo opportunity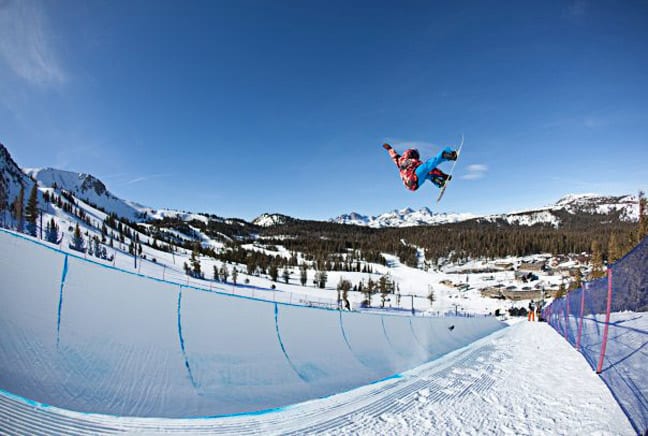 The Superpipe. Image:: Mammoth
The Town:
Mammoth has a population of 7,093 people and everyone you meet is friendly which gives the town a lovely family like feel. The town is still covered in snow during spring so you don't miss out on that winter feel. Mammoth has a vast range of accommodation to choose from ranging from budget condo's to 5 star hotels. Getting around town is easy with 3 busses running 24/7 to taking you wherever you like.
Quick Facts:
Top elevation: 3369 metres
Base elevation: 2424 metres
Skiable area: 3,500 acres
Runs: 150 named
Longest run: 4.8 km
Lifts: 28
Average annual snowfall: 10.16 meters
Mammoth Mountain is amazing whether it's the parks or the freeriding that your into it's the place to be this spring.
Mammoth forecasts,
snow reports and
live snow cams.