Grasshopper's Weekly Japan Forecast February 24th – Weekend Snow Topped Off with Warm, Sunny Skies Monday into Wednesday
February 24th, 2023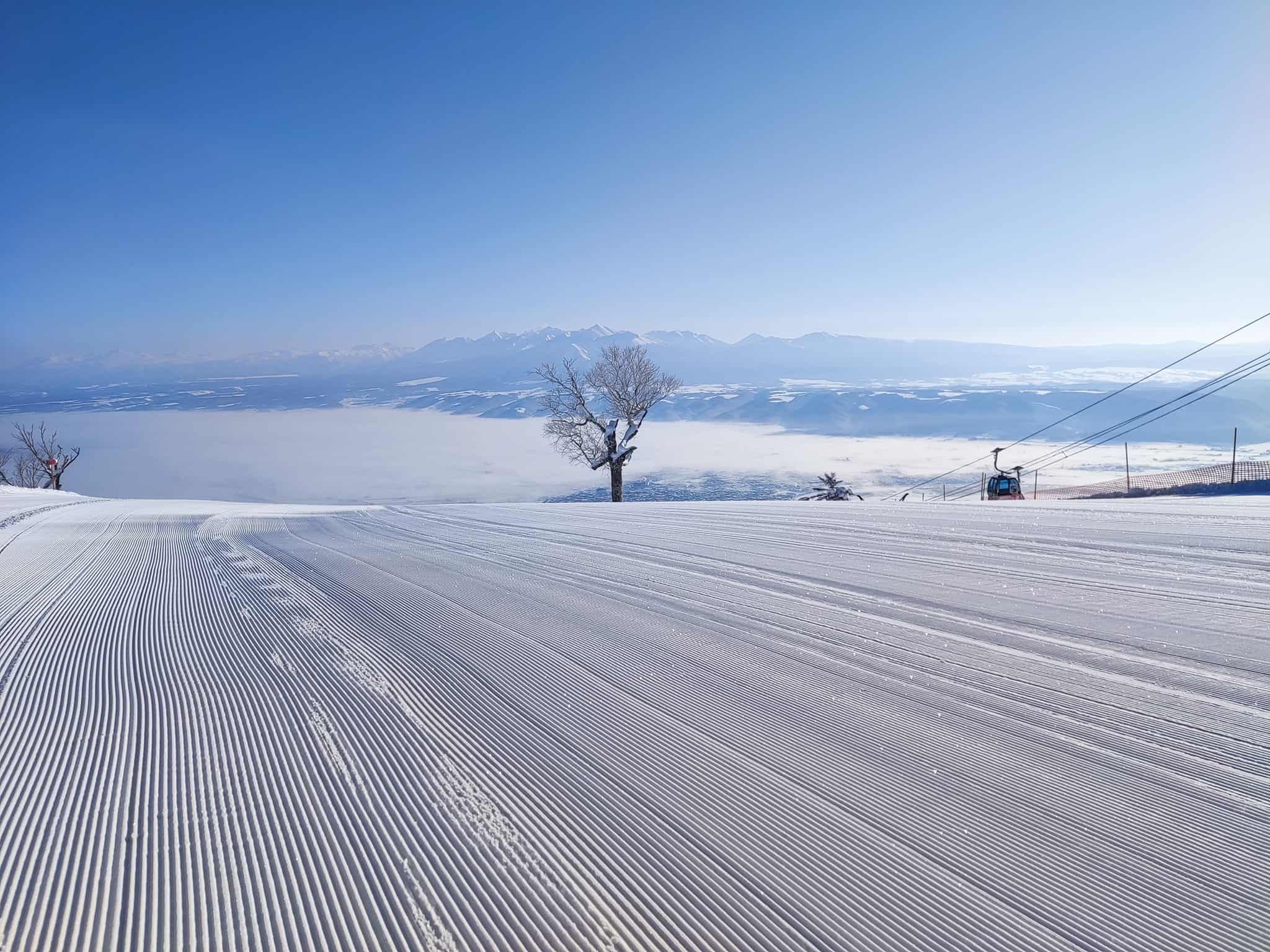 Mountainwatch | The Grasshopper 
Written Friday 24thFebruary (Japan Standard Time)
Well, after a nasty, wet weekend on Honshu, the cold front that whipped through early Monday saw some big numbers rolling in on Tuesday, with Myoko taking the cake with over 60cms! The snow kept falling though Tuesday before clearing up Wednesday, with epic, deep powder to be consumed. Hokkaido meanwhile kept up its usual run of consistent snowfall where daily amounts generally lay within the 5-25cm range.
Although snowfall figures may be a little lower this week, there will be some excellent conditions to be had with good, consistent falls coming this weekend, followed by warm, sunny skies Monday and Tuesday into Wednesday. Another decent dump from late Wednesday into Thursday will also add to the good times, with spring just around the corner.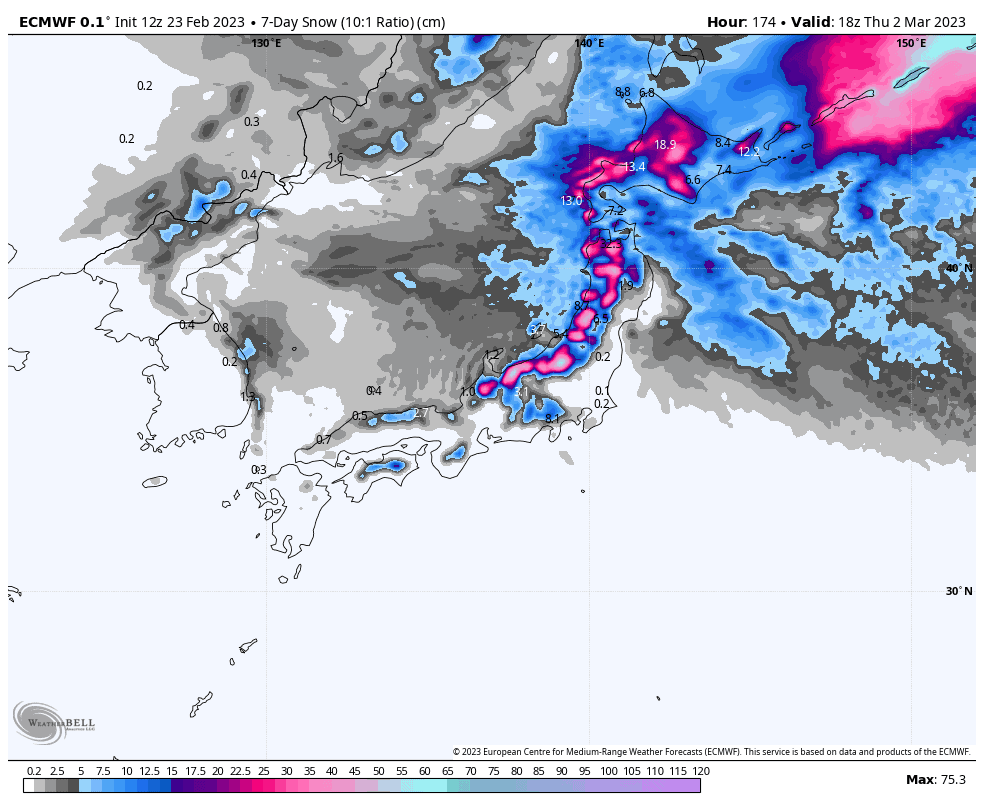 Friday Feb 24th
Today, a low will develop just off the east coast of Honshu, which will see rain+snow springing up over central Honshu later this afternoon where freezing levels will be up and over the 1000m mark. Light snowfall will also kick up in Hokkaido from late this afternoon, then northern Honshu tonight.
Saturday Feb 25th& Feb Sunday 26th
This weekend is looking deep and powdery after a cold front hits during the wee hours of Saturday. Strong, freezing NW winds will push in consistent light-moderate snowfall over both Honshu and Hokkaido throughout the weekend. By Sunday night, snow accumulations should generally be up around 25-50cm for central Honshu, 10-30cm for northern Honshu and Hokkaido. Take care and wrap up warm!
Monday Feb 27th& Tuesday Feb 28th
Any lingering snow showers will clear early Monday. Uncannily for Japan, the cloud too will also clear, swept away by dry westerlies that will apparently be too warm for any "lake effect" to take place. Only patches of cloud will remain over northern Honshu in what will really feel like spring conditions, with warm, sunny skies for the rest of Monday and Tuesday. However, those winds will remain strong over northern Honshu and Hokkaido.
 Wednesday March 1st & Thursday March 2nd
We'll notice that a change is in the air as skies cloud up during Wednesday. Rain+snow will build over northern Honshu and Hokkaido, starting out as light showers, then becoming persistent and heavy by the end of the day as temperatures (and thus snow levels) drop, thanks to another cold front.
The cold front is also likely to hit central Honshu Wednesday night/early Thursday, with an initial heavy burst of snow before backing off and eventually clearing, leaving mostly fine, settled conditions for the second half of Thursday. It'll be a similar trend for Northern Honshu and Hokkaido, but the clearing and settling will take place during the latter half of Thursday.
 Friday March 3rd& beyond
A low darting past the Pacific coast next Friday may bring a period of heavy rain to Honshu. Cold NW winds and mostly light snow showers are likely to commence the next day, Saturday, through into Sunday.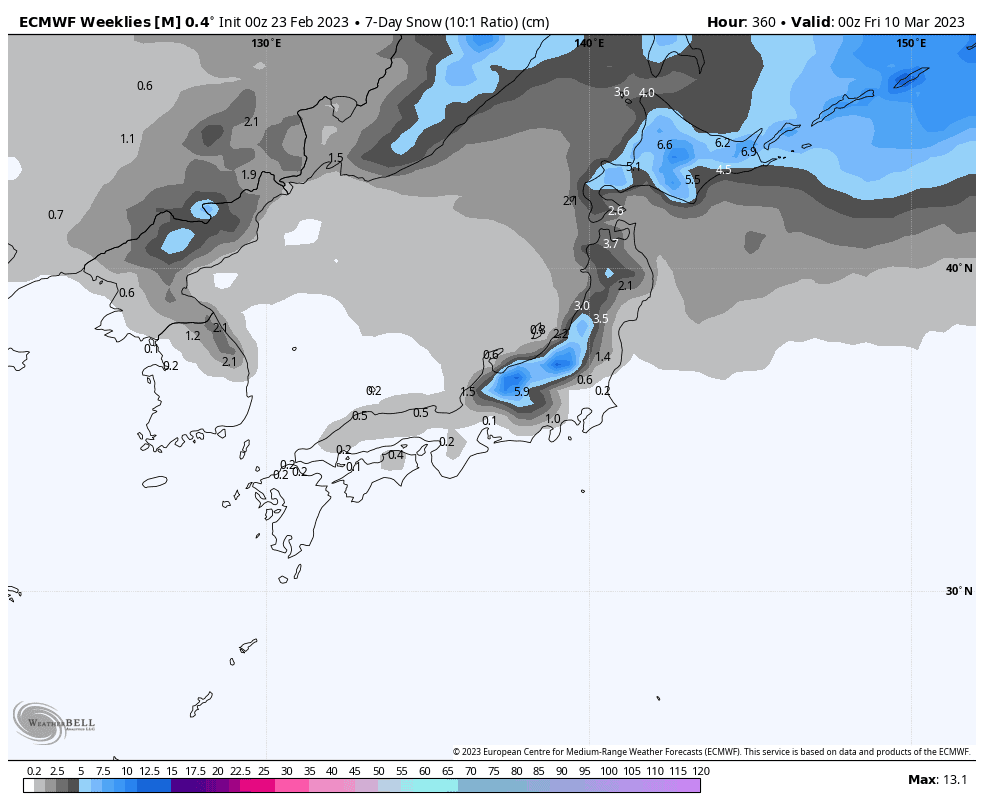 Overall, the 7-day period starting next Friday, is likely to end up warmer and possibly wetter than average, suggesting the arrival of spring, as well as another one or two lows migrating out of the west, interspersed with sunny settled spells in between. Snowfall is likely to be significantly lower than previous weeks.
That's all from me this week guys, see you next week!
Grasshopper