Monday 19 August – The snow just keeps getting better
Synoptic Outlook
At the time of writing we're still waiting for numbers to come in after last night's snowfall. We were expecting 10-20cm, and a few more centimetres will be added to that today while frigid W-SW winds continue to blow.
An extra couple of pushes from the west and SW late Tuesday and early Thursday will bring another resurgence of snowfalls in which another 10-25cm should be added to the tally. This season just keeps getting better.
Image of The Day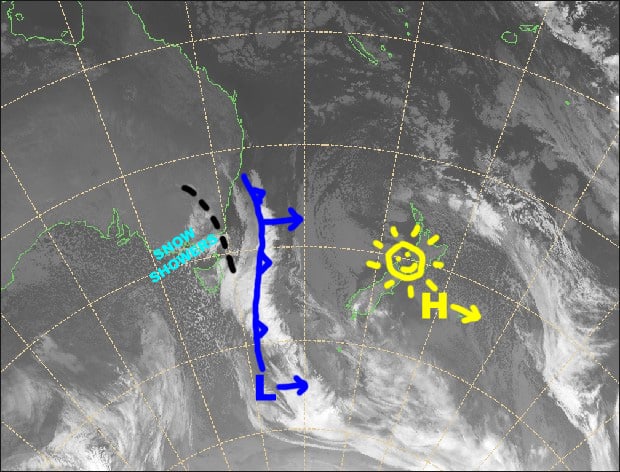 A few more centimetres will be added to last nights tally today as frigid SW winds continue to blow. Another 10-25cm will fall late Tuesday into Thursday after a couple more pushes from the W-SW. Source:: NZ Metservice (vandalised by the Grasshopper)
Monday 19 August
Powder day with snow showers continuing to fall, while a strong, frigid W-SW wind blows. Wrap up warm and get amongst!
Tuesday 20 August
Mostly cloudy to start with, then flurries will get going in the afternoon, eventually turning into more consistent snowfalls at night. Gale westerlies.
Wednesday 21 August
Light to moderate snowfalls mostly to 1500m, and sleety, slushy stuff below that, becoming few and far between from afternoon. Gale W-SW winds.
Thursday 22 August
Decent snowfalls during the early hours – say, around 5-10cm – before dawn as a colder southwesterly gale comes in. Then remaining snow flurries will peter out and cloud will break up to let sunshine in.
Extended Outlook
High pressure will settle things down during Friday. The high then scoots off to the NE and winds from the NW strengthen over the Aussie Alps on Saturday.
Another powder-laden front hits us either late Saturday or during Sunday. In addition, we could also see a low pass over or near Tasmania that may keep the snow falling all the way through next Monday and into next Tuesday.
That's all from the Grasshopper. Wanna keep your finger on the pulse of all things snow? Join my weekly email list by filling in the box below. If you have a question or feedback for me, hit me up on facebook.