Friday 19 July – Broad low churns the cream for the south
Synoptic Outlook
A broad low has spun up in the Tasman and will crawl onto central New Zealand today, where it'll churn away while weakening into nothingness this weekend.
The forecast has changed a lot over the last week due to uncertainty regarding this low. Despite this, we can expect good snowfalls over the South Island, especially in Canterbury where they'll be swamped by the white stuff, but balmy temps on Sunday could see some of that fall as rain or sleet on lower slopes. Ruapehu will also have a dose of snow and rain today, followed by snow showers tomorrow and sunshine on Sunday.
All the while, a low spins up and darts over the Far North of the country to join forces with a low that pops out of the tropics, forming a savage looking beast way out in the Pacific. It's this low from the tropics that is the likely culprit for a lot of our uncertainty. Monday will be a cracker of a day for all, as the savage beast sends a light easterly flow over the North Island while a ridge builds over the South Island.
Image of The Day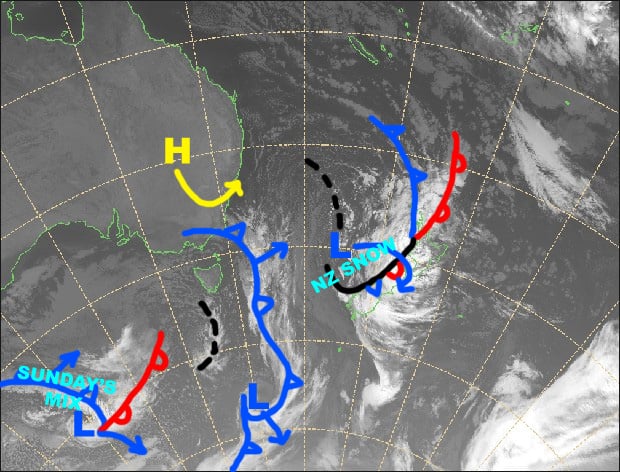 The broad low will churn away over the country today and this weekend, providing a fair dollop of cream for the South Island, while Ruapehu will go through a whole spectrum of weather. Source:: NZ Metservice (vandalised by the Grasshopper)
Friday 19 July
Light scattered snowfalls over the South Island, becoming more persistent and a little heavier over Canterbury from midday. N-NW breezes turning to the S-SE.
It'll turn a bit grotty up Ruapehu as rain sets in around midday, which will fall as snow down to mid slopes. We can also throw strong to gale northerlies into that mucky mix.
Saturday 20 July
Wax up those powder skis and boards, because the South Island is looking positively powdery! S-SE winds should push in consistent light to moderate snowfalls, with Canterbury perhaps taking most of the cream. It'll be a bit of a whiteout with cloud clagging up the place, so get your rosy goggles on.
Snow showers on Ruapehu will ease later in the afternoon as the westerly breeze turns to the NW.
Sunday 21 July
Snowfalls will peter out over the South Island as SE winds ease. There could be heavy falls in Canterbury in the early hours, but it might fall as rain on lower slopes.
A beaut day with light winds up Ruapehu.
Monday 22 July
A cracker of a day with light winds. There'll be a bit of cloud over the South Island and a shower or two may show up in Canterbury.
Extended Outlook
The beast that I mentioned earlier will still be lurking about in the Pacific and may push cold air over the country, with snow flurries or showers possible in Canterbury on Tuesday, then again on Wednesday along with Ruapehu.
W-NW winds should kick in over the country on Thursday before the next system hits next Friday or Saturday.
That's all from the Grasshopper. Wanna keep your finger on the pulse of all things snow? Join my weekly email list by filling in the box below. If you have a question or feedback for me, hit me up on facebook.