2020 Season Review – It Had Its Moments But A Season Unlike Any Other
October 8th, 2020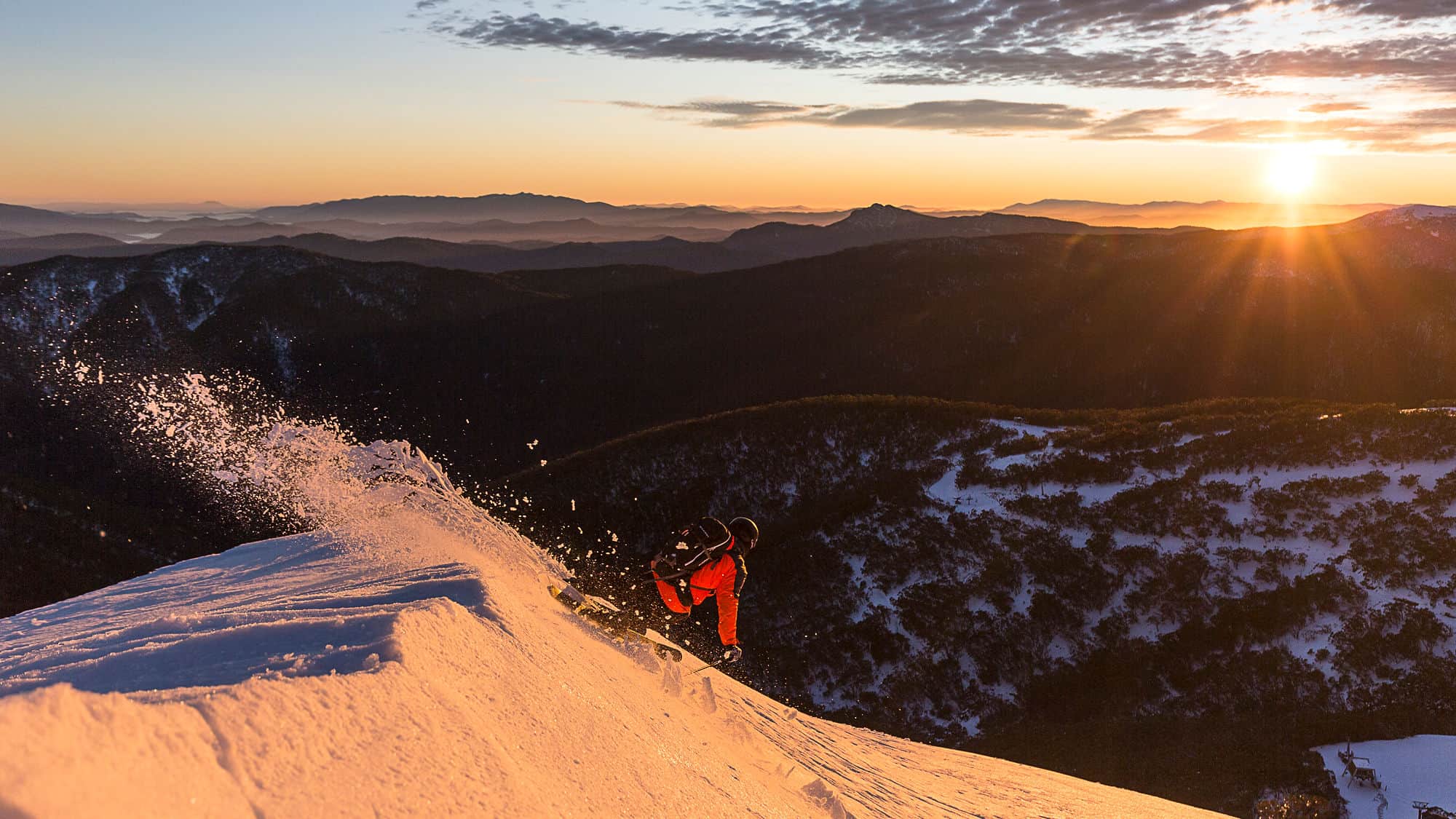 Mountainwatch | Reggae Elliss
The 2020 season ended on Monday with Perisher closing its last three lifts on a warm day and soft snow cover, finishing up on Front Valley and Goats Gully after a quick meltdown last week. It's been a weird, challenging season with unique difficulties for the resorts, their guests, alpine communities and the snow industry in this Covid-shaped year.
Pre-season there was much uncertainty about whether the resorts would be allowed to open as the Covid restriction stook hold in late March. However, the resorts got together under the banner of the Australian Ski Areas Association and presented a Covid-safe operating plan to the health authorities and NSW, Victorian and Federal governments.
The plan involved reduced numbers with a limit of 50% capacity, pre-booked passes and social-distancing requirements on lifts, in lift lines and food outlets. In late May, after six weeks of negotiations, the resorts received the go ahead that once they were "Covid ready" they could open for the 2020 season.
Thredbo and Buller announced they would open on June 24 while Vail Resorts set June 24 as the opening day for Perisher, Falls Creek and Hotham.  There was a collective sigh of relief across the alpine areas in NSW and Victoria and the Australian snow industry, although at that stage we didn't know that 2020 had a few more surprises heading our way.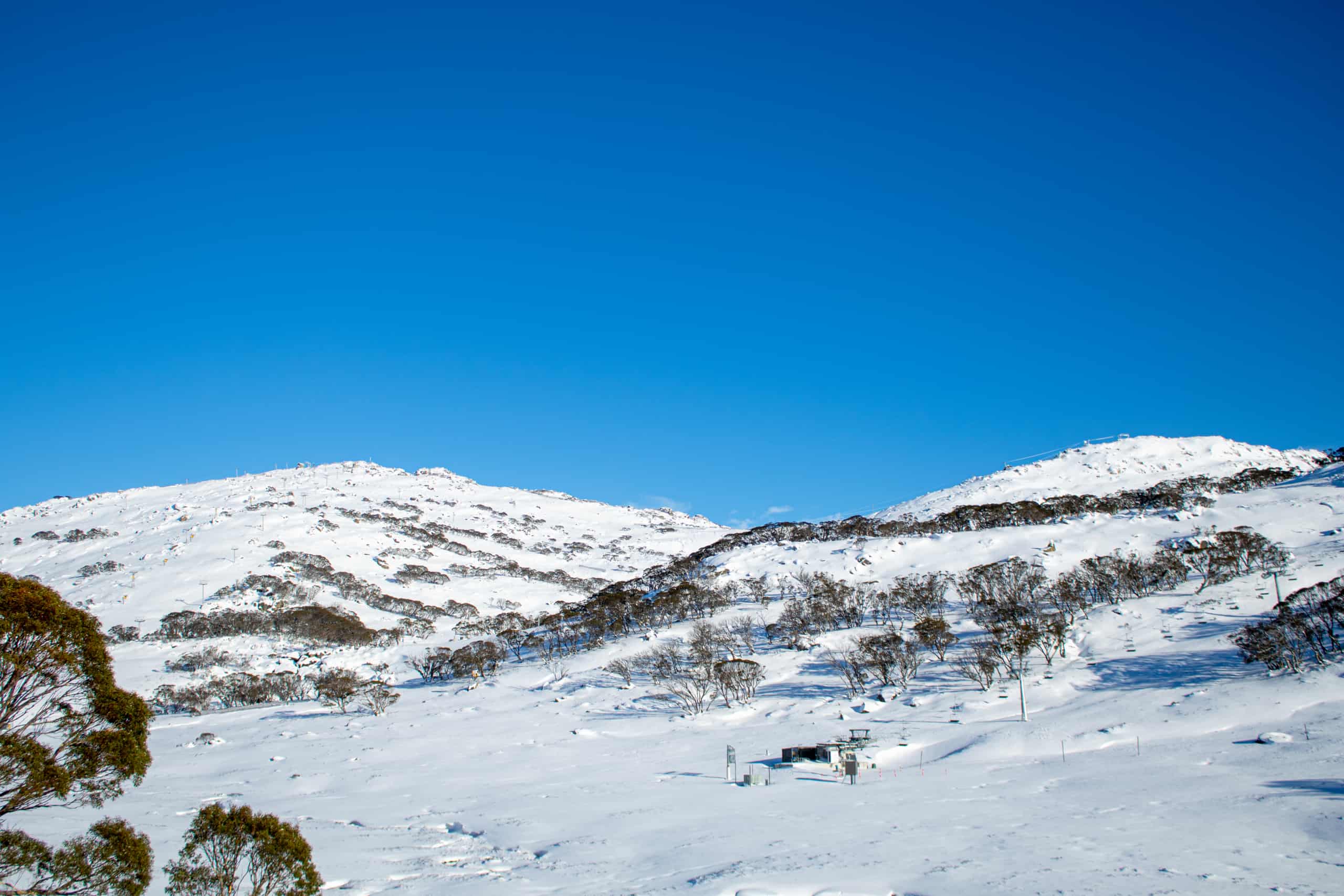 The first big snow fall of the year actually came through in early May, when the biggest pre-winter storm in years dropped 60-80-cms across the Australian Alps. It was a true winter storm with strong gale-force winds taking the wind-chill down to -23 and also blowing in a lot of snow at higher elevations. There was enough snow to get in few turns and a few people living in the resorts managed to get out there for some snow-oriented exercise.
While it was exciting, thoughts of it potentially setting up a good season were tempered by the fact at that stage that the resorts not been given the go ahead to open for the season and despite the cold temps and good base, they did not fire up the snow guns. Also, as we all know, pre-season snowfalls are never an indication of what might happen in winter.
The guns finally got going at the start of June and after a 10cms snowfall on June 20 freshened things up, Thredbo and Buller opened on minimal terrain on June 22. While both only had their beginners' areas open, it was a relief to see lifts turning. Perisher opened Front Valley two days later on June 24, but due to the lack of natural snow and poor snowmaking conditions Falls Creek and Hotham pushed their opening back to July 6.
By this stage Covid-19's second wave was well underway in Melbourne and on July 7 the Victorian government announced that metropolitan Melbourne would revert to stage 3 lockdowns for six weeks until August 19. That meant no travel for Melburnians, cutting off a huge slice of the Victorian resorts' market.
Two days later Vail resorts announced that due to the lockdown and growing health concerns it was suspending lift operations in Falls Creek and Hotham until August 19, while Buller said it would stay open for regional Victorians while Mt Baw Baw was also operating on weekends.  Unfortunately, both resorts had to close on August 6 after Melbourne went into stage four lockdowns and regional Victoria moved into stage three lockdowns.
Meanwhile NSW hadn't suffered a second wave and Perisher, Charlottes and Thredbo remained open, relying on snow making and a 15cm snowfall on July 12 to have more terrain open for July school holidays.  The Covid-safe operating plan meant that numbers on the mountain were determined by the amount of terrain open, and with only 30% of terrain open, no interschool snowsports events and the village half empty, it was the quietest school holidays I've ever seen in Thredbo.
At that stage snowfalls had been few and far between, with barely any snow in June and just one small fall in early July – the big storm of early May just a distant memory. Fortunately, that was about to change, the Grasshopper forecasting snowfalls on July 12, intensifying on the 13th with an east coast low parked off the NSW south coast set to deliver moisture-laden air towards the mountains.
The snow kicked in on Sunday night with 30cms on the upper slopes in NSW and 15cms in on my deck here in Thredbo. In his forecast that morning the Grasshopper wrote that the NSW resorts which were "in the direct firing line and heavy snowfalls will continue through much of the day, the day's tally could see NSW resorts copping 50-70cm+ up top, and about half as much on lower slopes."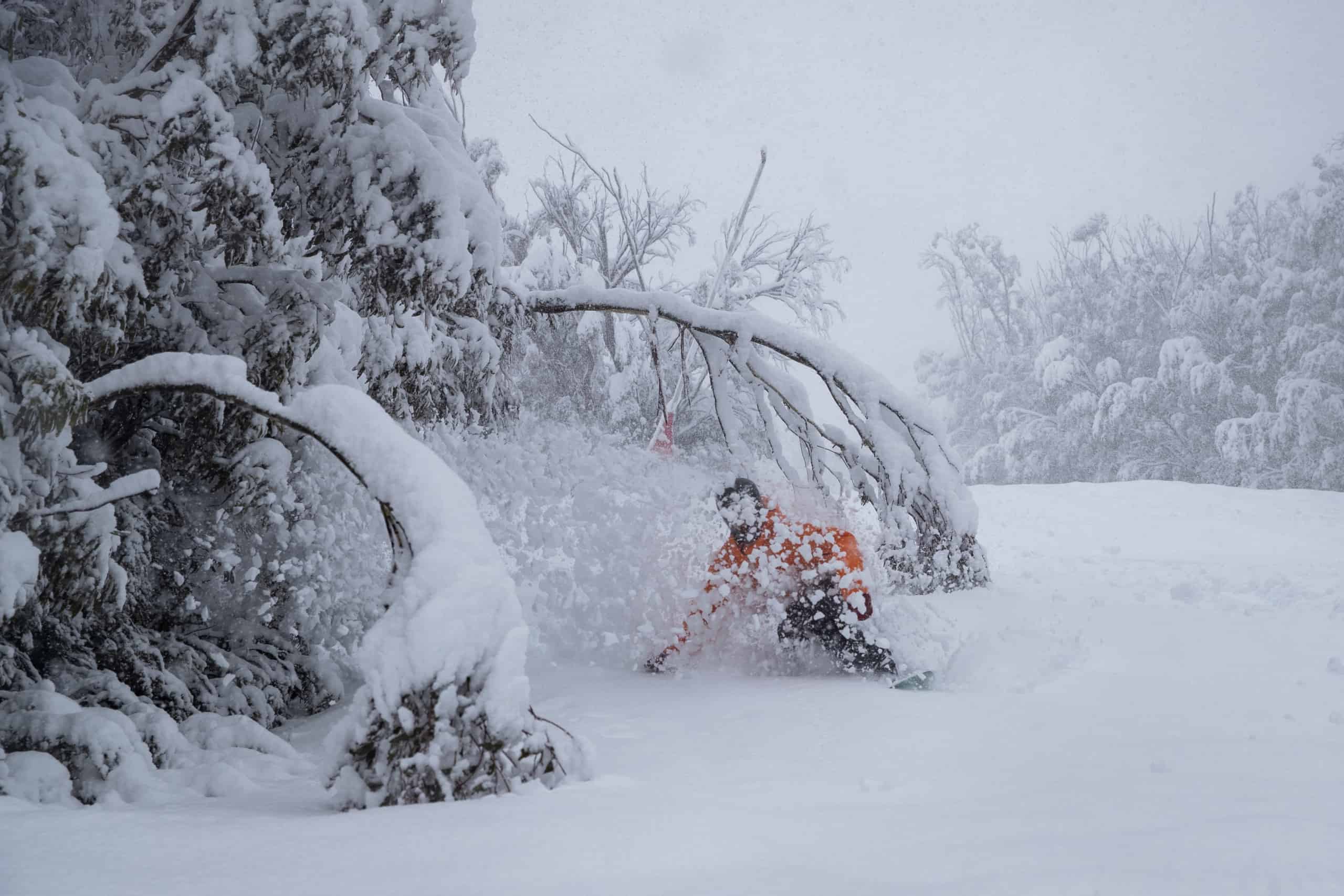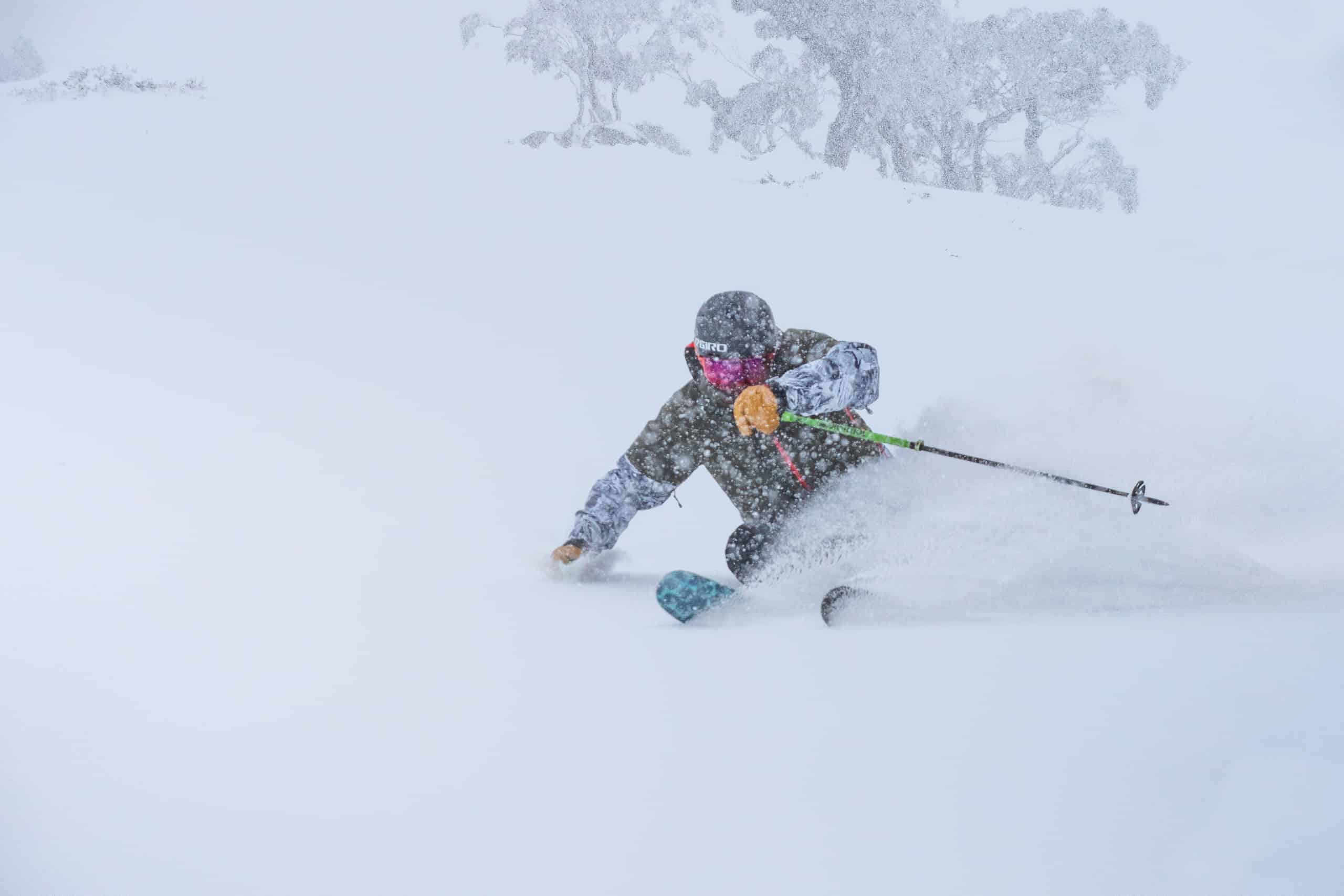 As it turned out it dumped hard all day, the freezing levels staying low and snow down to Jindabyne (920 metres) and the ski tube car park had 30cms by that afternoon. It was a wild storm with heavy, dense snow and falling trees, a couple taking out power lines and blacking out Thredbo for eight hours and the roads to Perisher and Thredbo were closed for most of the day.
The storm dropped another 50cms during the day and by the time it cleared the following day the 24-hour totals were 90+cms above 1800 and 60cms down to 1400 metres. The heavy snow set up a good base and the result was Perisher, Charlotte Pass and Thredbo having 60% of their terrain open by the following weekend.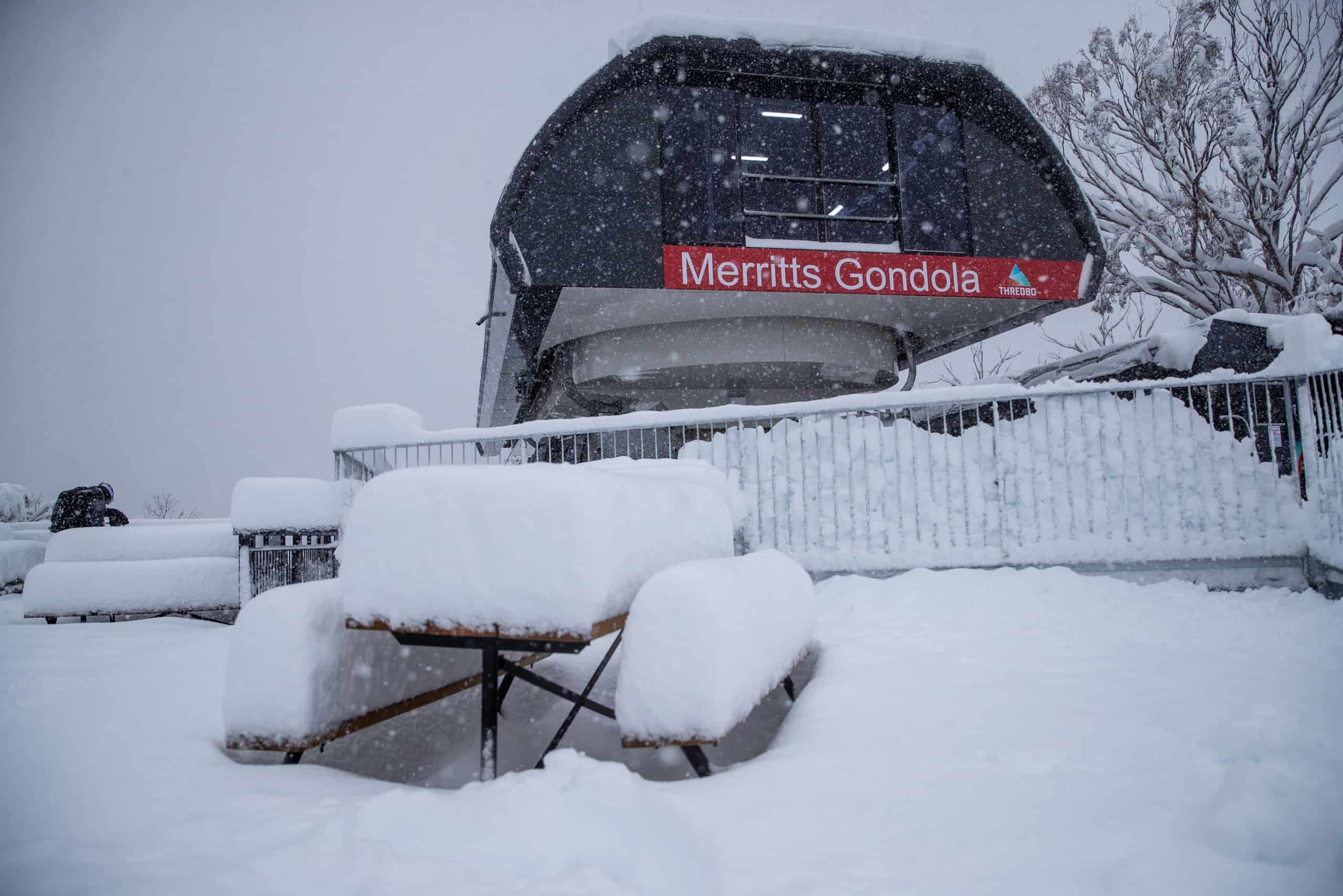 As for Victoria, even though Falls Creek and Hotham are only 100ks south of the Snowy Mountains as the crow flies, the front was a fraction too far north and they picked up just 10-12cms on Sunday night and nothing on the Monday. Buller missed out on this storm all together but did pick up 5-10cms from a cold front earlier on the weekend.
The third week of July was mainly fine with cold nights and good snowmaking conditions which set up some excellent corduroy mornings on piste. By the weekend of July 24, Perisher was close to in full swing with the four resort areas interlinked and four terrain parks up and running.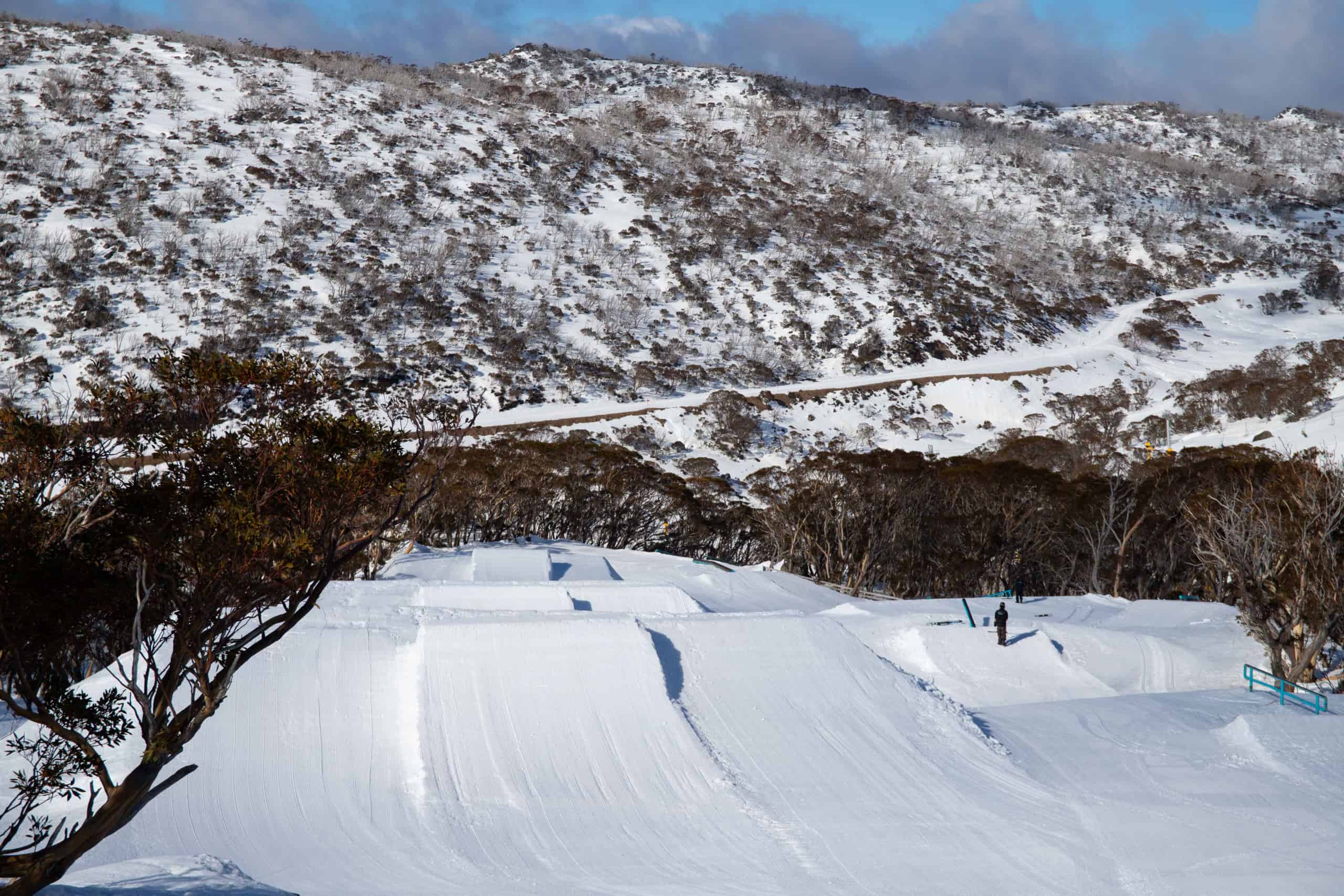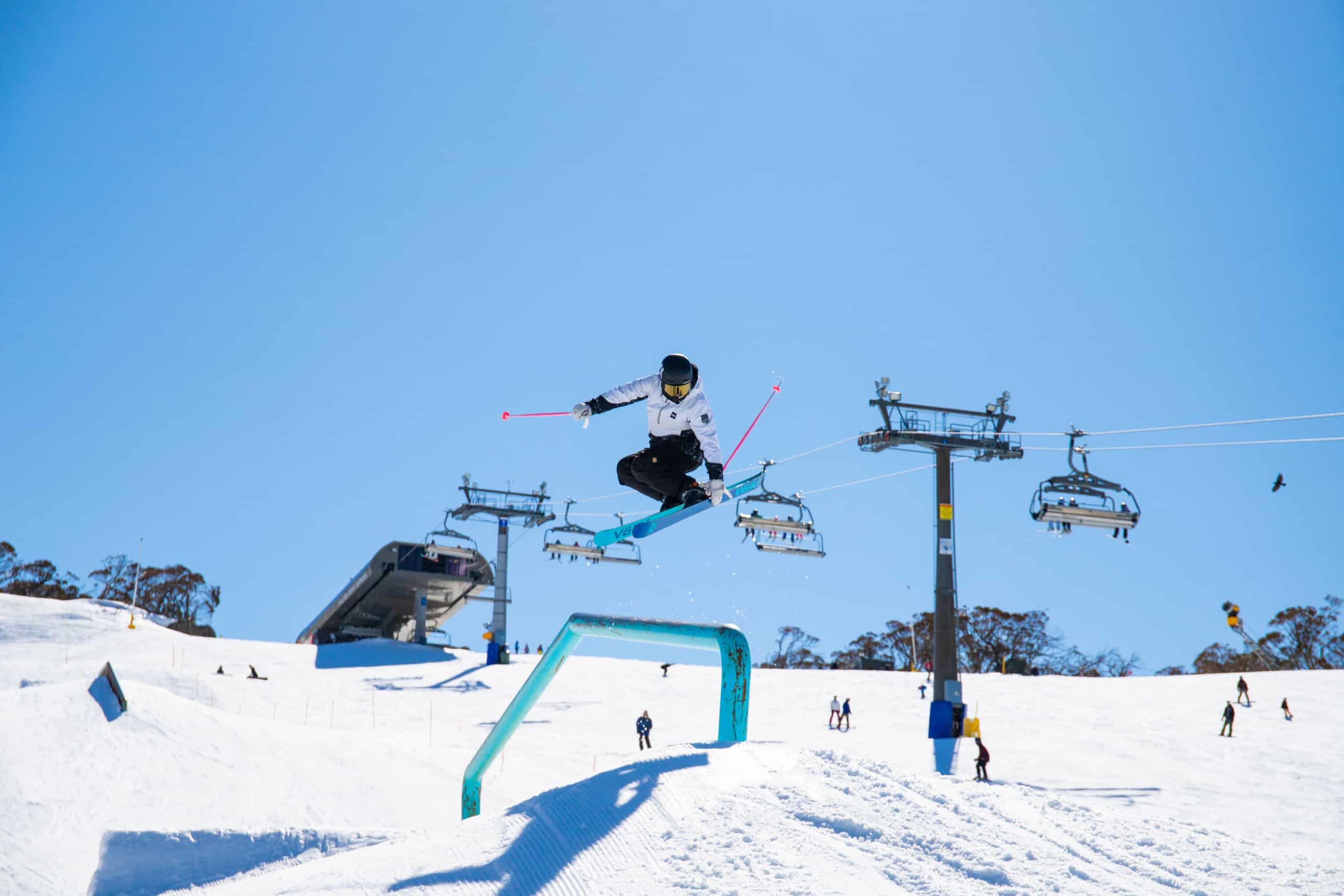 At the end of July, Snowy Hydro's snow depth reading at  Spencers Creek was only 70.2cms, the lowest it has been since 2013, but more snow was in the forecast. We ended up with a couple of really good days after  10-15cms of snow and cold temps on August 3. In my snow report a couple of days later I described August 4 as " the best day of the season with 15cms of fresh snow and sub-zero temps and cold WSW winds maintaining the snow quality. "
It was during this week that Thredbo's snowmaking system went down due to a major hole in the air line. Unfortunately, temporary repairs weren't possible, and the air-line will be replaced in major works this summer, but Thredbo's snowmaking capabilities were reduced to just 12 fan-guns strategically placed at important links and high-traffic areas across the mountain. However, without extensive snowmaking the thin cover on the lower mountain was fragile and the bottom of the mountain was gone a month later.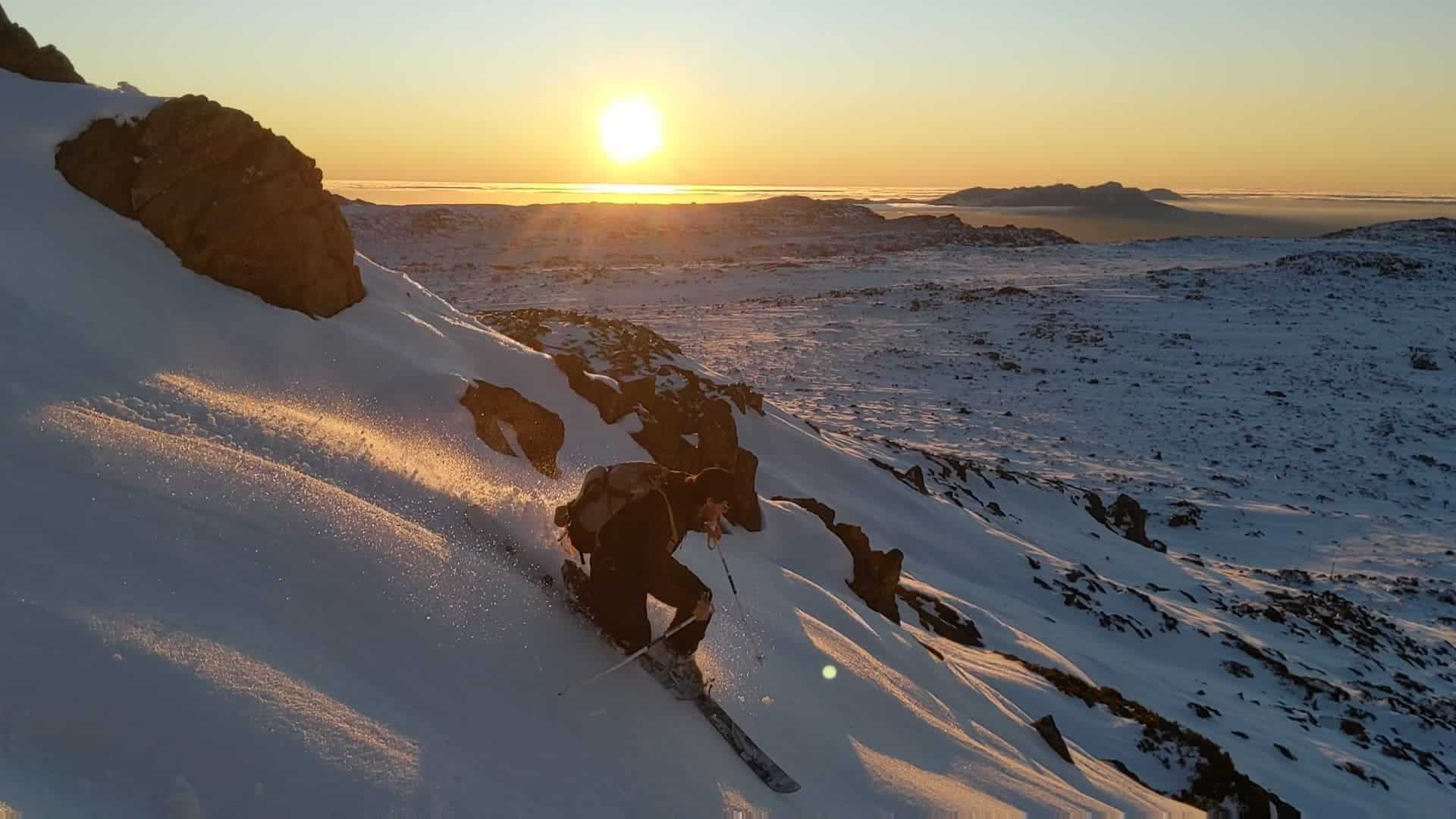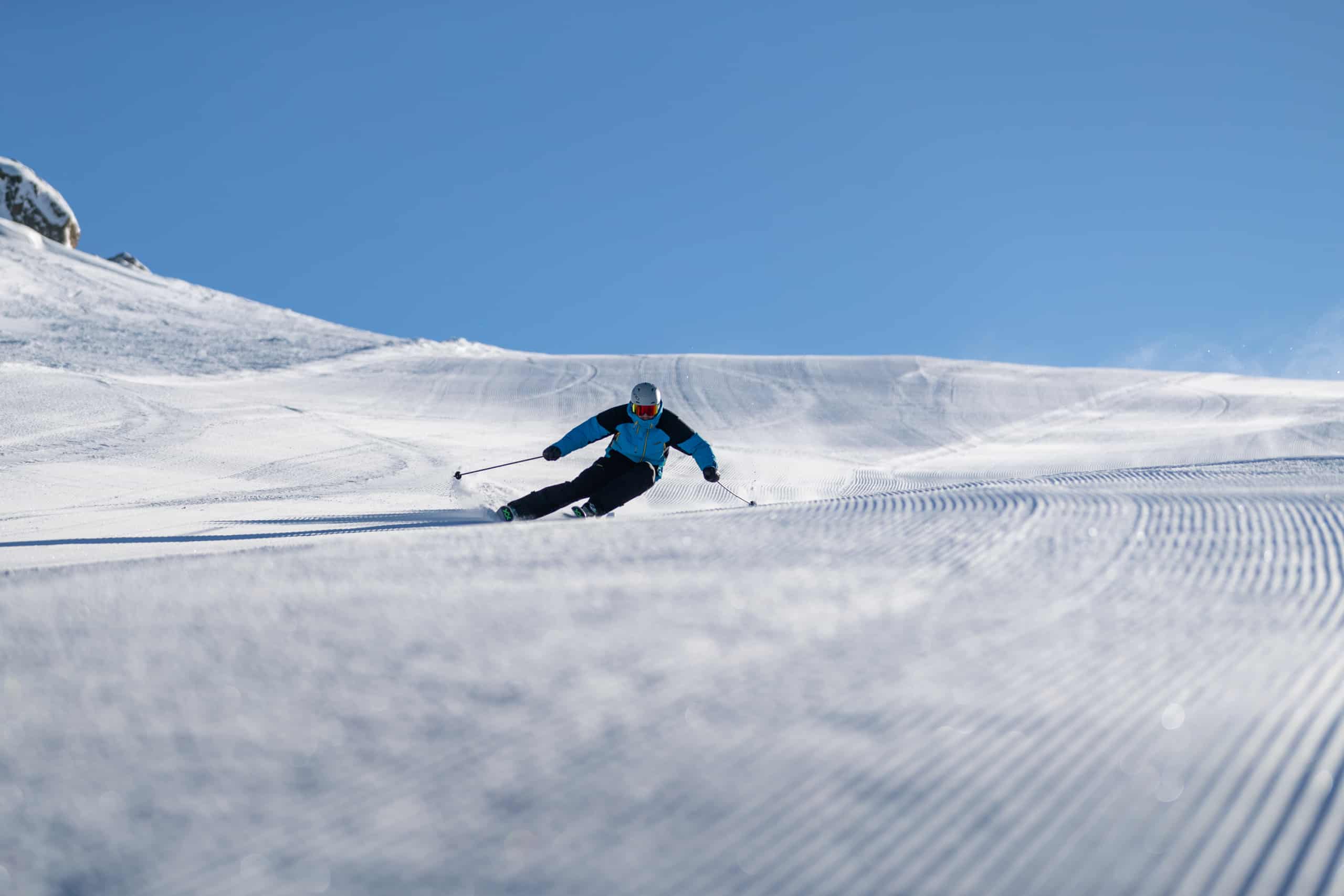 Another east coast low was setting up for August 7-9, the models pointing to a similar storm to the one we had on July 13 with huge snow totals at higher elevations. However, the Grasshopper cautioned in his forecast that "temperatures aren't ideal, and it'll be wet, heavy snow, and it may turn to rain for a time at base levels."
The snow started on Thursday afternoon and continued off and on for the next 48-hours and 20cms fell above 1600 metres overnight Friday night and 8cms down low. Unfortunately, unlike the previous east coast low, this one tracked north, and the main band of precipitation missed the mountains on Saturday night with just 10-15cms falling up high. The freezing levels rose throughout Sunday August 8, and by that afternoon it was raining to the top, wrapping up a pretty miserable weekend.  In the end the system dropped 35cms above 1700 metres in the NSW resorts, but once again the Victorian Alps missed out.
The following week was ordinary, a weak front bringing some snow about the peaks and drizzle down low, but there was some promise in the Grasshopper's extended forecast on August 13: "We have potentially the best snowstorm of the season lined up here. This will take effect from Tuesday, with snowfalls ramping up on mid-upper slopes. Colder air will pile on from Wednesday, lowering snowlines to, or below base levels, with good snowfalls through into next Friday 21stor even Saturday 22nd."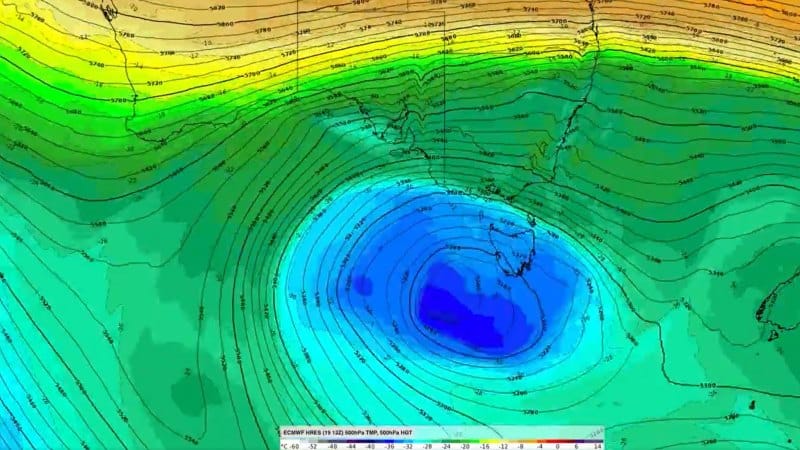 Finally. This one was shaping up as the first real winter storm in four months, a series of cold fronts set to draw cold Antarctic air with strong winds and blizzard conditions at times and consistent snowfalls over a four-day period. The first front hit the following Tuesdaynight when 10cms fell overnight. The snow showers increased during the day on Wednesday and there was another 15cms across the NSW resorts by Thursday morning
The clip above was filmed on August 21
The strongest front hit own Friday and it turned into a full-on storm with gale force winds at time, some chairs on wind-hold and some great powder and by the time the snow falls finally eased on August 23 we had received 80-96cms above 1800 metres across the Australian resorts. Each day was progressively better, the cold temps and freezing winds turning on a few days equal to anything of the past few seasons, but Saturday August 22 was the day.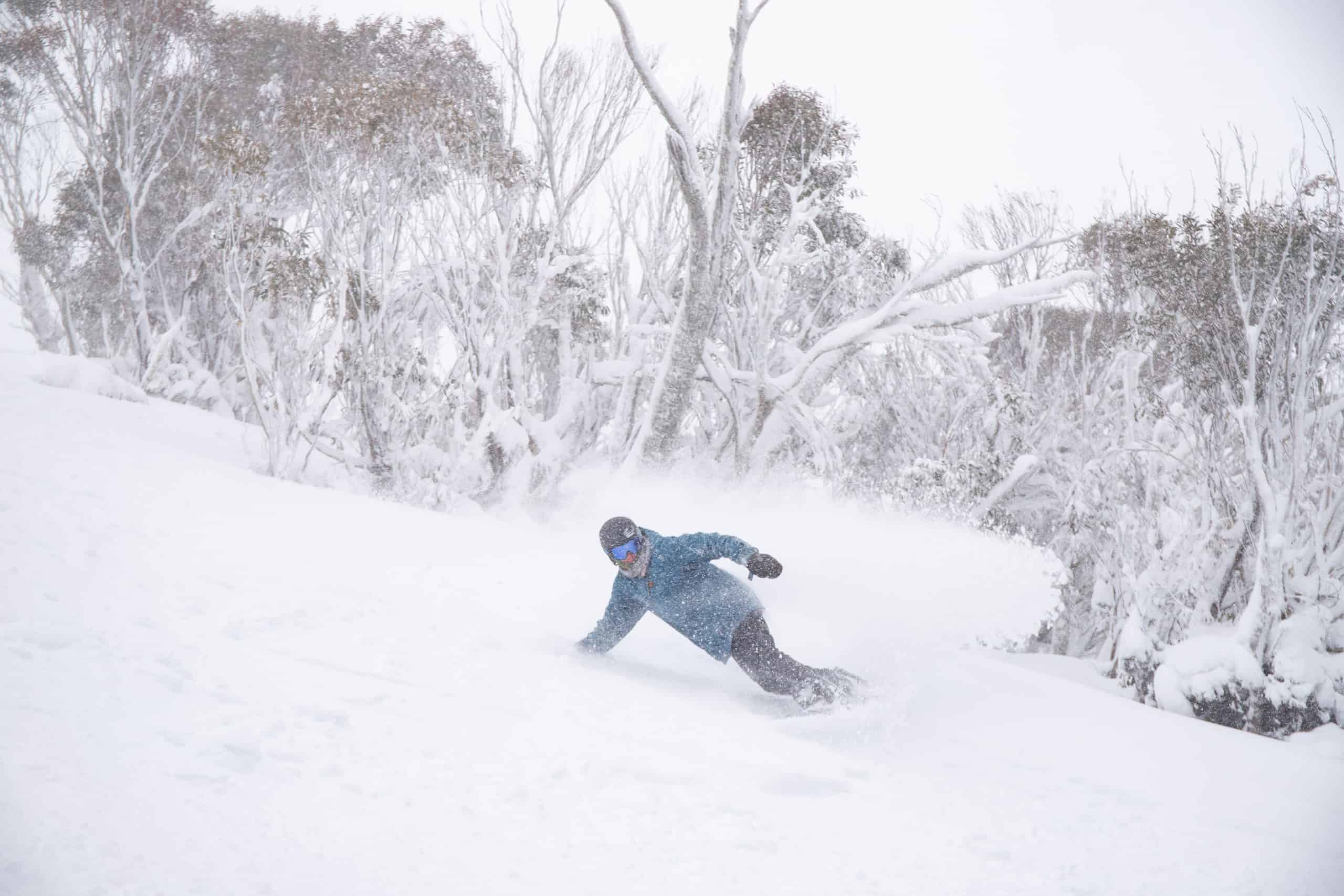 I describe it in my snow report as, "the best day of the season, dry powder and one of those days where it kept filling in all day with consistent snowfalls and a lot of wind-blown. "
The days following were bluebird and cold with overnight temps well below zero and some great conditions, August 24-25 a "fair-weather skier's dream."  Little did we know it would be another month until we saw more snow.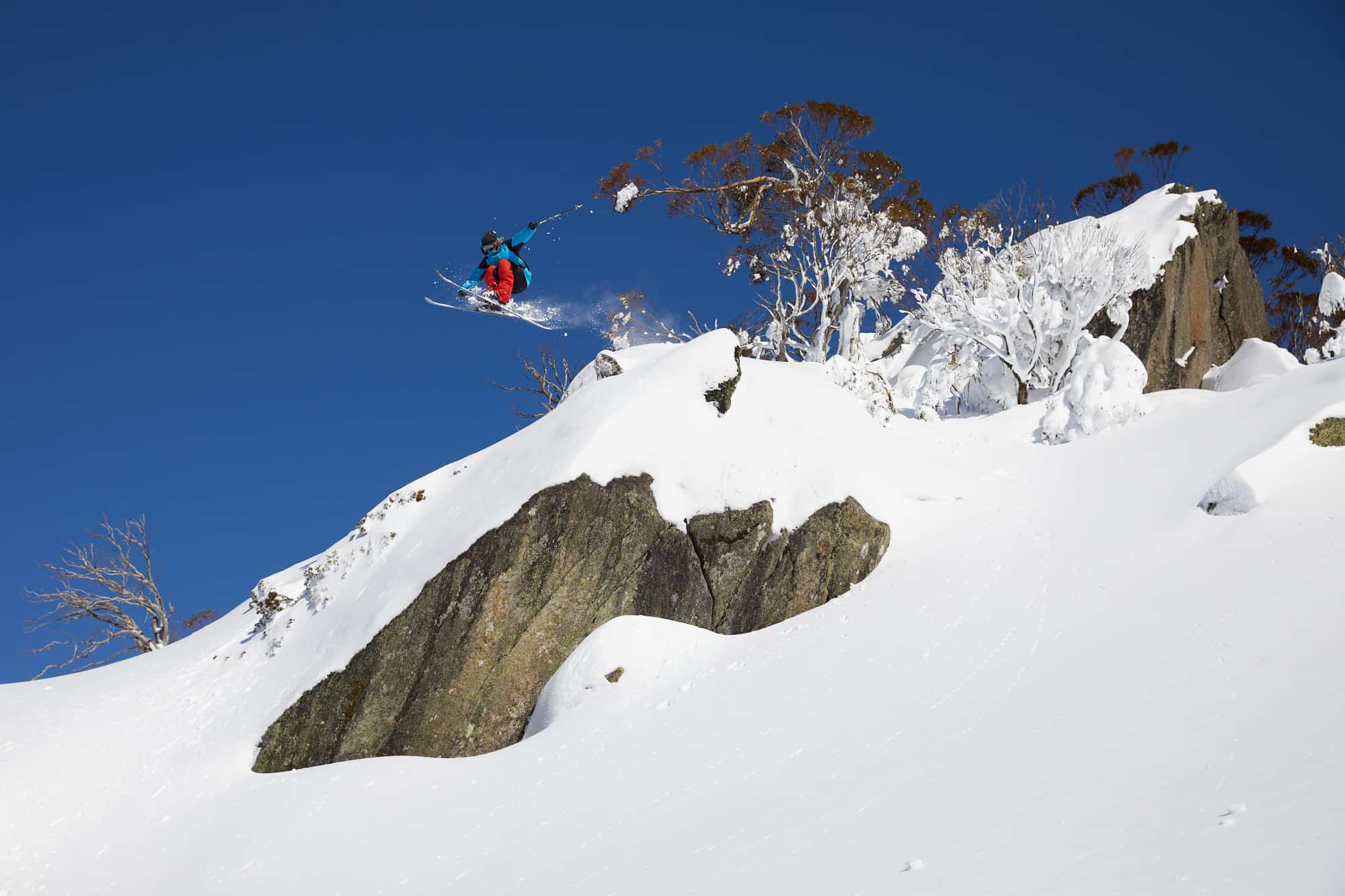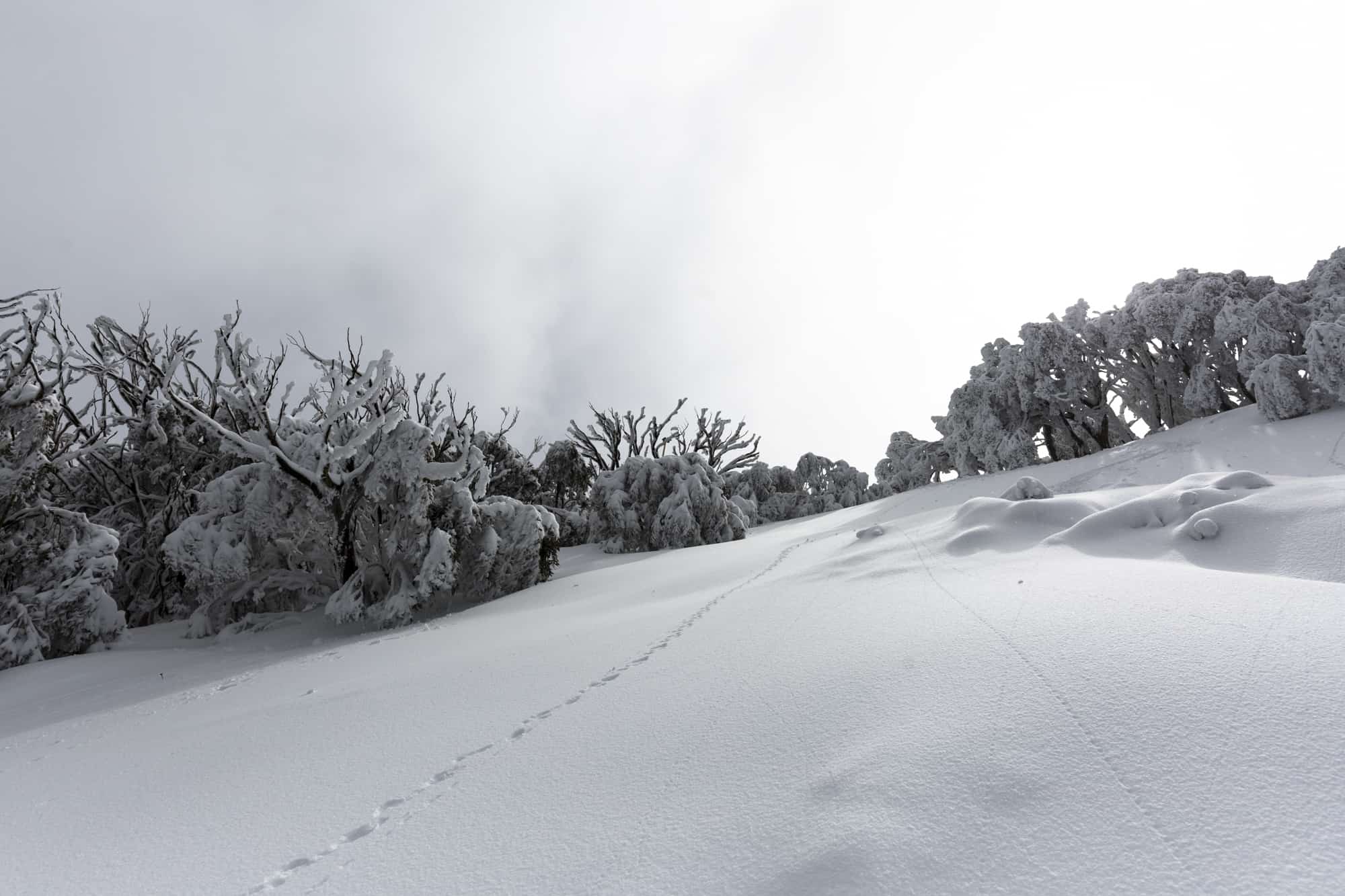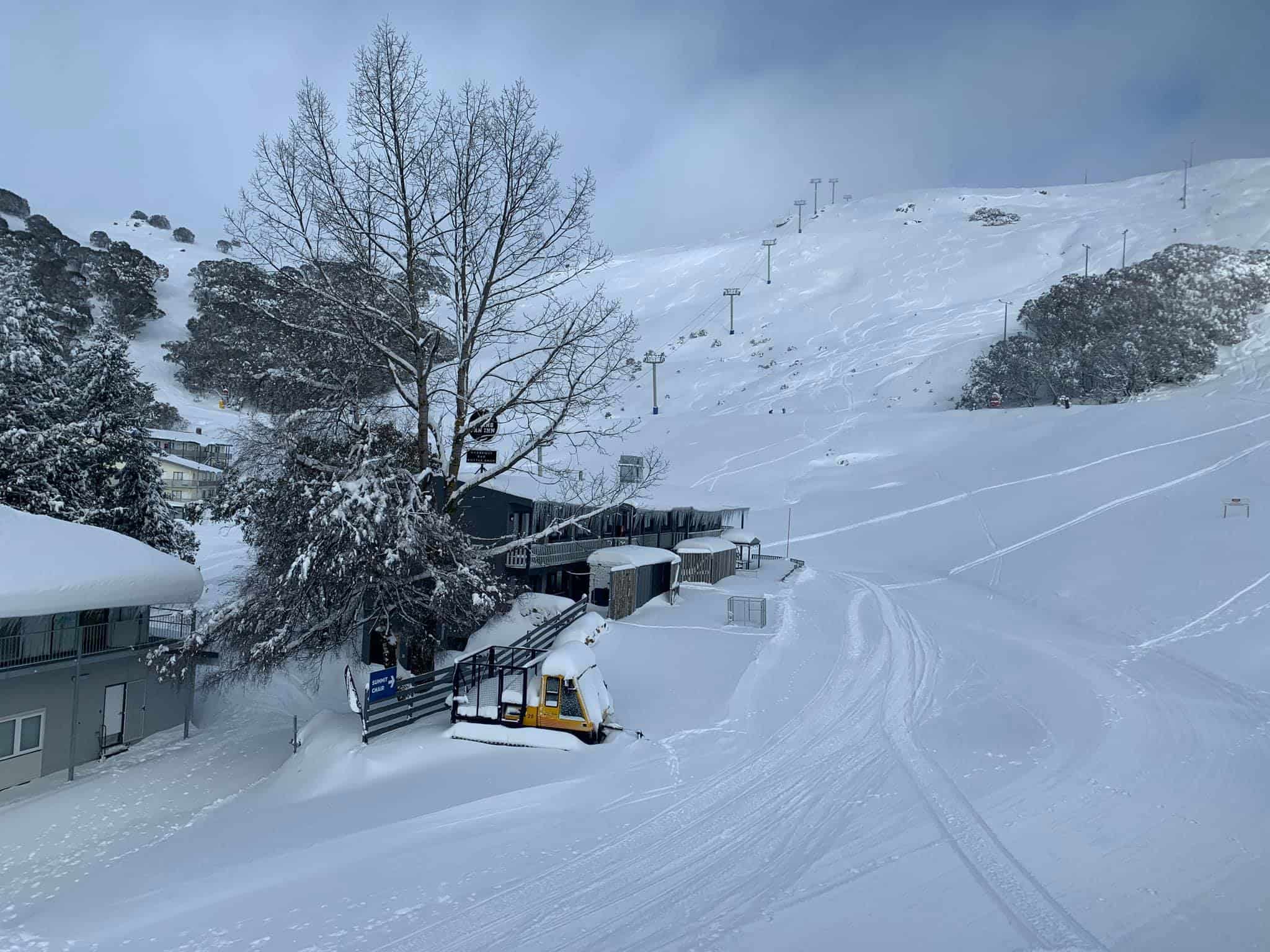 Temps started to climb at the end of the week and on Saturday August 29 it was +3.7 at the base in Perisher at 6am. The following week was warmer with hairdryer northwest winds and the accelerated melt-down was underway. That warm weather pattern settled in, and only three days during the first three weeks of September had temps below zero at 6am and maximum daily temps were commonly over 10 degrees.
The season's snow depth at Spencers Creek peaked at 167cms on August 27, but a week later it had dropped to 146cms. The snow pack continued to melt at close to 30cms per week hitting 60.8cms at Spencers Creek on September 22. The resulting poor cover meant Thredbo and Charlotte Pass closed on September 20, two weeks earlier than scheduled while Perisher was down to 12 lifts.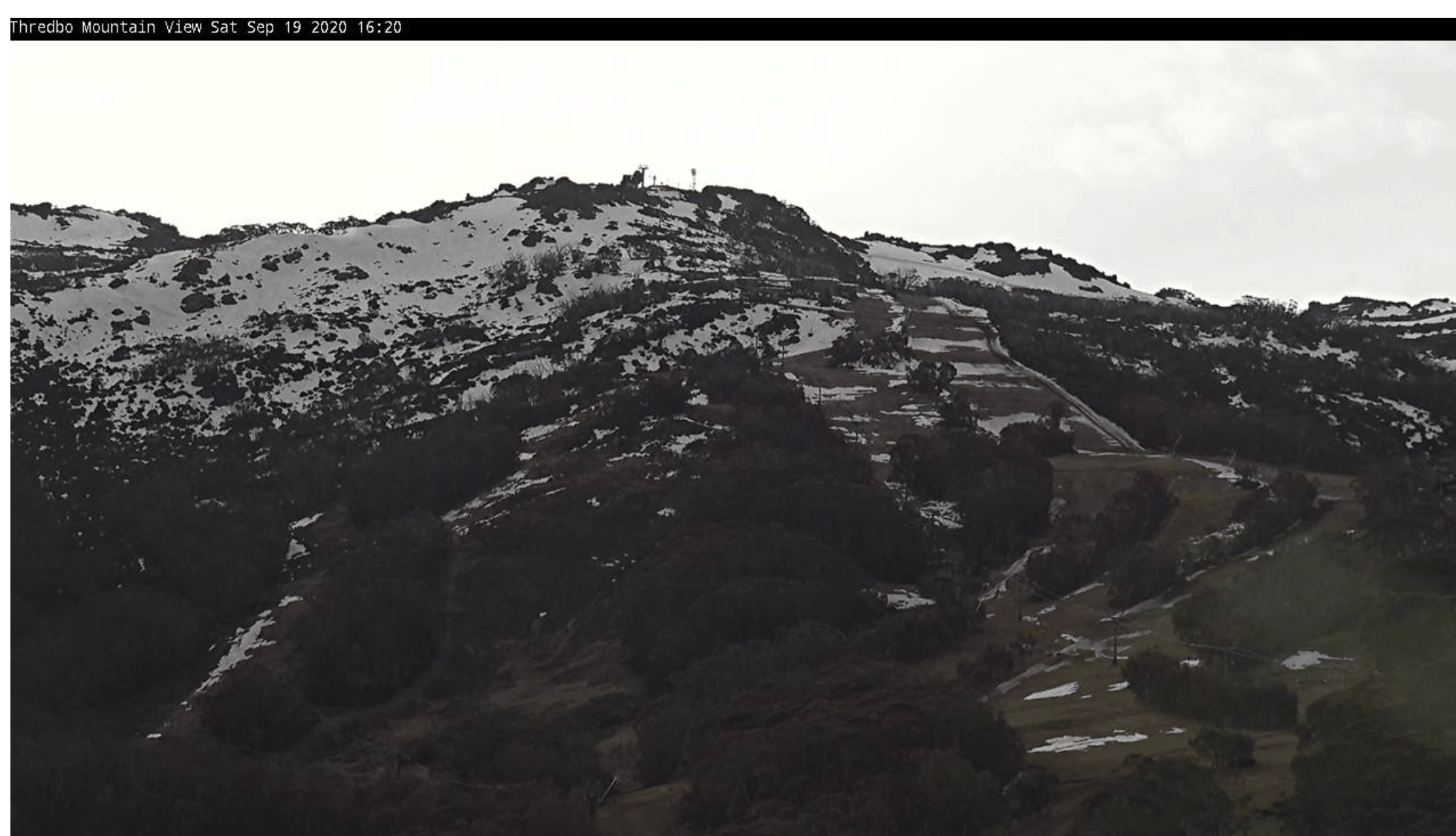 In a case of  "you should have been in two weeks ago", a  final storm came through two days later, the Grasshopper writing  his forecast that day that, " a cold front & low combo to dump a whole lot of snow this Friday and Saturday – early estimates are up around the 30-40cm mark."
It came through with a blast of cold air and good snow totals, 45cms in the NSW resorts and 50cms in Victoria. It set up one last powder weekend in Perisher and a few good days in the backcountry, including in Victoria after the easing of lockdown restriction for regional Victorians.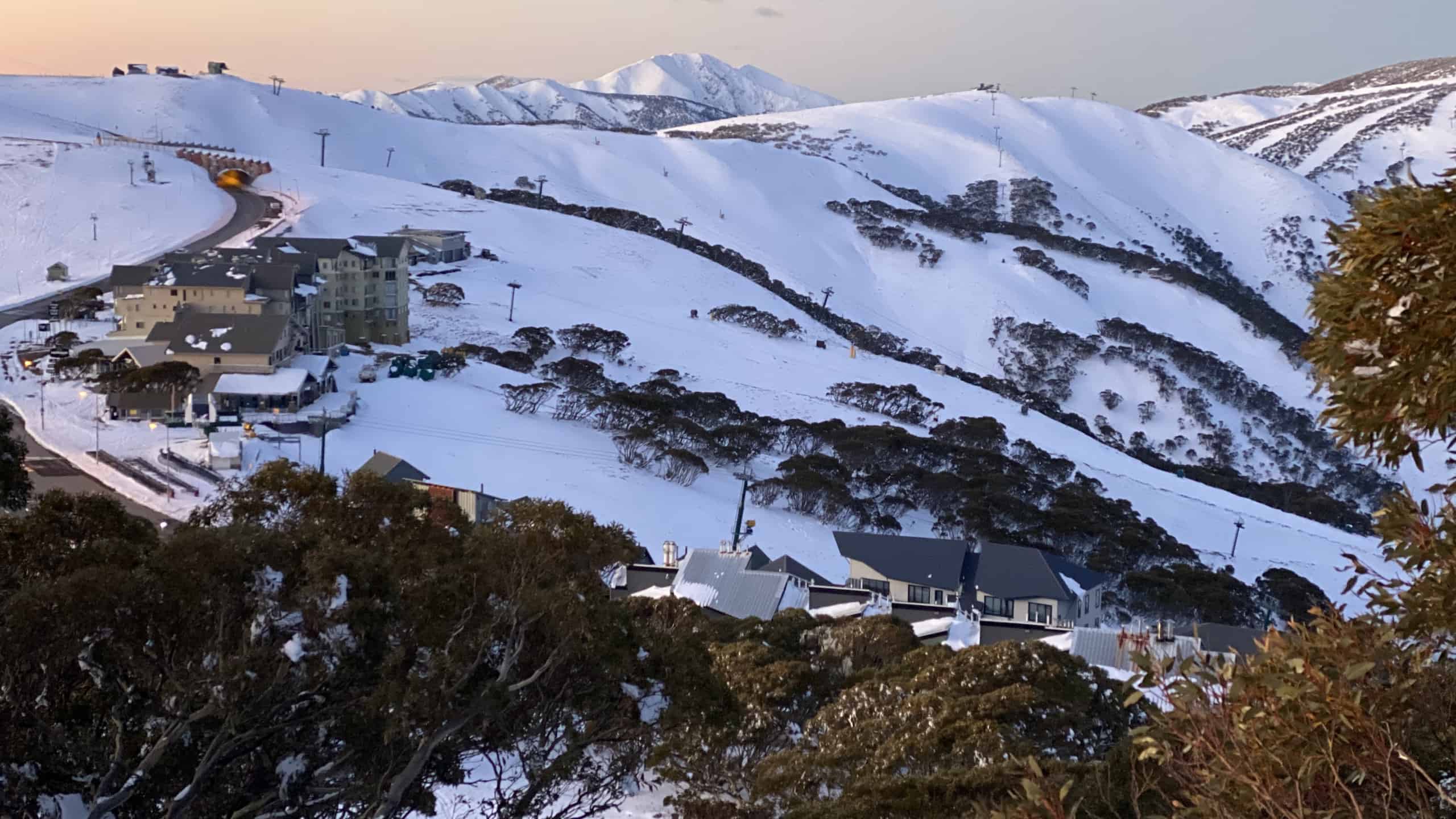 After the storm, it was back to warm weather and northwest winds and another fast melt-down with Perisher just having three lifts open on closing day. But they made it.
So, what to make of the season? As far as the snow goes it was below average with only three storms and with a month between each storm and periods of warm weather, the base never had a chance to build. However, for those living in New South Wales there were some good days with fine weather, corduroy groomers while Perisher's terrain parks were on point. If you timed it right there were also some really good days, the period of August 19-26 without doubt the best week of the year.
The Covid restrictions created a very different season in and with no on-snow events,  no après scene or live music, the overall vibe was different and the atmosphere was very, flat off and on the mountain.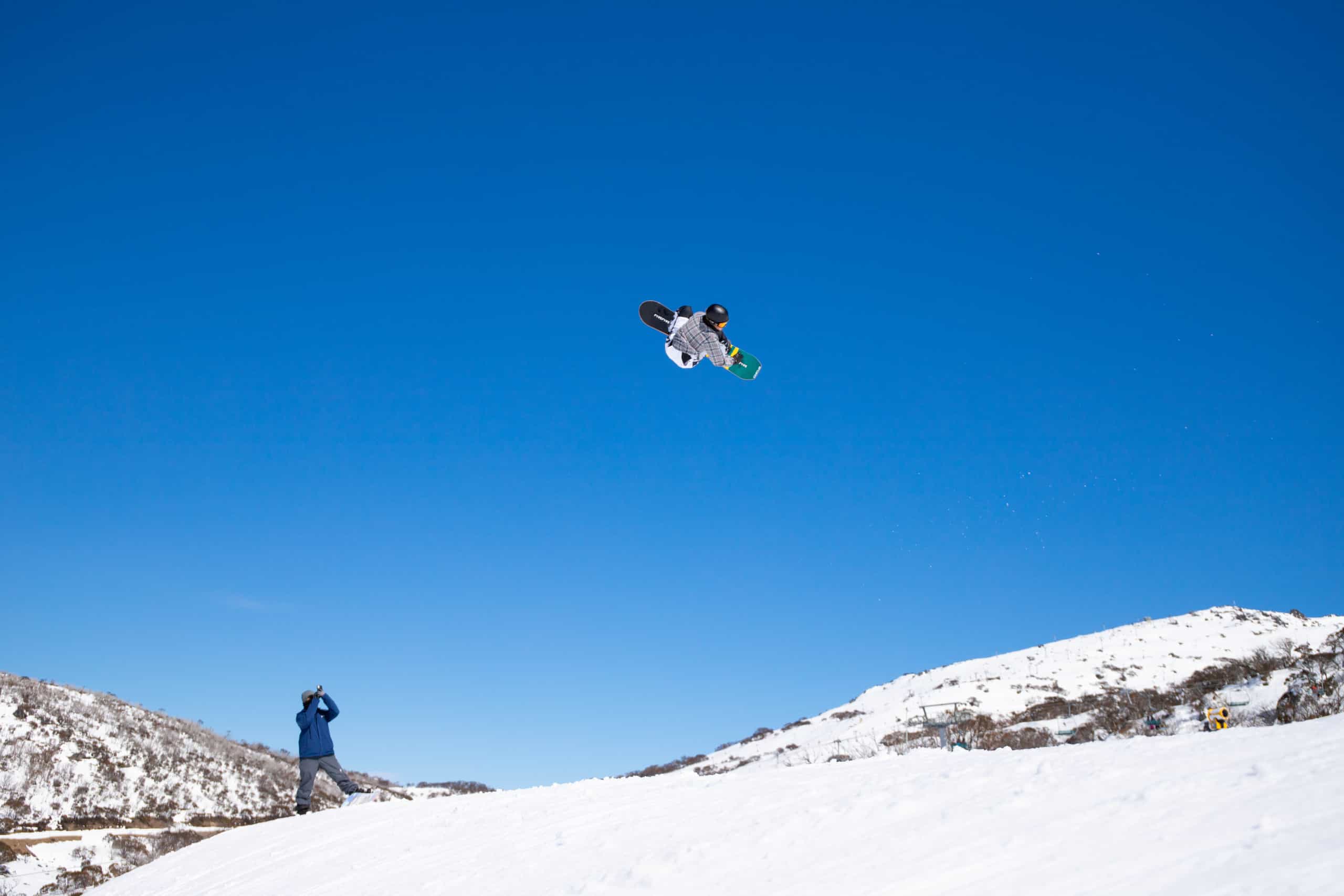 But at least Perisher, Charlottes Pass and Thredbo were open for most of the winter and skiers and snowboarders in NSW had a season and the resorts deserve a big congratulations for making it happen in such a challenging year.
It was a different story in Victoria where, despite the and commitment to get the season open, Buller and Baw Baw managed to squeeze out six weeks with lifts spinning on limited terrain while Falls and Hotham only managed four days.
The ramifications for those communities and the snow industry will be felt for quite a while and hopefully we won't see another season like it.