BOOTHY's BLOG – The Marvels of Modern Technology
July 13th, 2010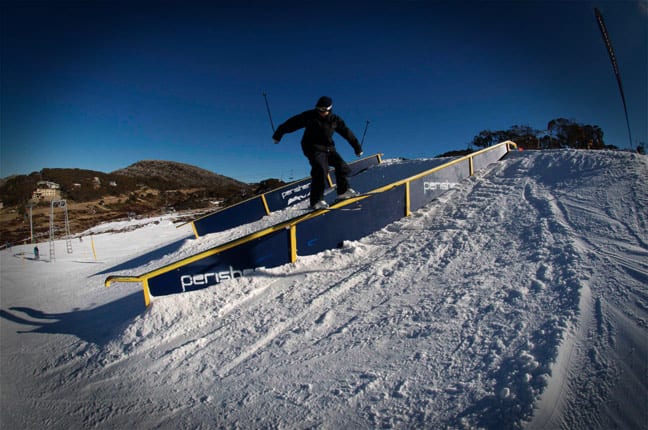 Boen Ferguson enjoying the PlayStation terrain park at Perisher – beyond the snowmaking areas the hills are very green. Image: Ben Hansen
Blog | Chris Booth
I'm not sure what the reports are saying, but there isn't much snow. Rocks, grass and little green tussocks dot the mountain like bad skin. The resorts are looking very thirsty and the snow cats completely redundant, confined to the rear of the parking lot. In their place, Land Rovers ferry families to their lodges, and hum along the 4km of dry road leading Charlottes. It's definitely a low-tide start to the season, and the storm that defines the winter is a little tardy.
But if you were burning hot laps down the Ridge chair at Blue Cow today, you would never have thought it. Or, if you were following your buddies down towers on Mt. Perisher this morning you would you'd be trying not to smile. If you were hitting jumps in the PlayStation terrain park on Front Valley at lunch-time you'd be thinking 'liar'. And if you were standing at the top of Zali's this afternoon, as I was, in the clear blue air, looking down at the sea of clouds sitting in the valley below, you'd be wondering why you even mentioned all those things in the first paragraph.
Thanks to Perisher's extensive snow-making infrastructure and dedicated staff, the resorts best runs feel like mid-winter all season long. It's bloody unbelievable.
Snow is on the way for Perisher. Check out the snow cams, daily snow reports and forecasts
Want a guarantee on that snow? Check out the Perisher Snow Guarantee
Perisher forecasts,
snow reports and
live snow cams