Conrad Anker Coming to Australia – A Life In Adventure
June 28th, 2018
Mountainwatch | Events
THE NORTH FACE SPEAKER SERIES AUSTRALIA
Presenting Conrad Anker: A Life in Adventure, Live in Sydney and Melbourne
For someone who's been around the world and is hailed as one of the best modern adventurers – a position that's seen him become Captain of The North Face Global Athlete Team, we were surprised to learn Conrad Anker has never been to Australia.
This surprise quickly turned to excitement upon learning he would be making the trip down under for the first time in July to tell his inspiring story live over two nights in Sydney and Melbourne as part of The North Face Speaker Series Australia.
On his visit to Australia, Conrad Anker says, "Australia captures the imagination. Since I was a youngster I've longed to visit this continent and the cheerful people that make it special. Thanks to The North Face I'll have the chance to visit and share my story of adventure and alpinism with audiences in Sydney and Melbourne. I'm looking forward to meeting new friends and experiencing Australia."
Conrad Anker is considered 'a climber's climber' his bio describes him as equally at home on a faraway alpine wall or the sparkling ice of his home canyon, Hyalite, in southwestern Montana.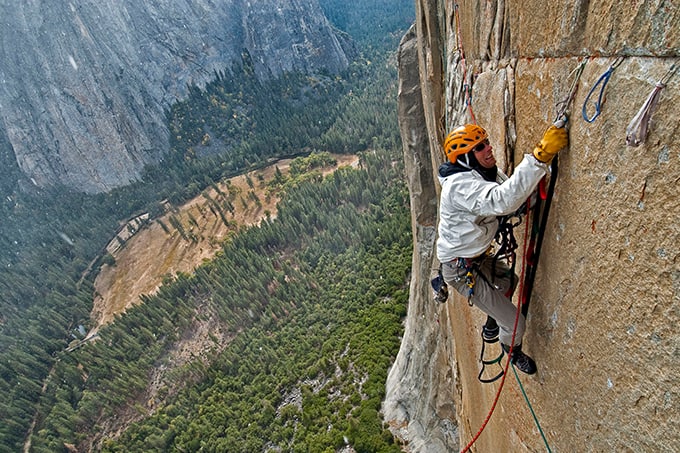 The North Face rightly describes Conrad as "the master of technical mountaineering" and his list of accomplishments and the company he keeps confirm as much.
Biography and Climbing Achievements
The climbing journey he began as a child has taken him from the northern realms of Alaska and Baffin Island to the farthest southern reaches of Patagonia and Antarctica, where in 1997 he, with Alex Lowe and Jon Krakauer, climbed Rakekniven, a 2,500-foot wall in Queen Maud Land. That climb led to both a film and magazine piece by the National Geographic, an organization that Conrad continues to collaborate with. In Patagonia, Conrad climbed the three towers of the Cerro Torre group, ascending new routes on Torre Egger and Cerro Standhardt. Across the globe in Pakistan's Karakorum, Conrad climbed the west face of Latok II via the route "Tsering Mosong," Balti for "long life." For perspective, the route begins at the altitude of Denali's summit, then climbs 26 vertical pitches before topping at 23,342 feet. In Pakistan, Conrad and rock legend Peter Croft climbed Spansar Peak, a first ascent by way of a 7,000-foot ridge the pair ascended in a day with minimal gear.
In May 2012, Conrad summited Everest for the third time, leading an educational and research-based expedition to the Southeast Ridge with The North Face, National Geographic, The Mayo Clinic and Montana State University. That summit came without supplemental oxygen, a distinction claimed only by the world's top climbers.
Thirteen years prior, in May 1999, Conrad found the body of George Mallory, the preeminent Everest explorer of the 1920s. The disappearance of Mallory and Sandy Irvine on their summit bid of June of 1924 is one of climbing's great mysteries. Conrad's discovery and analysis of the find as a member of the Mallory & Irvine Research expedition shed new light on the pioneering climbs of early expeditions. Eight years later, in conjunction with a feature film about the disappearance of George Mallory called "The Wildest Dream," Conrad reached the summit of Everest for the second time.
Although he's been feted and recognized internationally – along with partners Jimmy Chin and Renan Ozturk — for the May 2011 ascent of the Shark's Fin on 20,700-foot Mount Meru, Conrad took equal pleasure in his recent summit of Denali with his oldest son, Max. Mindful and appreciative of the beauty and grandeur of both places, he remains grounded by and connected with the partners who give such trips the full measure of value. The Shark's Fin, an iconic spire that repelled some of the world's best alpinists for three decades, fulfilled the dream of Conrad's mentor, Mugs Stump, whose life convinced Conrad that life in the mountains was a life worthwhile. When the trio reached the final pitch, Chin urged Conrad to lead the final pitch. He demurred, offering the honor to Jimmy. "The Shark's Fin had been Mugs' dream and then, for a while, mine," Anker wrote in Alpinist Magazine. "… It was already time to pass on that metaphysical ball of knowledge to someone younger.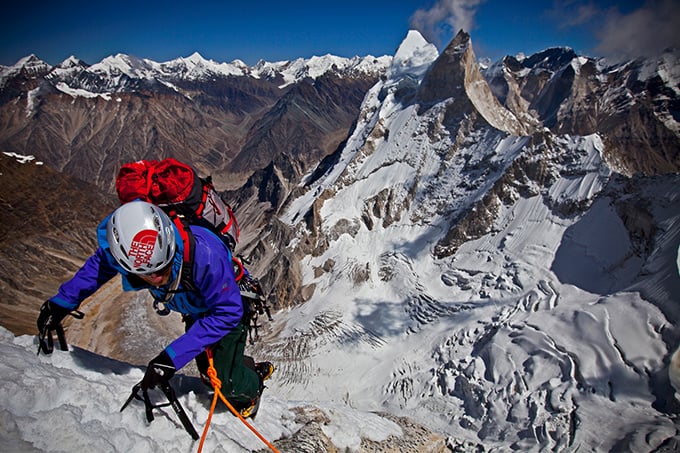 The North Face Athlete Team Captain
As captain of the The North Face Athlete Team, Conrad has something of a pulpit, and he's quick to use it, urging, for instance, climbers to be boots on the ground in observing the changes wrought by man-made climate change. He's also civically active at home, serving on the boards of the Montana State University Leadership Institute, Protect Our Winters, Bozeman Ice Tower Foundation, Gallatin County Fair Board and the Alex Lowe Charitable Foundation, a Montana based non-profit that funds the Khumbu Climbing Center in Phortse, Nepal.
"I've learned that these things—my family, my passion for climbing and for being a force for good in the local community and in the larger community—are the source of happiness for me," he says.
"I know that life will keep changing and keep throwing new challenges my way, but my intent is always to embrace them and explore them and find a way to turn them into an experience that's rewarding. Even when we're suffering, whether it's in the mountains or because of something going on at home, trying situations are a way to understand our human condition. You have to try to rise above the adversity. I like doing that."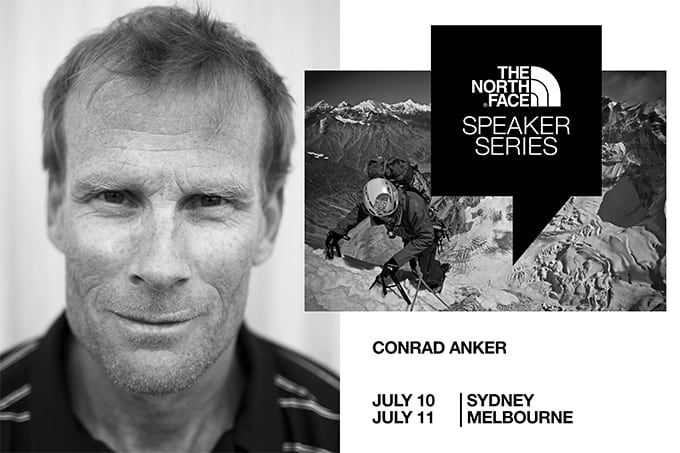 About the Event
At the two Speaker Series events, Conrad will present his life of adventure, sharing what inspired him to pursue a career in the mountains along with tales and stunning footage of climbing the world's most remote and challenging peaks, from expeditions on Meru to Queen Maud Land in Antarctica. Following the presentation will be an exclusive interview with Conrad, conducted by The North Face adventurer, Justin Jones.
Doors open at 6:30pm, guests are encouraged to come early, grab a drink, mingle and meet the legendary climber. The Presentation will begin at 7:00pm and upon its conclusion, an exclusive interview will be conducted by The North Face adventurer Justin 'Jonesy' Jones.
SYDNEY
Tuesday, 10 July
Seymour Centre, York Theatre

MELBOURNE
Wednesday, 11 July
Hawthorn Arts Centre
TICKETS: $35 + booking fee
To support the Mountain Youth Services Team, $10 from each ticket will be donated to aid the development of their Outdoor Explore bush adventure therapy program.
Ticketing information @ thenorthface.com.au/conradanker.
Conrad's Website: http://conradanker.com
Conrad's Instagram: https://www.instagram.com/conrad_anker/