Girls Go Ride as the Snow Dumps Down – Roxy Girls Go Ride Recap – Thredbo
September 6th, 2017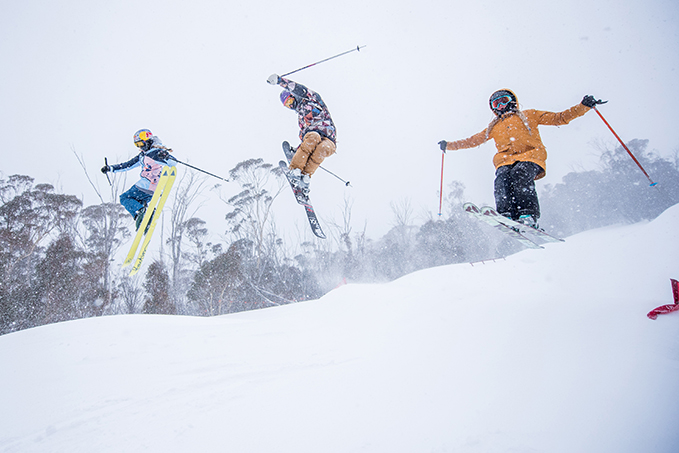 Don't stop, won't stop. Despite formidable weather, the ultimate girl gang gathered at Thredbo on Monday for the Roxy Girls Go Ride Day. Image:: Provided
Mountainwatch | Lulu Wilkinson
The return of the "Blizzard of Oz" saw around 70 chicks hit Thredbo for a day of riding with Torah Bright and Kelly Sildaru.
With a wind chill in the minus 20s and the #BlizzardofOz3 well and truly making its presence felt, Girls Ride Day seemed like it might never happen. But come 9am, the determined chicks started arriving right as the fat white stuff really started dumping from the sky. Nothing was stopping this level of froth.
Roughly 70 girls 14 and up, of varying abilities across boards and sticks were matched with a team of expert coaches (aptly wearing matching pink jackets emblazoned with 'Coach' on the back), including Olympic legend Torah Bright and X-Games wunderkid Kelly Sildaru.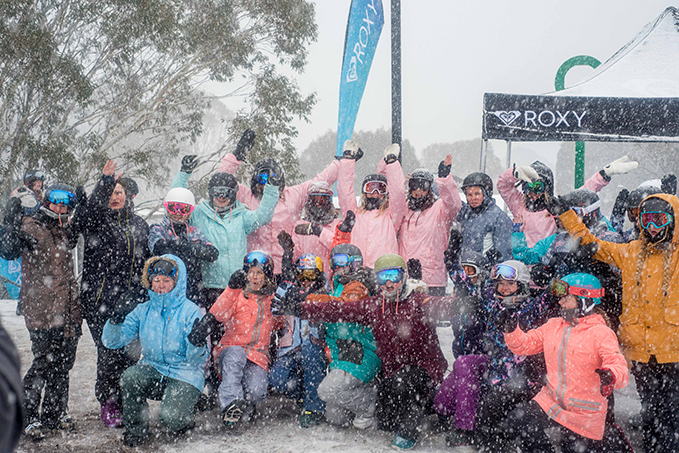 They came in droves, and the first stop on their Thredbo take over was Friday flat, then the girls took to the rest of the mountain with little encouragement from the Coaches. Image:: Provided
"I love that we are doing the Girls Ride Day here at Thredbo," said Torah. "I actually learned to ski here on Friday Flat and I've got many, many memories [here]. It's pretty cool to be able to share the magic."
She gave the crowd a pep talk to kick things off. "This is what it's all about," she said. "Bringing women together who love board sports and who are united in the love of doing cool shit! Thank you for showing up and let's go have some fun!"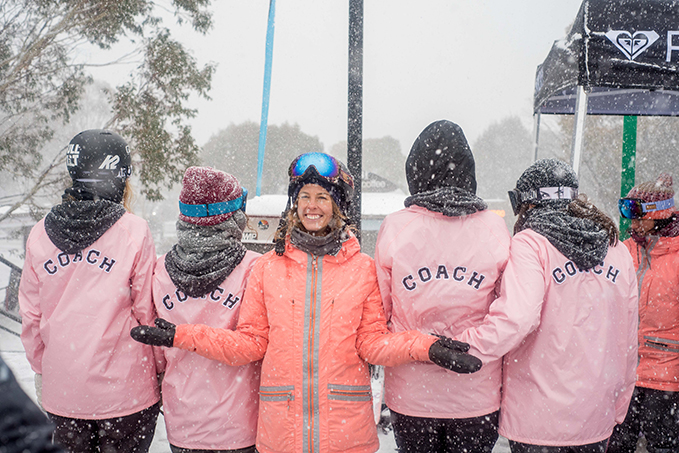 Torah Bright and Kelly Sildaru led the low-pressure coahing regime. Image:: Provided
Everyone hit the lifts for a top to bottom slide to warm the legs up. It was a supportive, fun group ride where girls hooted one another, waited for a friend to catch up or raced one another through some pretty delicious powder.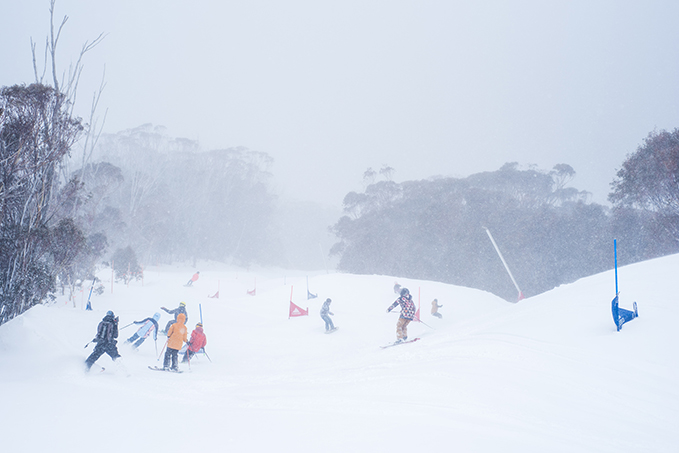 No powder stash left untouched, no berm left unturned. The girls snaked their way through the boardercross course on High Noon in the morning. Image:: Provided
Then it was time to split off into smaller groups. Most chicks hadn't mucked around in the park or attempted jumps or tricks of any sort but by the end of the day, just about everyone had hit the box or smashed the rail. The friendly, encouraging vibe was exactly what Roxy had hoped to capture by putting the event on and it delivered in spades. New friendships and riding buddies were formed, girls yelled out shouts of encouragement to each other and everyone pushed themselves beyond what they thought they were capable of.
"We cruised around riding some powder in the morning, and went to the parks and it was soft and nice," said Torah. "It was kind of amazing how everyone was just empowered to live outside of themselves and push themselves, because they were part of something cool."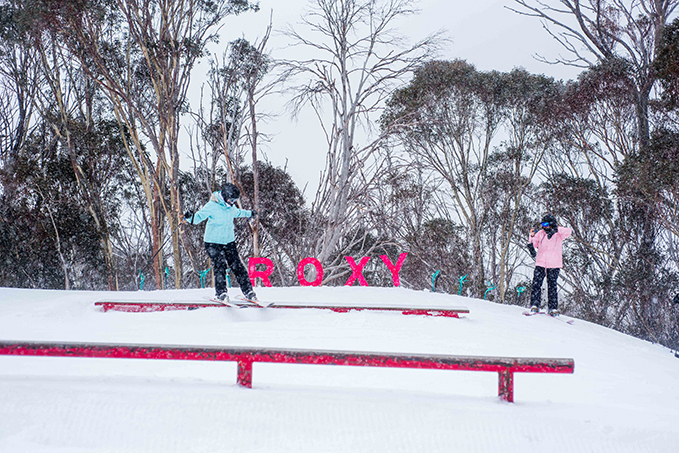 The vibe was high and it was time to take on Cruiser Park, in an all-inclusive, zero-pressure park session with Torah and Kelly leading the charge. Image:: Provided
As everyone wolfed down some sandwiches and the snow kept on falling, the winds picked up to arsehole levels and a rumble started about whether or not the event would continue into the afternoon. But there wasn't even a question in the girls' minds – with fresh Roxy boards on offer to try out and sweet gear to sample, the girls were buckling up and hitting the hill again, keen to make the most of Kelly, Torah and the coaches' tips. It helped that they had also been gifted a highly relevant freebie of a Roxy x Biotherm neck warmer that actually moisturises your face while you wear it (seriously epic). Torah explained it was her number one tip for riders. "You don't know what the weather is going to do – get a neck warmer! It is my comfort, it is something I don't ride without, on a snowy winter's day or a sunny spring day. This is a gem to have."
The whole day was free – girls just had to BYO lift ticket – and with most groups having just five members it was an unbelievably good opportunity for chicks to taking their riding next level.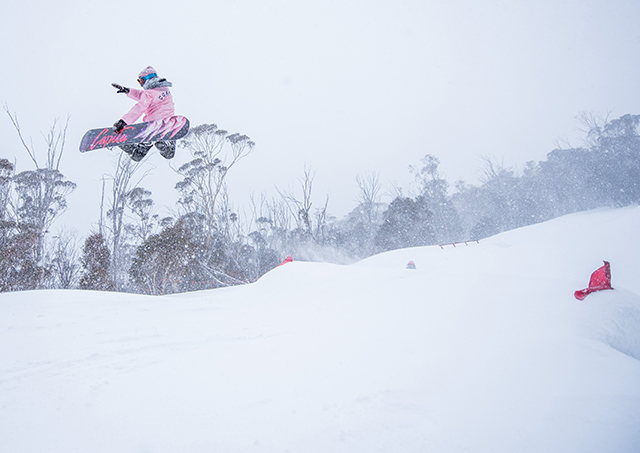 In a total show of strength, Womens Snowboarding and Freeskiing is alive and well in Australia, and like this method – it's looking might good. Image:: Provided
"When you're challenging yourself, you're expanding yourself and that's what life is all about," Torah said at the end of the day. "You do need to bring out a little bit of courage and grit – keep going when something gets you down."
"The Roxy Girls Ride day has been amazing," she continued. "It was a little bit challenging with the conditions, but the whole crew turned up … all just united in the love of shredding! The Ride Day is about making new friends, new shred buddies, learning new skills and just being a part of a girl community who love shredding. I've been riding around the mountain and it's girls gang galore – and I love it!"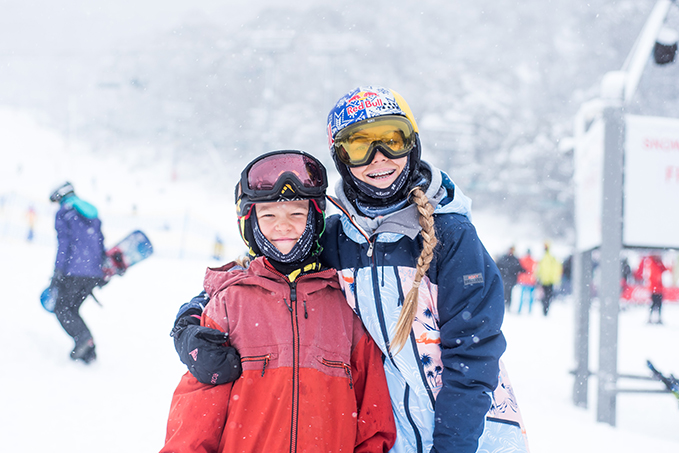 Smiles for miles that's what the Roxy Girls Go Ride Day is all about. Image:: Provided
Thredbo forecasts,
snow reports and
live snow cams.