Keeping an Eye on the Season's Snowpack
August 16th, 2022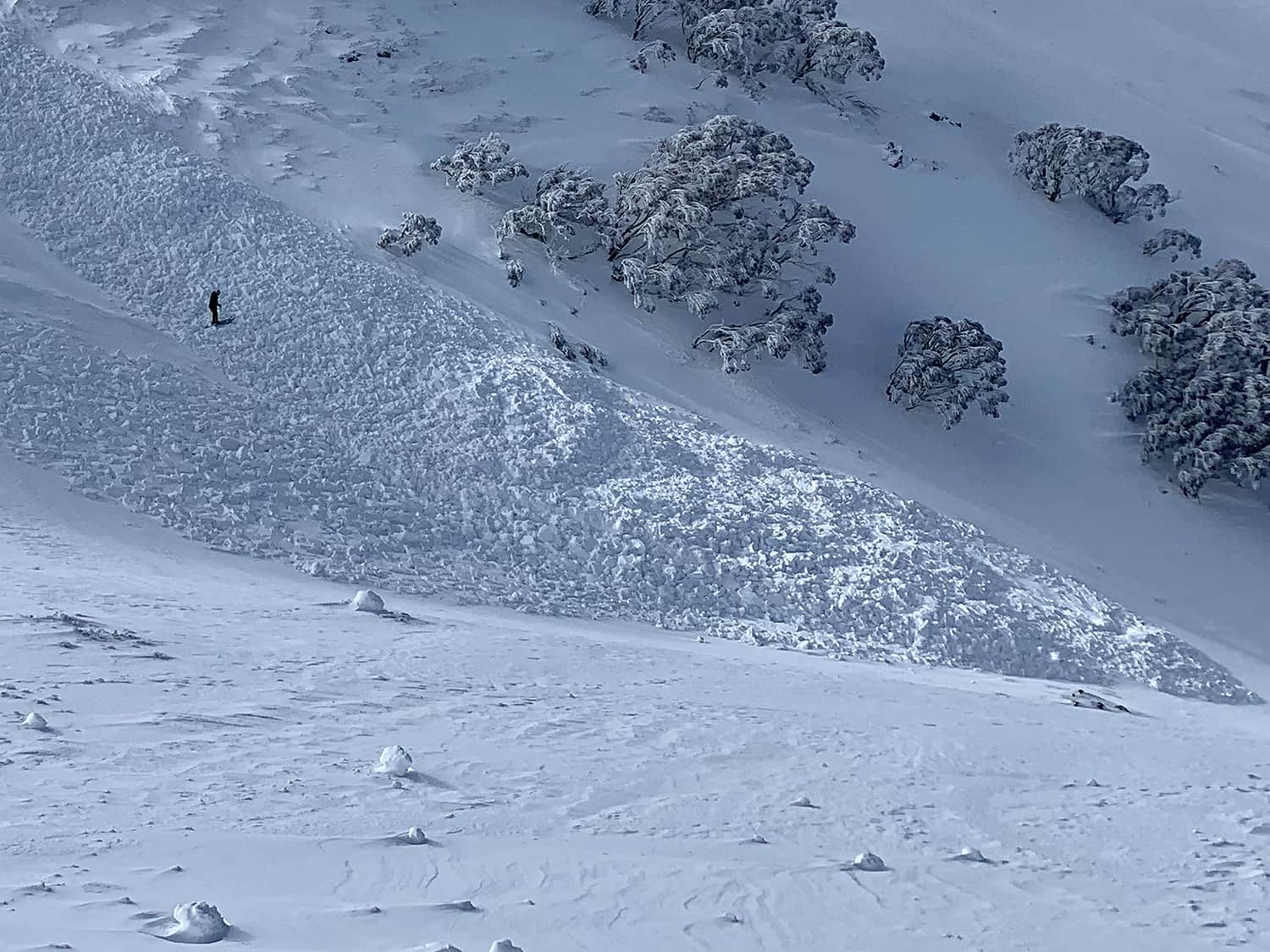 Mountainwatch | Owen Lansbury & Craig Sheppard – Mountain Safety Collective
If you spend time in the backcountry, one of the best things you can do to make safe touring plans is having a sense of what's been happening in the snowpack throughout the season.
You might have checked today's MSC Backcountry Conditions Report, but do you know what yesterday's was? Last week? Last month? Do you know which layers have been a concern? What caused them? How deep are they? How likely are they to release in an avalanche?
Without geeking out on too much snow science, at Mountain Safety Collective, we have a team of people keeping tabs on exactly that. Our field observers are noting daily changes out in the backcountry in terms which aspects and elevations have the best snow, what hazards we need to be aware of and how the snowpack is changing over time by digging frequent snow profiles. All of this data is constantly fed into our reporting tools and then analysed by our qualified forecasterswho use the information to compile the daily reports through the snow season.
The old refrain of "We don't get big avalanches in Australia" is starting to taper off in the local backcountry community as reporting improves, and it's now the norm, rather than the exception, for people to get trained in avalanche awareness and safety. We've also had a start to the season that has thrown the notions of Australia as having a generally safe and stable snowpack out the window.
Early June started with a bang, with a metre of season-starting snow. That snow sat there for a few weeks without any substantial new snow, had some rain (possibly a contributing factor to the large Sentinel Ridge wet-loose avalanches), then re-froze and created a hard, icy base for any subsequent snow to fall on.
In mid-July we saw a series of small tops-ups of snow that didn't seem anything to get too excited about. While the reported volume was relatively small, the consistent strong westerly winds deposited it into wind drifts on easterly slopes and we saw dry snow accumulating to depths of over 50cm in some places with many cornices growing to a couple of metres.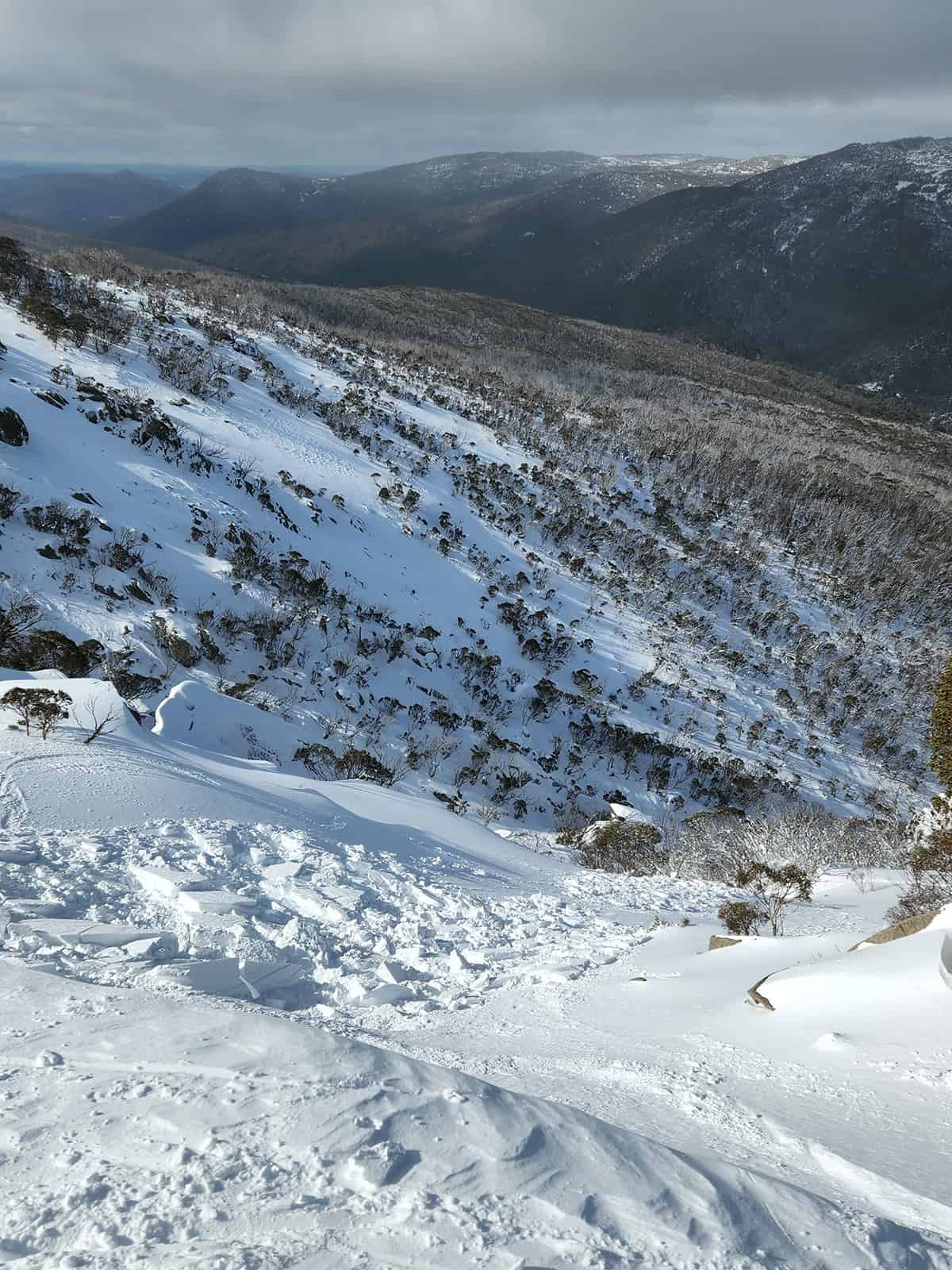 Around this time we started getting reports of skier triggered avalanches occurring in and out of the resorts. An ice climber at Blue Lake triggered a wind slab and was pushed over a cliff – no injuries reported. Another slab avalanche inside a resort had a crown 2m high, 50m wide and ran for 100m, triggered by a controlled cornice collapse. Skiers also triggered an avalanche just outside of a resort boundary – again, no injuries reported, but a good reminder that easily accessible "sidecountry" is uncontrolled avalanche terrain.
Why were these avalanches all happening? Because the new windloaded snow was not bonding well to the hard, icy, bed surface from the season's initial snowpack, and sliding on that layer.
A bluebird day on Wednesday July 20 revealed the extent of this problem, with a Size 3 avalanche (Big enough to destroy a timber house as per the Canadian avalanche scale) naturally releasing on Twin Humps in Leather Barrel Creek. On the same day, ski tourers around Mount Townsend reported multiple, very loud whumpfs on flatter areas. A 'whumpf' is the sound that occurs when there is a collapse in snowpack on a weak layer that suddenly releases the air underneath and is a rarely reported occurrence in Australia. Whumpfing can be a sign that an avalanche has the potential to propagate along that weak layer, and can result in the remote triggering of avalanches on steeper slopes above.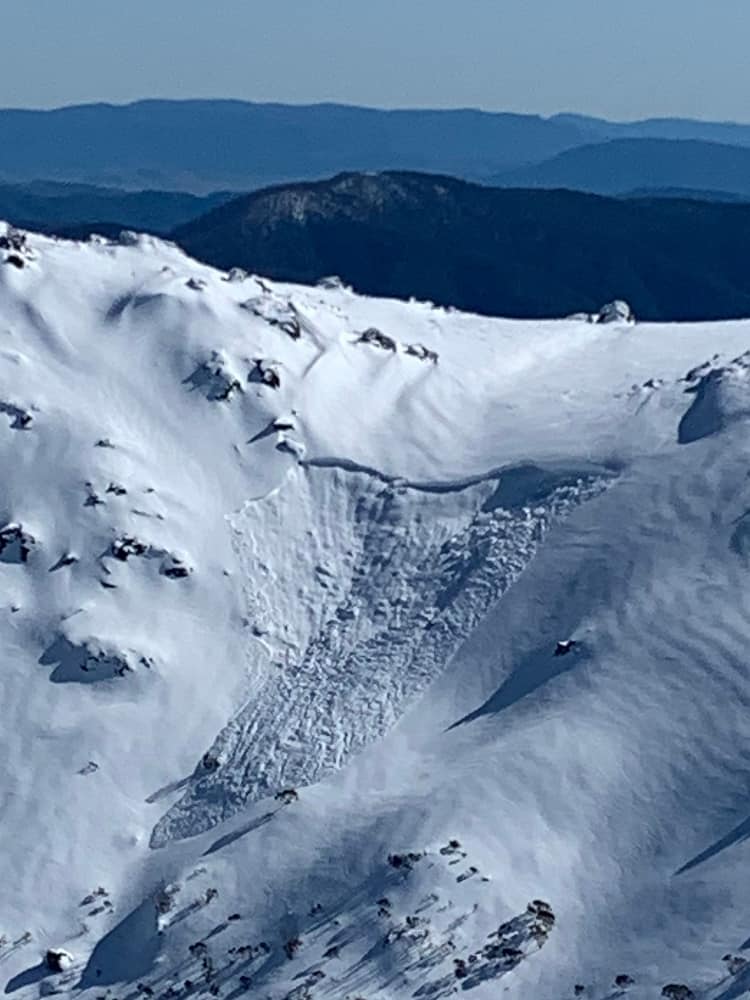 Victoria reported their own large avalanche just outside a resort boundary during the same period. This avalanche propagated deeply across the weak layer in a wide gully and created a large debris field.
While the slab became harder to trigger in snowpack tests as the days wore on, there were still concerning results (i.e. Sudden collapses and smooth releases on the layer of concern). It was still possible to trigger an avalanche and the consequence was large enough to maintain a high degree of caution – i.e. big enough to kill someone in the wrong place at the wrong time.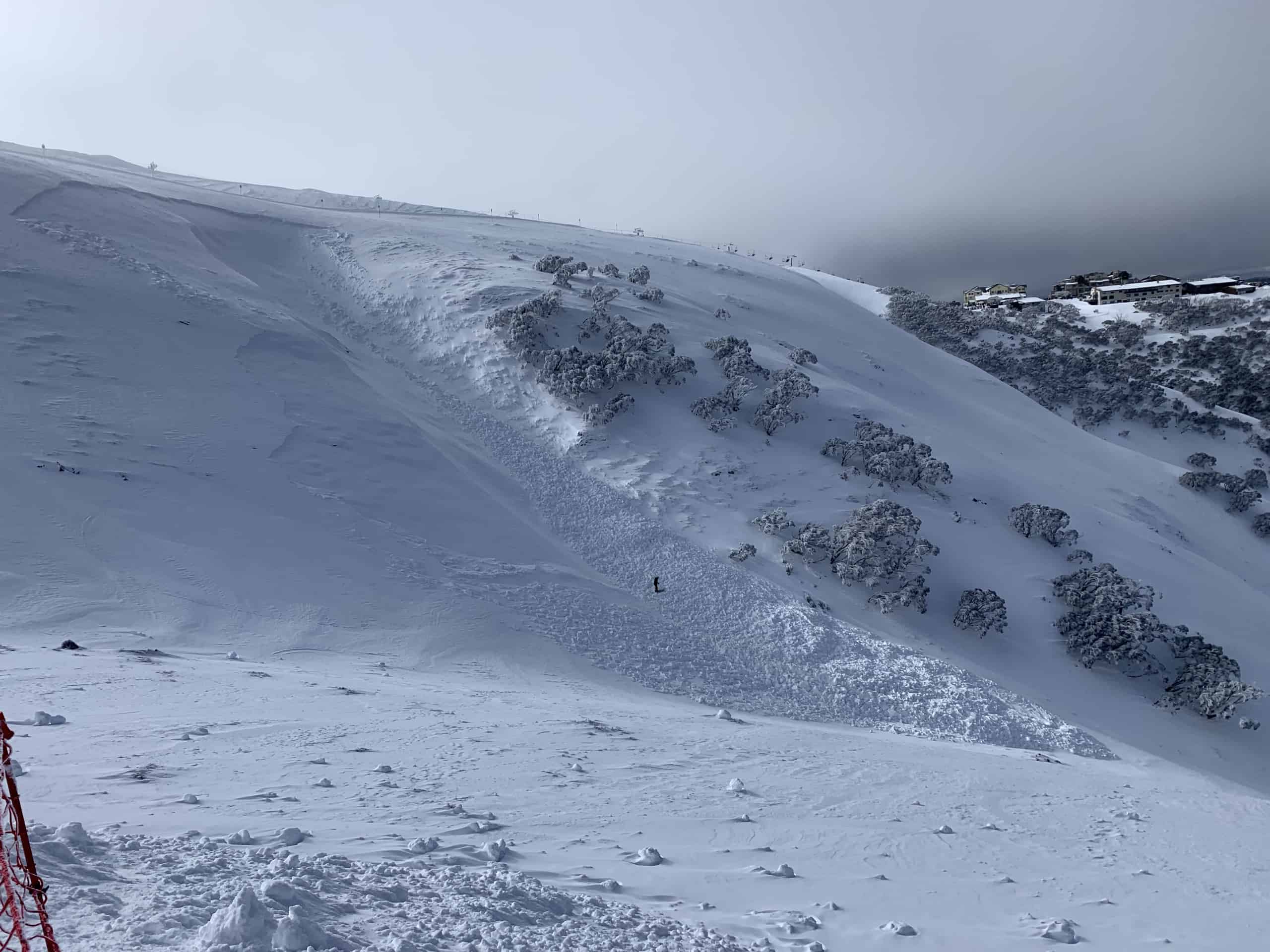 On Tuesday July 26, a band of pre-frontal rain swept over the mountains. This type of event is initially concerning, as it creates more weight in the upper snowpack with the potential to trigger an avalanche on the weak layer below. However, if the rain can penetrate to the weak layer, it may start promoting better bonding as it refreezes.
In this case, Victoria saw more rain in the following days, which did appear to penetrate to the weak layer and break it down enough to lower (but not eliminate) the risk of slab avalanche on that weak layer. In NSW, the initial rain appeared to only penetrate about 20cm into the snowpack, leaving the weak layer in place deep below.
At this point MSC changed the avalanche rating in Victoria to Low – while the slab may still have triggered, it was unlikely, and the size of the resulting avalanche was expected to be small because that weak layer was less robust and widespread. In NSW however, the avalanche rating continued at Moderate – the slab could still release in the right conditions, such as a skier load or a cornice collapsing on it. The size of the resulting avalanche was expected to be larger because the weak layer was more widespread and intact.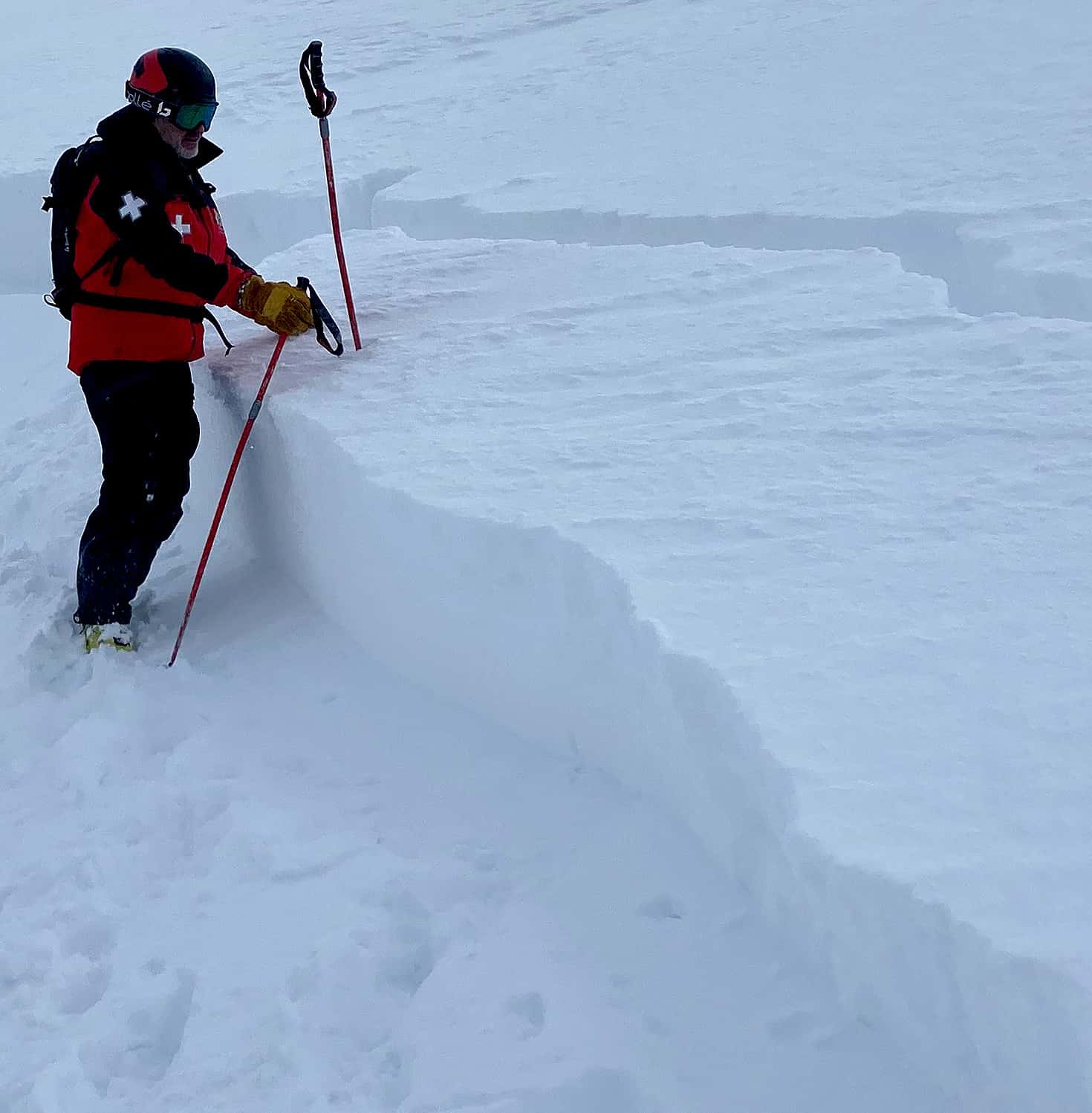 The layer these avalanches were sliding on is called a Persistent Weak Layer (PWL). PWLs can last throughout the winter, and mean that an avalanche on that layer can always be in the back of your mind. If you were in Canada in Winter 2021-2022, you might recall they had a widespread PWL from December that remained in place until the Spring thaw in May. These types of layers are unusual in Australia as the combination of our warm temperatures, low (but wet) snowfall and frequent rain events often break them down through the season.
 In the last week of July, NSW saw another few centimetres of snow accompanied by moderate winds. We now had a new wind slab problem that was 40-80cm deep on steep easterly slopes in the alpine. It was sitting on top of the older slab, on top of the PWL. With this new wind slab being so reactive (Multiple human triggered events were reported), there was a risk that any new avalanche even only in the new slab might "step down" and trigger a deeper, larger avalanche running on that PWL below. The rating was set at Considerable to reflect the higher likelihood and consequence of a human-triggered avalanche. This is similar to what likely occurred in the large avalanche on Etheridgea few years ago.
A significant rain event arrived in the first week of August as an atmospheric river pulled warm, moist air down from Indonesia over inland Australia and delivered up to 180mm of rain in NSW. While this wasn't celebrated by anyone in the ski resorts, it was actually a blessing in disguise for the backcountry. This rain penetrated deep into the snowpack, setting off a series of large cornice collapses and slab avalanches during or shortly after the storm when anyone in their right mind was tucked up out of the weather.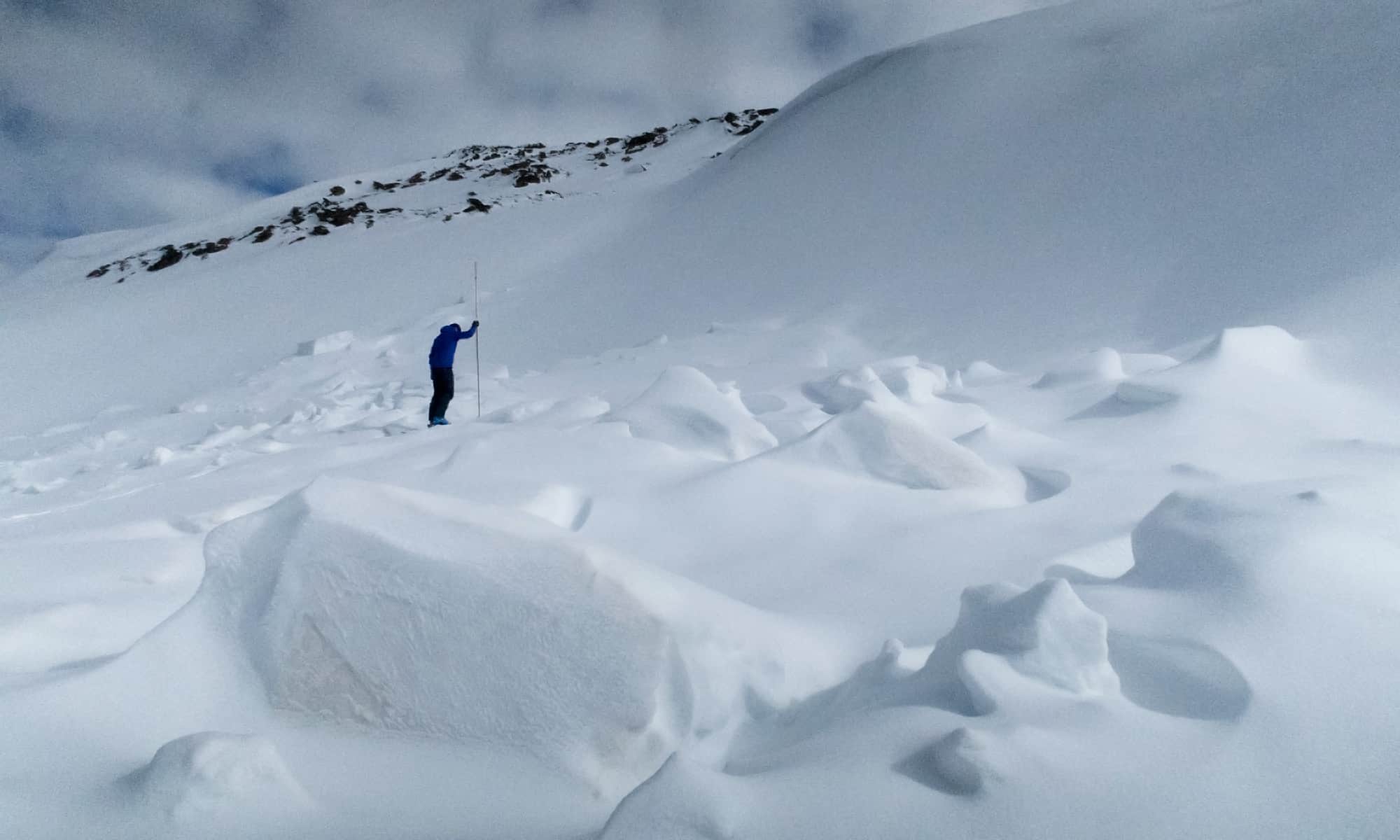 People driving up to Thredbo in the days after the rain would have seen the debris from a large avalanche that released high up in Twin Valleys. Kosci Cornice collapsed 200m across its eastern flank and there were multiple reports of similar events throughout the NSW Main Range. MSC's consistent warnings to avoid travel on or below cornices and steep easterly slopes and to let things settle down before planning any big touring days were right on target.
Snowpack tests in the following days revealed that the rain had penetrated deep enough to start breaking down the layers of concern from July, alleviating the Persistent Weak Layer issues.
Does this mean we're out of the woods in terms of avalanche risk this season? Of course not! It's just a welcome pause after a few nervous weeks gingerly navigating around potential avalanche terrain in the backcountry. The next weather system is already lining up to deliver a lot of new snow through the third week of August, bringing a whole new set of snowpack conditions we need to stay aware of as we plan our backcountry adventures.
The lesson here is we've had an unusually high avalanche risk so far this season. It might be a one off or it could be a sign of the new normal for years ahead as our weather patterns change.
For more information on staying safe in the backcountry, visit Mountain Safety Collective.