Mountainwatch Guide to Myoko – Japan's Powder Capital and Second Stop on The Golden Snowmads Tour
November 21st, 2023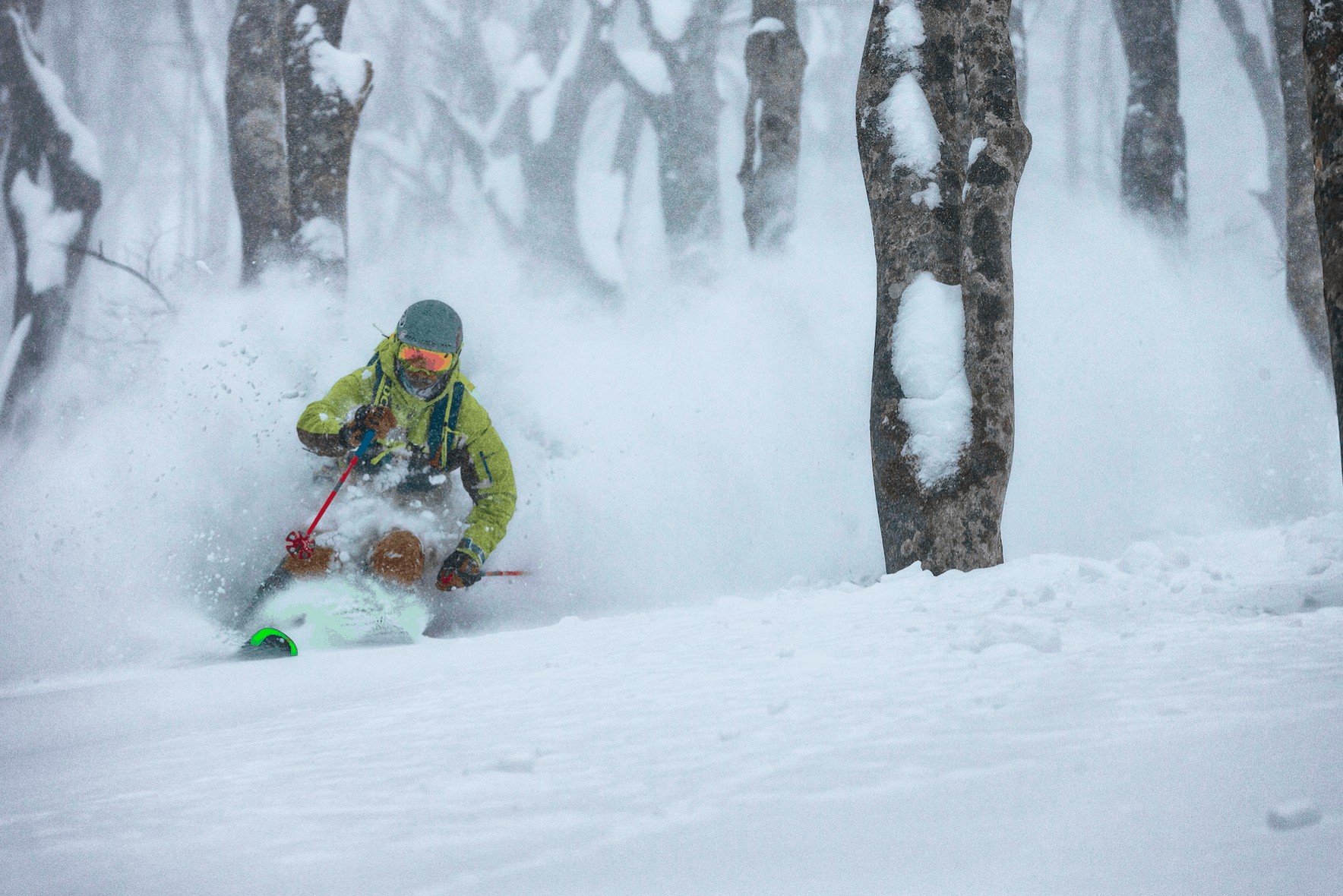 Mountainwatch | Joe Stanco
After visiting Minakami and Tenjindaira in Honshu's Gunma Prefecture, the second leg of  the Mountainwatch 2023 Golden Snowmads tour heads to Myoko one of our favourite resorts in Japan. Located in Niigata Prefecture, Myoko is renowned for its powder, variety of terrain, tree-skiing and accessible backcountry and is a "must visit" destination in Japan.
Joe Stanco has been living in Myoko for a few winters where he owns and operates his store Joey's Myoko and rides powder whenever he can. Here Joey shares his inside knowledge  on his second home for the ultimate guide to Myoko.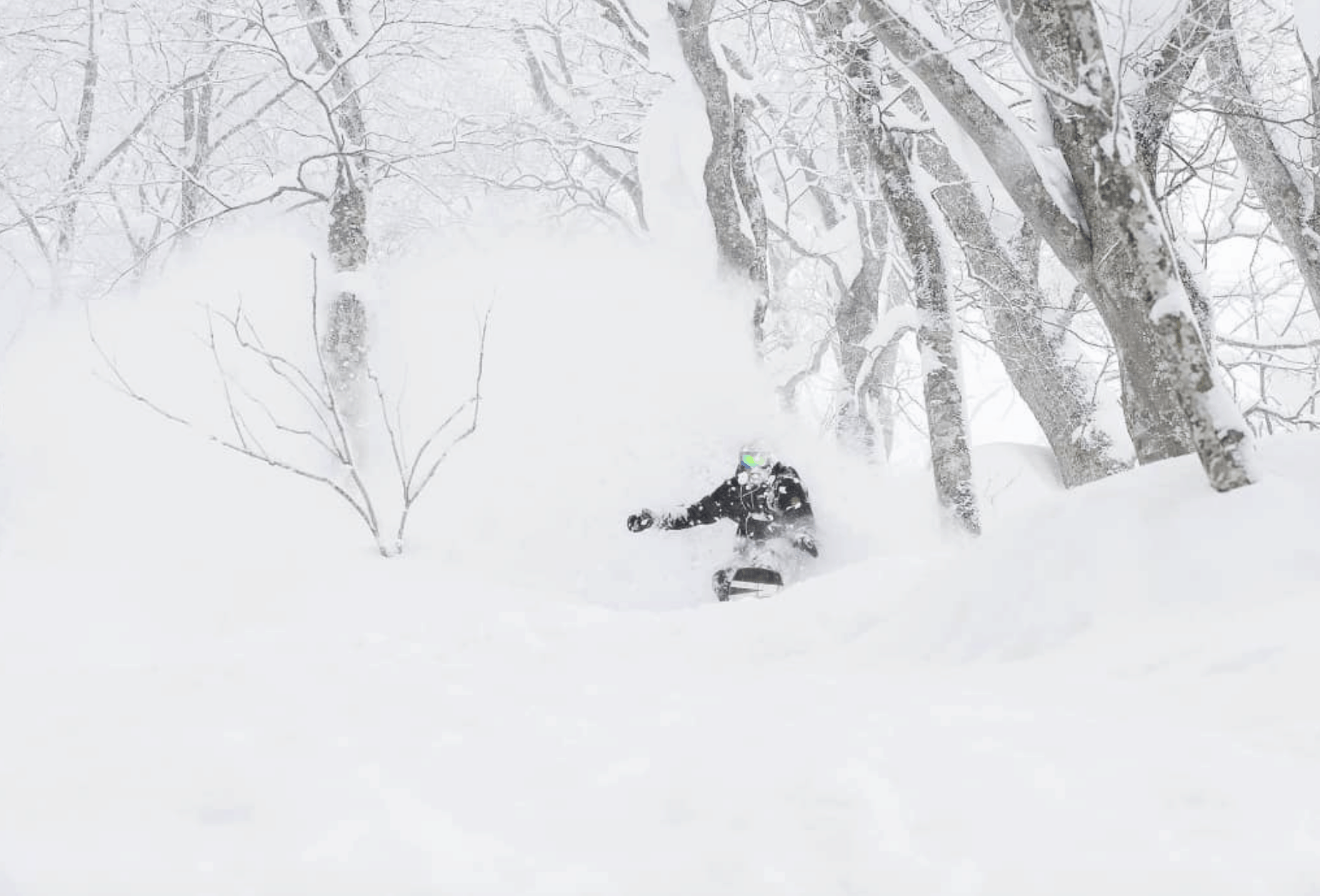 Often referred to as the powder Mecca of Honshu, Myoko Kogen regularly receives an annual snowfall over 15 metres and with seven small resorts which are in close proximity to each other it is one of Japan's best destinations for a snow holiday. There's a variety of terrain from beginners to advanced, but most people come for the powder, tree skiing and easily accessible sidecountry.
 Located in the Nigatta prefecture, Myoko Kogen is a 3.5-hour train ride from Tokyo's International Airports. There are nine resorts within a 45-minute drive of Myoko, but the four major resorts in Myoko – Akakura Onsen, Akakura Kanko, Ikenotaira and Suginohara – are centrally located in the heart of Myoko.
The village of Akakura Onsen is the perfect place to stay as Akakura Onsen and Akakura Kanko ski resorts are within an easy walk to most of the accommodations and you can buy a lift pass for one or both. You can also catch a shuttle to Ikenotaira and Suginohara, the other two ski resorts located on Mt. Myoko.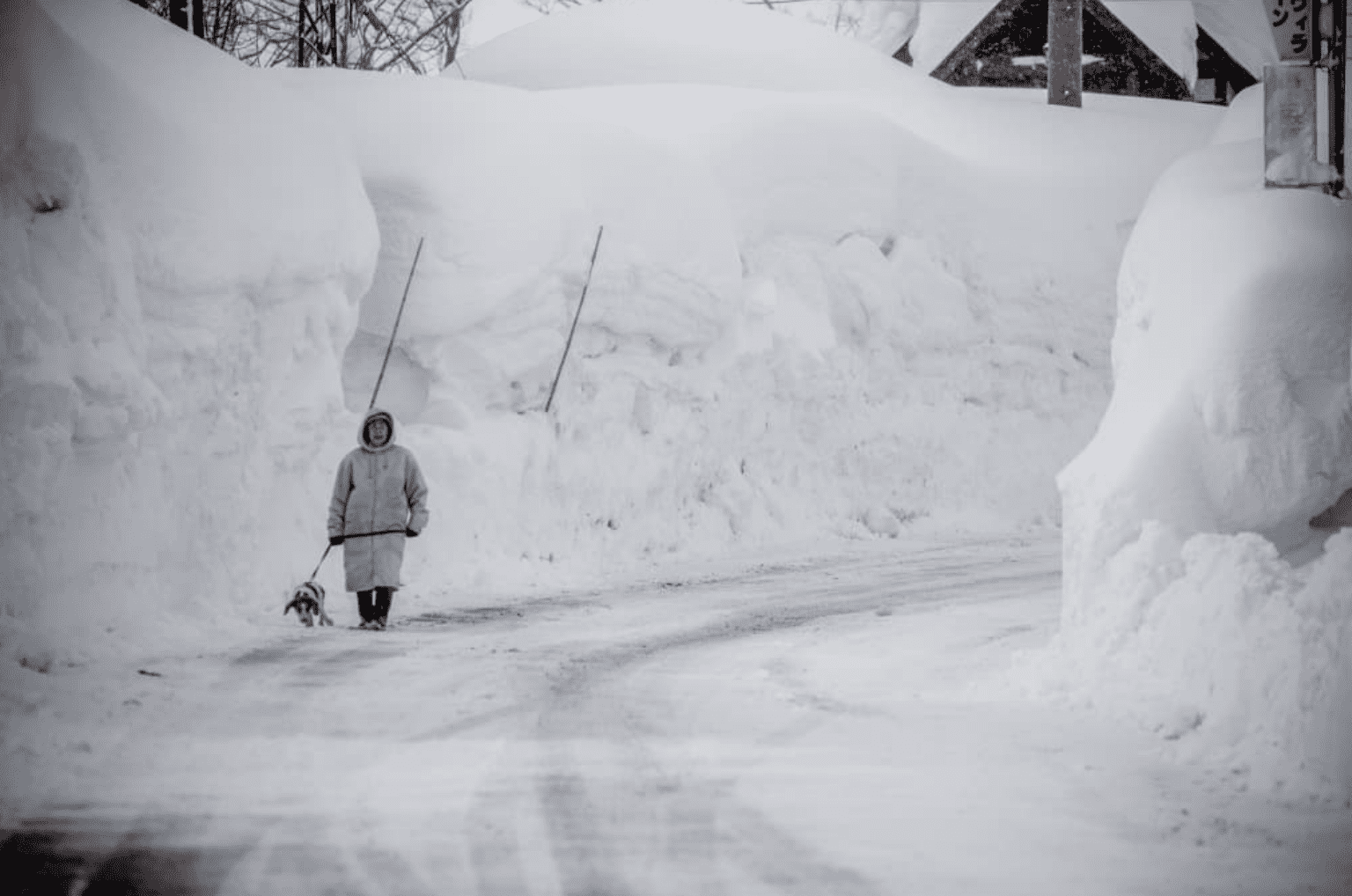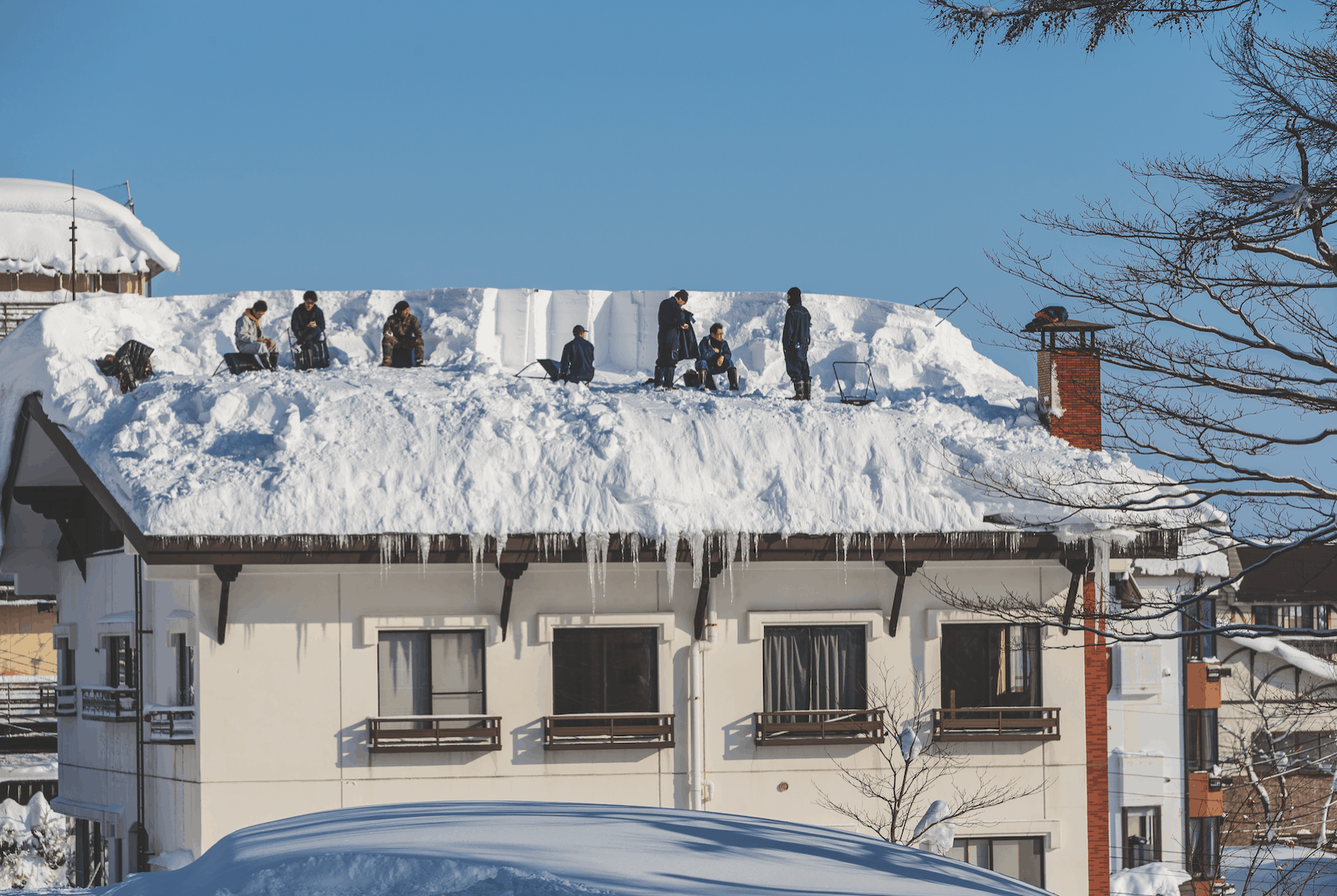 The Resorts
Akakura Onsen Ski Resort and its user-friendly terrain is the best resort for beginners or to get your legs back in action if you haven't skied for a while. It is right next door to Akakura Kanko Ski Resort, which is a better option for an intermediate rider/ skier. Akakura Kanko has a great intermediate run from top to bottom following the Gondola line and passing the famous Kanko Hotel. For advanced skiers and snowboarders, the well-spaced tree runs at Akakura Kanko Resort are perfect on a powder day. If you're interested in doing some hiking, Kanko has a great well-known hike up and out into the back country.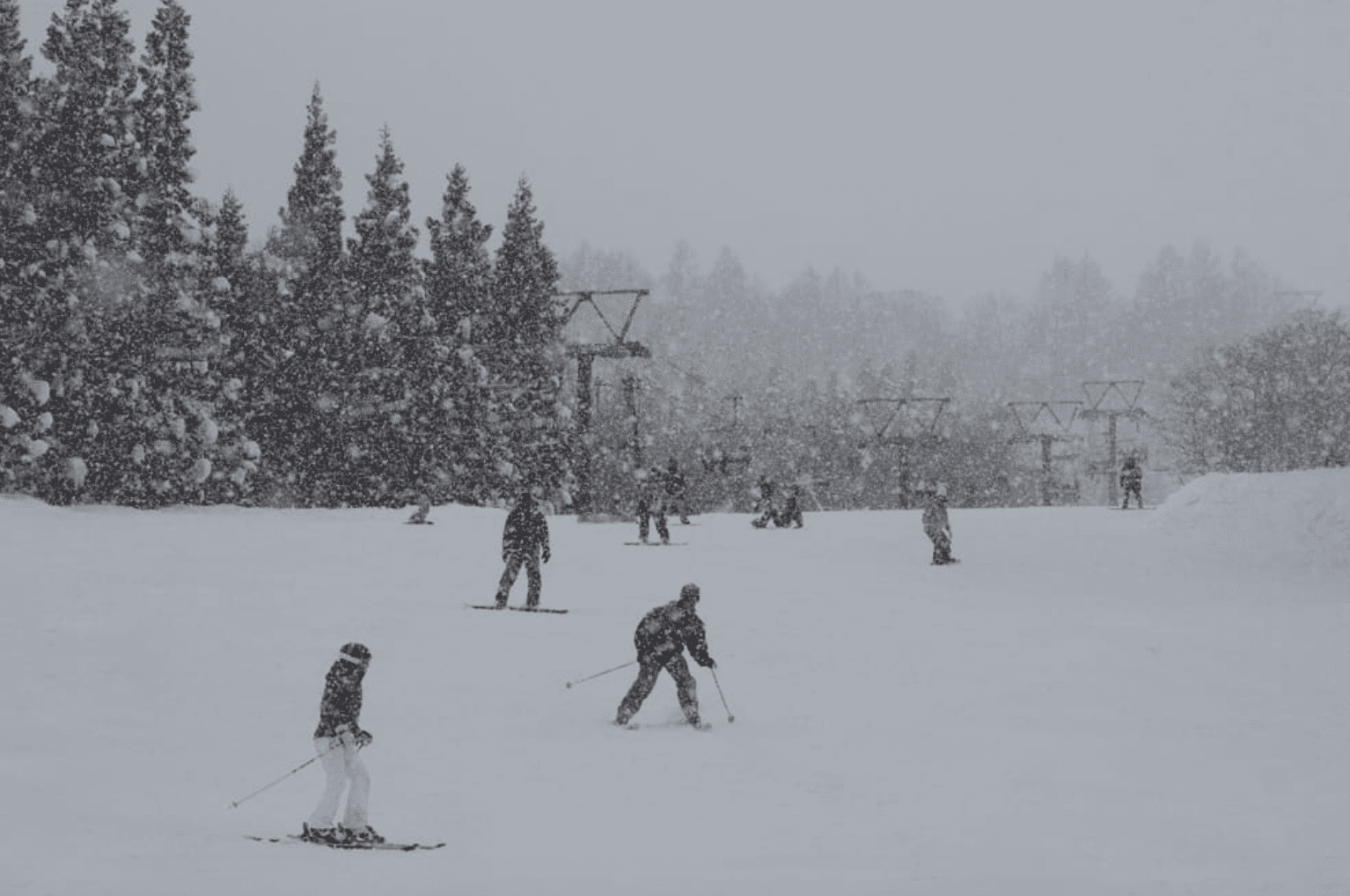 Ikenotaira resort also caters well for beginner and intermediate riders and skiers with long, mellow top to bottom runs.  The resorts are also served two ski schools,Myoko Snowsports and Yodel Snow School, which have English speaking instructors and offer lessons for children, first timers and more experienced adults.
Suginohara is the largest of the four resorts and has plenty of advanced and expert terrain and also has the longest run in Japan at 8.5km. Suginohara is a local favorite because of its variety of terrain and has some great rolling hill groomers from top to bottom which are perfect for intermediates. For the adventurous, Suginohara has open powder bowls located in the side country.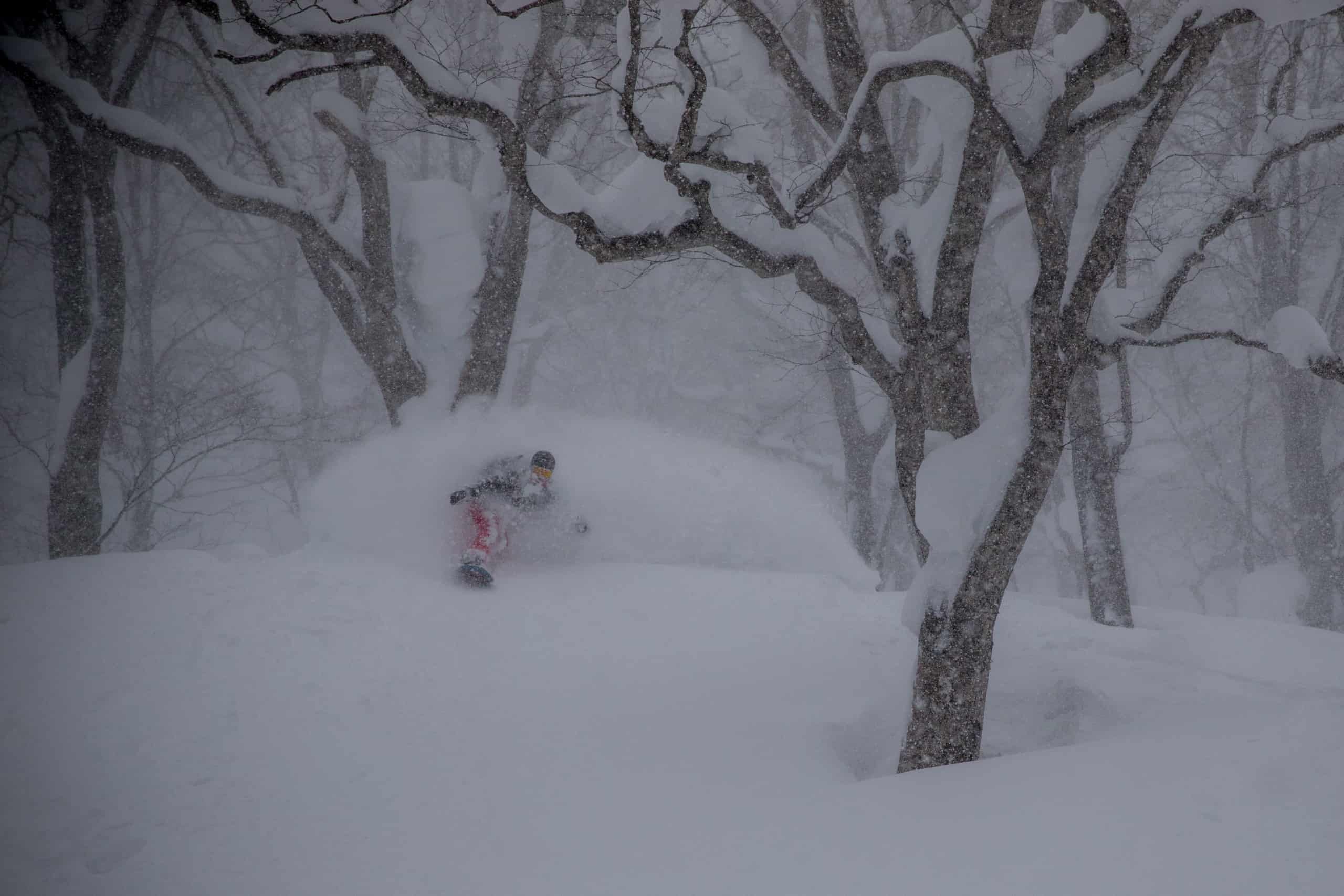 The Backcountry
Myoko is well-known for its powder, tree skiing and the backcountry and there is plenty of great side and backcountry terrain on offer. However, backcountry skiing and snowboarding should not be taken lightly, and it is extremely important you are going with a guide, you have the correct knowledge, gear and plenty of off-piste experience before you go. There are a number of local guiding businesses and stores catering for backcountry tours including Joey's, Dancing Snow, Satomi, Aoki and Uchida Sports which has a good selection of backcountry and powder specific gear for hire.
Off snow activities
Myoko also has plenty of off snow adventures and cultural experiences within easy access and a visit to the ancient village of Togakushi Kogen is something you will not forget. It is home to the famous Togakushi Shrine, a Shinto shrine nestled between 900-year-old cedar trees.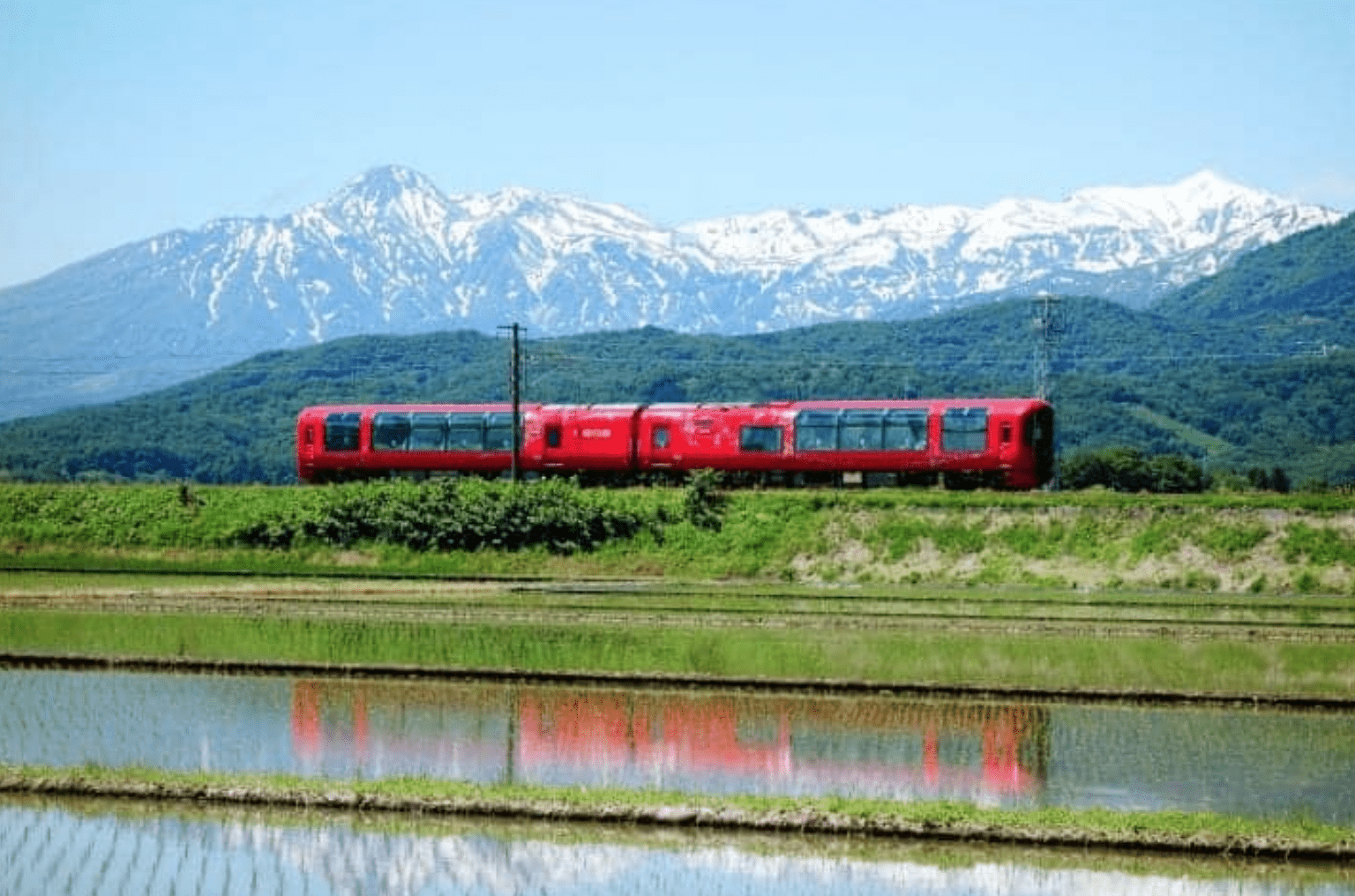 The Jigokudani Snow Monkey Park is also nearby, and daily bus tours are available from Akakura Onsen. Another great option for a day off the snow is the Echigo Tokimeki Railway, a scenic trip which through the local surroundings of Myoko across to the coast. It is a spectacular journey and the railway cars have huge windows with expansive views of the mountains and countryside. The dining car has a selection of menus created by local chefs, featuring local produce sourced from the surrounding farms and the nearby ocean.
Myoko also has many Onsens-Hot springs, and the water source is deep below Mt. Myoko.  A number of hotels have their own onsens.
 Accommodation and dining
Most hotels are centred around Akakura Onsen as it allows access to the main ski resorts and has the most food and drink options. Myoko has a variety of accomodation, both Japanese and western style, and something for all budgets. There are a number of hotels, family run ryokans and lodges (but slightly older), and European-style chalets.
The Akakura Kanko Hotel is located halfway down Akakura Kanko resort, with stunning views of the mountains. Built in 1937, it's an absolute icon of the Japanese ski industry and continues to provide luxury ski-in ski-out accommodation to guests.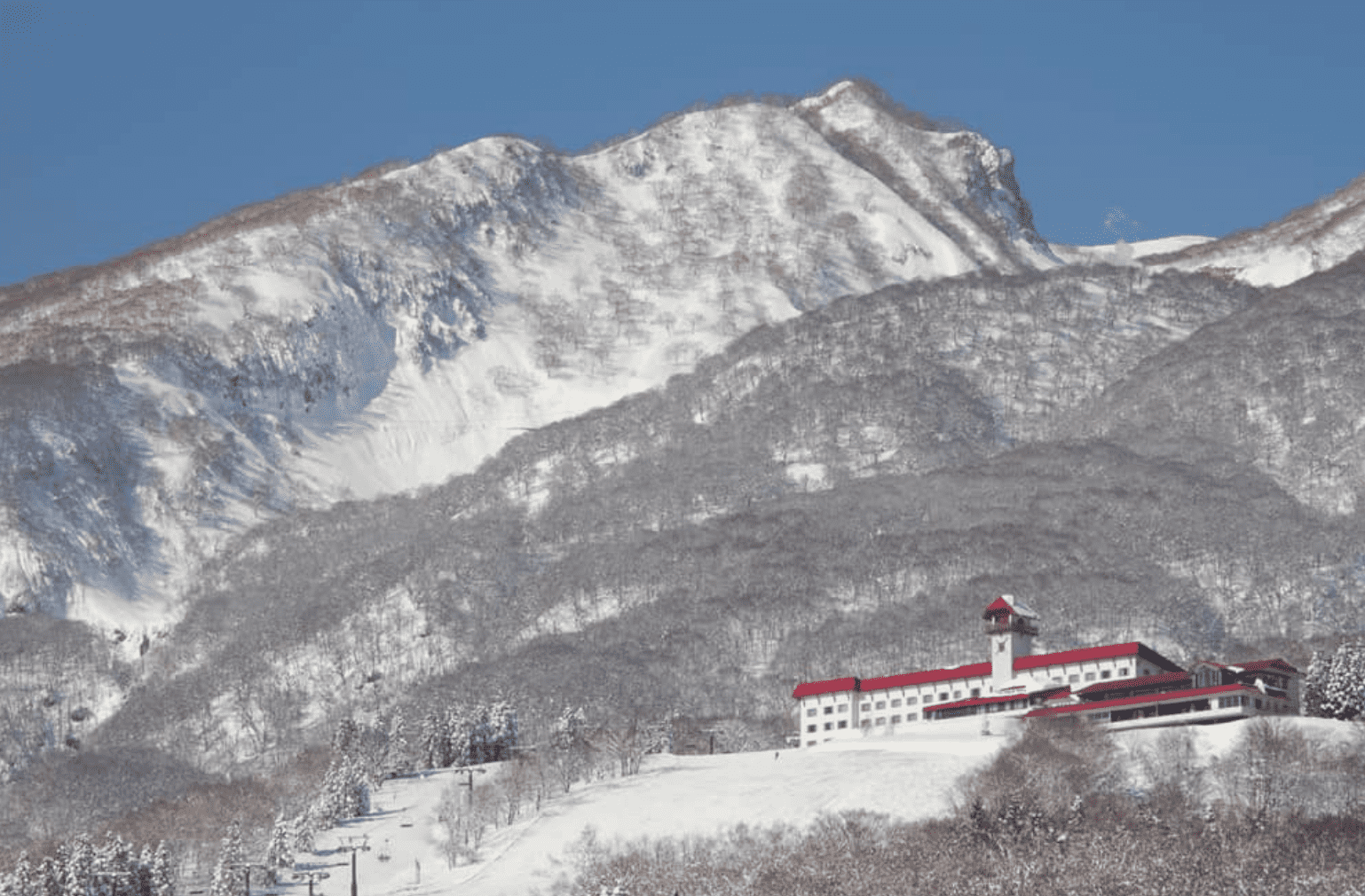 Family friendly hotels include Akakura Hotel & Annex, Akakura-So, Kougakuro, Park Hotel, Oyado Furuya, Hotel Taizan, Hotel Central and Hotel MOC. Myoko has great amenities, activities, and culture for the family to enjoy.
Most of Myoko's restaurants and bars are around the Akakura area. Nearly all of them are still owned by the local Japanese people so you'll find the izakayas and restaurants offering Japanese dishes like ramen, udon and soba. There is also an Italian place, a burger joint and an abundance of crepes. You can get everything from traditional rice dishes to sushi to homemade kara-age chicken.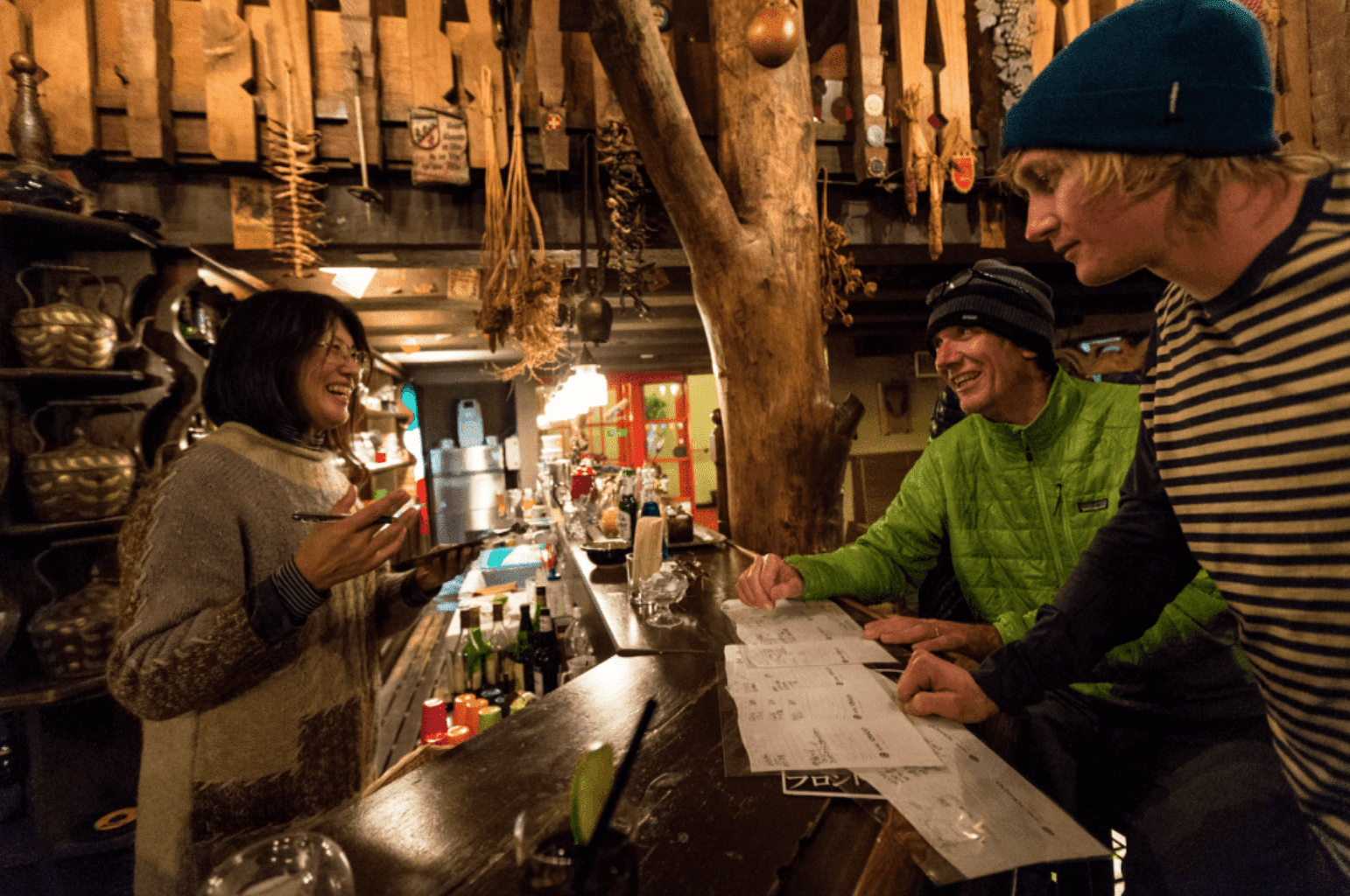 If you are keen for après or a night out, you will find great atmosphere and familiar foods and drinks here. If you'd like to explore more traditional Japanese style places, you have Love Shot Bar, Popcorn and Skate Bar. It is also nice to gather at your hotel's lounge with a fireplace.
Myoko Kogen is a must visit for any skier or snowboarder. Hundreds of hectares of terrain, a peak altitude of 2454 metres, long vertical and some of the deepest and lightest powder in the world. All complemented with an authentic Japanese experience that makes a visit to Myoko a snow holiday you will never forget.
"During our Golden Snowmads Tour, hosted by Mountainwatch editor Reggae Elliss, you'll be shredding the Tenjin pow with local guides! But that's not all. You'll also explore the many other little resorts in the Minakami area while staying at a stunning Onsen resort with daily breakfast, dinner with Geisha and Taiko Drum performance and so much more. To top it off, after Minakami head to Myoko Kogen for 5 more days of powder hunting and resort exploring!
Click HERE for more details.
Getting There
Myoko is easily accessible by train from both Narita and Haneda airports. Take the airport train to Toyo station and then transfer to a Shinkansen to Nagano. From there catch the Shinano Railway Kita-Shinano Lineto Myoko Kogen Station. Most resorts and accommodation options are within 10 to 15 minutes of the station, so a cab ride from the station is your best option.
Want to start planning your own Myoko adventure? Click through to Mountainwatch Travel to see some great packages.