Mountainwatch Ikon Tour Destination – Jackson Hole
September 13th, 2019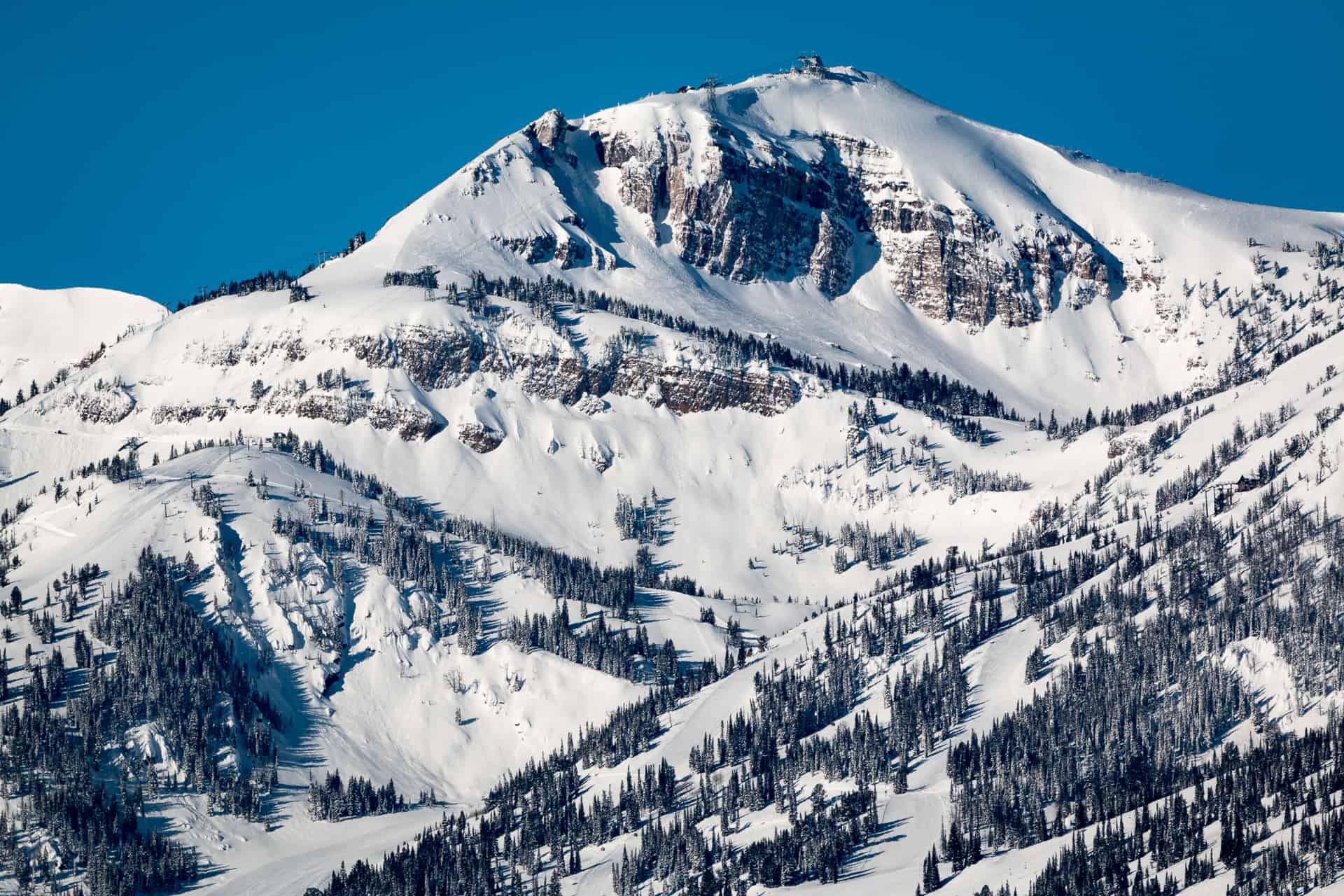 Mountainwatch | Reggae Elliss
Jackson Hole is a destination that is on any serious skier or snowboarder's bucket list and it is an obvious inclusion on the Mountainwatch Ikon Tour. My first to Jackson was a couple of years ago and it not only met my expectations, but my time there stands out as one of my best overseas skiing experiences. Jackson Hole is, without doubt, a special place and a "must visit" for any skier or snowboarder.
Jackson was the second stop on a Ikon Pass road trip with my family, the first stop a great warm-up week in Aspen where we scored a couple of epic powder days. However, for me Jackson Hole was always going to be the highlight of the trip. The drive from Aspen was long, through the snow-covered flatlands of Northern Colorado and Wyoming, and the first glimpse of the Teton Range was a welcome sight. The jagged peaks seemed to climb straight out of the snow, reaching high for a clear, blue sky and the anticipation grew as Jackson Hole got closer every mile.
To say I was excited was an understatement and Jackson Hole did not disappoint. The iconic North American resort had been on my hit-list for a long time, the desire fuelled not just by the photos and TGR film segments I've seen over the past 20 years, but also by the fact that everyone I know who has skied Jackson rates it as one of their favourite destinations.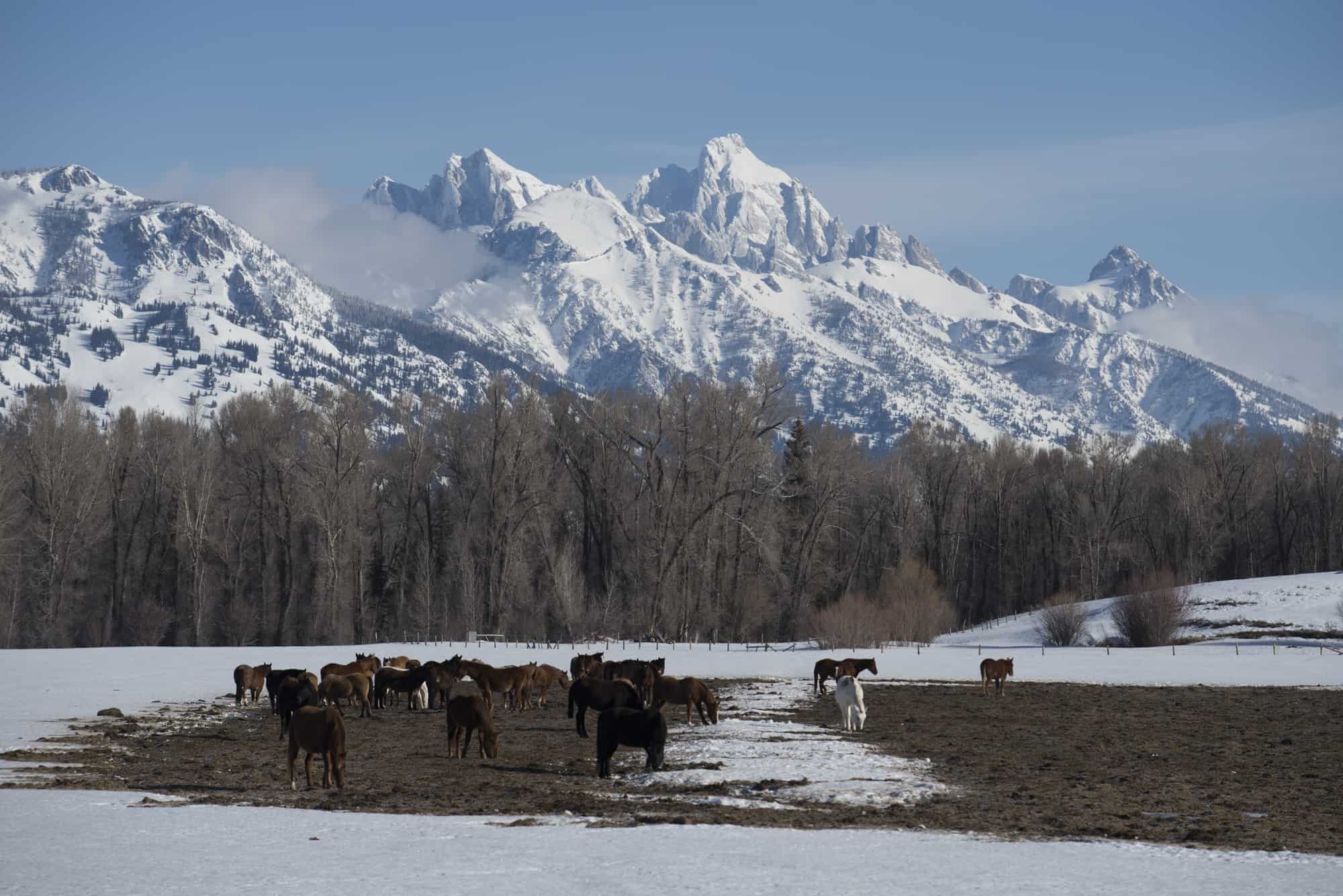 Located in Wyoming near the Grand Teton and Yellowstone National Parks, Jackson Hole is in a spectacular part of the world. It has a reputation for serious terrain, dry snow, core local skiers and boarders, amazing views and a fun, Western atmosphere. We spent 10 days there and it more than lived up to that reputation, but with a few surprises as well. I learnt that Jackson Hole not only delivers a true big mountain skiing experience, both in resort and the gate-accessed backcountry, but the variety of terrain means it also has something for everyone, from kids and first timers, to intermediates who like long, mellow groomers. Also, after some serious investment over the past decade, Jackson now has one of the most sophisticated and efficient lift systems in the US.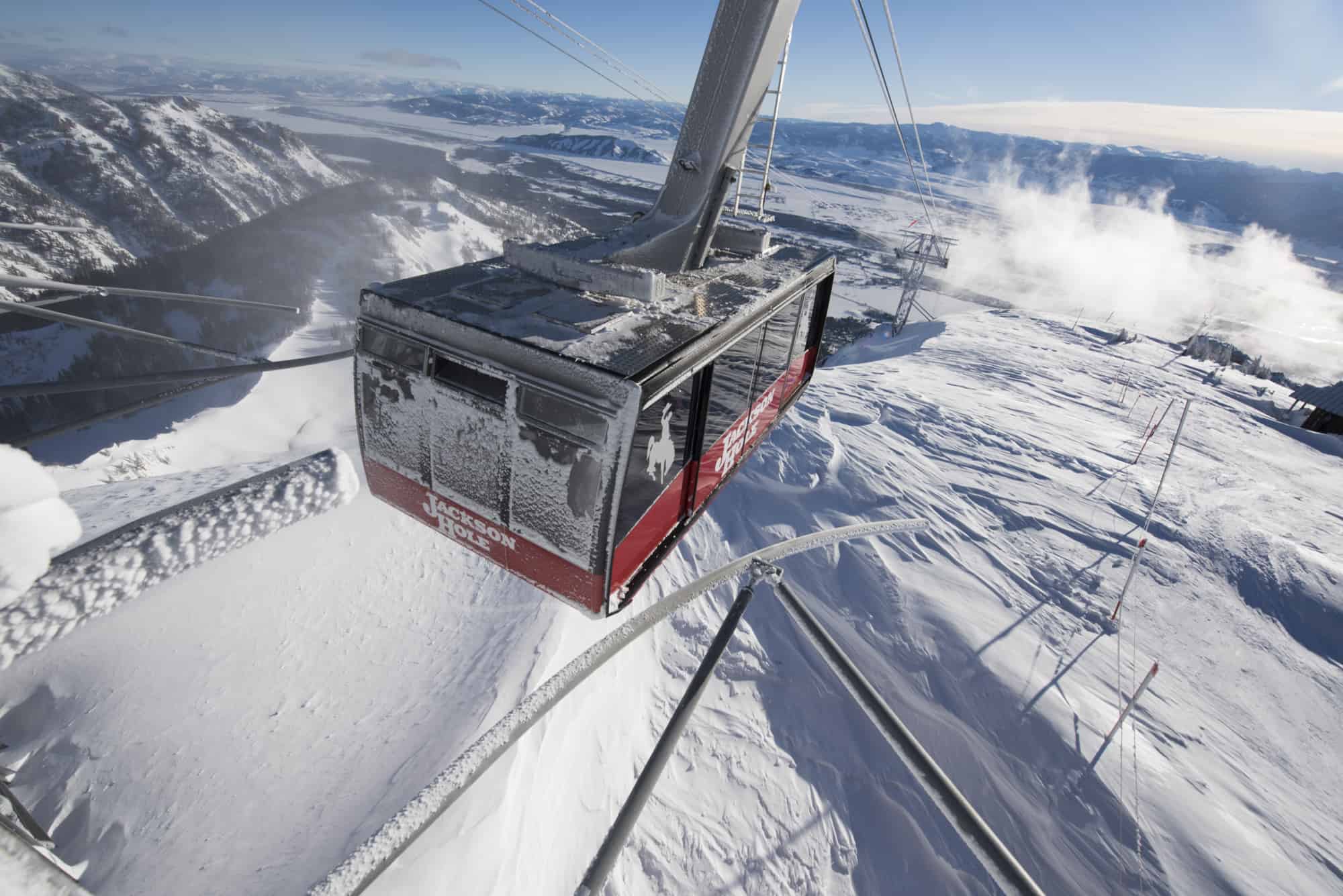 The centrepiece of that lift system is Jackson's famous big red tram which takes you to the top of Rendezvous Bowl.  The view on the way up is incredible and checking out the cliff bands and runs like the Expert Chutes and the infamous Corbett's Couloir gets the heart pumping.  Fortunately, there are a lot of options from the top with groomed runs, open bowls and fun tree runs.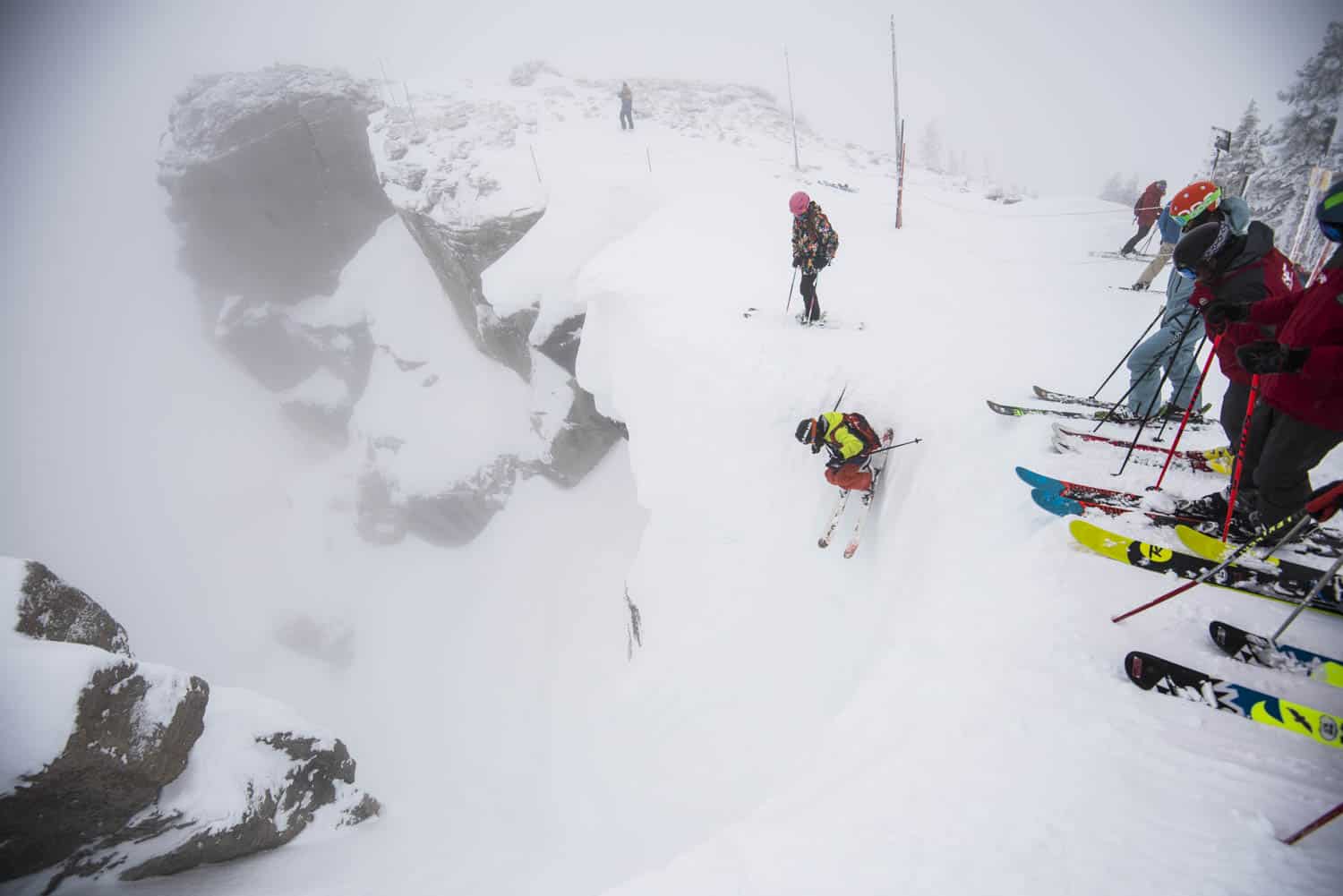 Jackson Hole is big, with 2500 acres of in-bounds terrain and with a top elevation of 3185m (10450ft) and a base elevation of 1924m (6311ft) Jackson has a huge vertical of 1262 metres! Safe to say a top-to-bottom run is a leg burner. Include the gate-accessed backcountry and you'll be hard-pressed to ski 40% of the place in a week. And then there is the snow.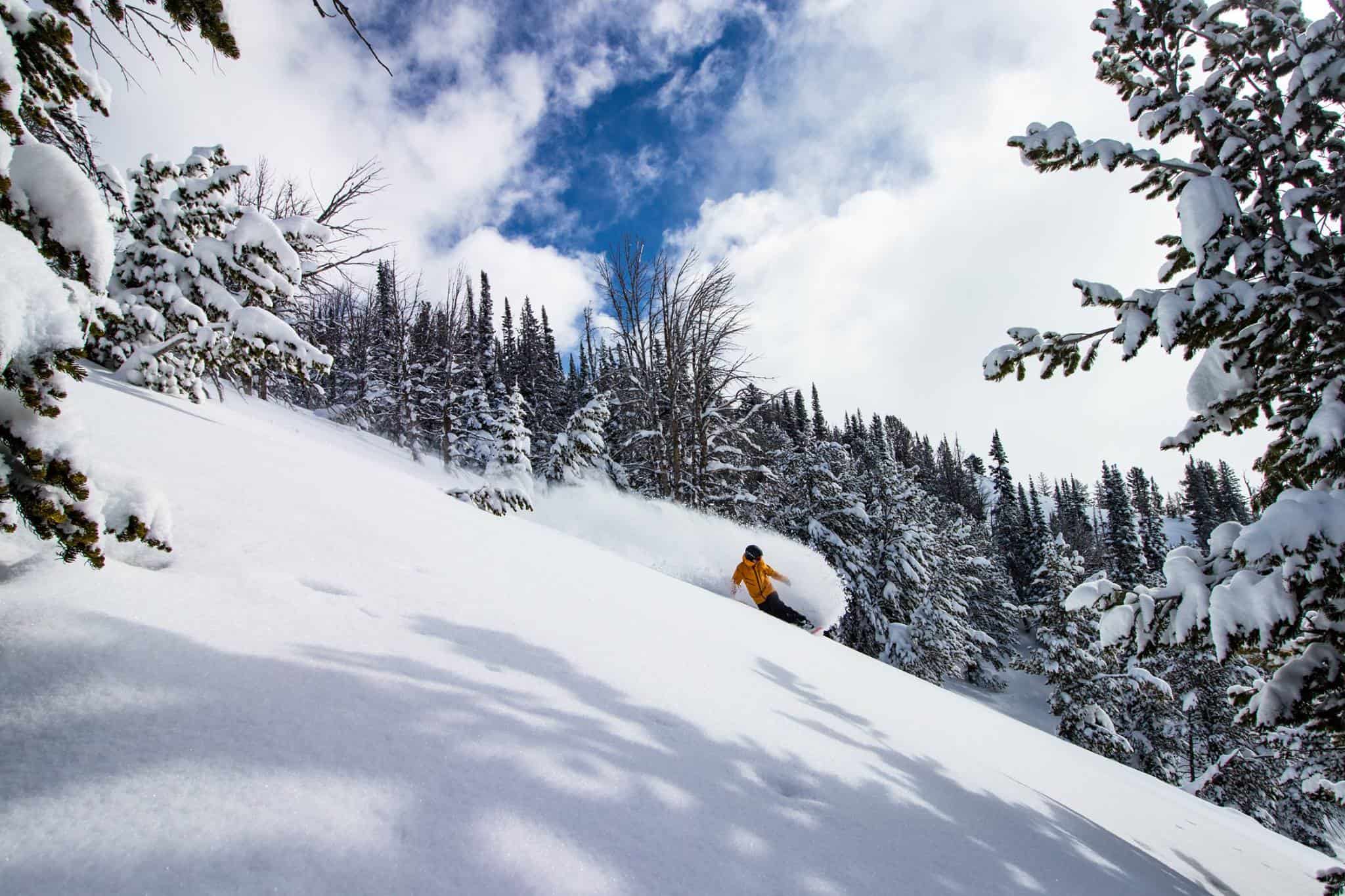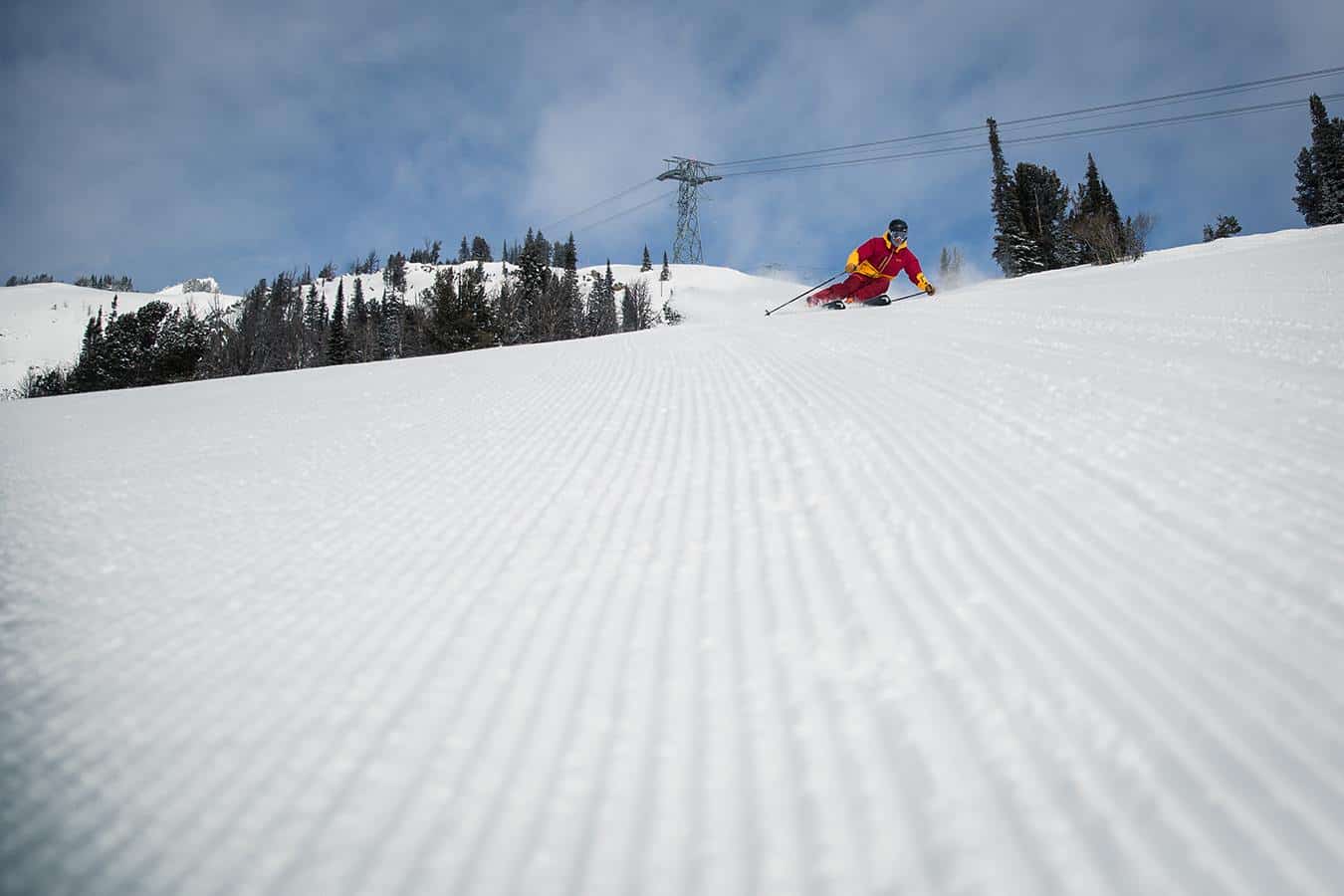 Renowned for its quality dry snow – often called Cowboy Powder – the best storms for Jackson are from the southwest, west and northwest, delivering big snow totals as the air cooling as it rises over the mountain (orographic lifting) and any moisture falls as snow. The result is Jackson is one of the more reliable resorts in the US for snow and its average seasonal snowfall is a healthy 12 metres (475ins).
A powder day in Jackson is something you won't forget in a hurry and on our visit, we lucked into three-powder days in a row. We had met up with Hotham free-skier Coen Bennie-Faull, who has now spent five winters in Jackson and knows the resort as well as any local. With Coen guiding we managed to find fresh snow for most of the day and the last run late one afternoon was a stand-out, out wide on the resort boundary with knee-deep light snow through wide gladed trees.  We even ran into a moose on the traverse back into the resort.
Last winter was a good one in the US and  as the above video shows, Jackson Hole did not miss out finishing with a cumulative total of 12.82 metres  (505 ins) including a record February of 4.9 metres (193 ins) when it snowed for 23 of 28 days over the months. In an update Coen wrote for Mountainwatch, he wrote of a series of storms putting Jackson in the flow:
"When Jackson enters the 'flow' like that it feels like a smudge on the calendar, everything turns into a blur. The saying 'that was the best run or my life' was thrown around on the daily and I feel like I must have called 'best day ever' for at least half the days of February."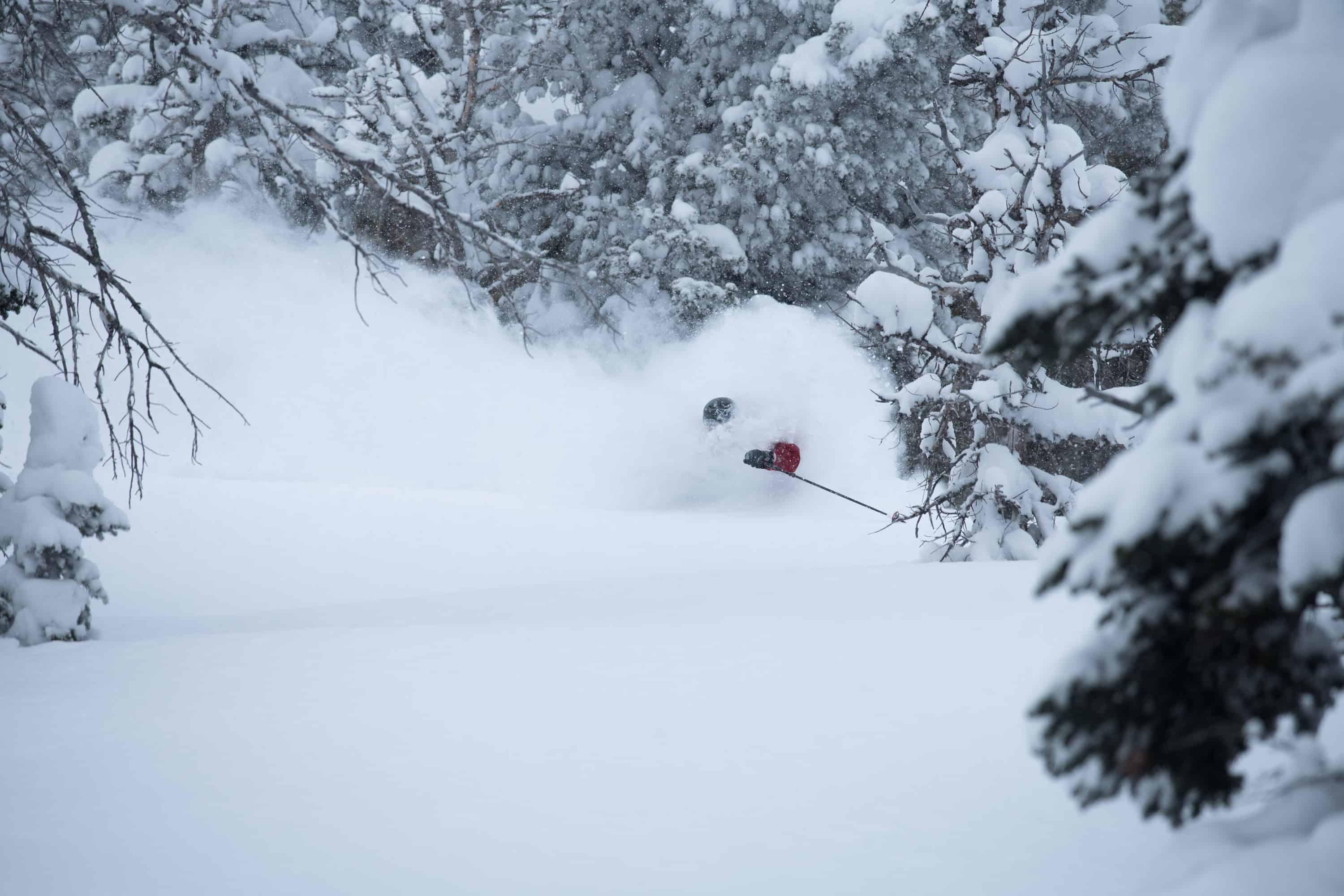 While Jackson Hole's inbounds terrain is incredible, the lure of its backcountry has been calling skiers and boarders for decades. Getting into the backcountry is something any advanced skier/boarder needs to do when visiting Jackson, but only with an experienced guide who knows the place well. Jackson has a number of gates from the resort into the backcountry which are open when patrol deem conditions safe so access is pretty easy.
However, you need to be equipped with avalanche packs, transceivers and beacons and you can book guides through the resort. A guide will not only ensure you find the best snow, but before you pass through a gate they will brief you on how to use the equipment, the snow pack conditions, how slides happen and what you need to be aware of when skiing outside of the resort. Having said that, you don't need to be a cliff jumping expert out here and the terrain is fun – you just need to be aware of where you are skiing.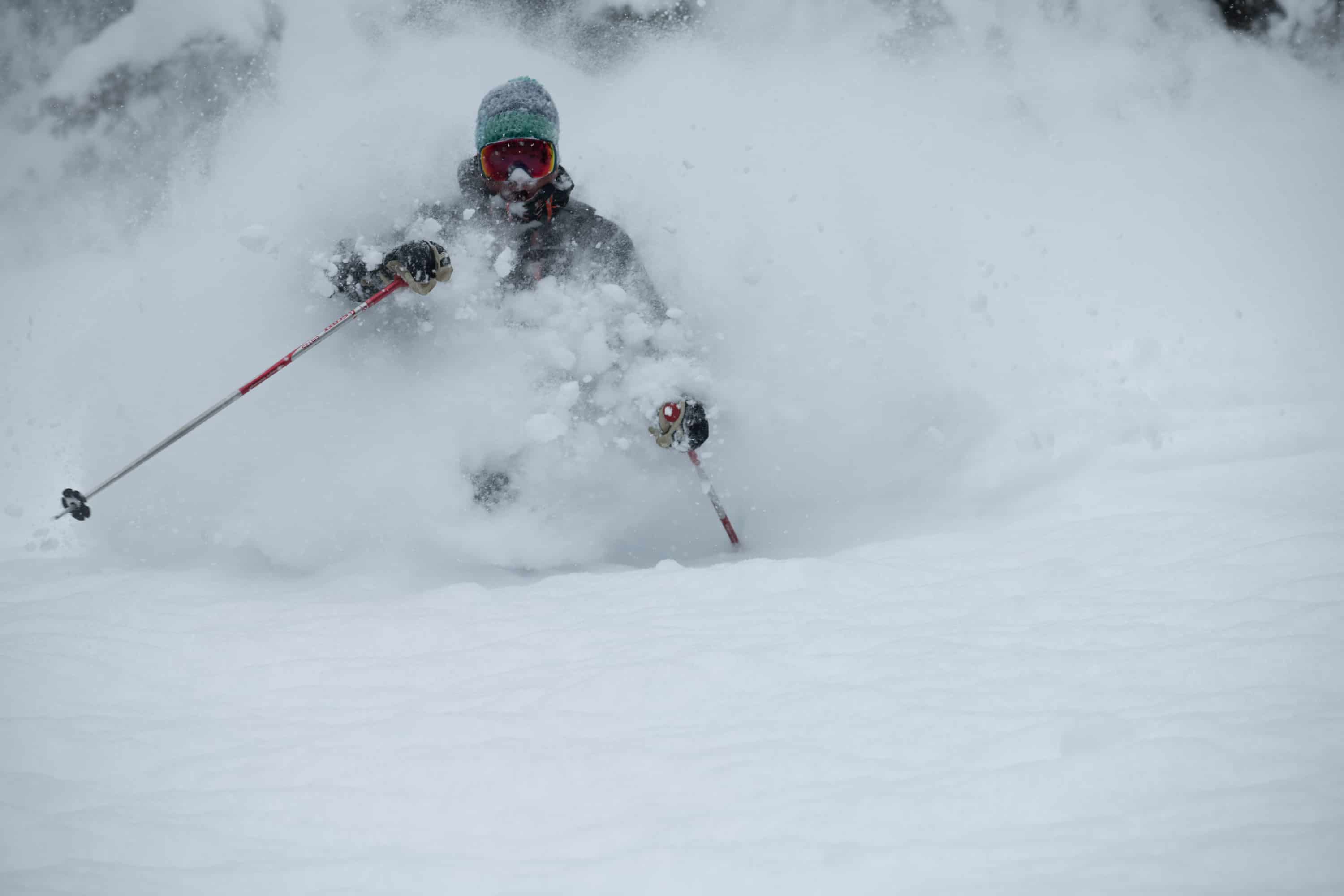 Accommodation:
The tour is staying at the Jackson Inn in Teton Village, a stone's throw from the lifts and close to all the local bars, restaurants etc. facilities including newly renovated rooms, free WIFI, restaurant, bar, fitness centre, pool, hot tub and more. Teton Village, is well-serviced with hotels, restaurants and bars, including the iconic Mangy Moose.
(http://www.innatjacksonhole.com).
Non-snow activities
One of the things you need to do while in Jackson is drag yourself away from the mountain for a few hours and do a wild-life tour into other the Grand Teton or Yellowstone national parks.  You will not be disappointed. The town of Jackson is a short 20-mimurte drive and there are regular buses between town and Teton Village. There are plenty of eating options in town, ranging from Japanese to steakhouses to fine dining. However, for a full-on cowboy vibe, pull up a saddle at the famous Million Dollar Cowboy Bar where you can have an elk burger and a beer for $20.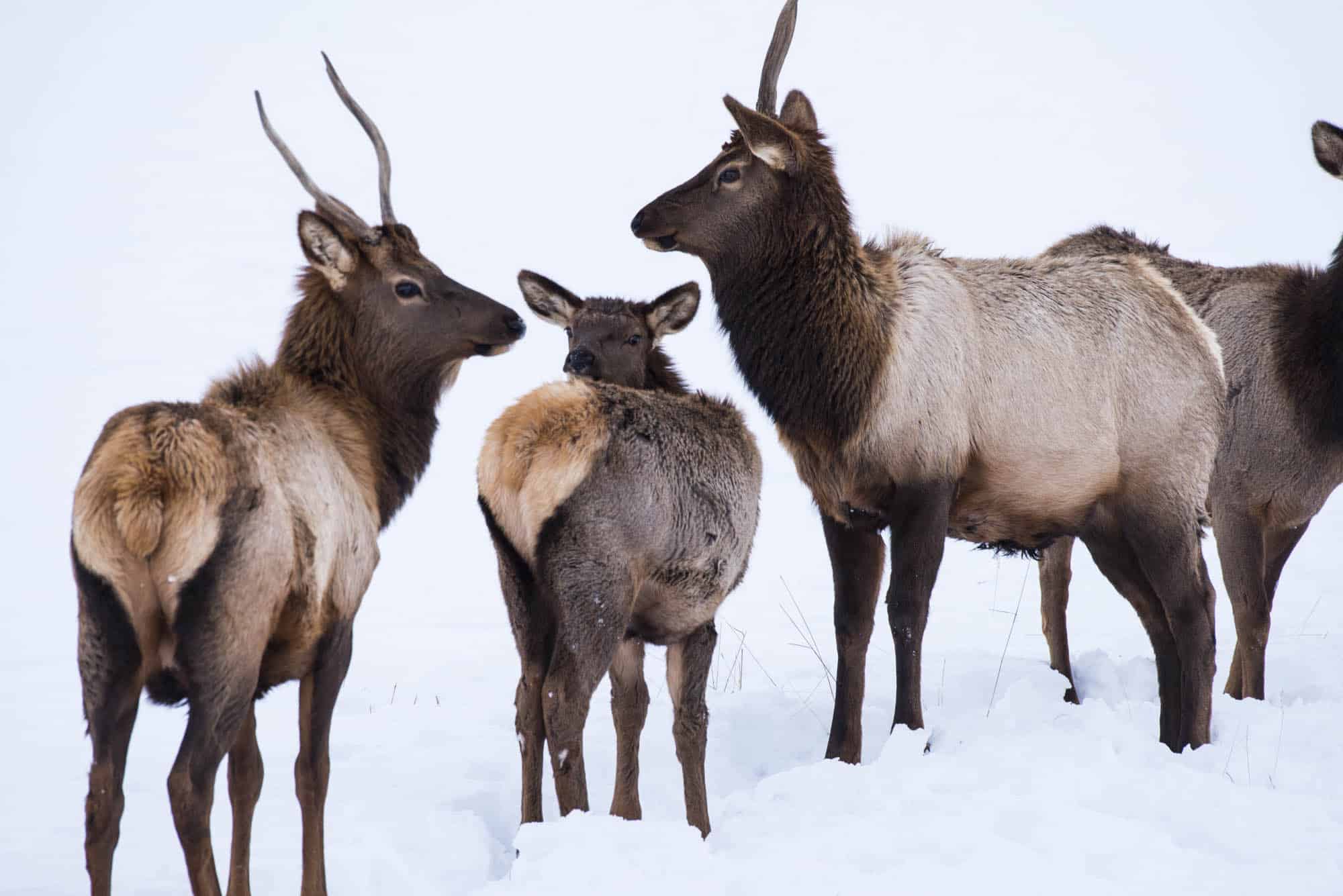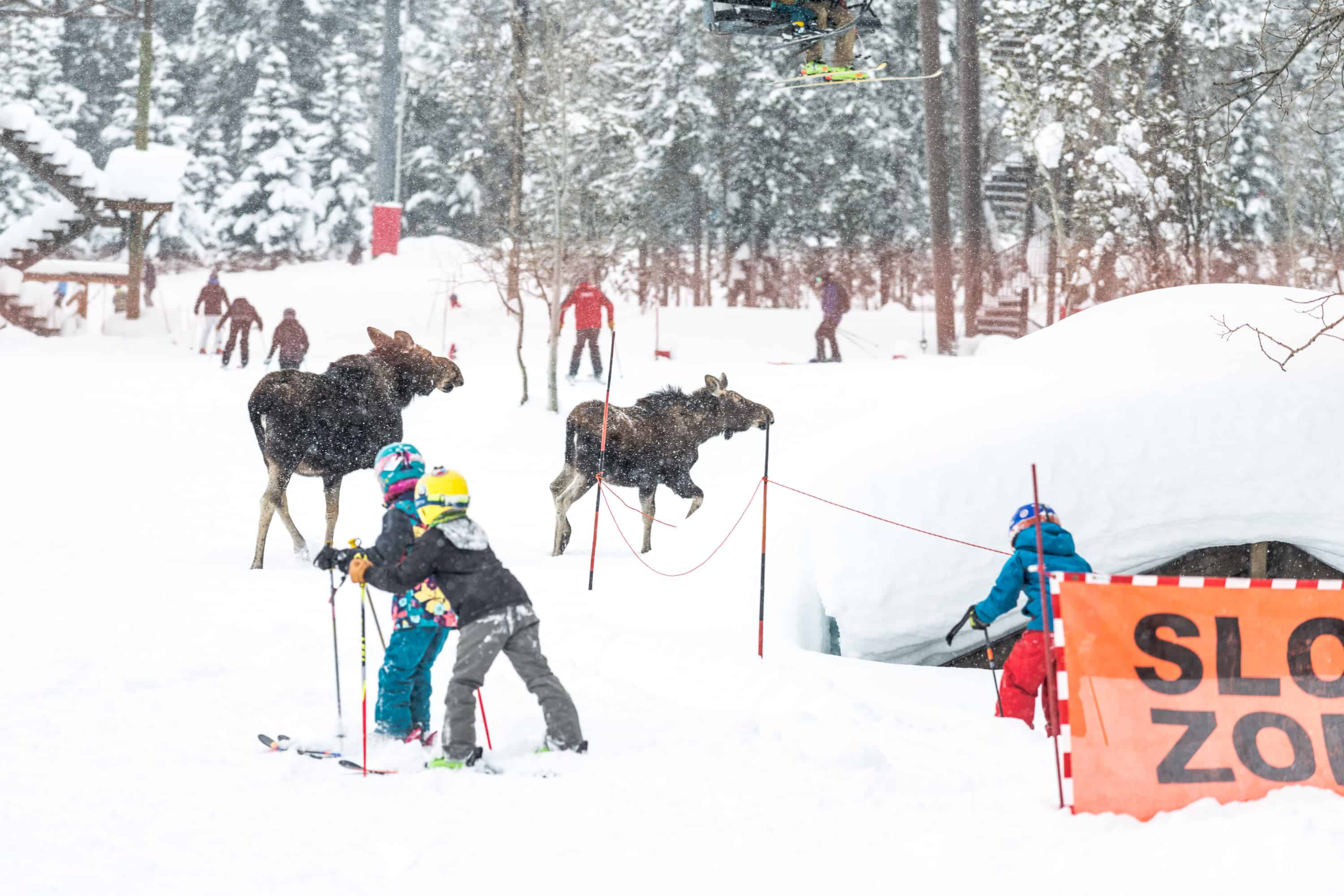 Jackson is rightfully regarded as one of the leading resorts in North America, it truly is awesome. I may have ticked Jackson Hole off my bucket list, but I know I'll be back. I'm pretty sure everyone who visits Jackson feels the same. To find out more checkout the Mountainwatch Ikon Tour.