Body of Missing Ski Mountaineer Hilaree Nelson Found in Nepal
September 29th, 2022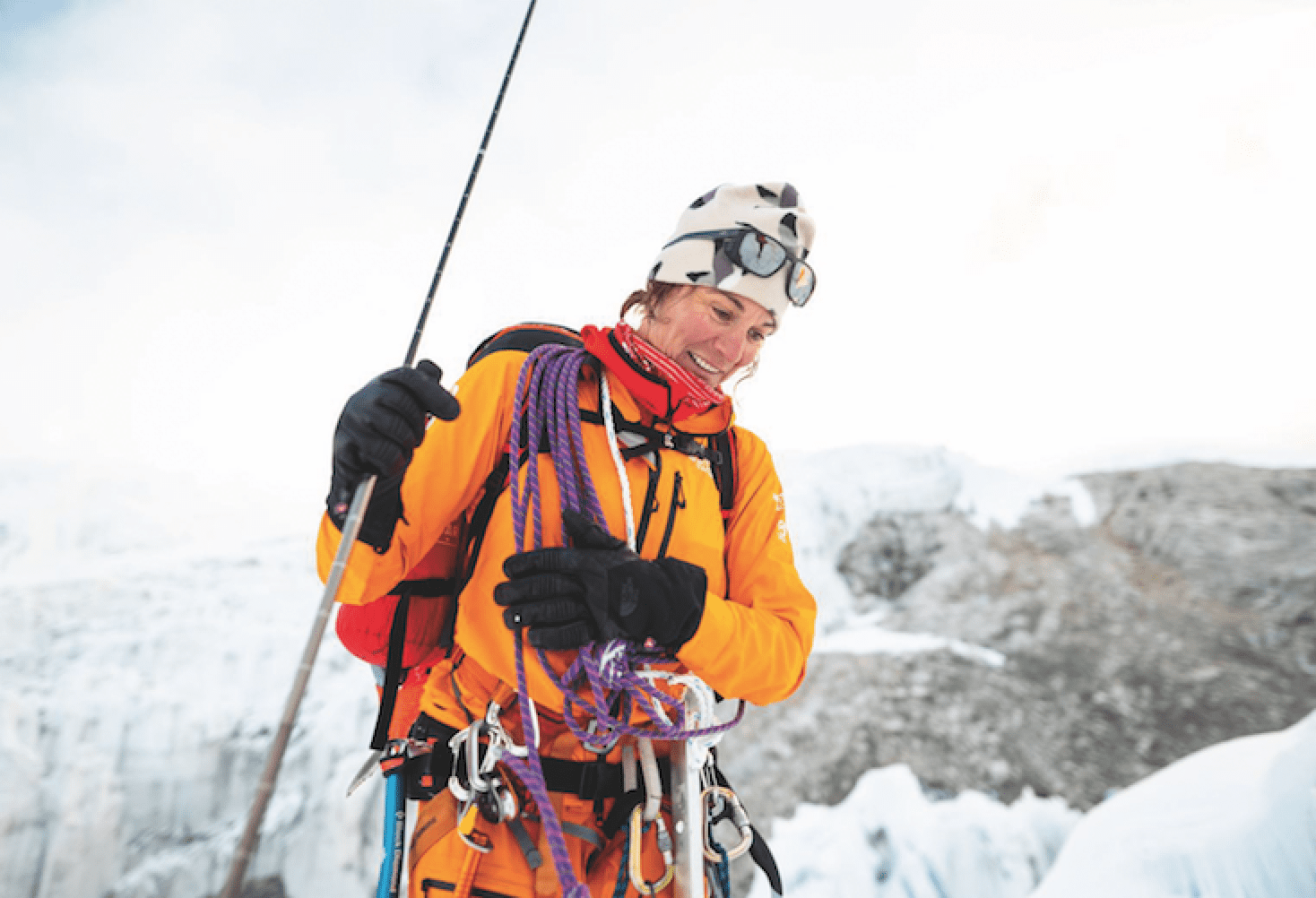 Mountainwatch | Reggae Elliss
The body of renowned American ski mountaineer Hilaree Nelson has been recovered two days after she was reported missing after skiing off the summit of Mansalu, an 8163 peak in Nepal.
Nelson and her partner Jim Morrison had summited Mansalu on Monday morning and as she began the descent Nelson triggered a small avalanche that swept her down the south side of the mountain.
Initial rescue attempts were hampered by bad weather but her climbing and life partner Jim Morrison confirmed her death in an Instagram post early this morning:
"There are no words to describe the love for this woman, my life partner, my lover, my best friend, and my mountain partner. She has been the beacon of light in my life day in and day out," Morrison wrote
"On September 26th at 10:42 am we reached the true summit of Manaslu in tough conditions. We quickly transitioned from climbing to skiing in cold and wind with a plan to ski around the corner and regroup with our Sherpa team. I skied first and after a few turns Hilaree followed and started a small avalanche. She was swept off her feet and carried down a narrow snow slope down the south side (opposite from climbing route) of the mountain over 5,000 feet. I did everything I could to locate her but was unable to go down the face as I hoped to find her alive and live my life with her.
I spent the last two days searching from the air in a helicopter. Today with the help of @capt_surendra an incredibly skilled pilot we were able to land at 22,000 feet and search for her. @nimsdai was instrumental in helping organize the best team and resources possible and I found her body with the aid of @mt.sherpa today at 10:30 am. I'm in Kathmandu with her and her spirit.
My loss is indescribable and I am focused on her children and their steps forward. @hilareenelson is the most inspiring person in life and now her energy will guide our collective souls.
Peace be with us all. Pray for her family and community which is broadly stretched across our planet. I'm devastated by the loss of her."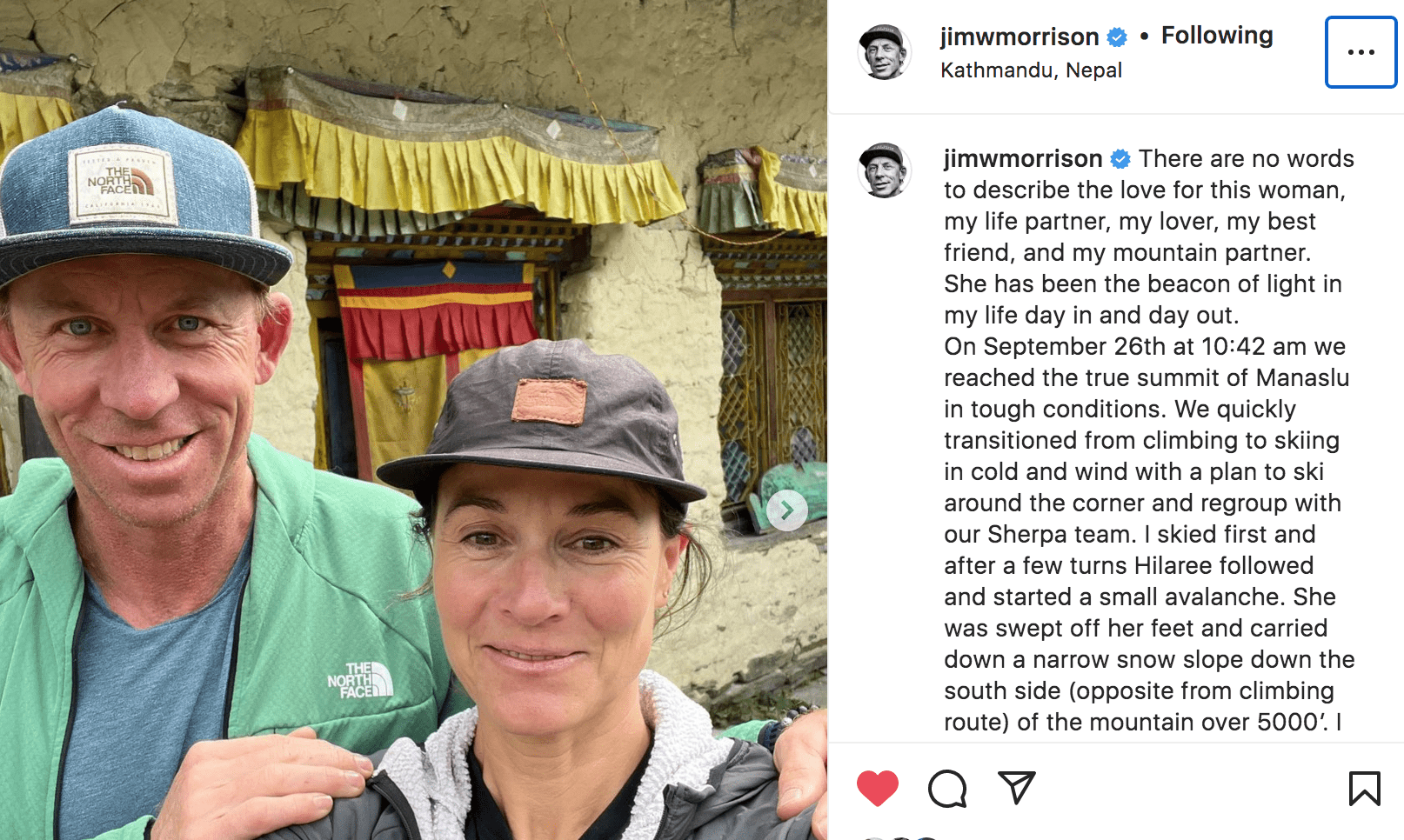 Nelson was one of the one of the world's most experienced ski mountaineers and her achievements include linking two 8000m peaks (Everest and Lhoste) in one 24-hour push, first ski descents in Baffin Island, a first American ascent and ski descent of Papsura peak in India and with Morrison in 2018, a first ski descent of Lhotse, the world's fourth highest peak. In 2018 National Geographic named her one its Adventurers of the Year.
A mother of two boys, Nelson's accomplishments, humility and friendly, welcoming nature made her an inspiration to many and her loss is being felt deeply by her peers and the wider snow and mountain community.
She was also The North Face Athlete Team Captain and a statement from the company succinctly covers the effect she had on others: "Today we lost our hero, mentor, and our friend. Hilaree Nelson held a spirit as big as the places she led us to. She embodied possibility. Her adventures made us feel at home in the vastness of the world."
Nelson is survived by her two sons and partner Jim Morrison. She was 49.