SNOW ALERT AUS – 40 to 60cm Plus – The Major League Player
August 2nd, 2017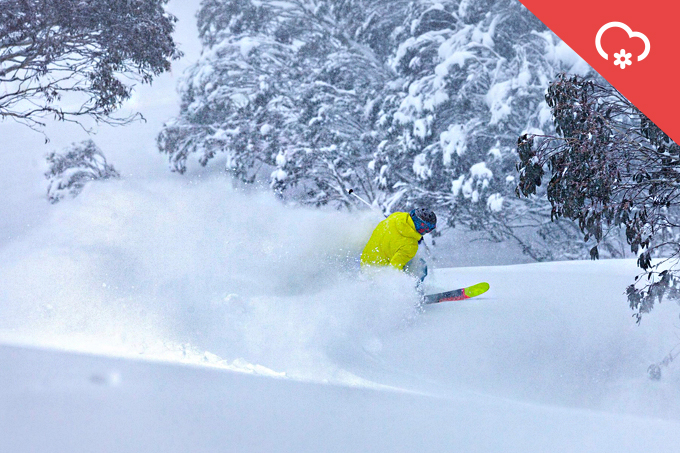 Don't call it a comeback, this seasons just getting started. Image:: Hotham
Mountainwatch | Snow Alert
SNOW ALERT
 Strong Confidence
Those who've been keeping their eyes on our models over the past few days will have a real jig in their stride today – with what's looking to be what the Grasshopper hails as a major league snow fall. A cross-analysis of our models along with the Grasshopper's predictions state somewhere in the vicinity of 40 to 80cm's of snow will accumulate by this time next week across mainland Australian Resorts and if you've seen Reggae Ellis's Facebook Live video this morning, we can see he's excited too.
Today's sunshine will be replaced by some rather ghastly weather –wind and rain (oh the humanity) beneath 1800m ASL, above that we snow fall and blizzard conditions. With the bad news out of the way, it's Friday afternoon onwards that's got us thrusting at the though of scoring deep turns come Monday morning.
This weekend will see another, much more potent low – that's currently spooling up in the Southern Ocean, conjuring up cold air and wait for it … significant snow falls. 40-80cm's is a fair spread, but as a worst case scenario 40 cents in Australia, that's a fair top-up. And if we do get that 65-80cm's, forget work on Tuesday because, under clear skies, it's likely some of this season's best skiing and boarding will take place.
If you're quivering with fomo (fear-of-missing-out) and you haven't organised a trip this winter, check out our August Attack package , taking place on the weekend of the 18th-20th of this month including luxury, eco-minded accommodation, lift passes and more. It's your winter ultimatum, check it out here.