SNOW JOURNAL – A month of extremes
September 10th, 2013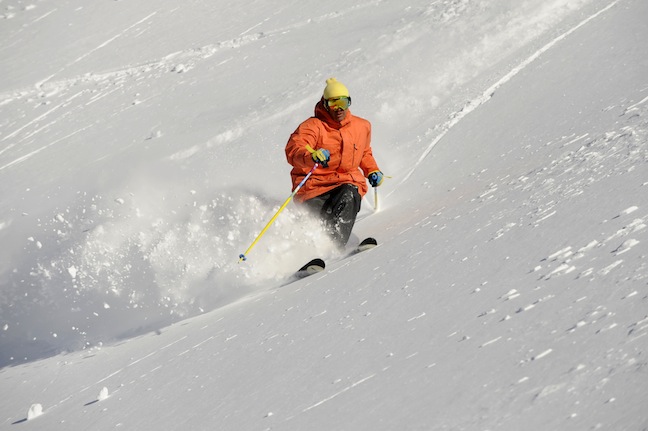 August 15 in Thredbo, easily one of the best days of the season Image:: Steve Cuff
Mountainwatch | Reggae Elliss
Driving back into Thredbo this afternoon, the car thermometer was reading 13 degrees, and while there's still plenty of snow above 1600 metres, the lower mountain is all but gone.
We've just had two weeks of sunshine and the best few days, September so far has been more like summer with the temp at 1900 metres reaching over 13 degrees. That, coupled with a warm northerly airflow has seen the base erode 40cm in a week, the official reading at Spencers' Creek is now at 143cm.
Selwyn went from having 100% of terrain open on August 30 to closed on Wednesday August 5. In a week, Buller has gone from 19 lifts and 75% open to just nine lifts and 20% of terrain to just 25% open and Baw Baw closed on August 31.
Of the majors, Perisher is faring very well with a good cover in the main areas, Thredbo is still pretty good above mid station while Falls still has 80% of terrain open and Hotham is hanging in with 40%. Thankfully things are due to cool down for the second week of September, which will help the snow pack hang in for a while.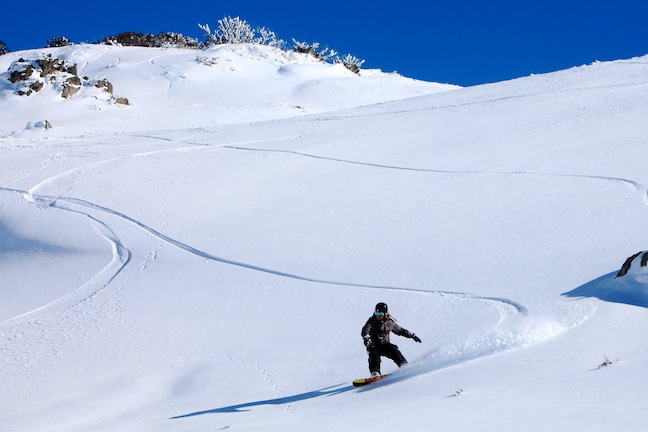 Occy scored some nice turns back in July, this season will be remembered poorly, but there were still some all time days to be had. Image:: Hocking
It has been four weeks since I last wrote a snow journal and back then I was celebrating the fact we'd received 45cms of snow in a week and at the mid-way mark of the season things were looking good. The NSW resorts ended up getting a lot of snow during the second and third weeks of August with 50cms from August 10-16 and then another 90-100cm from August 17-23. During that period there we're some great days on the mountain with cold, dry powder days with at least 15cms of fresh snow and on August 13, 15th, 18, 19, and 22. The snow on the other others days was pretty awesome too, sub-zero temps for most of the day cold temps keeping the snow light and dry. There was a lot of wind during this period as well, with some epic windblown days where we skied powder all day, Tuesday the 13 and 20th being hailed here as the best two days of the season, closely followed by Thursday Aug 22, described by Bill Barker, our Hotham snow reporter, "It should be fantastic everywhere …. Possibly the day of the season so far!"
For consistency and quality, that period was up there with the best, and the people who were in the mountains during those two weeks scored big time. The night of August 22 we had another 25-30cm of snow, but unfortunately the temps rose quickly that morning, the fresh snow was wet and heavy and then the weather closed in with drizzle to the top by mid-afternoon.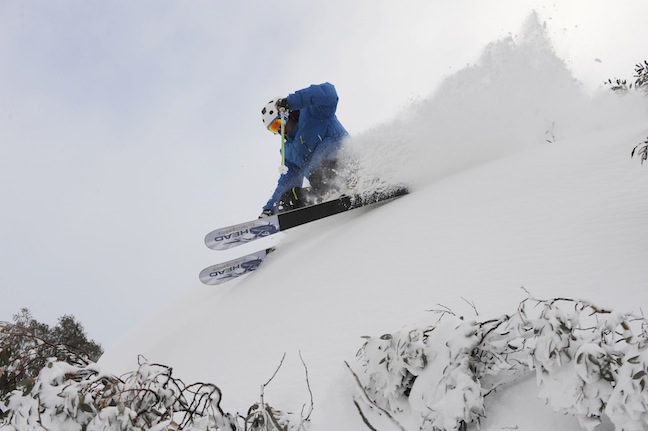 August 20 and it kept getting better, it was just about picking the day in August, good for those not stuck in sydney! Image:: Steve Cuff
That didn't dampen the enthusiasm of the masses who descended on the mountains, all resorts reporting the busiest weeks of the year on August 24-25.
And that was it. While the following week saw some great days of spring-like snow, it was disappointing as it would have been nice to have some cold winter temps during the last week of August to maintain some dry chalky snow. Instead the temps kept climbing, to the point where it was +5 at 6am in all the resorts on Thursday, August 29.
But that was nothing, compared to the week we've just had, Perisher being +8 at the top of Mount P at dawn on Monday while Charlottes was 9.2 at 6am on Tuesday. The daytime temps rose to 13 degrees at the top weather stations while it was 15 degrees in Perisher Valley, a warm 21 in Jindabyne and 29 degrees in Sydney!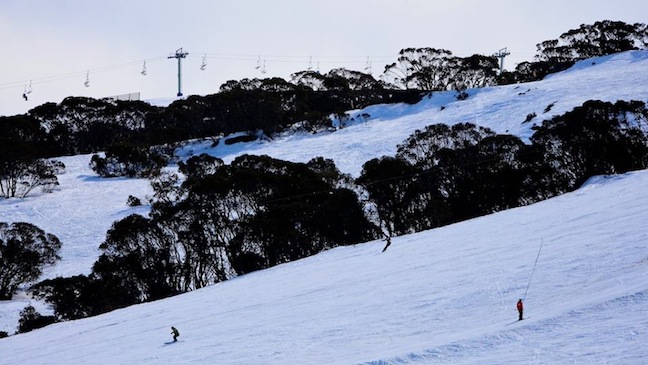 Yesterday, September 8 in Falls Creek, as you can see there is still some decent skiing on offer Image:: Falls Creek/Hocking
And that brings us to now, Tuesday afternoon on September 10. Of course the fact things are looking grim now go back to the fluctuating temps in June and July and the three big rain events that virtually washed out the snow pack three times. Don't forget that on July 19 we we're down to last legs, most of the resorts down to minimal lifts and whatever snow was left in the snowmaking areas. The snow we've had since has fallen on warm, wet ground and we never really had a base. Luckily we had a lot of wind with the August storms so the upper slopes are looking OK and should survive through to the end of the month and we could also get a couple of cold fronts that drop 10-15cm of snow, not unusual for September.
But you have to admit this hasn't been a usual year. The warmest winter on record followed by the warmest start to spring on record. The question, is whether this warm, wet winter is an aberration or something we may have to get used to, with shorter winters a result of global warming?
We all know close to 100% of scientists believe human activity and greenhouse emissions contribute to global warming and climate change. I asked the Grasshopper his thoughts, and as a meteorologist he agrees that climate change is real and why seasons like this may not happen every year over the next decade or two, we should accept that, "Under a climate change scenario seasons like this will become more common."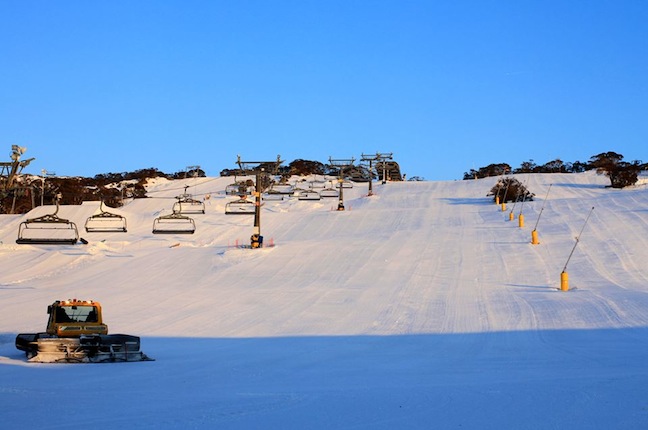 Perfect sunny mornings and corduroy, looks like September Image:: Perisher
Anyway, that's a different story for another time. For the moment it is all about spring snow and getting up there while you can. Perisher, Charlottes, Falls still have enough snow so you'll have a good time, the terrain parks are in good shape and the backcountry still has some nice drifts to make a hike outside the resort boundaries worthwhile.
Perisher forecasts,
snow reports and
live snow cams.
Falls Creek forecasts,
snow reports and
live snow cams.
Mount Buller forecasts,
snow reports and
live snow cams.
Hotham forecasts,
snow reports and
live snow cams.
Thredbo forecasts,
snow reports and
live snow cams.
Mount Baw Baw forecasts,
snow reports and
live snow cams.