Snow Season Outlook 2017 – July Update – New Zealand – And We're Off…
July 6th, 2017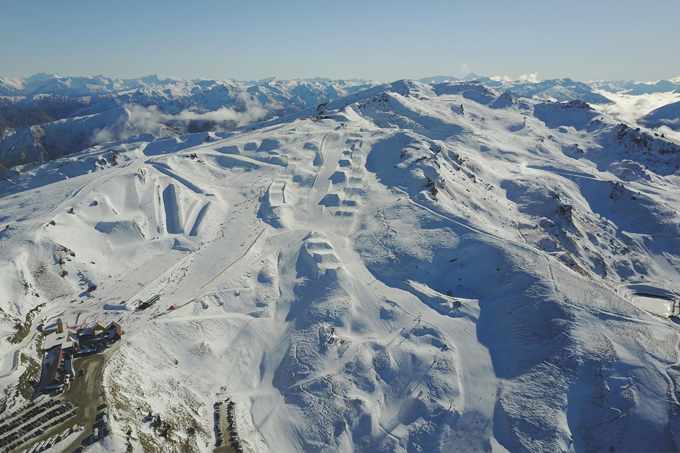 Cardrona could do with a little kickstart right now, but don't sweat it, the snow is coming. Image:: Provided
New Zealand Seasonal Snow Outlook | The Grasshopper
"Patience young Grasshopper" my master used to whisper when I was nothing but a mere larva with a twinkle in my oversized bug eyes. I remember the scene vividly – I was in training, learning how the never-ending dance between highs and lows affect New Zealand's majestic mountains. The Kiwi season has only just begun and it is that same patience and sense of zen that I wish to instil into your agitated hearts. The South Island is running around average for the time of year – it is faring better than the North Island which is a bit munted. Last week's timely snowfall helped to consolidate this lead. As my weary eyes stare into the crystal ball it becomes apparent that this outlook is much clearer than previous updates. As we hop towards the main part of the season let's take a look at how the Kiwi cookie is likely to crumble this year…
The biggest change to affect this update relates to the El Nino Southern Oscillation (ENSO). The last few updates which called for an above average season were based on guidance from international climate models which favoured a weak El Nino developing during the second half of winter. Sea Surface Temperatures (SSTs) in the Eastern Pacific were starting to warm in March and April. They have now dropped back to normal values and it looks like neutral ENSO conditions are here to stay. The new international model updates have now reached a rare moment of consensus – neutral ENSO conditions will prevail all winter. If only international politics worked in such harmony.
El Nino's aren't bad for the land of the long white cloud unlike our friends across The Ditch. They are associated with high pressure to the north-west and low pressure anomalies to the south-east. This favours snowfall in The Southern Lakes and The Canterbury High Country, southerly/south-westerly outbreaks are more frequent than in a normal year. Neutral years on the other hand aren't all that great for our part of the World. Conversely to El Nino years they are associated with higher than average pressure to the south of New Zealand. This increases the likelihood of dry easterlies.
But the weather is a wonderful thing, and fluctuations in the short term don't really care too much about what the long-term averages are dictating. ENSO variations only account for 25% of the day to day variation in New Zealand so it is important to keep faith. We can get big dumps in neutral years and vice versa so try not to fret too much.
SAM Index.
For those of you who also follow my Aussie Seasonal Outlook you will know that they have suffered through one of the driest June's on record. As we are in a neutral ENSO year (generally considered to be good for AUS) I attributed the lack of snow to a positive Southern Annular Mode (SAM) index. The SAM index represents the position of a band of westerly winds which encircle the Southern Hemisphere. During its positive phase, the band of westerly winds contracts towards Antarctica and higher than usual pressure settles in. Conversely, a negative SAM index means plenty of lows will make a direct hit which in turn brings frequent snowfall – especially to resorts closest to The Divide.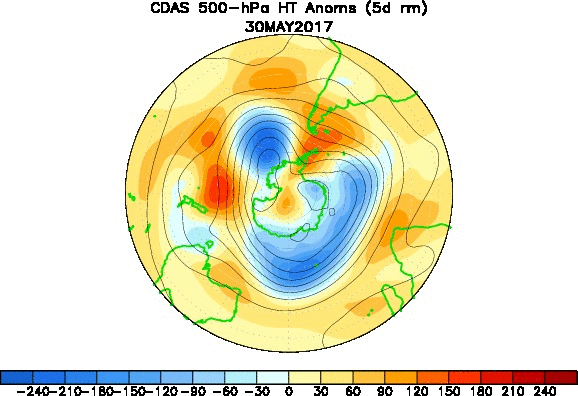 Pressure anomalies for June show that we had more days of high pressure than normal but we didn't suffer as badly as Southern Australia. Source:: NCEP
Unfortunately, the SAM index is difficult to forecast using climate models. However, it is persistent over longer time scales. After a long period of being mostly negative over the austral summer it has recently turned positive and will probably stay that way for the whole of the winter. This increases the chances of high pressure systems giving us settled weather in New Zealand.
Sea Surface Temperatures – On the Rocks
SSTs are anomalously warm around New Zealand with a recent cooling trend near the North Island and Marlborough. Further afield, much warmer waters (+3c over normal) are sloshing around off the east coast of Tasmania and South East Australia. Climate models forecast that SSTs will continue to cool to values around average nearer to home over the course of the winter while the much warmer than average SSTs of the NSW coast will persist. Warmer than average SSTs in this region mean that lows may be given a bit of extra zip as they move in our direction. It is good news that the SSTs near us will cool further. Warmer than average SSTs are associated with higher than average temperatures which have the knock-on effect on reducing the overall snowpack depth.

This SST forecast for the rest of the winter shows neutral SSTs gaining ground near to NZ while warmer than average SSTs persist east of NSW in the Tasman. Source:: NCEP
Regional Run Down.
The South Island is running rings around the North Island but that is to be expected at this early stage of the season. We have snow depths that are more or less average for the time of year in Otago and The Southern Lakes. Occasional south/south-west outbreaks have helped give The Canterbury High Country and The Southern Lakes the best snow with base depths around 60cm. This is better than this time last year when persistent northerly winds gave us a long dry spell with rain through June. Wanaka has a slightly lower base but benefited from a generous snowfall last week so it should be opening with good conditions. Ruapehu is the worst of the lot at the moment. It has been too mild for significant snow and heavy rain licked the mountain clean last week. Still, this isn't unusual behaviour this early in the season – it takes a lot longer for things to get going in the North Island.
The model forecast for the first couple of weeks of July indicates that high pressure will build to the south with a couple of weak lows moving over the North Island. A south-westerly outbreak is possible around mid-month as high pressure builds in the Tasman – though it is still a long way off.
I'd expect to see Otago mostly dry for the first 10 days of July with increasing chances of further snow around mid-month, especially in The Southern Lakes. Skiing should be good during this period with the possibility of a bigger dump towards the end of the month. The Canterbury High Country will be a bit cloudier with flurries from time to time for the first 10 days or so. There is the chance of fresh snow again around mid-month if we can get enough of a southerly going. I'd expect a bigger storm during the second half of July.
Ruapehu will have some light snowfall on the upper half of the mountain (with rain around the base) for the first 10 days of July as a couple of lows pass over but nothing significant. We aren't going to get rid of those rocks littering the lower slopes anytime soon. Things are looking better for mid-month, temps will continue to cool and a westerly outbreak should see snow arrive to lower levels. Although things are not looking great right now I think we will have a decent base by the end of the month and as always – August and September will be best.
Summary
Climate model forecasts of a developing El Nino were the basis of issuing a call for an above average season when I published my first Seasonal Outlook of this year. A lot can change in a few months in the weather World. We are now going to hang onto neutral conditions for the entire winter which changes the driving forces. So far conditions are average in the South Island and below average in the North Island. We have some positives to cling onto. SSTs will slowly come back down to normal levels and we can expect plenty of storms associated with natural variability. However, there is no getting away from the fact that we have a slightly higher than normal chance of easterlies due to a neutral ENSO. I see the current trends continuing for the rest of the season. I am thus forced to predict an average season overall with the scales weighing in favour of a slightly below average season in the North Island. Get out there while you can, conditions are good in the South Island after the recent snowfall. Don't go half pie, go all out!
That's all from the Grasshopper. We'll update this outlook in early July. If you've got a different theory on what's going to happen this winter, or just want to provide feedback, then please hit me up on the discussion below. Or you can follow me on facebook. You can also subscribe to my Weekend Forecast e-mail which gives you the first heads up on any big dumps heading our way over the next few months.
The Remarkables forecasts,
snow reports and
live snow cams.
Treble Cone forecasts,
snow reports and
live snow cams.
Cardrona forecasts,
snow reports and
live snow cams.
Turoa forecasts,
snow reports and
live snow cams.
Coronet Peak forecasts,
snow reports and
live snow cams.
Whakapapa forecasts,
snow reports and
live snow cams.
Mount Hutt forecasts,
snow reports and
live snow cams.