SNOW SEASON OUTLOOK – September Update
August 29th, 2013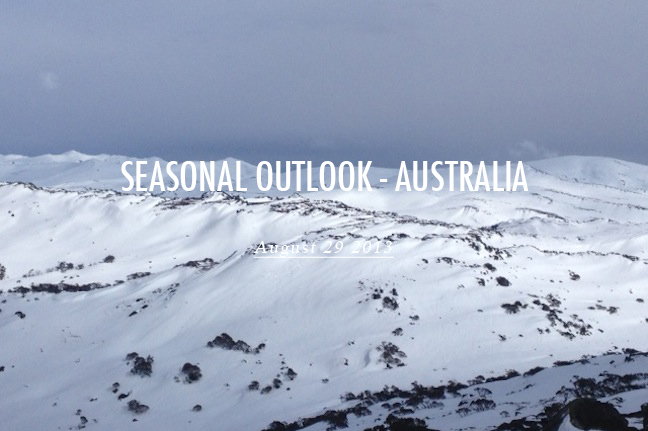 Reggae snapped this shot looking out to Charlottes Pass this morning, still lots of snow for some awesome spring skiing Image:: Reggae Elliss
Mountainwatch | The Grasshopper
Brought to you by ESS Boardstores
Sit down. Take a deep breath, maybe a sip of water. What I have to say won't be welcome, but I'll rip this band-aid off as quick as I can, and then we'll get to talking about why there are still a million more reasons to visit the mountains over the next few weeks than there are reasons to stay home moping watching all of the nauseating election coverage.
To cut a long story short, Australia is about to catch a fever. High pressures are going to take control of the continent for at least the next two weeks, which means warm air building up. To make matters worse, the favoured location for high pressure centres will be the western Tasman Sea, so that means more frequent northerly winds, dragging warm air from the outback down over the Aussie Alps. Stink balls.

Australia catches a fever early next week that will see temperatures well above average for early September. Image::BOM
Already our model data is talking about daytime maximums above 12 degrees across the Alps during the first few days of the month. Even Thredbo Top Station at 1960m is tipped to go above 10 degrees. The combination of heat, wind and direct sunshine on darker objects is going to see the snowpack take a decided turn for the worse over at least the next fortnight. Estimating just how fast that snow pack will disappear is a difficult task, but let's have a crack.
Strip it real good
Firstly, we can start with the fact that Thredbo Top Station has an average maximum afternoon temperature of about 3.4 degrees during September (give or take 0.2 degrees) depending on what base period you choose). Now, with these warm temperatures on the way we can estimate that September 2013 will probably come in a degree or more above average, that is, greater than 4.4 degrees.
Since 1972 there have been 8 years that had a September average maximum temperature of more than 4.4 degrees, and during these years Spencers Creek in the Snowy Mountains lost on average about 85cm of snow pack from roughly the start of the September to about October 5. (The worst was around 120cm, the best around 60cm.)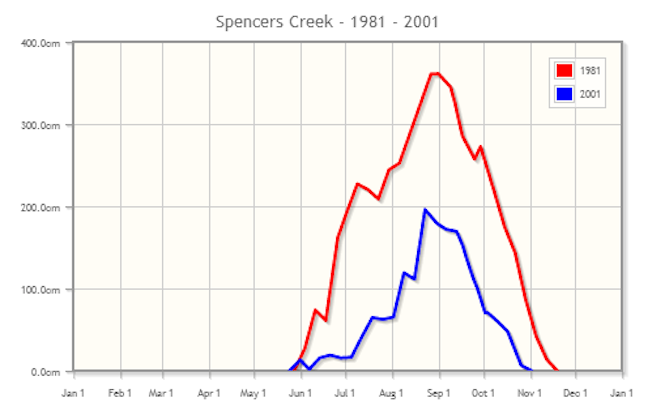 1981 and 2001 were two years with temperatures about a degree above average in September. Note how once the snow depth at Spencers Creek starts to decline in September we then lose about a metre in a month. Source:: Snowy Hydro
Because you can't, you won't and you don't stop
Secondly, if you look at graphs of snow depth long enough you realise that when heavy melting kicks off at some stage in September then Spencers Creek tends to lose about a metre per month. You may pick up a little snow here and there to slow the decline, but without any snow you'll be losing 25cm a week.
So for the next two weeks especially, things are looking a little grim. I wouldn't be at all surprised to see us lose 50cm of snowpack by September 15, taking us back down to around the 130cm mark at Spencers Creek. For the Victorian fields, I'm going to assume for the sake of argument the losses are comparable, which would take you down to about 80cm on the higher slopes.
LATE EDIT: We just got another reading from the good folk at Snowy Hydro of the snow depth at Spencers Creek. We've just tipped over the edge, and I'm pretty sure we've seen our peak snow depth for the season.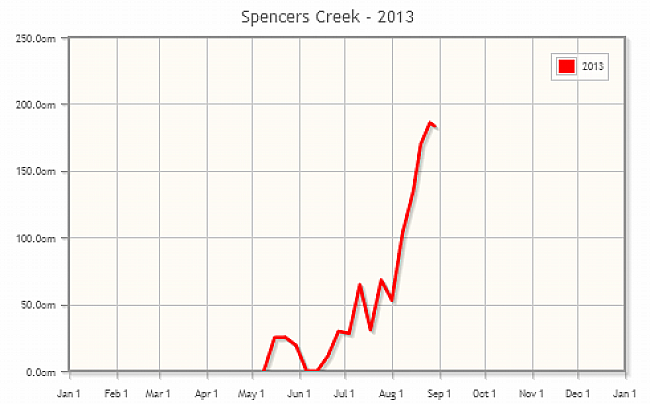 This is that moment where Coyote realises he's gone off the edge of the cliff, then holds up a sign that says "uh-oh".
Does a dead cat bounce on a melting snow-pack?
What I can't rule out at this stage is the possibility of a little more snow in the second half of the month. It is not out of the question that we could pick up a front with 20 to 30mm of rain, followed by 20 to 30cm of snow. I'm not saying this will happen, but it wouldn't be unusual, and I've got no reason to say it won't. But the problem, as you may have guessed, is that the initial 20 to 30mm of rain is going to chew into the destabilising snowpack like a hungry sasquatch, and chucking 20 to 30cm of snow on top of that is going to be a temporary fix at best… a lucky bonus for those who are up there at the right time, but that's about it.
The rain gauge is half full
My reaction to all of the above is "so what?" If you're prepared to ride on 50cm at the start of the season, then what's wrong with 80 or 100cm near the end of the season, especially if you're getting some nice spring snow? Sure, you might fall into a puddle or raging creek occasionally. Sure, these are upper mountain totals and on lower slopes things will be a lot sketchier. But the Aussie Alps in spring are one of life's wonders. All those landscapes, all that nature, and none of the dicks from your workplace.
So if you're tossing up whether to have one last crack at the snow this month, I say go for it. If it's going to put stress on your budget that your family can't afford, weeelll then maybe you can wait till next season or put it towards the power bill. But if that's not your excuse, than what in tarnations is holding you back?
That's my take. If you want to let us know what you reckon please join in the discussion below or hit me up on Facebook.
Perisher forecasts,
snow reports and
live snow cams.
Falls Creek forecasts,
snow reports and
live snow cams.
Mount Buller forecasts,
snow reports and
live snow cams.
Charlotte Pass forecasts,
snow reports and
live snow cams.
Hotham forecasts,
snow reports and
live snow cams.
Thredbo forecasts,
snow reports and
live snow cams.
Mount Baw Baw forecasts,
snow reports and
live snow cams.