Storm Watch – Dump and Dumper
June 25th, 2014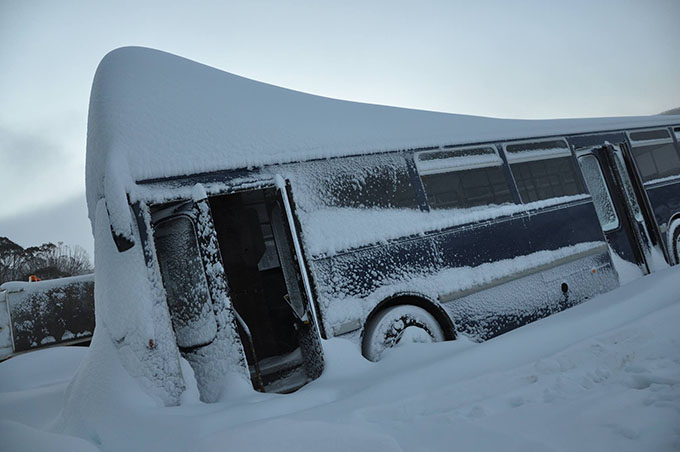 Now that's what you call a season-starter Image:: Perisher
Mountainwatch | Storm Wrap
There's a famous blues musician I'm reminded of. His name is Seasick Steve. He started life as a hobo, but was discovered and signed onto a record label who gave him what he needed to find fame. His first album was famously entitled: "I started with nothing, and I still got most of it left."
That ladies and gentlemen of the ski fraternity, exactly encapsulates the feeling after this storm. A week ago, we had nothing, and now we're rich. Does it get any better?
I'd also like to take this opportunity to address the haters. Yes we had a reasonably slow start to Winter, and the hype began when we opened without any snow on Opening Weekend. But like it always does, the snow arrived – just this time it's arrived with a bang. I wouldn't go as far as some media outlets have and call this the "storm of the decade" or use any other form of superfluous hyperbole, but I will say that this will be a week to be remembered this season. Get out and enjoy it… – Ed.
Here's the breakdown from The Grasshopper:
Dump and dumper
As I write this I have to laugh… We're sitting round with Perisher calling 120cm, Thredbo and Charlotte up around a metre, Falls and Hotham claiming 60+ and Buller around 40cm. We've just been through two days of amazing, and as if the season-starter wasn't enough, we're going to get smashed again this weekend. I don't know if it's bad karma to be writing a snow wrap half way through an event, but dammit, there's no way we can leave this thing until Monday.
If you get two season-starters in a week, what do you call the second one? On facebook I ran a poll to name this second feature. My favourite suggestion was "Dump and Dumper" from Adem de Manincor, but I think that applies to the whole week, hence the title above. So I'm going to hand the glory to Jim Grant and crown this coming weekend's event "Snowzilla". (No correspondence will be entered into).
So without further ado, let's check out how the "The Season Starter" played out, and check in on what Snowzilla is up to, lurking down in the Southern Ocean all-mysterious-like.
The Season Starter
This fellow showed up in models from quite some way ahead. I first mentioned it on 12 June, but as far back as the start of the month and my June seasonal outlook it looked like the period after 18 June was the one to watch.
By last Friday, things were looking good and it was time to get excited, and nervous.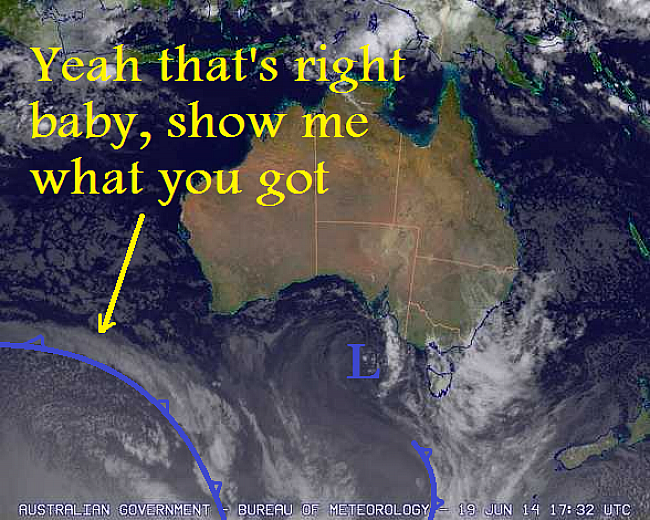 Friday 20 June. Our front in all its glory. Source: BOM
The next day, our boy was feeling kinky, the first signs that a low pressure system was starting to form.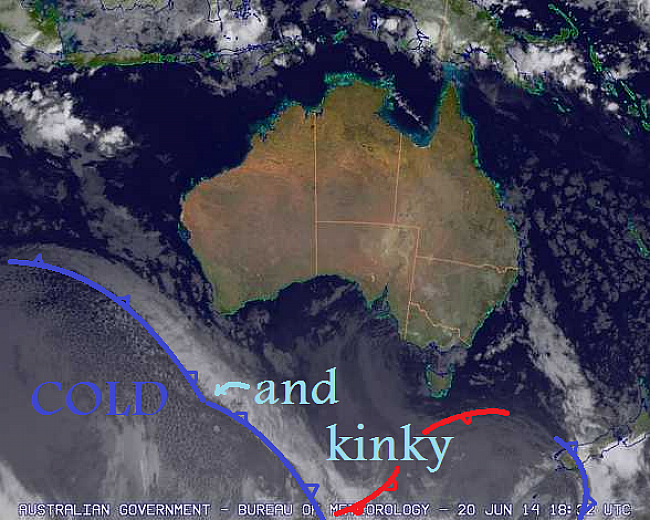 Saturday 21 June. Source: BOM
On Sunday the low was spinning up and expectations were increasing. The BOM analysis was fairly similar to my graffiti job, without the character.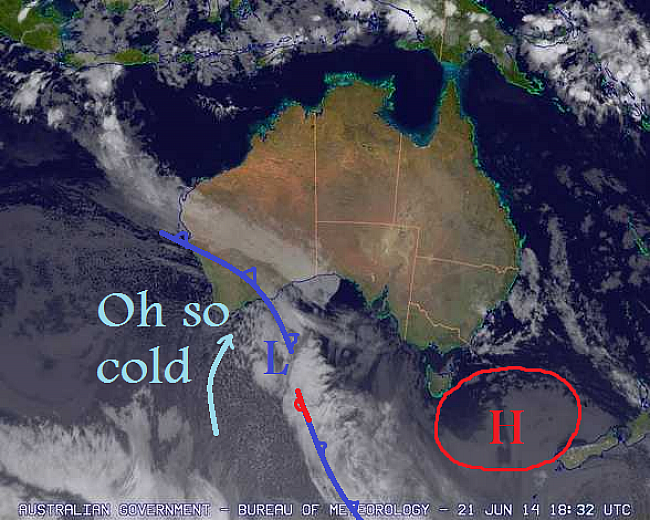 Sunday 22 June. Source: BOM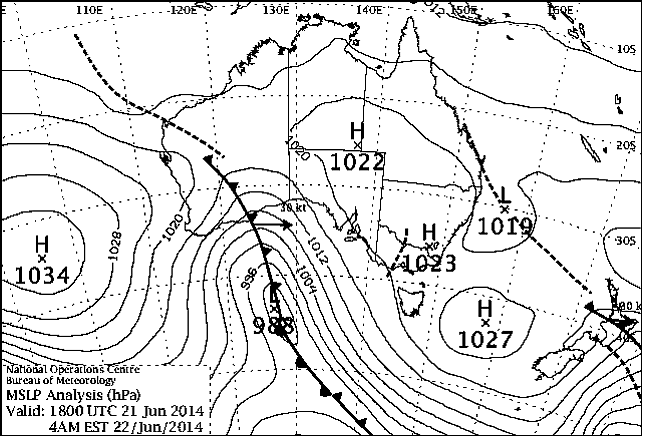 Sunday 22 June. Source: BOM
By Monday morning the day was upon us. Adelaide was taking a pounding, freezing levels were hovering around 1800m, and we were just a few hours away. Notice that second low to the south-west. It dumbbells around and becomes the main feature on Tuesday, but Monday is all about that surge of amazingness coming ashore in the image below.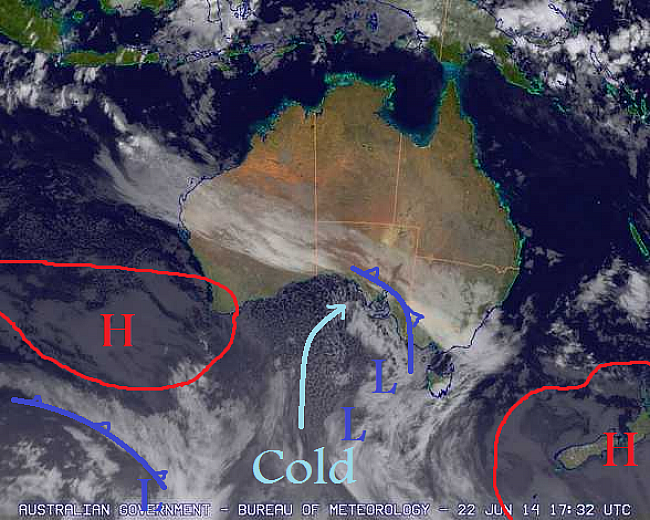 Monday 23 June. Source: BOM
On Tuesday we had that other low screaming through Bass Strait, with severe gale westerlies on its northern edge. Falls Creek especially did really well out of this.
Tuesday 24 June. Source: BOM
And today was the final bite of the cherry, as a few more snow showers eased back to flurries as they day wore on. But wait…. What's that down there in the bottom left of the image… Oh my god… it's…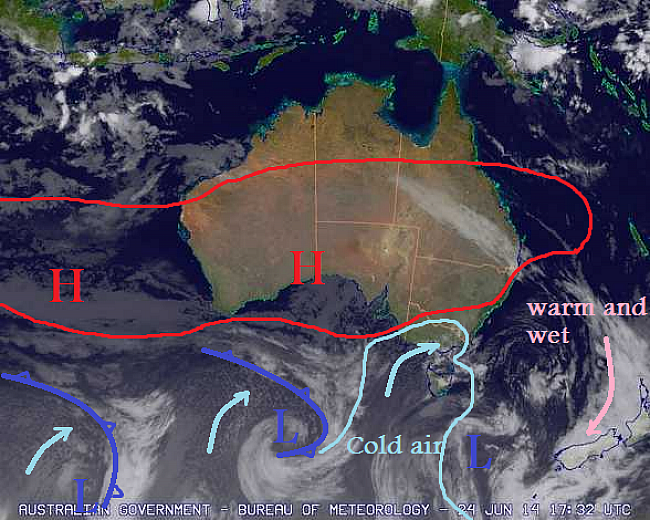 Wednesday 25 June. Source: BOM
SNOWZILLA!
The Season Starter was characterised by a great band of heavy rain falling as snow to low levels from Monday into Tuesday, followed by kickass westerlies on Tuesday, and then a final front to round out the week on Wednesday.
Snowzilla, on the other hand, will be characterised by:
A great band of heavy rain falling as snow to low levels from Saturday to Sunday: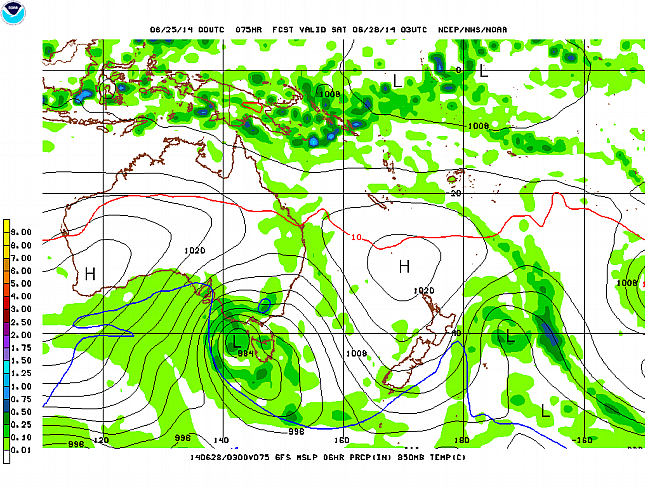 1pm Saturday 28 June Source: NOAA
Followed by kick ass westerlies on Sunday: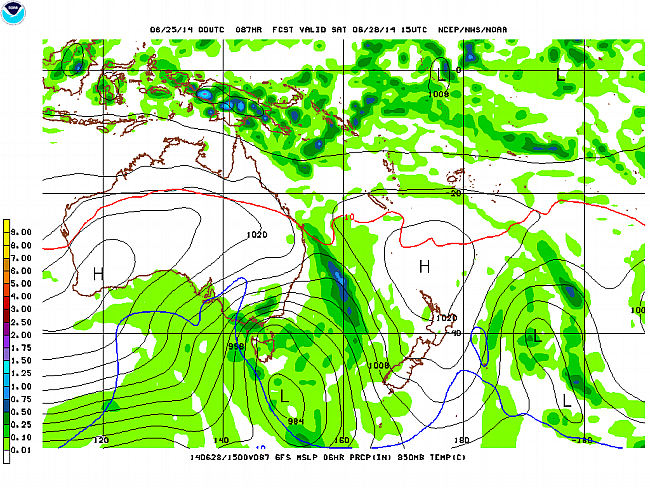 1am Sunday 29 June Source: NOAA
And then a final front to round out the week on Monday.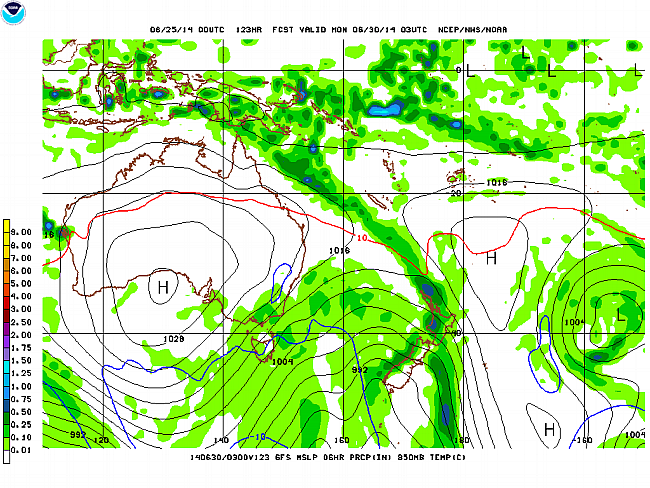 1pm Monday 30 June Source: NOAA
Notice any big differences? Not a rhetorical question. It's not obvious. If anything, I think Snowzilla just moves through a little bit quicker, and on Sunday those westerlies don't rear up over the Alps quite as much, reducing Snowzilla's potential compared to The Season Starter.
We're still a few days out from this event, and the relative strength of the high pressure systems either side of Snowzilla will also play a role in how the system moves through the region. As always, we watch and wait, and hope for the best.
That's all from the Grasshopper.