Ted Davenport's skiBASE
June 4th, 2010
Words | Krystle Wright
Images | Krystle Wright/Carly Thomas
As part of a month long base jumping expedition this April, professional skier Ted Davenport executed a thrilling skiBASE jump on remote Canadian Boffin Island.
Davenport, a former ski racer and freeski legend with numberous accolades, including most recently the 2009 World Heli Challenge Title – was part of a group of 23 international BASE jumpers on the trip. Flying into the small town of Clyde River on April 15 the team set out on an eight hour mission on snowmobiles to Sam Ford Fjord some 70 miles away. Clyde River itself is considered a last outpost of civilisation so our only company for the month was the presence of polar bears.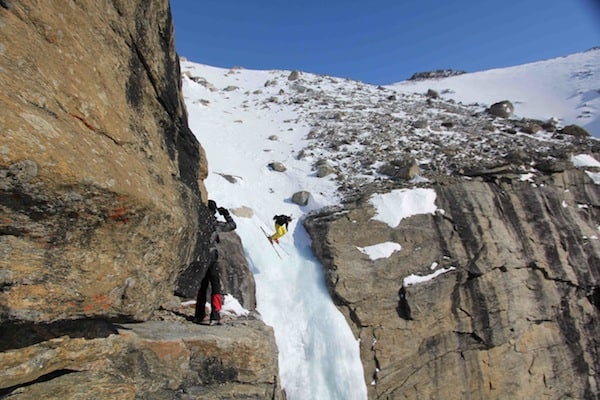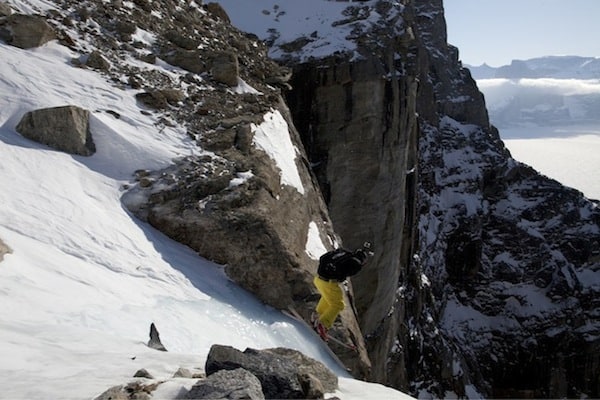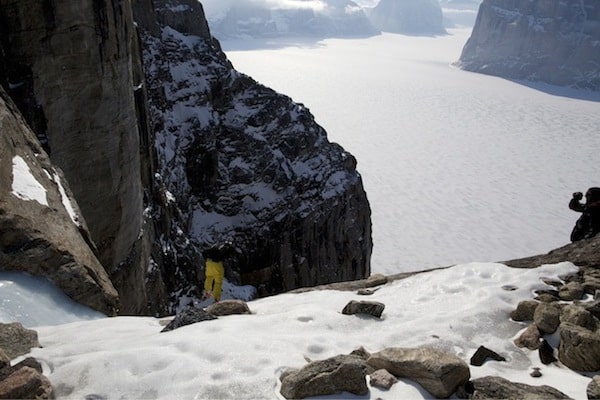 The largest island in the Arctic Archipelago, Baffin Island lies in between the coasts of Canada and Greenland. During the winter months, temperatures can easily drop below -30 degrees. In fact you may even recognise Baffin Island without realising it, as it appears in the opening scene of the 1977 James Bond film The Spy Who Loved Me.
The surrounding cliffs of Sam Ford Fjord can range anywhere from 2500ft to a towering 5700ft. Though not only are Base jumpers drawn to this area but also other adventurers such as rock climbers, speed fliers or cross country skiers.
In gale force winds, the team set up base camp under the sheer 3000ft cliff locally known as Kiguti. The first two weeks of the trip, the team was spoilt with perfect jumping conditions, allowing Ted time to scout out a suitable location for a ski Base.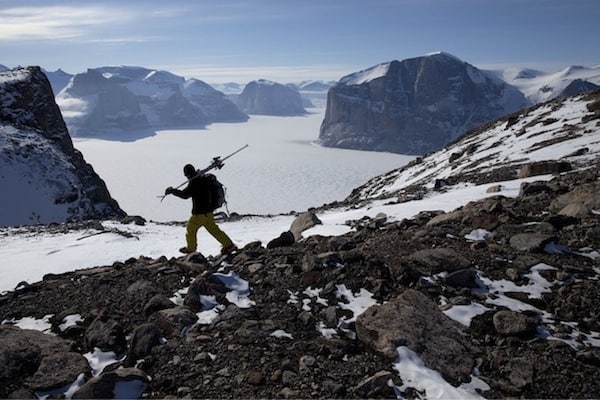 A steep bowl that funneled to an icy 200ft waterfall – Ted certainly found a unique jump. Shooting from the exit point, it was a tense wait as wind conditions were shifty and majority of the crew were at the bottom anxiously looking up. Though as soon as a lull presented itself, the call came and Ted's ski Base was like watching Base-jumping in fast-forward.
The final two weeks of the trip, we experienced tougher conditions with the occasional blizzard bringing in powerful winds and poor visibility with low clouds swooping the fjord. To pass the days that were un-jumpable, the team built an igloo, dug out an ice pool, practiced shotgun skills and surprisingly didn't eat our whole food supply.
Over 240 Base jumps were completed, though it is with great sadness that not all was to end well. With only five days to go before departure, our good friend Jim Mitchell unfortunately paid the ultimate price for living such an amazing life. Jim's fatal accident was a huge shock to all who knew such a courageous and gifted adventure athlete.
More about Ted
He Grew up ski racing and made the switch over to big mountain freeskiing when he was 16. He's now based out of Aspen, Colorado.
He has been a professional skier since 2005 and competes in big mountain, slopestyle and ski cross.
His contest victories include: 2004 Colorado Freeride Champion, 2005 Verbier Ride Champion, 2005 European Freeskiing Tour Champion, 2009 World Heli Challenge Champion, which combined all his disciplines in skiing, he took 8th in the freeride, 1st in Big Mountain and 1st in the Chinese downhill.
He'll be returning to NZ to defend his title at the World Heli Challenge.
He has been base jumping since 2005 and has completed almost 500 base jumps all over the world.