Tim Myers Interview
November 19th, 2009

Skier, filmer and the creative mind behind 2009's best big-air comp::
Story By Reggae Elliss::
Not surprisingly for someone who grew up with a ski resort as their backyard, most of Tim Myers's life has revolved around the snow. He is a third generation Snowy Mountains local, the Myers name is well known around Tumut and Selwyn Snowfields , which Tim's grandfather Colin established in 1966 and the family ran for over 30 years. Tim's skiing progression is typical for a resort kid – on skis at an early age, then regular ski school and followed by more elite coaching in the local race club. Throw in a few years as a junior competitive gymnast and you have the perfect combination for an all-round, all-mountain skier.
After a stint as a ski instructor Tim did a media course at Charles Sturt Uni in Wagga and worked at Perisher as camerman and editor for six years. It was during his time at Perisher that Tim's film skills grew, as he shot everything from stand-up snow reports, live crosses and plenty of on-mountain action. Tim's skiing ability complements his filming, allowing for some great point of view shots as Tim hits the jumps with the riders he is filming.
"I was stoked to be getting paid to ski and film whilst other people in my course still had a year of study and were then destined to work their way up via internships," said Tim.
Now has a "real job" working as a news camerman at Channel Nine, Tim is living in Sydney but made regular trips to the mountains last winter. Skiing and filming are still the two creative driving forces in his life and it was that passion that led to Tim organising one of 2009's best on-snow events, the One Hit Wonder , an invitational big air held in Thredbo in mid-September.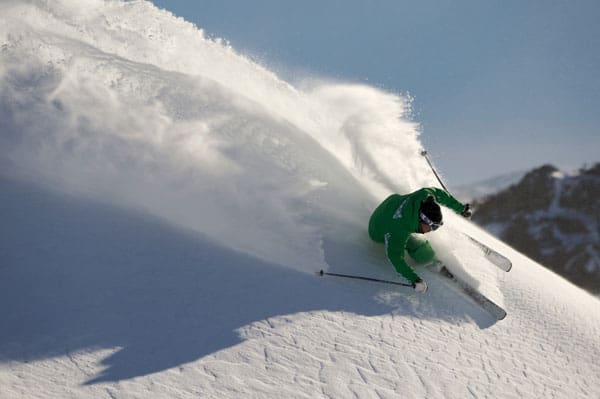 Full throttle in some Perisher fresh. Photo::Harro.
You had a pretty cool childhood, growing up in the country – living in Tumut in summer and Selwyn in winter. It was a different life to most kids, even those who live in other mountain towns.
My family has always lived in Tumut since I've been around and we lived at Mt Selwyn during the winter months and I went to school in Cabramurra, Australia's highest and whitest postcode. So naturally in such a situation with my parents house literally on the beginners' slope and a whole ski resort for a backyard I can't even remember my first time on skis I was so young. I eventually followed in my father's footsteps competing here and overseas in international alpine FIS races at the grace of a few NSW Sport and Rec scholarships until I went to boarding school in Sydney to do my final HSC year, though I snuck in a few Interschool races.

When did you seriously get into skiing?
Excellent question. I was also a competitive gymnast and was scheduled to get on a bus a travel to Melbourne with the NSW team to compete at the National titles. The problem was there was fresh untracked powder on the ground so I purposely hid from my parents and the bus, skiing all day amongst the trees in Mt Selwyn's side-country. Ripper day. After that I quit competitive gym and focused on my skiing. A few years later the "new-school revolution" hit the Australian mountains. I combined my gymnastic skills with my skiing and finished competitive racing when I pick up my first sponsorship with Dynastar skis for doing spins and flips on the snow… Who would have thought!? I took home my first pay cheque the following season after auditioning as a stunt man to do some halfpipe tricks for a Snickers commercial in the US. Tanner Rainville and I got the parts and after a week of shooting halfpipe airs in the Mammoth Mountain Superpipe, we were taken to Los Angeles to shoot "cool guy walking" scenes on a high-rise rooftop in downtown Hollywood covered with fake snow.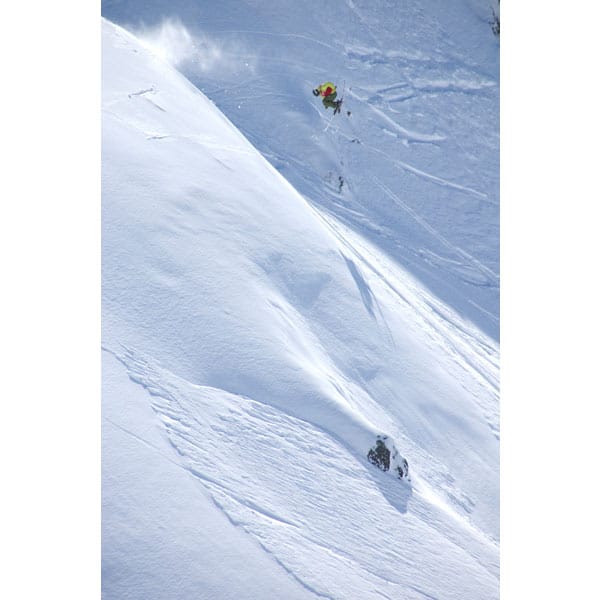 One of Tim's runs in the freeride day of the World Heli Challenge where he placed fourth. Photo::Ben Hansen.
You were into the freeski comps in a big way a few years ago, is that something you still
enjoy?There seems to be a trend in free skiing these days… You're either on the competition circuit or you're working with people hiding behind lenses taking photos or making movies. In the early days I did a few years of free skiing and halfpipe comps in Australia and America. Anyone will tell you it's always fun going head-to-head with your mates and throwing down in front of a crowd. The competition vibe in the Snowy Mountains was always fun and I was naturally competitive from when I was a racer, but as my role working at Perisher developed into full time hours I had less and less time to compete but somehow finding much more time to travel into the backcountry with photographers which is what I have been focusing on. I thought I was done with comps last year, but I got back into it a little in Japan earlier this year and then invited to the World Heli Challenge in New Zealand this season.

That looked like an amazing event and you had a good result on the freestyle day.
I'd actually competed in numerous big mountain comps in North America, including a few of the World Tour stops at Kirkwood. The judging and obviously the style of skiing required is very different to a comp in a man-made terrain park. I think I had a little advantage on some of the younger guys by using that experience and skiing the way that I thought the judges were expecting. But the reason I enjoy big mountain comps a lot more is everyone becomes a lot more selfless. You're not in a perfectly maintained terrain park, you're miles from anywhere in heli-only accessible terrain on snow that no one has most likely skied in months. It's a whole different level of insane and the mind games disappear. Everyone is just as focused on pumping the next guy up to launch that cliff as they are trying to visualise their own descent. It's amazing to watch and it was no exception in New Zealand for the Heli Challenge – Charlie Timmins' uber smooth 720s and Andrea Berchtold's attempted double front off the first cliff band … wowzers!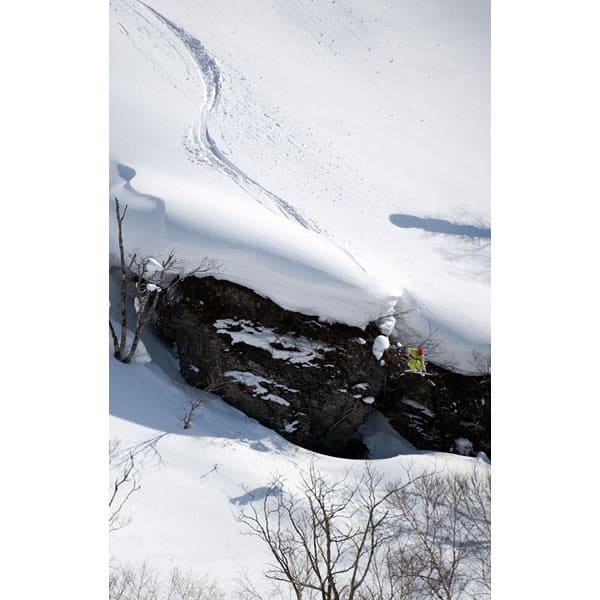 Taking an aggressive backcountry line into a clean cliff drop. Photo::Glen Claydon
How different was it competing on a mountain rather than in a park or a man-made jump?Ten times better being on a mountain.
The One Hit Wonder is a great concept…when did you first start thinking about it?
Originally I wanted to call it the "Tim Myers Invitational" but my girlfriend was quick to inform me that despite my own delusions, "You're like the John Symms of Australia, no one actually knows who you are…" Needless to say she is no longer my girlfriend, but nevertheless I thought about it when I was skiing and filming in Japan earlier this year. The idea was derived from the Jon Olsson Super Sessions . I asked myself what's the best event I could put on back home this season with no money and my skill, and I tweaked it out accordingly with the help of Andreas Gloor and Davina Williams who both know things about…stuff. It may not yet be the best event, but the One Hit Wonder was what I came up with. I knew we had skiers and snowboarders that could strut and I knew I could film it. My family has had a long history in the Australian ski scene and ultimately I'd like to contribute to the growth of the sport and that includes introducing an international audience to our free skiers.

$body
The jump they built at Thredbo was massive, much bigger than anything usually built in the Australian resorts. Did you have to do a lot of convincing with the mountain management?
I was told by some of the Thredbo locals that it had been dubbed the "f-#%#@rkcough" jump while it was being built, because that's exactly what on-lookers said when they spied the towering cheese wedge from the chairlift. Obviously I had to convince Thredbo why it would work for them, as is expected when someone asks them to donate a mammoth amount of expensive cat time and skilled personnel to build a jump so that a couple of kids can launch off the side of their mountain. They were very willing to give it a try and the man power it took to maintain that jump during the event in the typical Aussie alpine spring-time heat was immense. Sammy Towers had his team raking and salting in-runs, take-offs and landings all day long. Adrian Pelly wore out a sled and gave himself throttle-thumb ferrying the athletes back up the top after each drop and Marty Bourke from Thredbo Media didn't grumble out-loud once when he had to take his eye off blonde snow bunny reporters to help me film! Plus they provided us with accommodation for all the athletes in none other than the Thredbo Alpine Hotel, but more importantly a bar tab to cap off the last day of jumping. Their contribution made the One Hit Wonder Down Under something to look forward to next season.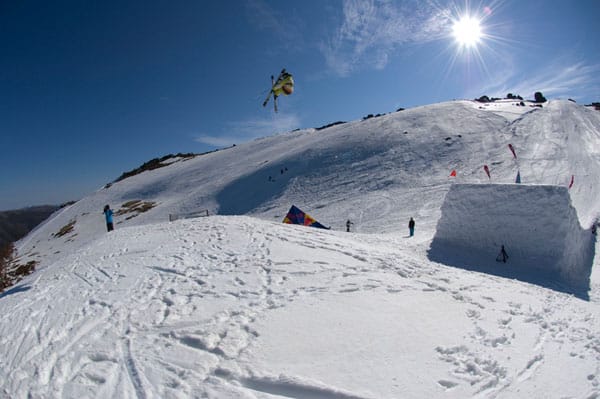 Tim taking some time off from the camera to hit the Thredbo kicker during the One Hit Wonder. Photo::Ben Hansen.
Did you have any input into the design or was it all Charles Beckinsale and the Thredbo terrain park crew?
When the concept was still in its infancy, I asked some of the riders who builds the best jumps… They all said Charles. I've been hitting his jumps for the past few years in comps at Thredbo, and while some have initially scared the pants off me, they have always been fun. He was the first person I asked at Thredbo and straight away he started throwing some ideas about location, shape and size back at me and it was on. I was in New Zealand during the weeks leading up to the event so I didn't know firsthand about the conditions up on the jump site above the Cruiser chair, so I was happy to leave him to his vision. Even had I been there, I'd still have let him and his team work their magic… I know what a jump looks like and how to fall off one, but my building experience is about nil.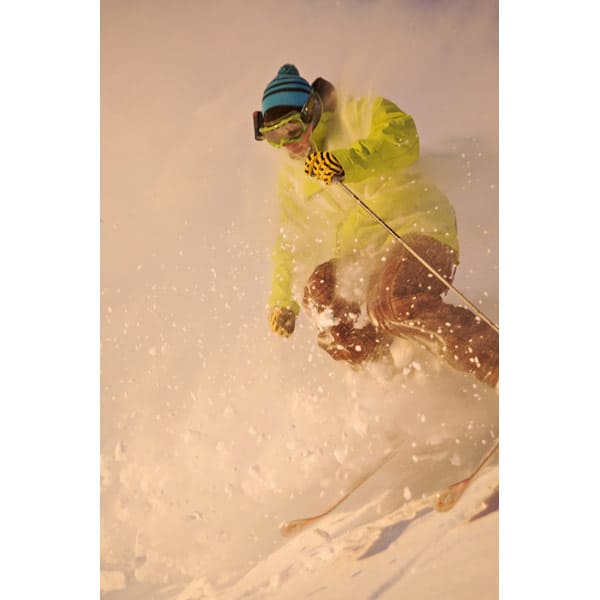 Tim rigged up with the camera for a skier's eye view. Photo::Harro.
It was pretty amazing, especially with everything coming together –
the weather, jump etc. And the performances were amazing…
The result was very rewarding for me and everyone who worked alongside me on the event. However we got scared a few times; Only days before the athletes were set to take to Thredbo, Charles, while testing his own jump as he usually does, separated his shoulder and put himself out of action for the rest of the season. Another pro snowboarder on a private photoshoot took the hit way too big and those who saw it reckon he was lucky to only sustain the season ending knee injury that he did.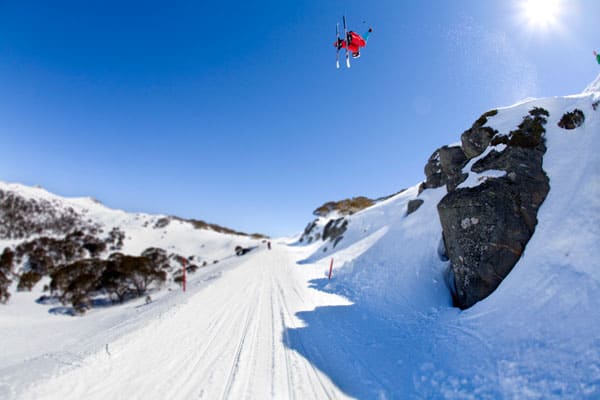 The Charlottes Pass road gap is a favourite for the Jindy/Perisher crew. Tim checking things out before getting behind the camera to film. Photo::Ben Hansen.
What are the plans for next year?
I'm going to keep that under wraps for now. Though I can tell you Johnny Lipzker will be taking his shirt off again. In other words I don't really know yet. I'm still editing video content for various web and television shows from this year. I could give you the usual "bigger and better" spiel but realistically while we want it to grow, we want to take small steps and tweak to perfection the format we devised this year. Events like this should be as much about giving the riders an experience as well as the audience and that is what I want to work on. Just count on it being the best event on the 2010 ski and snowboard calendar … unless there is something better.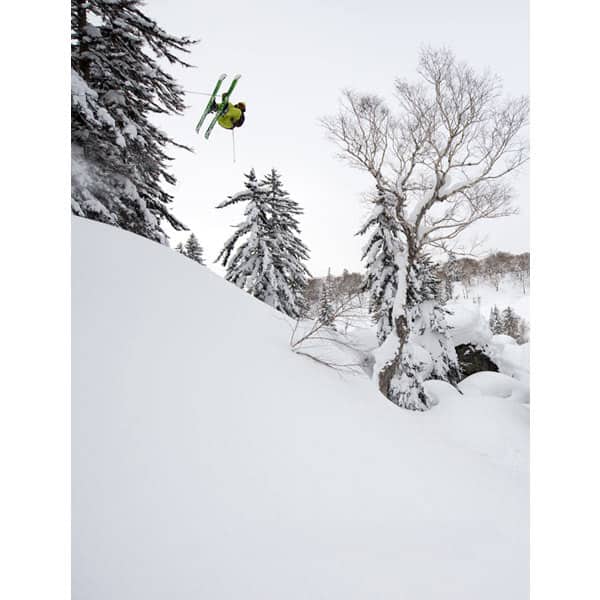 Trail head: "Getting free skis for doing some spins on skis". Tim mid-mysty. Photo::Glen Claydon.
You have been watching the progression of Australian free skiing from the front row – there is some incredible talent now, how do you see it developing from here?
As talented as our riders are, we are in the wake of the Northern hemisphere athletes in terms of innovating the sport. Though just being able to keep up is actually quite an amazing achievement given the climate we live in and the much lower profile of action snow sports has here when compared to either America or Europe. Our best skiers can certainly keep up with the planet's top athletes – the footage from the One Hit Wonder is proof, but it takes a huge amount of time and money to be invested to create such an athlete. I see Australian free skiing right now as having adopted a fairly typical attitude. If given the opportunity, yeah our guys/girls can compete on a world stage…look at Anna Segal and Russ Henshaw. But until you can make a full-time job out of free skiing in Australia, the majority of the local Jindy crew or the Victorians whose names you might have read about will still have to skip on a winter season to go to uni or miss an overseas trip because of a day job. Unfortunately that doesn't meet the minimum investment required to secure the lucrative sponsorship deals seen overseas by the pros who are lucky enough to be able to make a healthy living out of such a fun sport. Having said that, you're still going to see the likes of Watkin McLennan, Chris Booth and the Timmins brothers skip lectures to road trip up the Mountains to do incredible things on their skis. I'll most likely call in sick and join them.
Perisher forecasts,
snow reports and
live snow cams.