Friday 13 September – Wind, wind, wind, then rain with a bit of snow on top
Synoptic Outlook
Wind is the standout feature over the next four days as a front slips under us later today, followed by high pressure to the north during Saturday.
Another front rubs up against the Aussie Alps during Sunday and Monday, with a bit of wet stuff messing things up. However, a cold, light southerly change later on Monday will bring those sky-high temperatures back down to terra firma, and we may see snow fall down to mid slopes on some resorts.
Image of The Day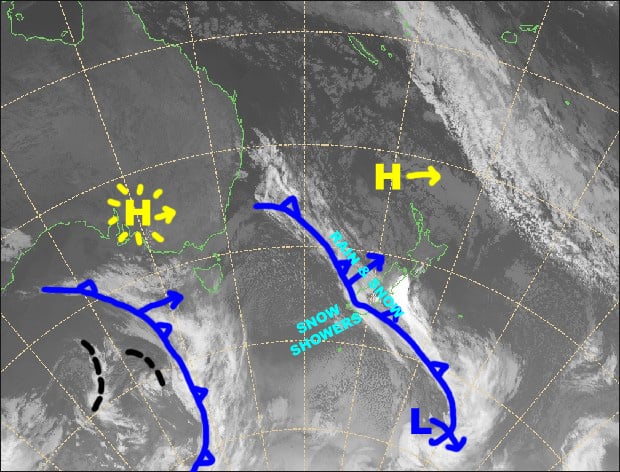 Some windy days ahead as a front slips under us and high pressure swings past to the north. A front will bring rain during Monday, but snow should lower to mid slopes on some resorts. Source: NZ Metservice (vandalised by the Grasshopper)
Friday 12 September
Fine apart from some mid and high cloud later this afternoon as W-SW winds strengthen.
Saturday 13 September
Strong SW winds will taint an otherwise clear, sunny day. However, winds will gradually abate.
Sunday 14 September
A partially cloudy day with a smattering of showers over Victoria, along with gale westerly winds.
Monday 15 September
A wet, rainy, drizzly sort of a day, but temps will drop during the latter half as gale NW winds change to a light southerly, lowering snow to about mid slopes on some resorts.
Extended Outlook
Any remaining snow or rain will clear Tuesday morning as the front pulls away to the east.
Northerlies are then likely to develop later on Wednesday and should see us through until a wet looking front hits next Saturday. During this time, temperatures will soar again, as the climate looks to put the cold season to bed and don a pair of sunnies, stubbies and a singlet.
That's all from the Grasshopper. Wanna keep your finger on the pulse of all things snow? Join my weekly email list by filling in the box below. If you have a question or feedback for me, hit me up on facebook.