Freeride Friendly Japanese Resorts – The Ultimate Off-Piste List – 2019/20
November 21st, 2019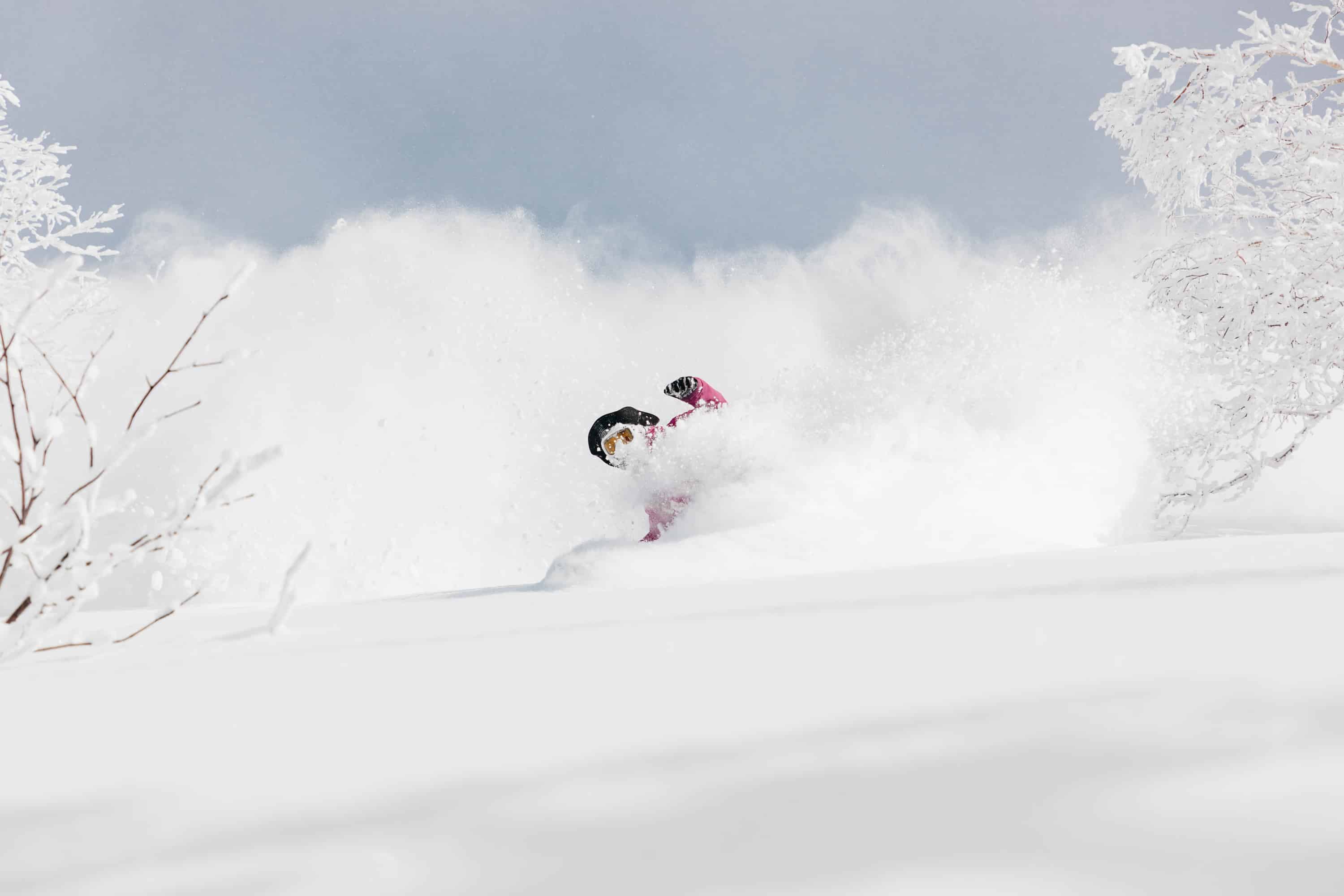 Mountainwatch | Matt Wiseman
To tree ski or not to tree ski? That is the question in Japan, or at least it has been a question grappled with by plenty of Japan's best resorts over the last few years. While the international ski and snowboard community would answer the weak Shakespearian pun above with a big fat yes to the former, many resorts have been hesitant to permit off-piste riding.
Explanations as to why such historical opposition exists are fairly difficult to come by. It could be a vestige of Japanese Buddhism which viewed the trees as a sacred home to spirits, making riding between them frowned upon, but more recently it can just be chalked up to a culture of respect and adherence to long-established rules.
Whatever the reason, it was to the delight of brazen tourists a few decades ago, who could duck a rope and pillage powder to their hearts content.
Yet, as more and more presumed to do so, along with a contingent of Japanese riders, many resorts hands were forced and the holy grail of powder skiing became a little more accessible – and a lot safer.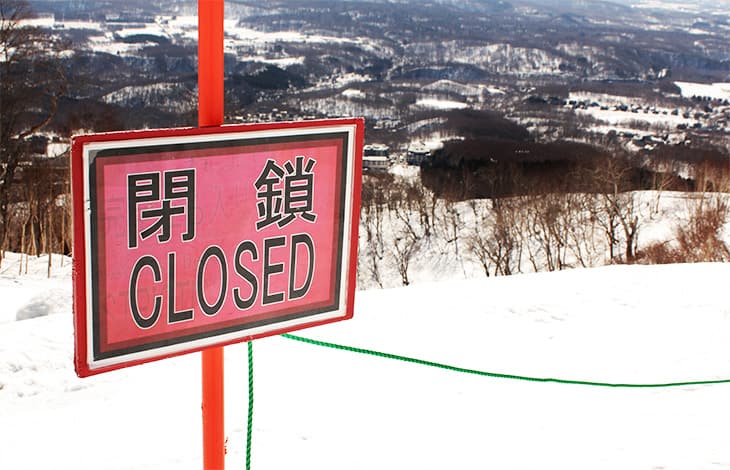 Niseko United – arguably now at the forefront for off-piste riding policy in all of Japan – made some of the first moves in 2002 when they opened up their off-piste terrain to the public. According to Snow Japan at the time, "Gone are the days of powdery espionage. No more games of cat and mouse, playing hide and seek with ski patrol."
"At last it has happened. Niseko-Hirafu Resort has bestowed on powder seekers the right to ride out of bounds without fear of pass-loss. Take your pick: Strawberries, Tetsu's, Roy's trees, the Peak run… they are now all open and waiting to be enjoyed without guilt or fear." – Ben Kerr, Snow Japan
While patrollers turned a blind eye prior, perhaps most to blame for the official policy of denying the off-piste was the Japanese Forestry Department within the tenure of which many resorts operated. They historically gave strict instructions to resorts to keep their clientele on dedicated runs and therefore outside the 'natural forest' classified off-piste.
Nearby Rusutsu followed Niseko's suit, but way later, as recently as the 2014/15 season. Renowned for its nicely spaced, almost gladed tree skiing, the resort had to apply to the Forestry Office for permission to let its skiers and boarders access the in-bounds 'woodland' terrain. The caveat to this was the resort was precluded from advertising and actively promoting the terrain on its website.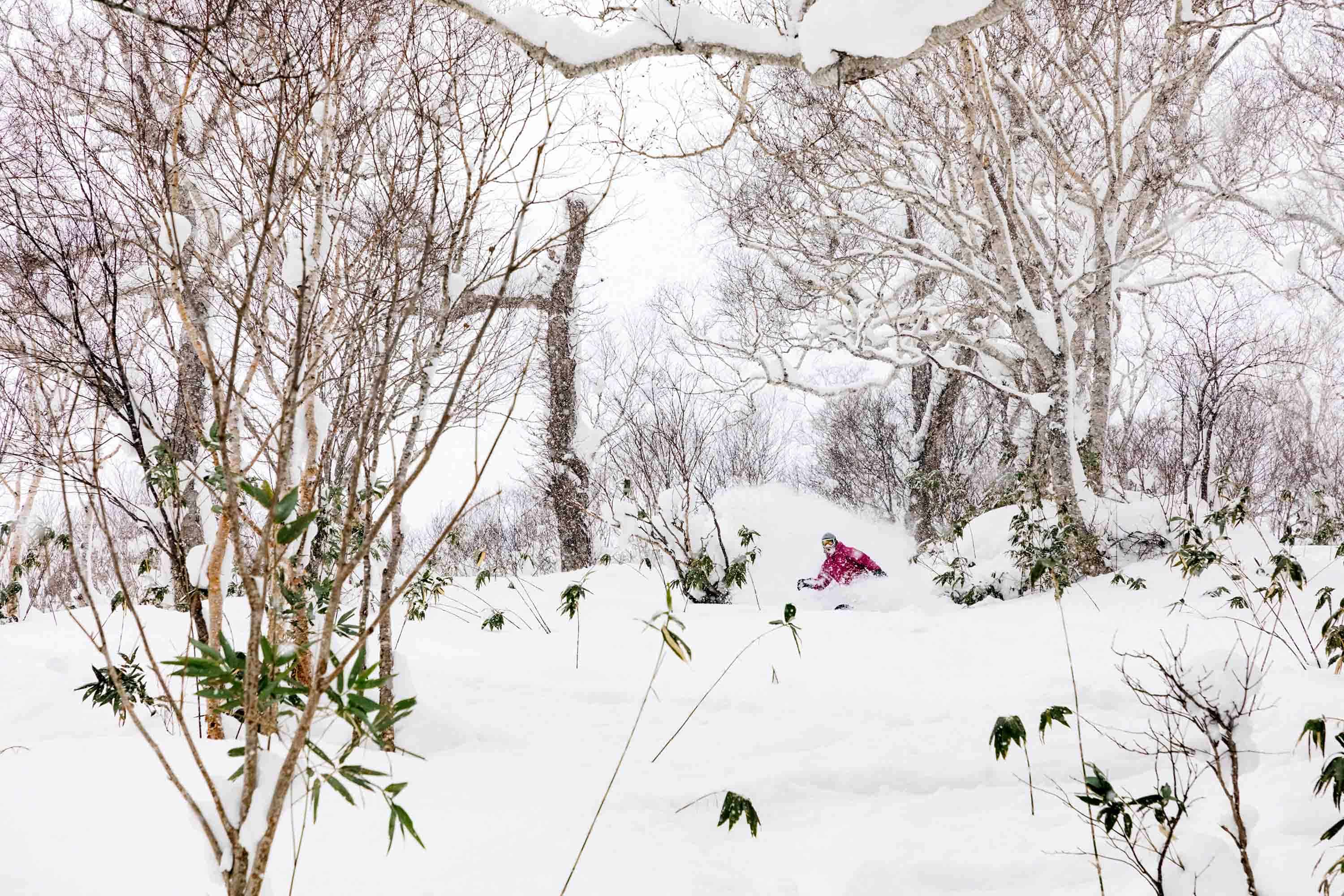 Fast forward five years, and we're about to enter the 2019/20 Japanese ski season. With snow falling across the island, we thought we'd re-evaluate the off-piste situation across a few of the most popular resorts – unsurprisingly we learnt these tend to be the ones with the most accommodating off-piste policies.
We haven't based the following on the resort's 'rope duckability' or the strictness of ski patrol, instead these are resorts that, dare we say, want you to ski off-piste and understand that's why most of us visit the powder capital of the world.
Of all the resorts in Japan, it's not unfair to say that Niseko has the most developed freeride infrastructure. Not only is skiing the trees inbounds encouraged – for example, Miharashi off the Hirafu gondola is pretty special on its day – but the gate system takes the freeriding possibilities a step further.
Niseko have developed "Local Rules" to govern the use of the gates and general off-piste activity – there's a good summary of these here. While these peripheral zones are opened and closed by ski patrol depending on the daily avalanche conditions, they are effectively the backcountry and require you to have the associated safety equipment/know how (beacon/probe/shovel/backpack).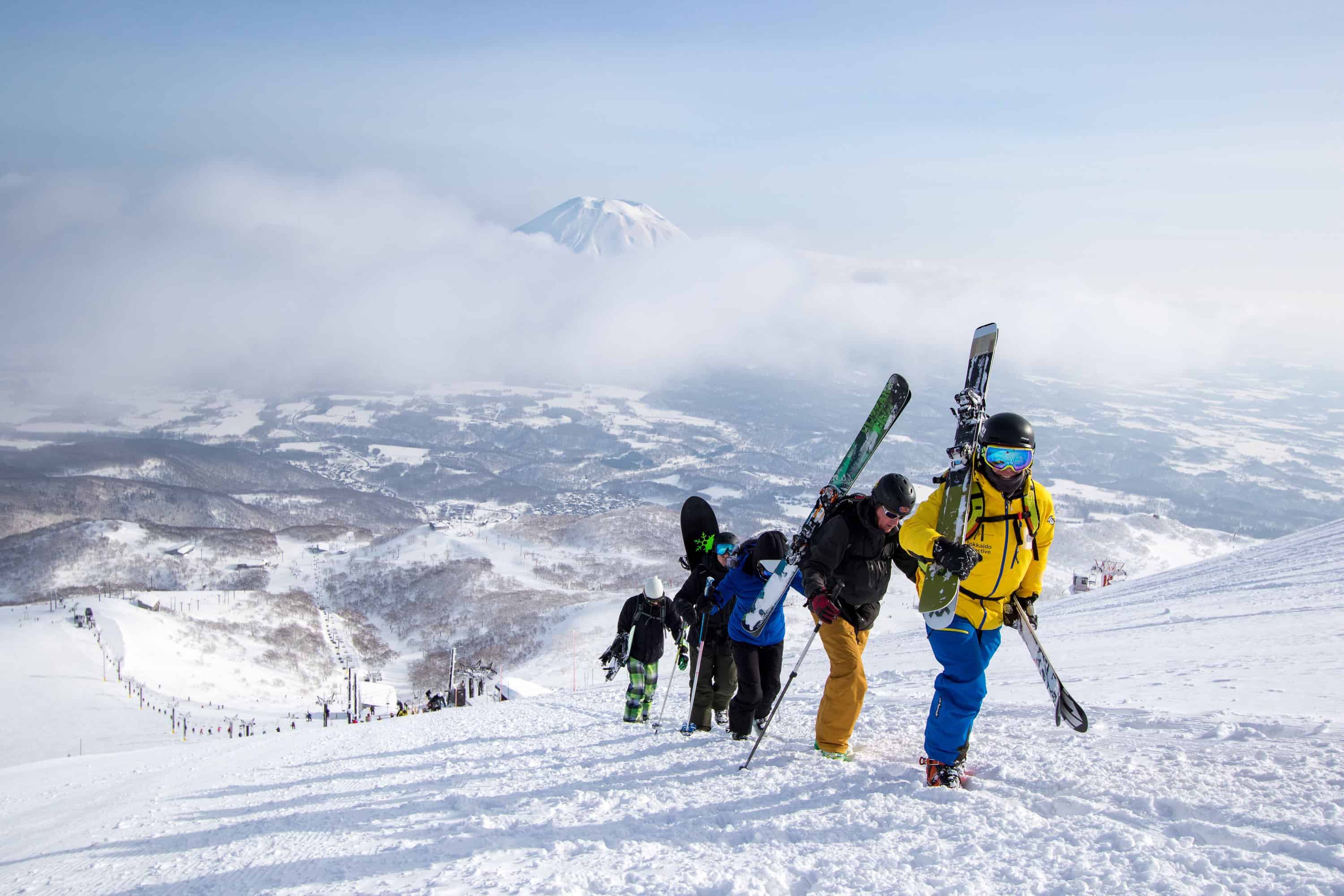 11 designated gates – similar to the type found in North America – are there to choose between, and offer everything from pillow hits (G 11), open fall line riding from the peak (G4), more intermediate, low hanging fruit so to speak, in 'Strawberry Fields (G9) and some nicely gladed trees next door at Moiwa resort (G6 and G10).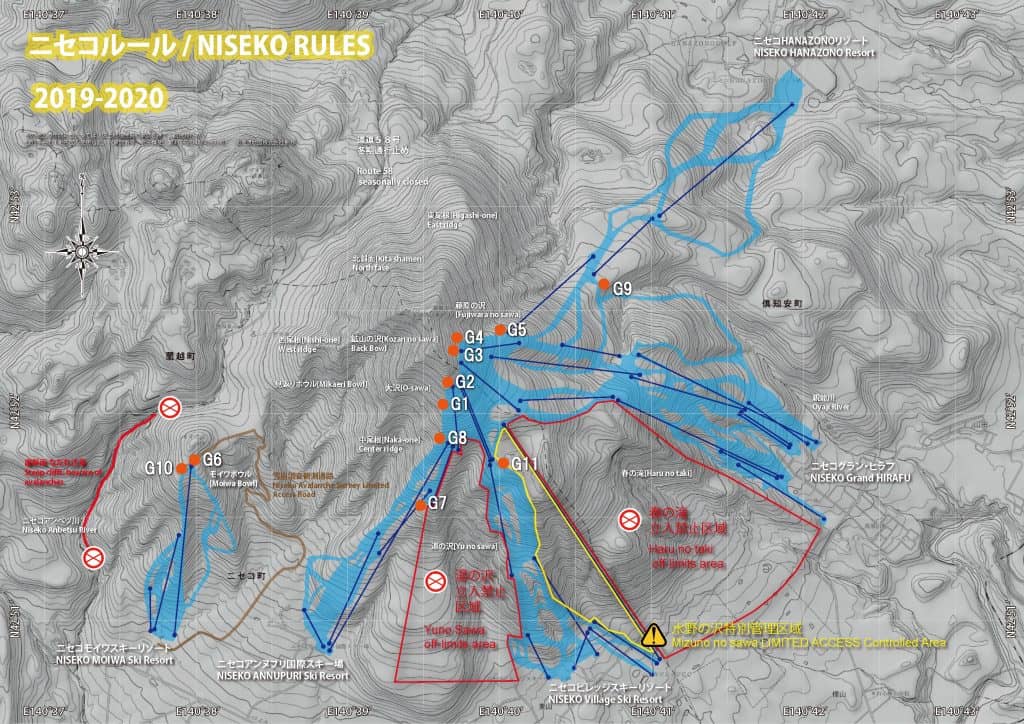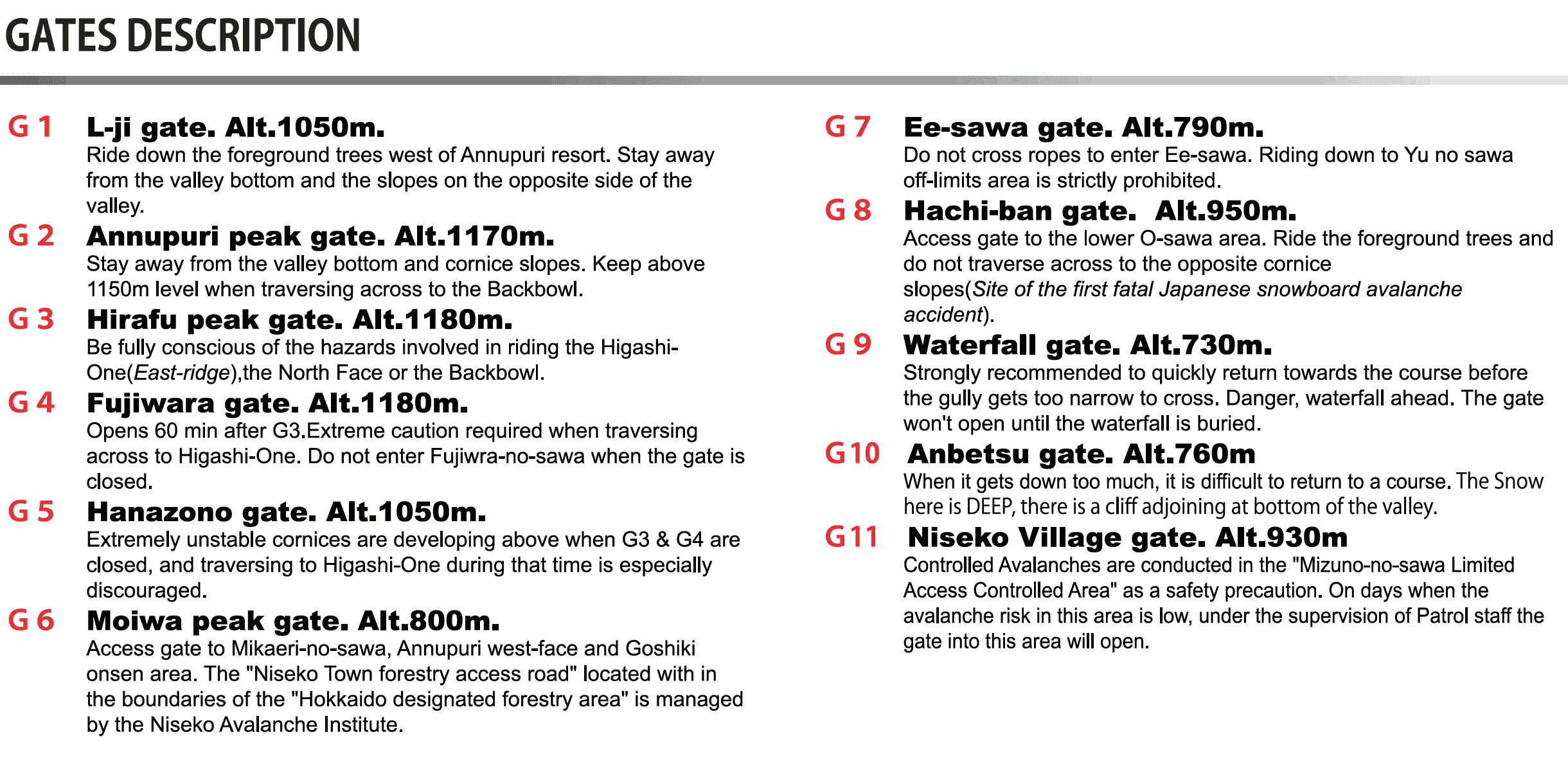 The trade-in of the gate system is two strictly out of bounds zones where people have lost their lives – Haru No Taki and Yuno Sawa. While they have some very alluring terrain features, they are prone to slide and they're not worth your pass – let alone your life.
Instead, check out some of the shaded red zones below for all your freeriding desires (once again assuming you're properly equipped with gear and know-how).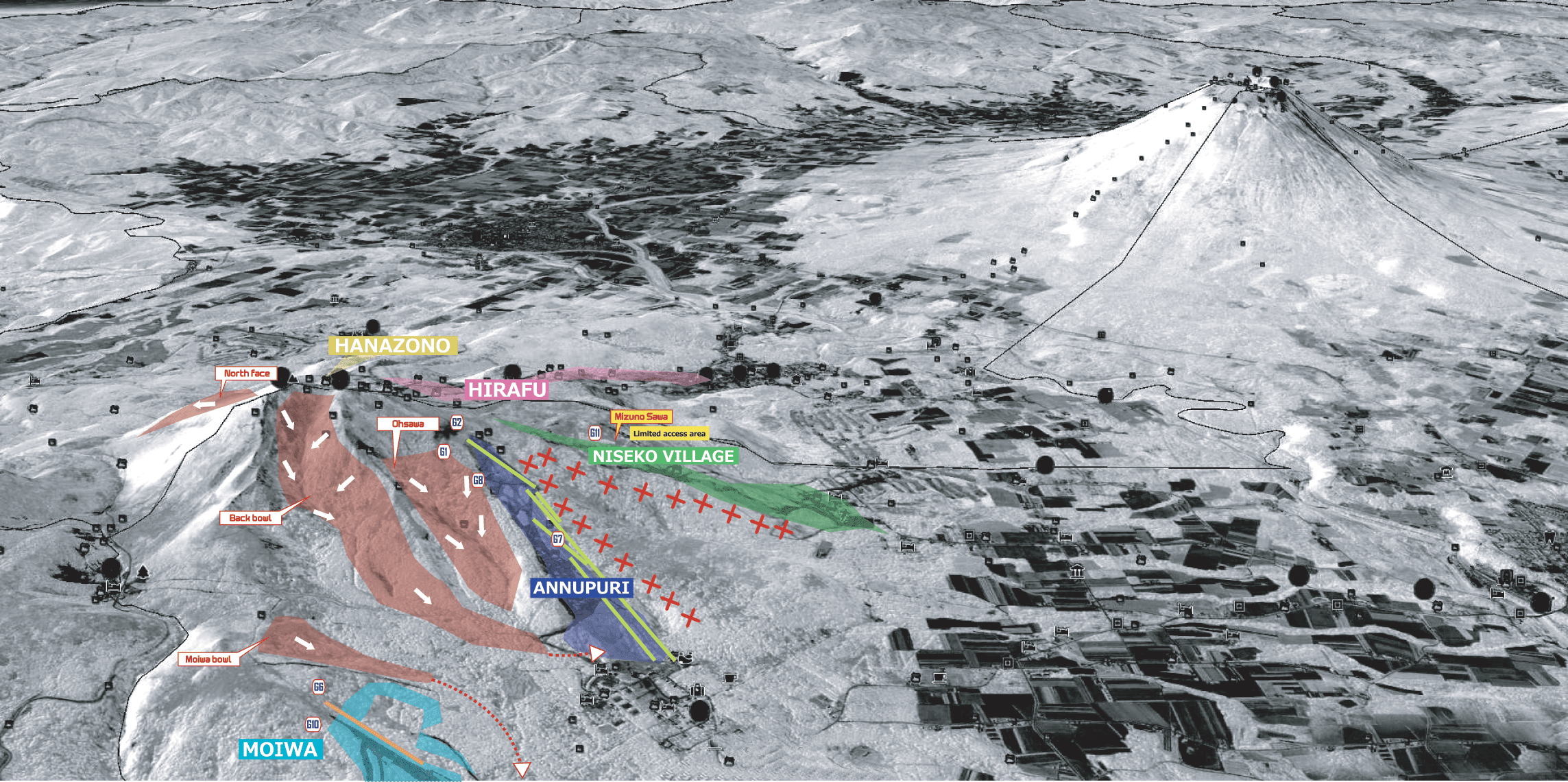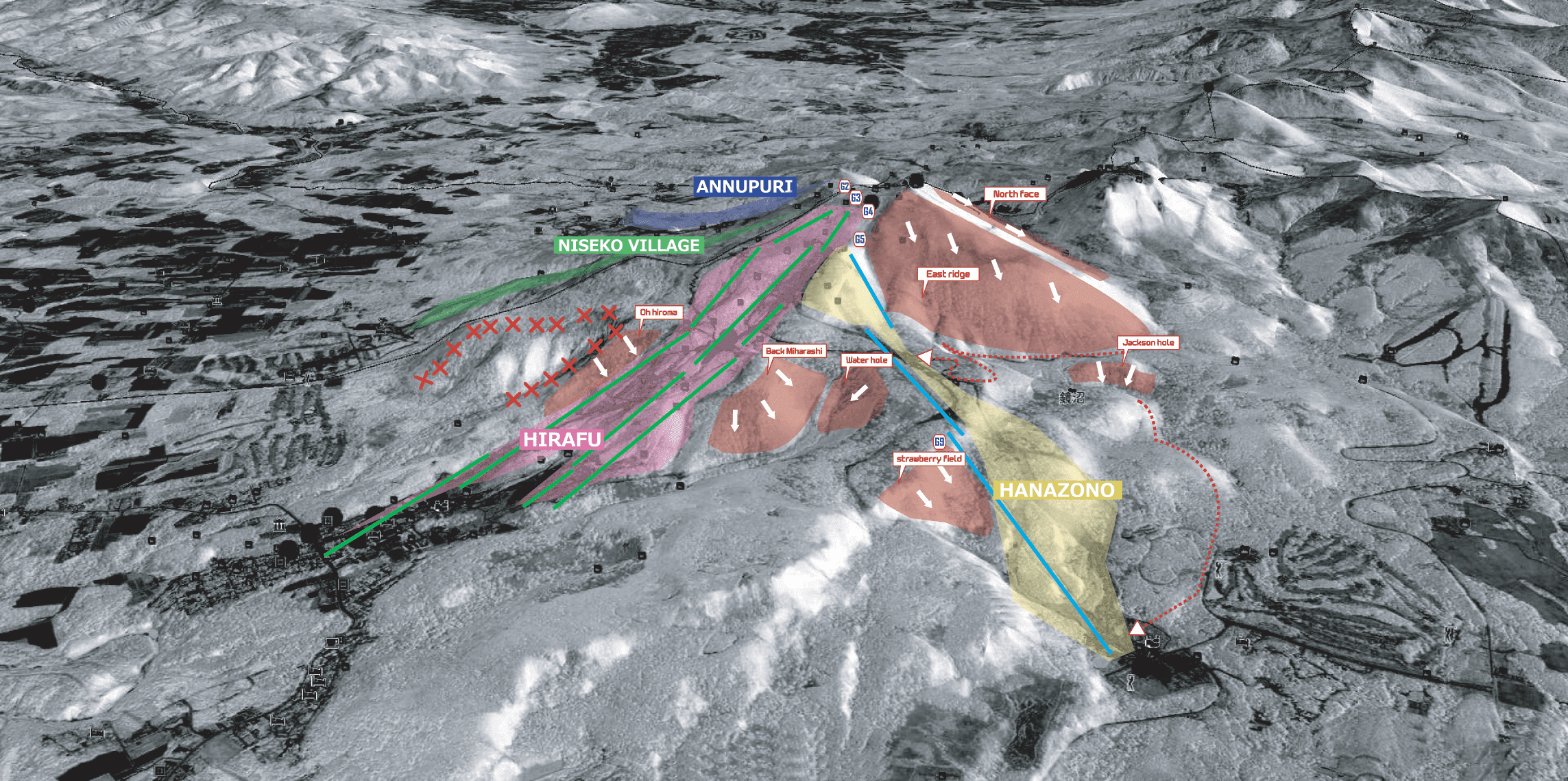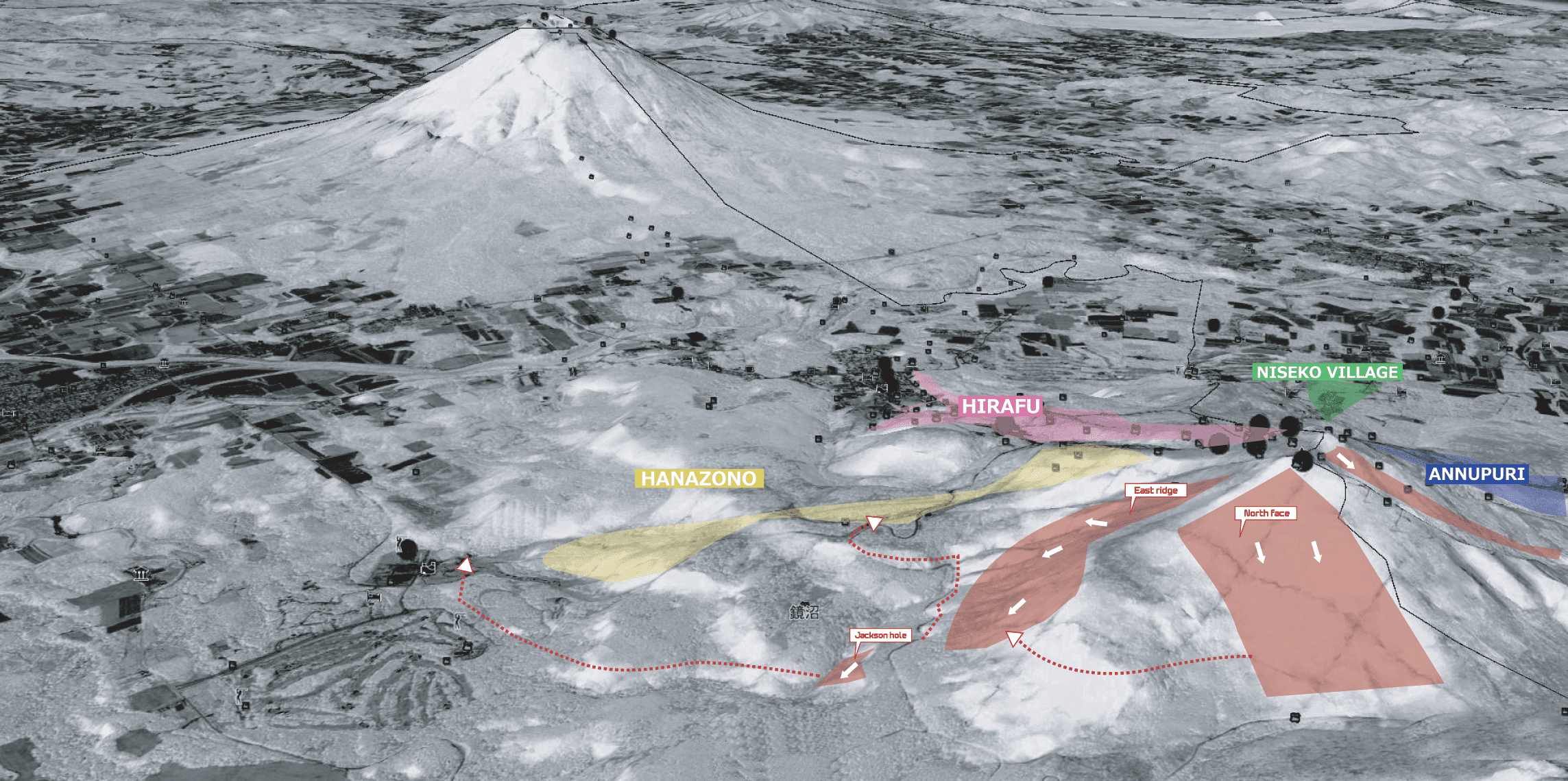 What else Niseko has going for it in terms of accessible freeriding is the general geography that tends to make getting in and more importantly out of, the sidecountry relatively easy. Monkey trails and traverses become well established by a few skiers in the know and hiring a guide will also help you maximise your turns leading to these trails before technically re-entering the resort.
As mentioned, Rusutsu embraced off-piste riding about 5 years ago. Since then a lot has changed, not least being its inclusion on the epic pass.
The tree skiing here is about as good as it gets on a powder day, and the Isola Quad chairs make accessing it supremely easy.
Anything within the resort boundaries is basically free game, and the terrain naturally funnels you back to the chairlifts at the bottom – it's a lot easier than Niseko to navigate around for example. However, like anywhere you must stay within the resort boundary as if you go wrong, you'll go very, very wrong. For example, anyone who's been will recall the huge skull and crossbones sign that skirts the ridgeline between Mt Isola and East Mt and threatens anyone who drops off the admittedly alluring south west side into what is a no-man's land with a long boot-pack return.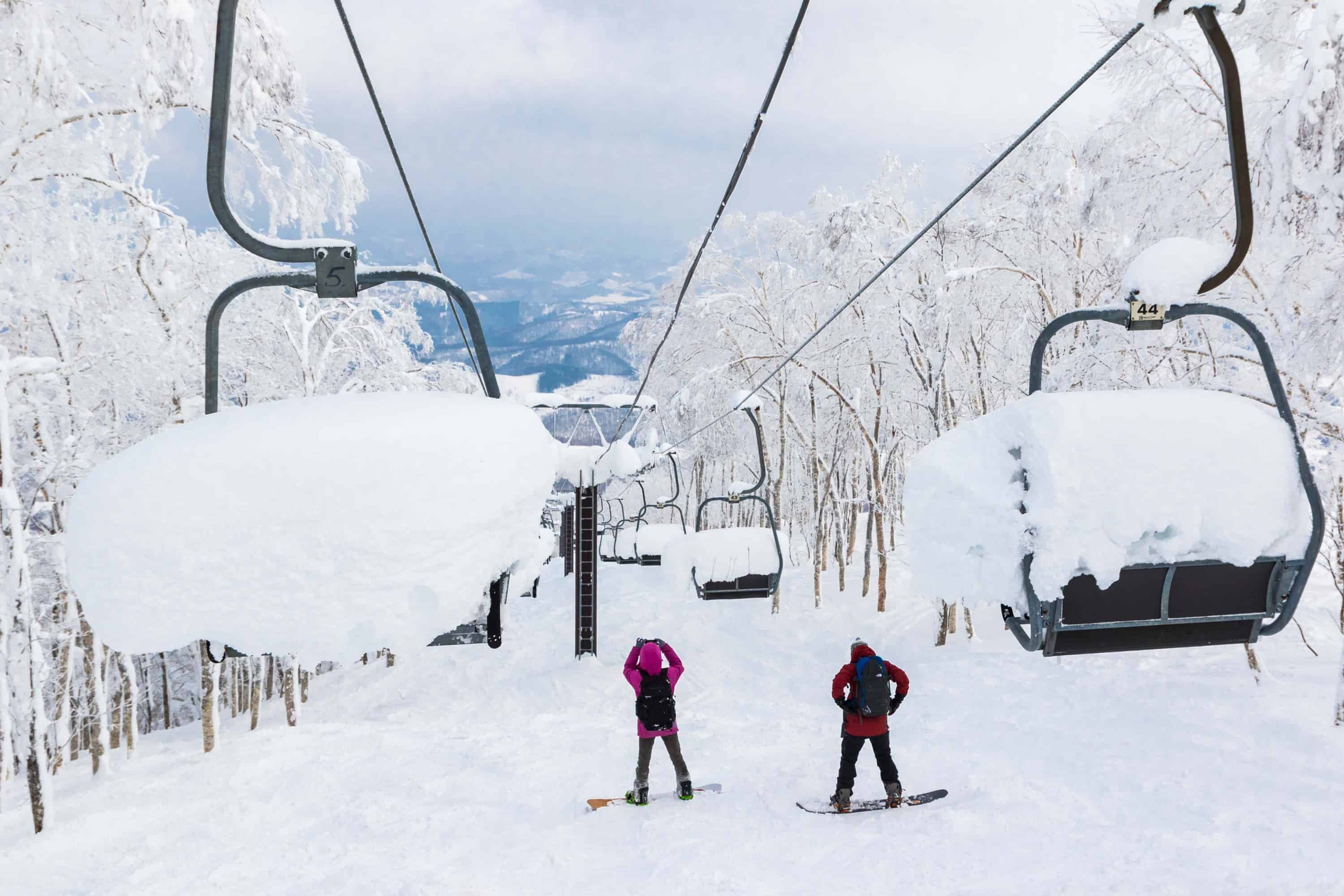 Kiroro was the scene for a stage of the Freeride World Tour Qualifiers in February of 2019 along with the Freeride Junior Tour.
The event ran on the so-called 'Alaska face' below…
https://www.instagram.com/p/Bs5S1HUgeKN/
Clearly then, the resort is embracing freeriding with pretty open arms and they have one of the most structured approaches to riding off-piste. In theory across all of Japan, if skiing in the backcountry you're supposed to file a route plan with the local police and forestry office. Unsurprisingly this is not what happens in practice. But at Kiroro they've cut out the middle man and ask you file a plan directly with them at the lift office. They also ask that you return at the end of the day and check back in – if you don't want a search party (that you'll get charged for) to come looking for you.
In return you're permitted to access the below terrain (shaded blue)…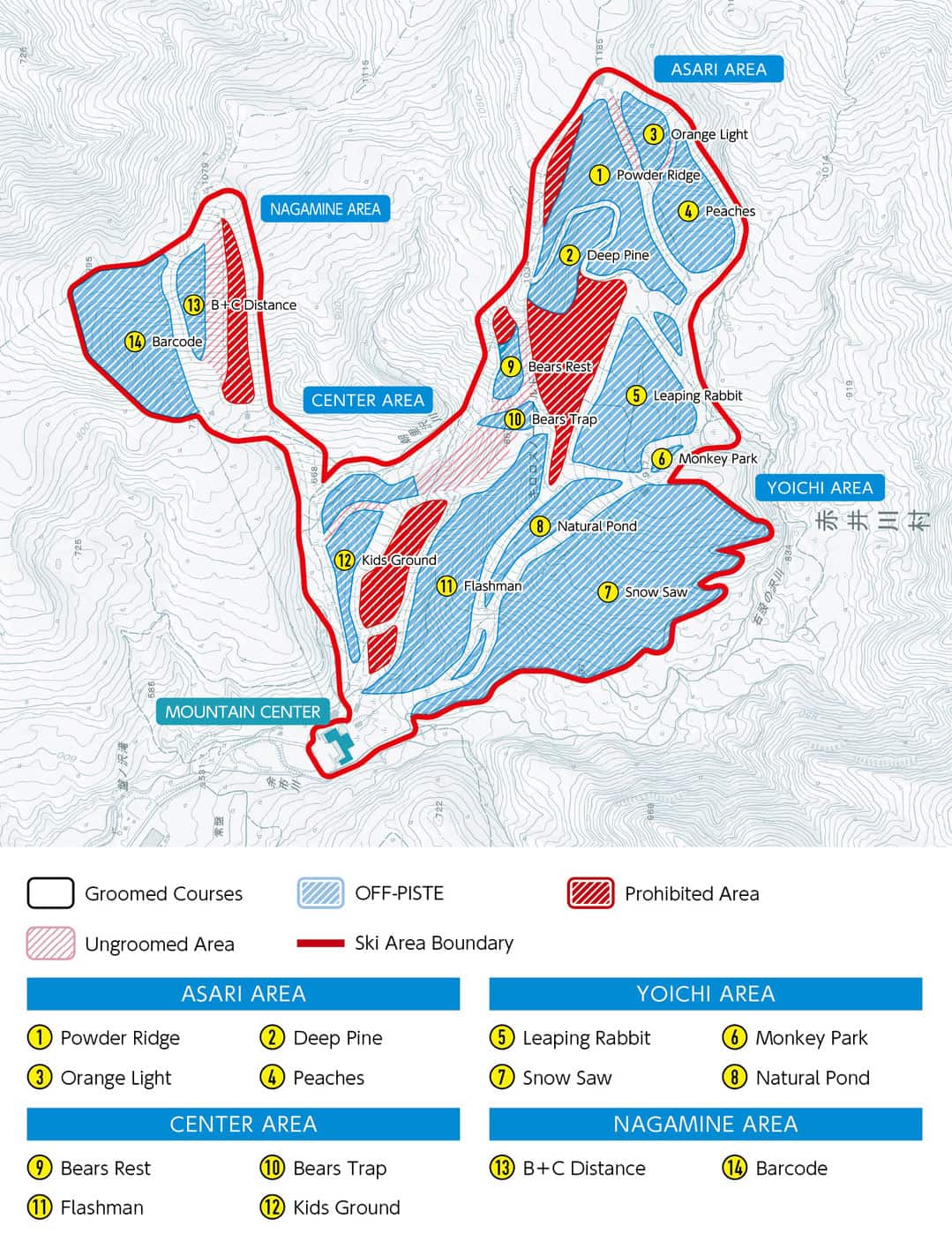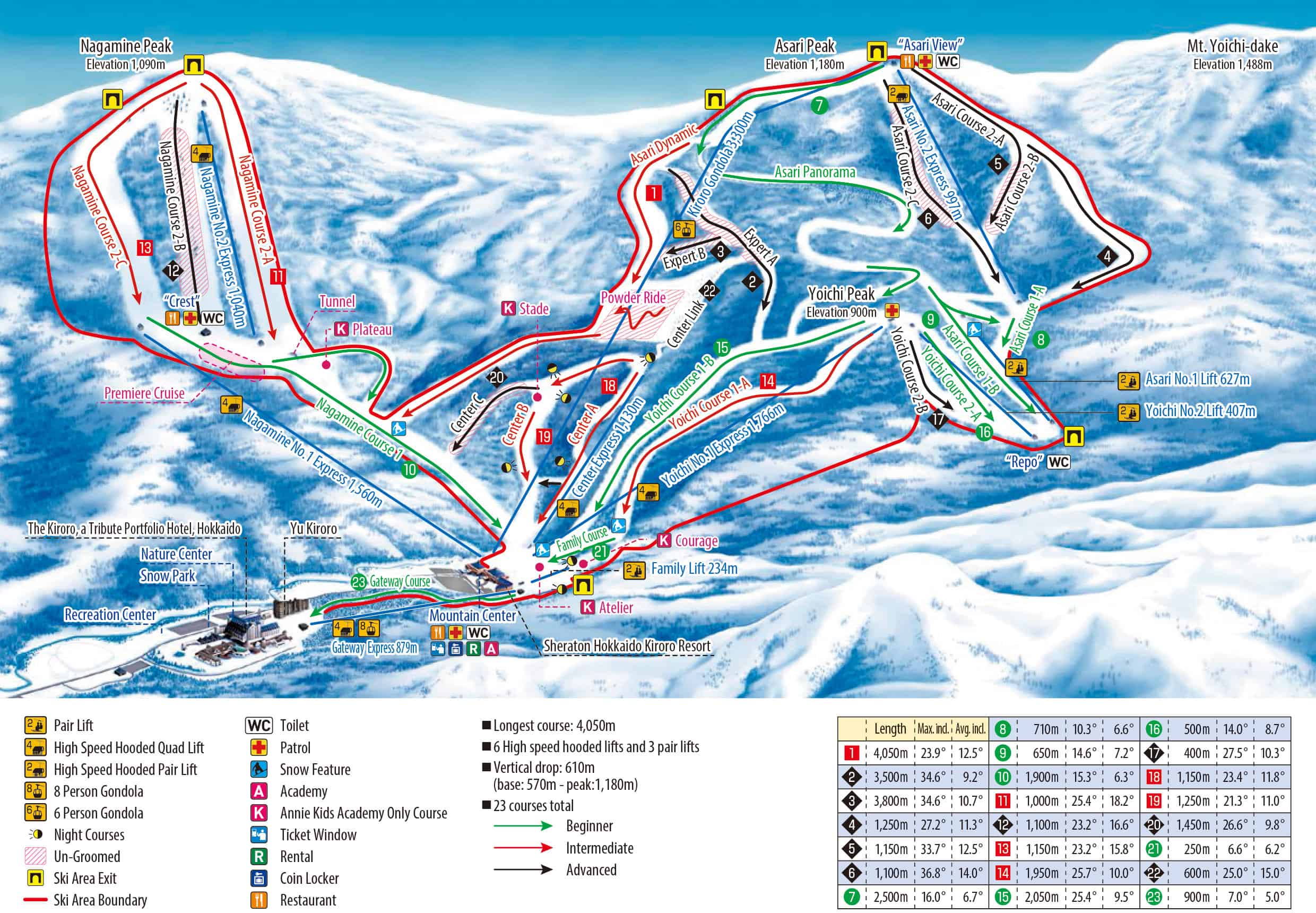 https://www.instagram.com/p/Bq3ksCQFm2s/
Kiroro have also established a 'Mountain Club' Membership program which will cost ¥500 for the day, or ¥5000 for the season (¥2500 for returnees) and about 10 minutes of your time in the morning.
The benefits include being able to submit your route plan or so-called 'Mountain Climbing Plan' from 8am (1hr before others), receive lift lane priority from 9-11am and priority parking. At the end of the day you can also sit in on a free 1hr seminar on snow, safety, and equipment.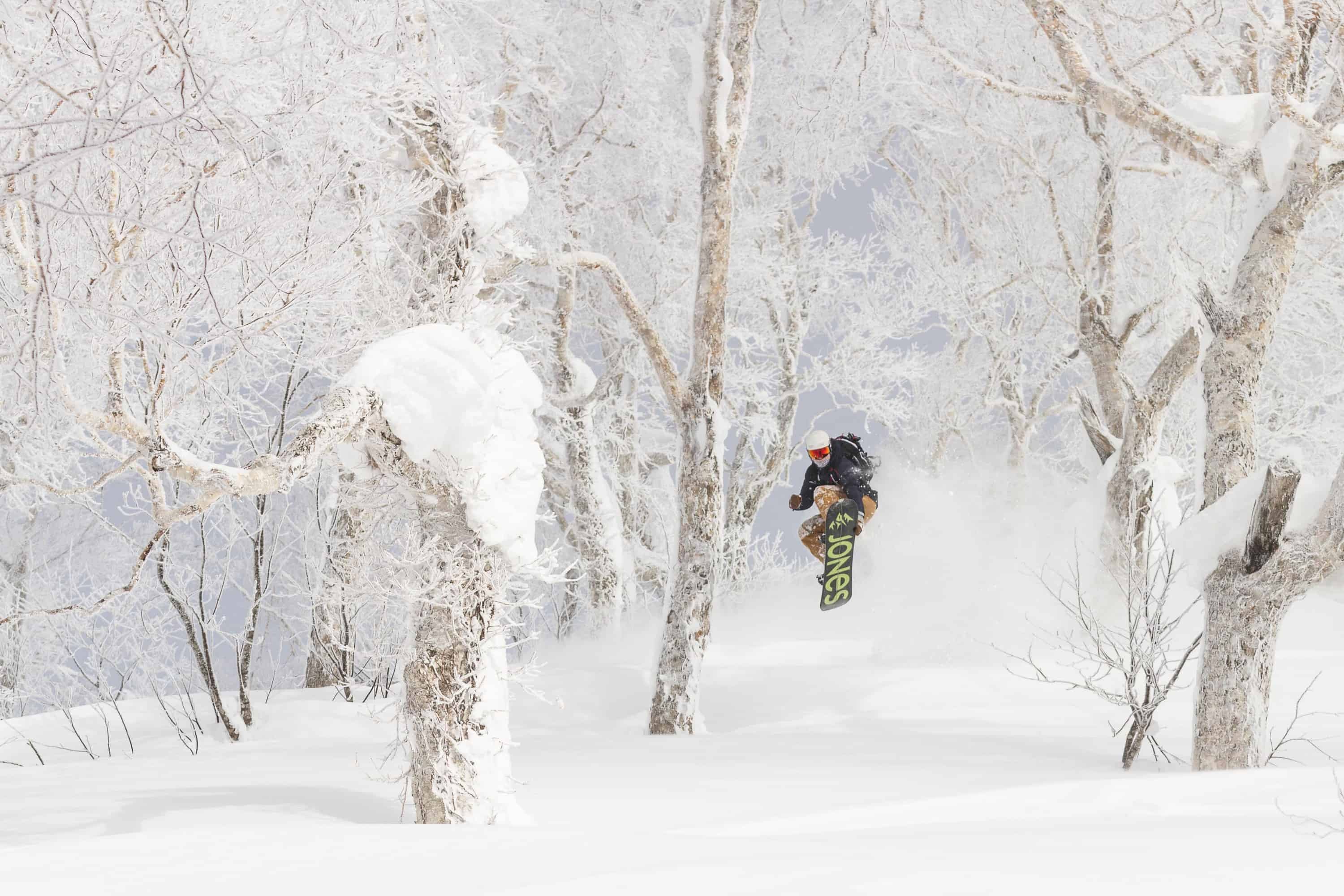 Furano used to be known for its strict on-piste policy and anything off a designated run could cost you your pass, but the resort had a change of heart as of the 2013/14 season and now have an extensive network of backcountry gates similar to Niseko.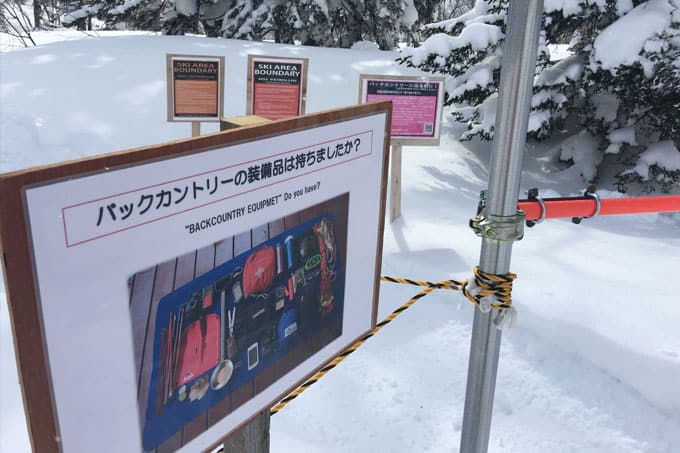 Here's a very insightful article on the 'unshackling' of Furano's off-piste, if you're at all intrigued by the historical situation. For everyone else, here's some shots to prove the off-piste terrain and that beyond the gates is world class…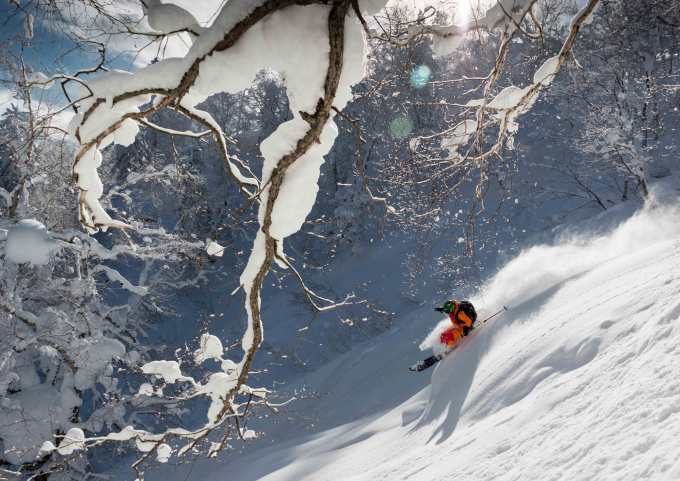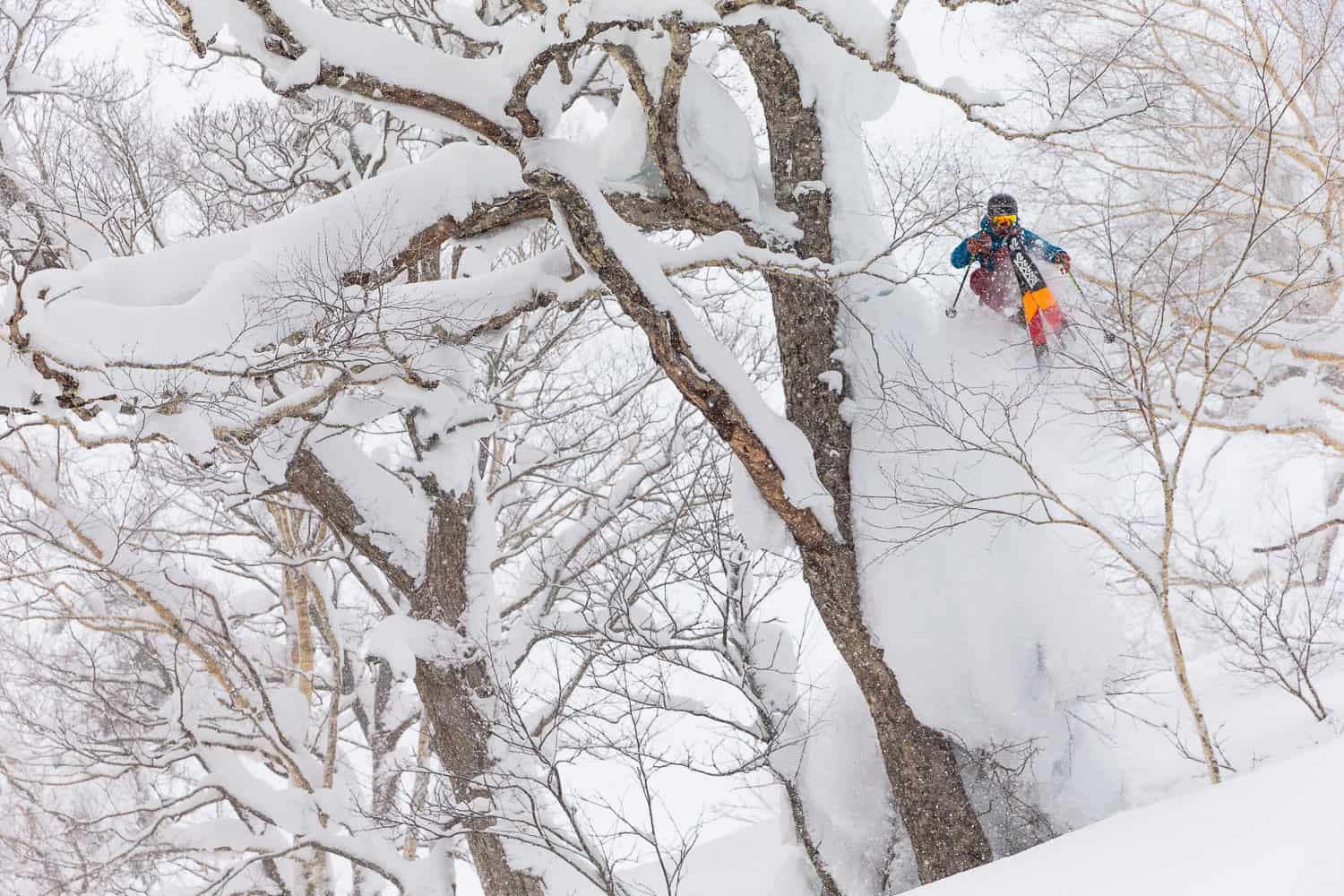 Happo One
Over on Honshu and the widely known Hakuba has had a similar trajectory, most recently hosting a Freeride World Tour stop.
While the run from Travis above is outside the resort's boundaries, thus requiring all the gear and know-how and/or a guide, in the 2018/19 season the resort opened the Omusubi zone (rice ball zone) within its boundaries. It was a zone which had long been the subject of poaching, and fairly understandably so going off the below photo.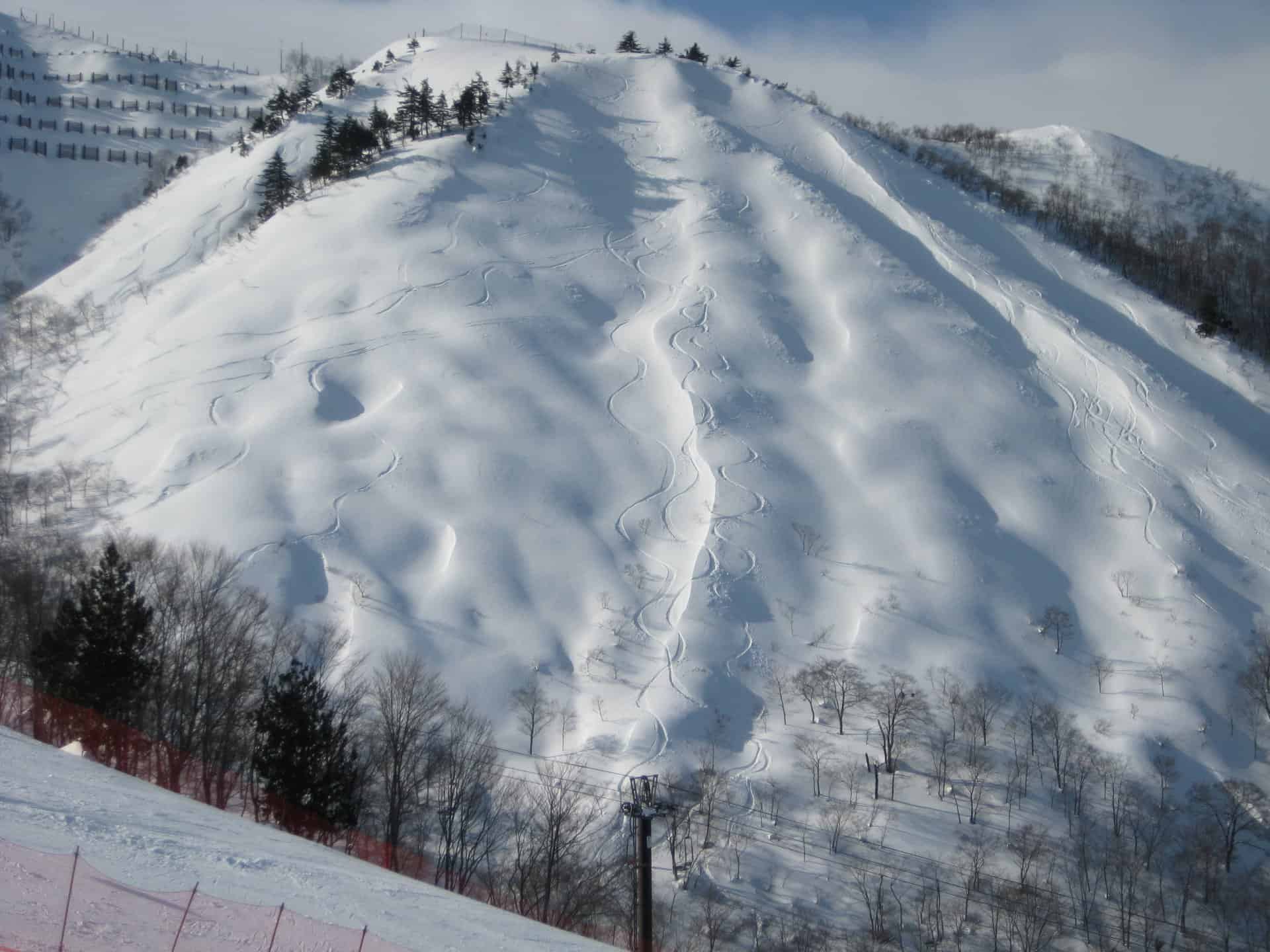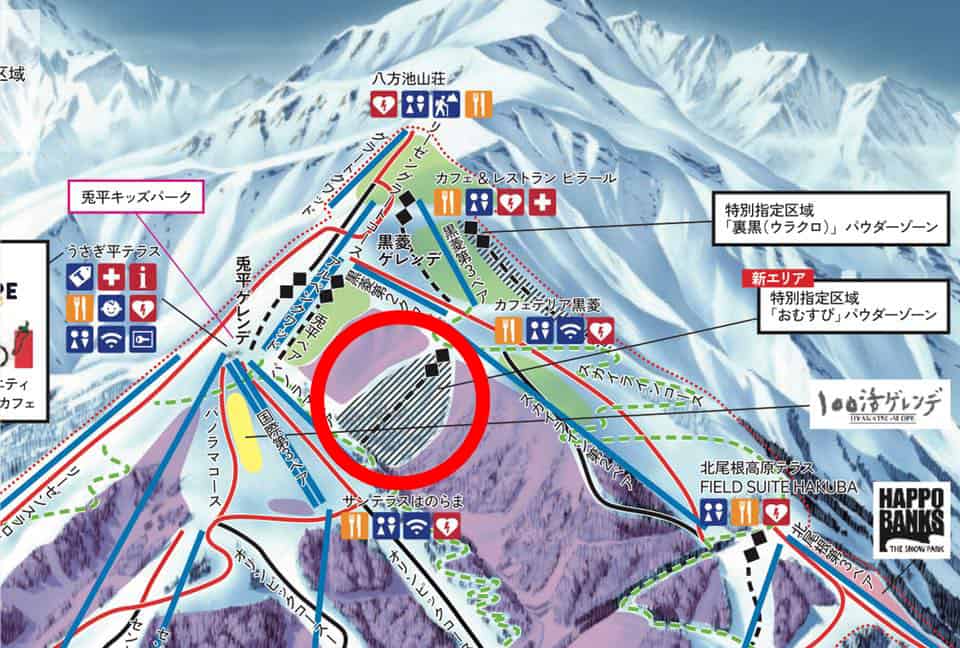 "This is a special designated area within the ski resort and patrolled and assessed for safety every morning. It is marked as a double black diamond off-piste area and is recommended for expert skiers and riders only. In the morning, Happo Ski Patrol will check conditions and determine whether the area is safe for the general public. A gate-controlled signboard will be displayed as OPEN/CLOSED." – Happo Ski Patrol
Hakuba 47
Hakuba 47 has introduced a pretty expansive tree skiing offering over the last couple of years, and it can be divided into two types of terrain.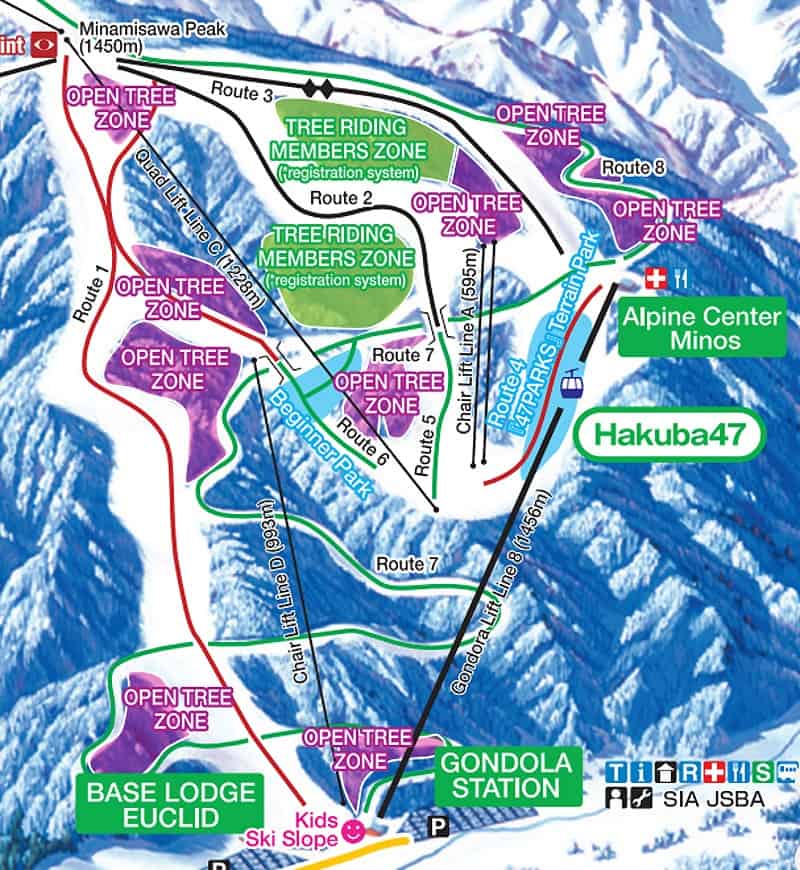 There's a so-called 'Tree Skiing Area' which anyone can access and there's a 'Tree Riding Zone' that is exclusively for "registered experts". Registration is free however, and one can apply to register online. You will get a safety briefing and issued a member's card with which you can use to receive a high vis red bib which identifies you as being a registered rider. Find out more about the Tree Riding Zone here.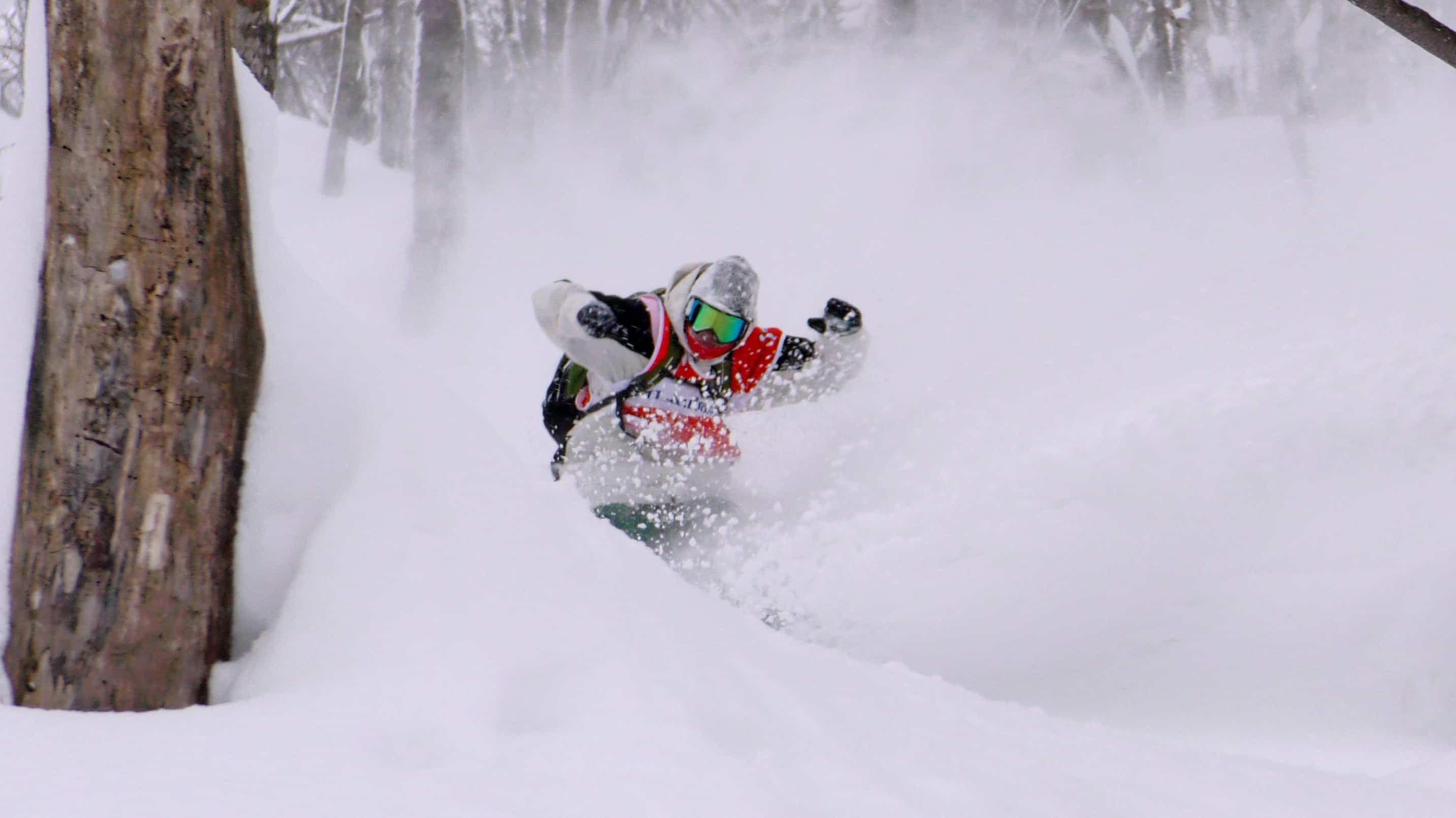 According to the resort, "The Tree Riding Zone is an un patrolled, steep & technical section of trees. It is perfect for thrill seekers & tree shredders alike!"
Iwatake
Just 10 minutes from Hakuba, Iwatake introduced some solid new freeriding zones last season, within the popular 'View' back bowl areas on the reverse side of the mountain. They negotiated with aforementioned National Forest Agency to access the entire back bowl and were allowed to glade the zone more than previously.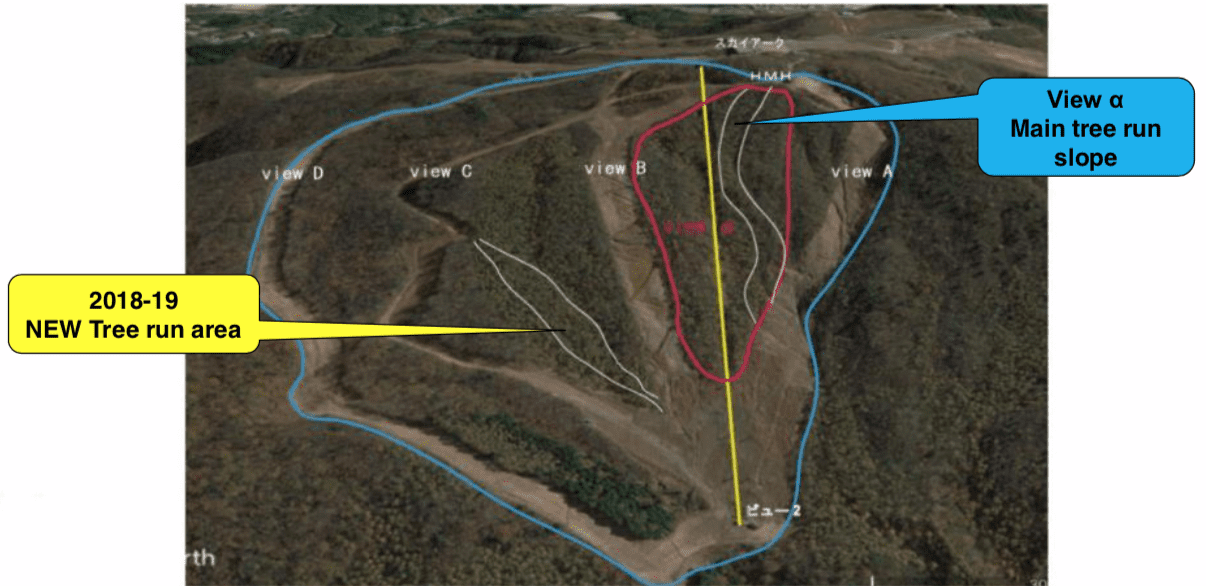 Tsugaike Kogen
Hakuba's highest resort Tsugaike Kogen met the growing demand for off-piste skiing around 2015 with the introduction of a backcountry style gate system to access the 'Tsugapow' zone. Before entering consult these precautions.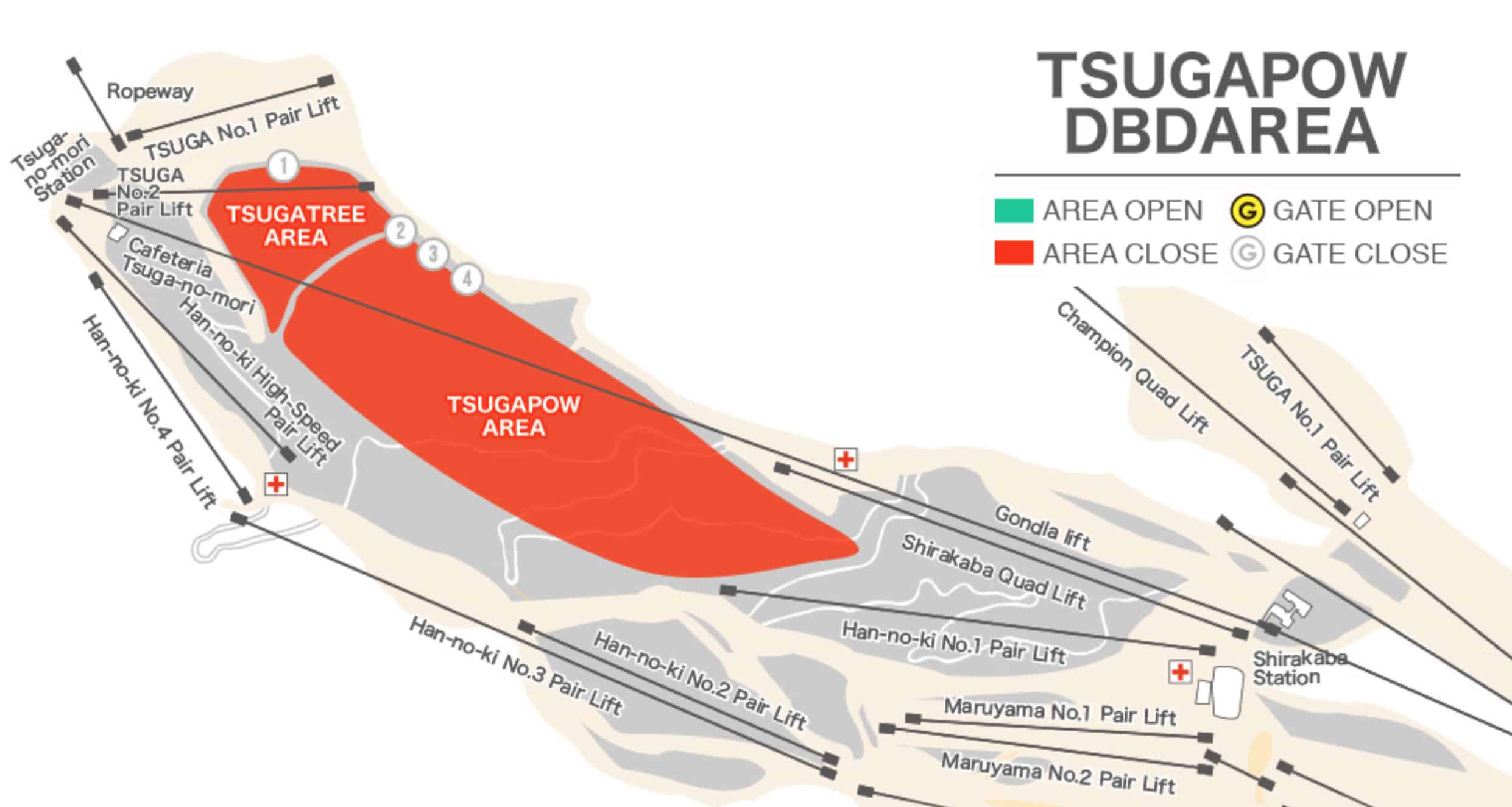 Cortina
Cortina had a reputation as being one of the strictest resorts when it came to off-piste riding. I first rode there in 2013 and recall the mere mention of ducking off the piste could cost you your pass. Maybe that's hyperbole, but just two years or so after that visit they had a complete change of heart. Now the resort is one of, if not the most liberal when it comes to off-piste riding, and it's a good thing at that. Cortina receives the most snow of all the Hakuba resorts – sometimes up to twice as much – so understandably the tree skiing is some of the best (see below for proof).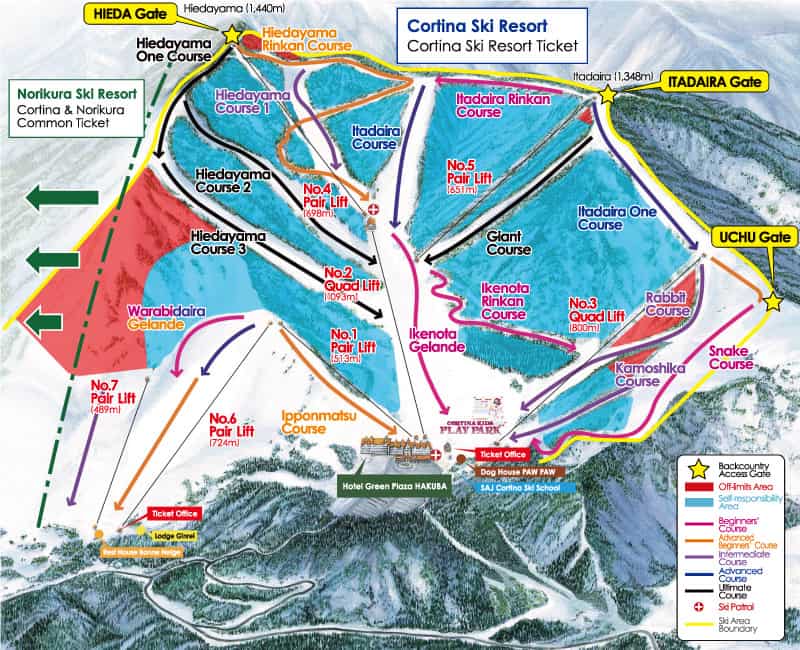 While the grooming at Appi Kogen is pretty exceptional, it's arguably not the reason to visit Japan and many will be pleased to know in 2019 they opened five new tree zones covering 60 hectares of terrain.
The beech trees are well spaced and the Nishimori slackcountry zone (1) below, is certainly a favourite.
LOTTE ARAI
Lotte Arai is located in Myoko, in the Niigata prefecture and receives some of the heaviest snowfalls in all of mainland Japan.
The resort closed in 2006 before reopening in 2017 with a renewed focus on freeriding, since their terrain is so conducive to it. This has started with avalanche control work and even welcoming a freeride tour qualifying event in March this year.
In fact, if you take a look at their most recent trail map below, you'll see the shaded purple (off-piste terrain) covers effectively 75% of the resort.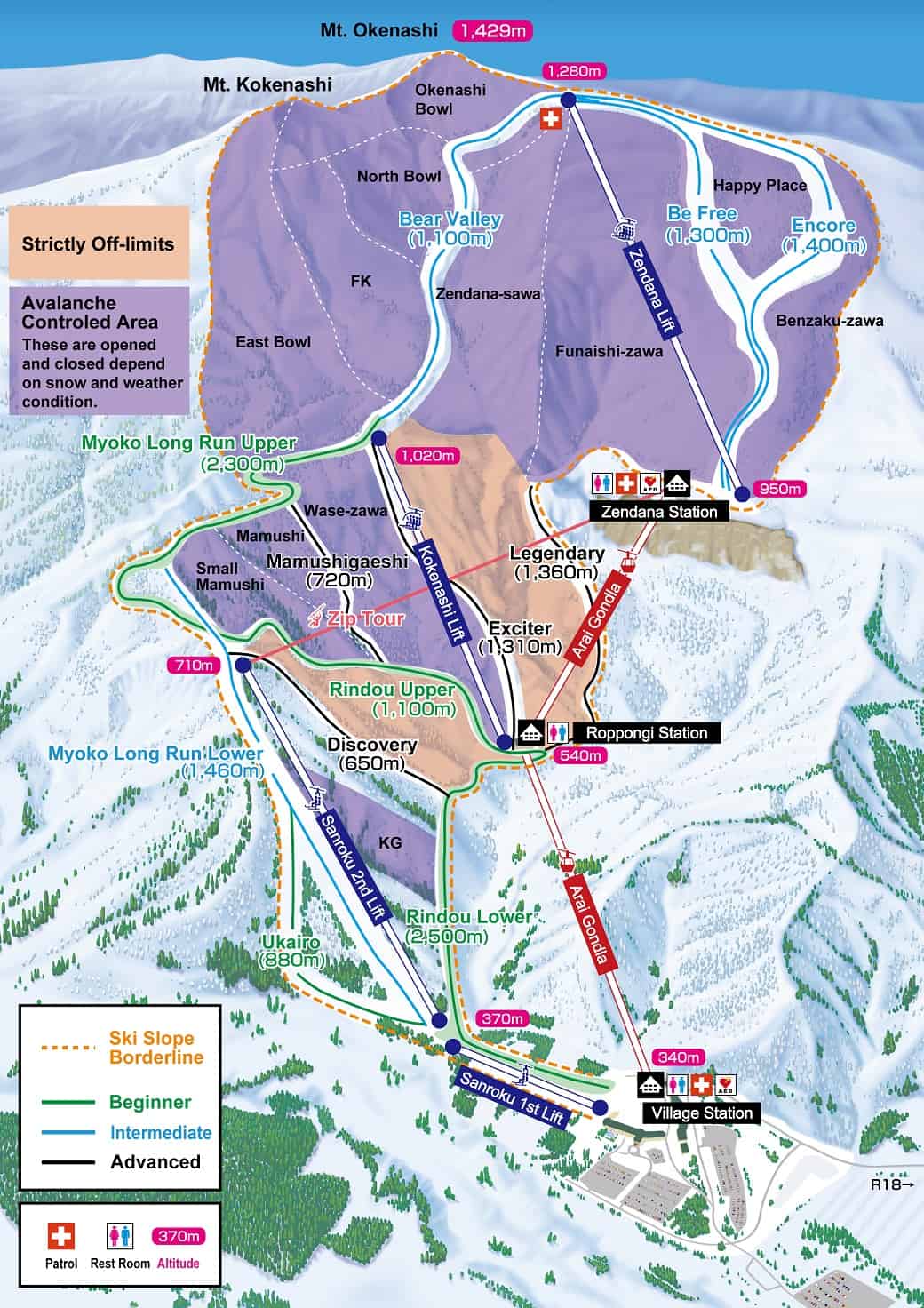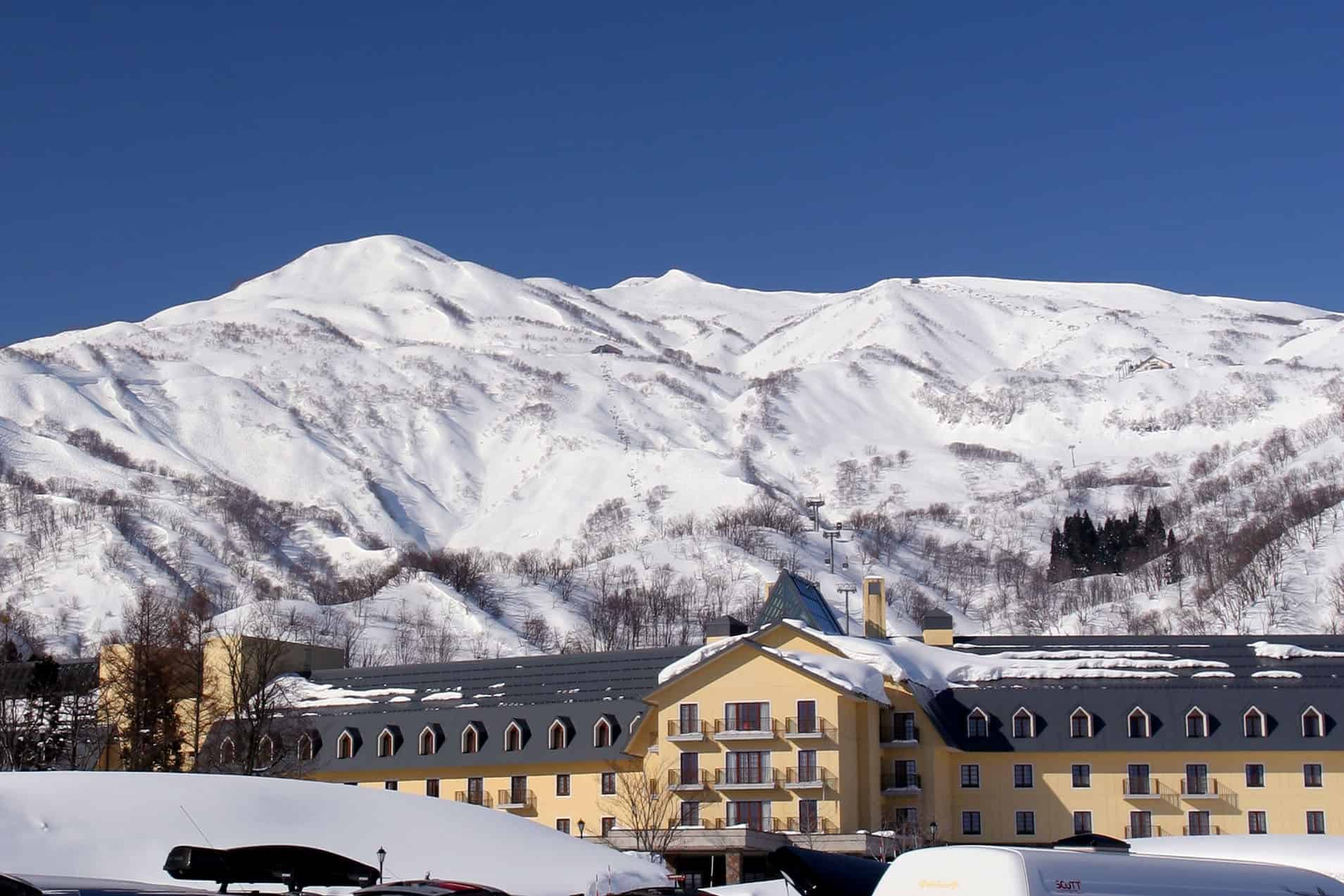 Madarao aka 'Madapow' features 60% ungroomed runs, so there's a very good chance you'll be able to enjoy some deep pow skiing actually on top of the piste itself after a night of snow. Those who fancy the trees though, will be pleased to hear of the nicely gladed tree runs and the resorts more recent accommodating approach to off-piste riding.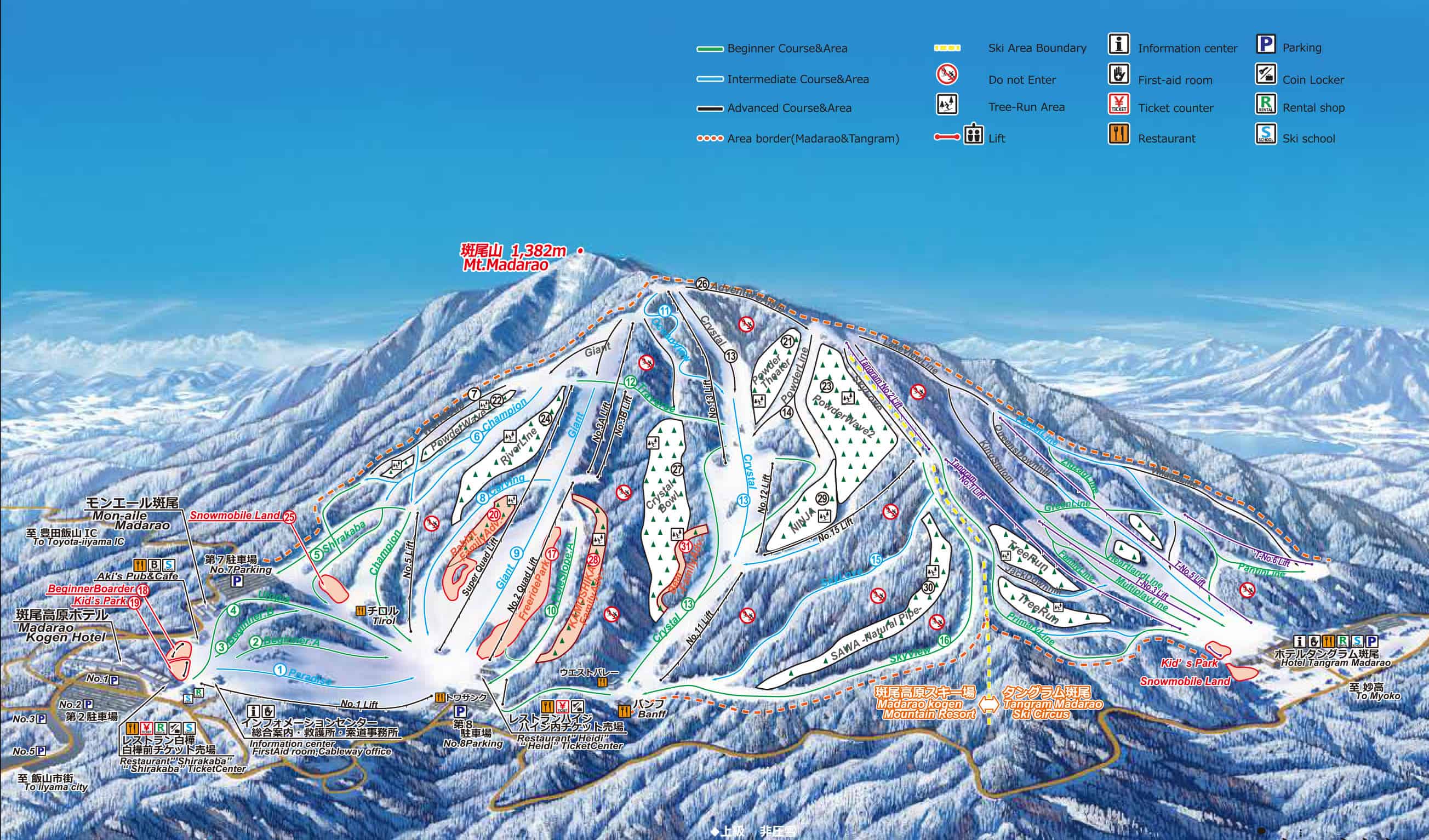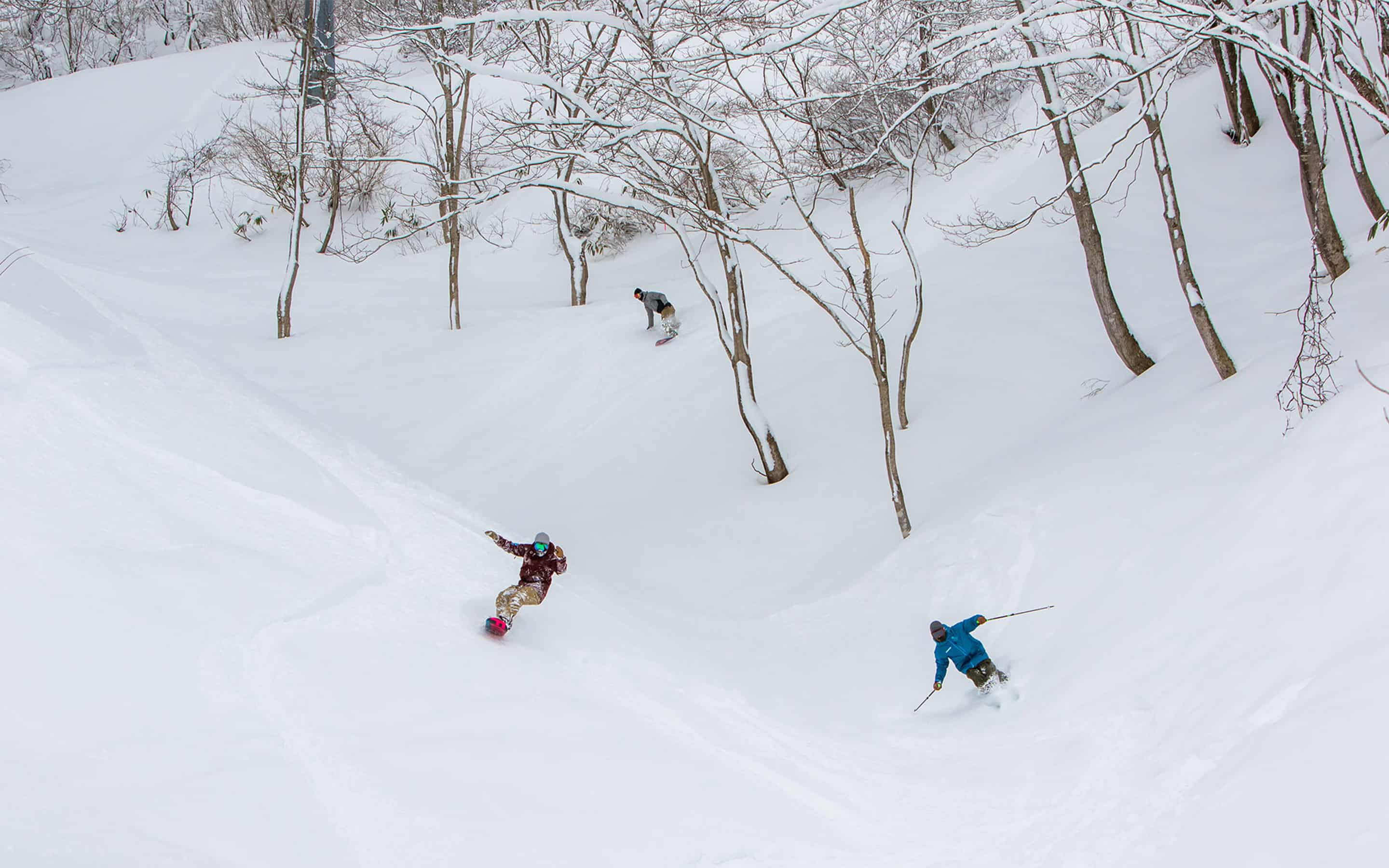 Of course, this is nowhere near an exhaustive list and there are plenty more resorts in Japan with outstanding off-piste terrain, after all it is a country that's long been touted as having 500+ ski resorts.
However, these are a few resorts that are paving the way for a safer, more freeride friendly experience off the proverbial piste.
We'll leave you with this little snippet of some literal tree skiing by Gigi Ruf and we'll see you in the trees this season!
https://www.instagram.com/p/BtCSQCzlLBg/
---
Snow forecasts,
Japan Snow Reports and
Live Japan Snow Cams.