The North Face Launches Global Campaign Celebrating Female Explorers – 'Move Mountains'
May 1st, 2018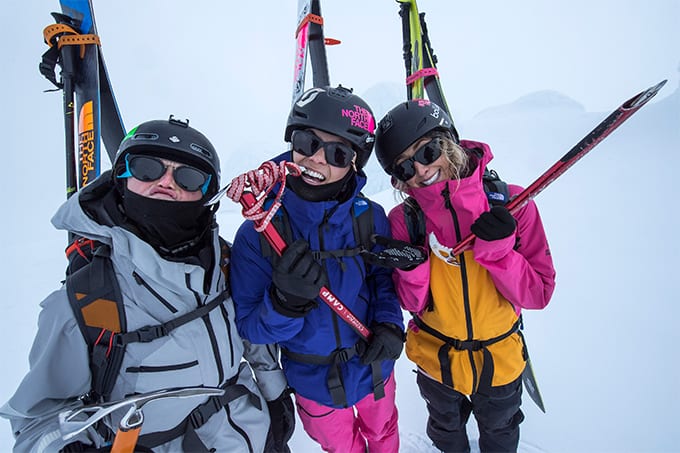 The North Face athletes Evelina Nillson, Janina Kuzma and Anna Segal conquering gender stereotypes and volcanic peaks one step at a time. Image:: Mark Watson
Mountainwatch | Matt Wiseman
At the start of April, The North Face launched their "Move Mountains" initiative to celebrate and share the stories of adventurous and courageous women in an attempt to change the face of exploration, and ultimately enable the next generation of fierce, confident girls.
"We know women are already achieving incredible feats around the world – both on and off the mountain – and we believe it's time to share and amplify their stories," said the company.
In fact, The North Face is making a commitment to equal representation of women in all advertising, social media and content moving forward. As it stands, the North Face currently supports the highest female to male ratio of sponsored athletes in the industry at 39% – 14 female and 36 male athletes. By the companies own admission, "while this is above the status quo, it's not where we want to be, as we know we can do better."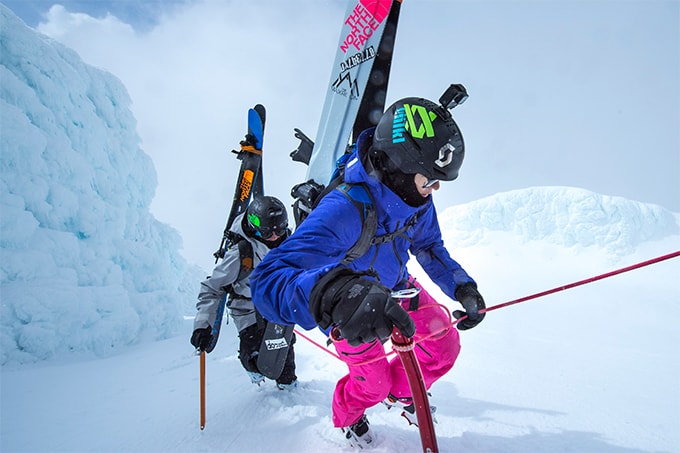 Janina Kuzma leading Evelina Nillson up a crampon assisted boot pack towards the summit of Mt Taranaki on New Zealand's North Island. Image:: Mark Watson
Aside from supporting emerging female talent and sharing more stories of women in exploration, the initiative is set to filter all the way down to investment in product design.
In a company Q&A, The North Face asked, "What would be possible if we lived in a world where "Dora" wasn't the first female explorer who came to mind?"
One athlete breaking ground for women all over, and one who should certainly come to mind is New Zealander Janina Kuzma. Having grown up all over the world from Papua New Guinea to Borneo to Australia, Janina knows a thing or two about exploration. Being fresh home from her second Winter Olympics at Pyeongchang this year, she also knows a thing or two about competitive halfpipe skiing.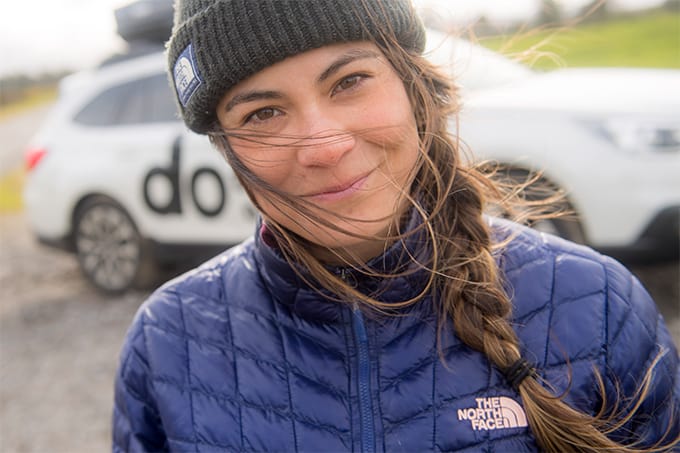 North Face athlete Janina Kuzma. Image:: Mark Watson
A similar force in big mountain terrain, Janina spends time outside of competition, pursuing film projects and big mountain lines.
"Being a female athlete I'm always working to inspire females to achieve their best and know that with hard work and determination anything is possible." She said.
"When I was starting out as a competitive freeskier, I looked up to Ingrid Backstrom as I felt she was pushing the limits for women skiing. Watching her in the ski movies she ripped – I thought if she could do it, so can I."
Janina eking some turns out of a lower chute on Mt Taranaki. Image:: Mark Watson
Having established herself as a fierce competitor, Janina's focus then shifted to filming and producing edits. Janina has featured in the Shades of Winter productions, films by Austrian pro skier and filmmaker Sandra Lahnsteiner, that continue to redefine women in action sports movies.
"Being able to work alongside Sandra on Shades of Winter I've been able to learn a lot. She is definitely a great mentor."
"We need more female adventurers and athletes in the limelight because it's not a traditional career, and the more women who are seen excelling in whatever sport it is, I think is a good thing for the next generation to come."
Informed by influences outside of high performance athletes, The North face is also celebrating women who are role models beyond physical exploration, like women's empowerment advocate America Ferrera, NASA scientist Tierra Guinn Fletcher, and musician and activist Madame Gandhi.
To learn more about the Move Mountains campaign click here . You can also join the conversation and share the stories of women who inspire you on social media with the hashtag #SheMovesMountains.
You can check out the #SheMovesMountains promo video below.