A Season Worth Celebrating – 2017 Australian Season Wrap Up
October 9th, 2017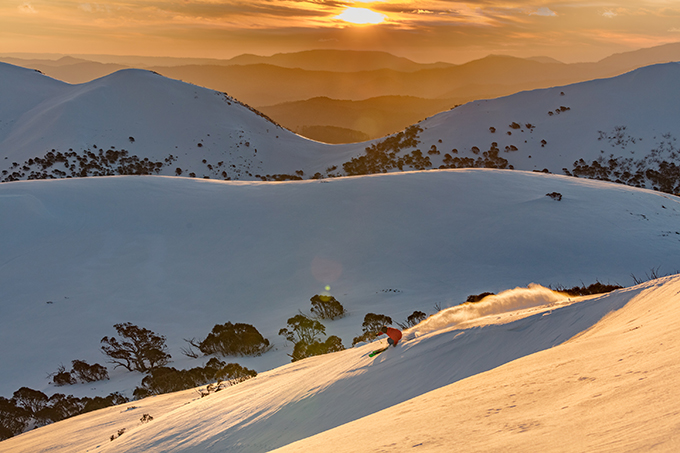 From underachieving to overachieving, the report card for the 2017 season can only be described as glowing. Image: Karl Gray / Hotham
Mountainwatch | Reggae Elliss
The bullwheels of our beloved resort chairlifts have made their final rotation for the 2017 snow season, and a sensation of both exhaustion and stoke washes over us as we come to terms with the last turns of the Australian Season.
Usually by this time, we'd already wrapped things up but this wasn't a season like most, which meant most of the major Australian resorts decided at the beginning of last month to extend operations right up until Sunday, October 8. Perisher, Falls, Hotham and Buller had all jumped-on board (or skis) to make the most of the remaining spring husk, while Charlottes, Selwyn and Baw Baw had already finished up operations. Thredbo would be the only major resort to stick to its original closing date, Monday October 3 – as part of their preparation for their summer activities. Despite the recent snow melt, a quick look at the cams suggest they've still got a bit of snow clearing to do …
There hasn't been this much snow in the Aussie Alps, at the start of October for many years, the most recent snow depth measurement from the Snowy Hydro at Spencers Creek coming in at 213cms. Already people are talking about this being the best winter in years etc., but the reality is the first half of the winter was pretty ordinary with minimal snowfalls and the worst natural snow cover since 2006. The snow depth at the end of June was a paltry 4cms, with a few snowfalls during July taking it up to a modest mid-season total of just 98cms at the end of July.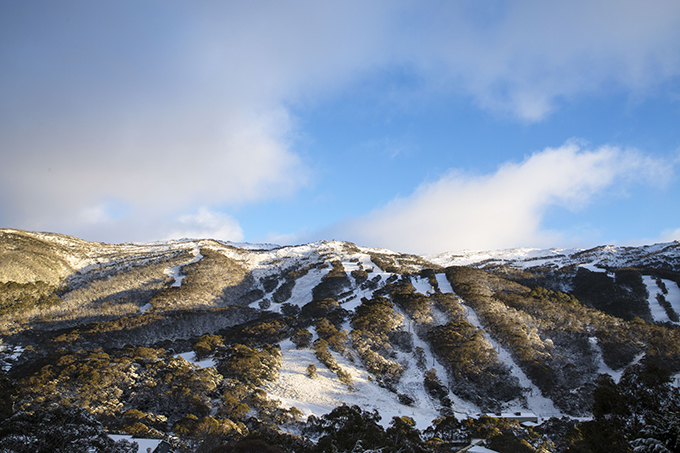 It's as if the season gave us a little flash of promise back in May, before pessimism sunk in come July then came the wrath of the Blizzard of Oz. Image: Thredbo
The season had started with promise, all resorts having lifts open on June 10 for the opening weekend thanks to a good storm on May 28 followed by two weeks of cold weather and good snowmaking conditions. However, when June came and went without a snowfall that early season optimism had been replaced with a more pessimistic outlook and people were wondering if and when we'd see a decent storm.
Fortunately, snowmaking conditions during this period were favourable with a number of temperature inversions that saw very cold temps at lower elevations. This not only provided some great, if limited, on-piste skiing in school holidays but also built a deep base on the main runs in most resorts. Another contributing factor was consistent WNW winds during the second half of July which blew in a lot of snow. This was particularly beneficial to Thredbo which opened the Antons and Basin T-bars on a base of mainly wind-blown snow.
The first decent snowfall of the season wasn't until July 19 when most resorts reported 20-25cms of snow in a 24-hour period. There was a sigh of relief when this snow came through, understandable as it was the first real snowfall since May 28. Unfortunately, the front moved through pretty quickly, but it the combination of the snow and a lot of wind saw more terrain and lifts open in all resorts.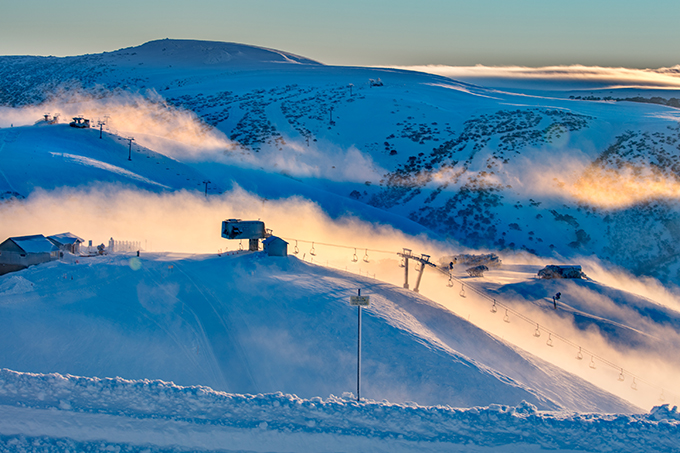 Now that's more like it. Winter came in an increment of 25cm's on July 19. Image:: Karl Gray/Hotham
STORM ONE
By the end of July, the Grasshopper was finally hinting at something big heading our way and then on Thursday August 3 the Hopper's forecast was looking very, very good: "The main event will swagger in with confidence on Sunday as a second cold front comes flying in from the west. We will get a very welcome 30 to 50cm of windblown snow down to 1300 metres."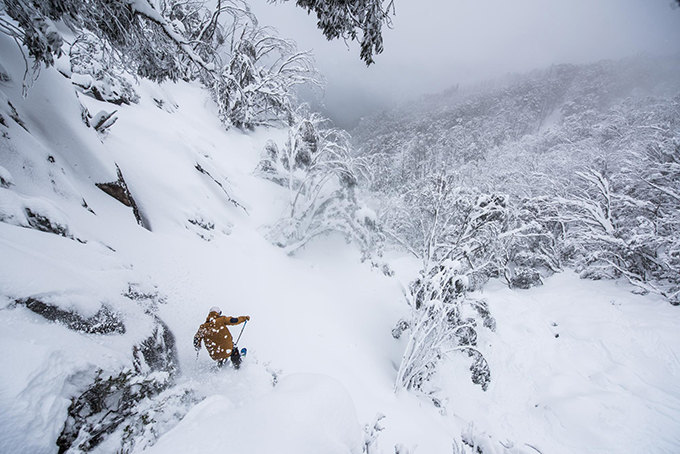 It takes a bit to get the Grasshopper excited, but he wasn't bluffing when the first wave of the Blizzard Of Oz Storms rolled through delivering some of the most memorable powder in recent times. Image:: Harro/Buller
This was the start of the first "Blizzard of Oz" and even though I'm not a fan of the clichéd title, I am a big fan of the snow it delivered! As I wrote in a storm journal on August 9, "The past week has been a stellar time in the mountains with well over a metre of snow falling from Thursday August 3 to Tuesday August 8 and the superlatives about the snow quality have been flying thick and fast. "
The snow was at its best on Sunday August 6 and Monday the 7th, with deep light snow, the sub-zero temps maintaining quality powder. When the storm cleared, Tuesday was cold and the snow was dry and although it wasn't deep fresh snow, the skiing was sensational with plenty of dry windblown and perfect corduroy on the groomed runs.
Checkout the full recap of the 'Blizzard of Oz 1.0' Storm here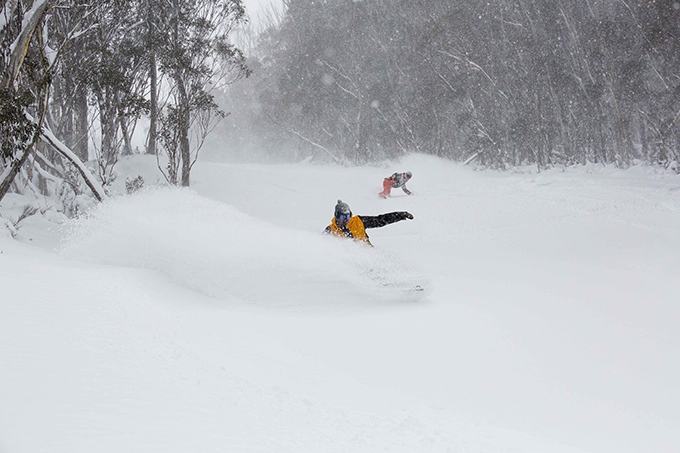 That expression, "no friends on a powder day" was made redundant on August 7th thanks to the Blizzard of Oz, but we weren't in the clear just yet. Image:: Aedan O'Donnell/Thredbo
STORM TWO
One of the things that did help maintain good snow during a below average season was the lack of rain, but that changed on August 15 when the Grasshopper's morning forecast made for sobering reading:
"Oh dear, violins at the ready. A strong cold front approaches from the west today – you are going to have to strap yourselves in for one helluva wild weather ride. Mild north-westerlies will pump a ton of moisture over the Aussie Alps today. Rain will develop this afternoon and intensify this evening. This event is looking scary on today's update. We are looking at rainfall amounts of 60-100 mm by tomorrow morning which needless to say will be very damaging to the precious snow cover we have managed to claw together so far this season."
And rain it did, with all resorts reporting 80-100mm, Perisher having a massive 140mm in 24 hours by Wednesday morning. Remarkably the rain seemed to do minimal damage to the snowpack, unlike last year when we had a similar rain event, the creeks didn't burst open and there was no flooding.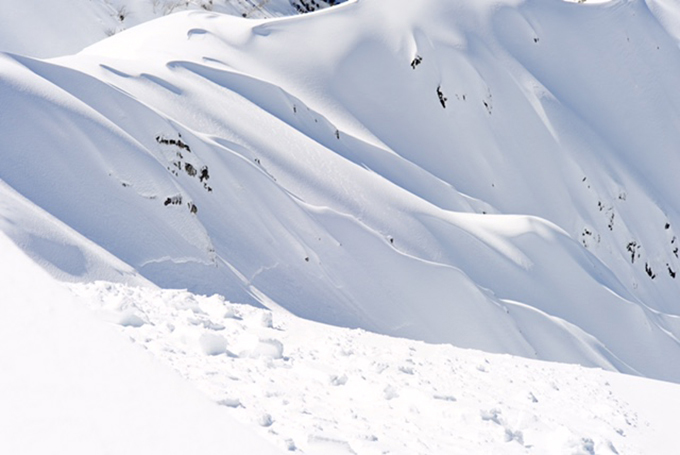 There was a lot of 'significants' this season, significant snowfall, significant rain and significant avalanches both inbounds and in the backcountry. Image:: David Inabinet
Fortunately, this wasn't the end of the world and, typically for Australia, the rain was followed by snow and the Grasshopper's forecast on August 16 was very positive:
"On Thursday though our tears over the rain will be fully dried as this low south of Tassie keeps flinging snow over us. We can expect blizzard conditions with 25-50cm of the good stuff down to 1400m, and plenty of wind still to blow it into all the nooks and crannies"
This turned out to be another great storm with three days of snow and some great skiing and the weekend of August 18/19 was one of the best of the year.
The temps stayed cold for the rest of August with overnight temps regularly down to -6 and a couple of light snowfalls to freshen things up. There was also plenty of wind in late August with a cold westerly air flow blowing a lot of snow.
Checkout the full recap of the 'Blizzard of Oz 2.0' Storm here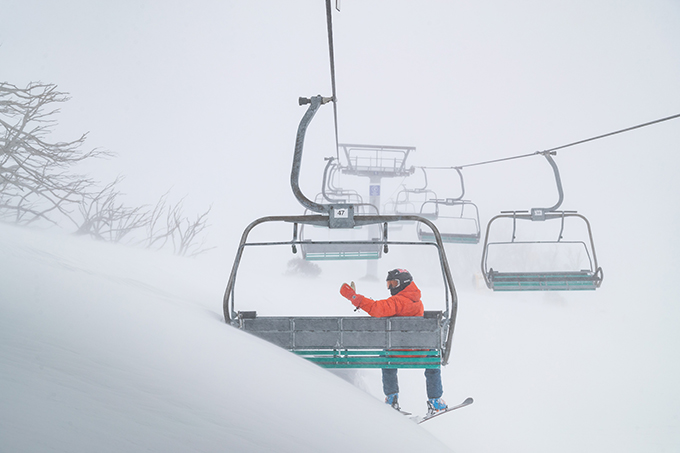 Some spring, huh? Image:: Perisher
STORM OF THE YEAR
Then to cap things off the third big storm of the year started brewing in early September and this one turned out to be the best storm of the season. The Grasshopper was calling 60-80cms of snow over four-day period and once it kicked in, it was amazing. There were a lot of good days in August but Tuesday Sept 5 was probably the best day of the season, with deep, light powder and consistent snowfalls during the day. One person who agrees with me on that is Bill Barker, head of pro patrol in Hotham and our Hotham snow reporter. Here's his summation of the day: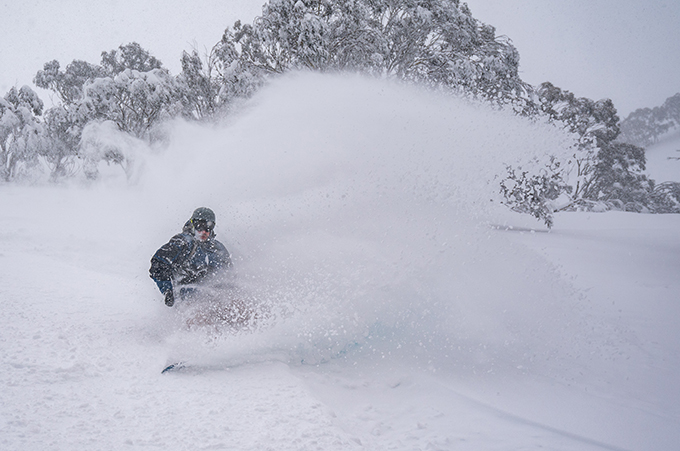 Come Tuesday, September 5th – every turn you did looked something like this. Image:: Karl Gray/Hotham
"We have had some great days this winter but I reckon yesterday was the best of them, and although I admit my memory is not the greatest, I can't remember too many as good. There was really only 1 lift running but with a little creativity and a bit of effort, you could ride super dry untracked powder all day, and the snow quality was as good as it gets (It kind of reminded me of being back in Kashmir)."
That storm dropped over a metre of snow and with temps down to -7 there was some incredible powder, some of the best you'll ever get in Australia. It was windy and wind-hold was a problem with some chairs, but those who braved the storm are still talking about it.
Checkout the full recap of the 'Blizzard of Oz 3.0' Storm here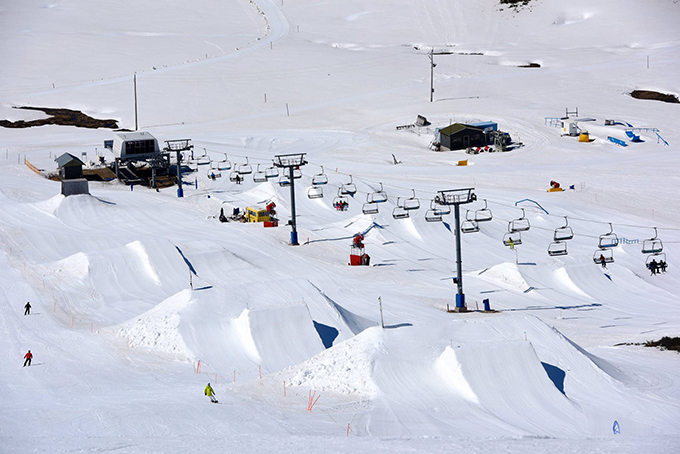 Despite the lack of sunshine in September, those slushy park laps did eventually come and it's remained that way since. Image:: Falls Creek
Since then we've had sunshine, strong winds and good spring skiing. Once lifts close next week there will still be a tonne of snow in all resorts. There will also be plenty of snow in the backcountry and the next few weeks will offer some great spring touring on the Main Range.
The 2017 winter will go down as a good one, mainly due to the consistent quality of the powder we had in August and early September and the good spring. The fact we had lifts in all resort spinning on the opening weekend and are closing with such a good cover of snow does make it an above average year. Probably a season they'll be talking about for a long a while.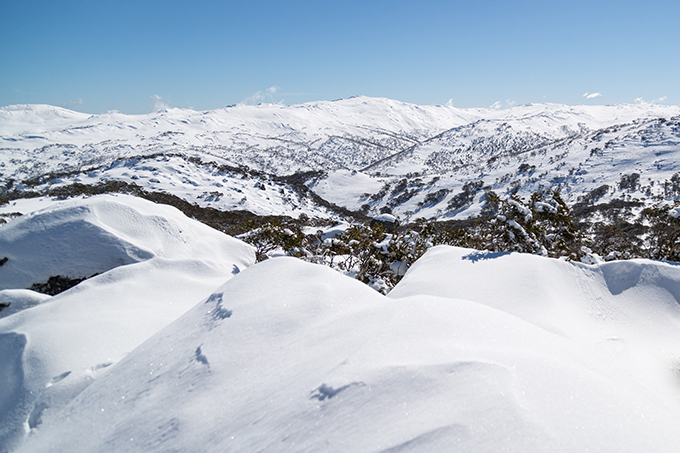 While the resorts might have closed, there's still a ton of snow in the backcountry and for those who go touring and exploring, quality turns can still be had in abundance. Image:: Perisher
Perisher forecasts,
snow reports and
live snow cams.
Falls Creek forecasts,
snow reports and
live snow cams.
Mount Buller forecasts,
snow reports and
live snow cams.
Charlotte Pass forecasts,
snow reports and
live snow cams.
Thredbo forecasts,
snow reports and
live snow cams.